In case you haven't noticed, the latest trend in cycling is to carry shed-loads of stuff with you everywhere you go.
To help with this, cycling shorts have grown little thigh pockets, frames are being made with secret hidey-hole compartments concealed in their down tubes, and the Summer 2021 'hipster cyclist' is more likely to be spotted with a handlebar bag rather than a handlebar moustache.
Arguably, the most useful accessory that has emerged from this trend is the phone-case/wallet that has extra space for all those little ride essentials that may have previously rattled around in a saddle bag or the bottom of a jersey pocket.
A number of companies make these MAMIL-purses, which range from cheap and cheerful zip-locked clear PVC cases that offer some waterproof protection for your phone and credit cards, to the more expensive, thoughtfully designed phone-cases with added protection and multiple compartments.
The 'Essentials Case' made by Craft Cadence is firmly in the latter category.
But does Craft's case, priced at £34.99, offer any noticeable benefits over my well-used and trusted Hunt-branded watertight zip-lock case that I got as a freebie a few years ago?
After a couple of months testing the Essentials Case I'm still a little undecided. Yes, it's useful - but I'm finding the large size of the case both a help and a hindrance.
It's fair to say that we're fans of Craft Cadence products at Sportive.com, given that we've been impressed with the quality and pricing of the commuter backpack and handlebar bag that we've previously tested.
Formed in 2016 in London by cyclists who felt that they could use their experience to improve on the accessories targeted at the commuter community, Craft Cadence have built a dedicated following by engaging with their customers via social media and encouraging feedback from their customers to help them improve their products.
> Review: Craft Cadence Waterproof Cycling Backpack >

> Craft Cadence Handlebar Bag Review >

First impressions of the case suggest that Craft Cadence have created another high quality product. The water resistant TPU-coated polyester fabric used for the outer shell seems robust enough to protect your phone, but flexible enough to allow a half-empty case to be squished into your pocket.
Rather than a smooth, easy wipe, shiny coating, the polyester used for the outer surface of the case has a woven texture which feels slightly rough to the touch. This does mean that the case can pick up stains easily that are quite hard to remove, as mud and grease gets ground-in to the surface. The benefit of the woven finish, however, is that it helps to keep the case from slipping out of a back jersey pocket which was a bit of a worry when I took the case on off-road rides.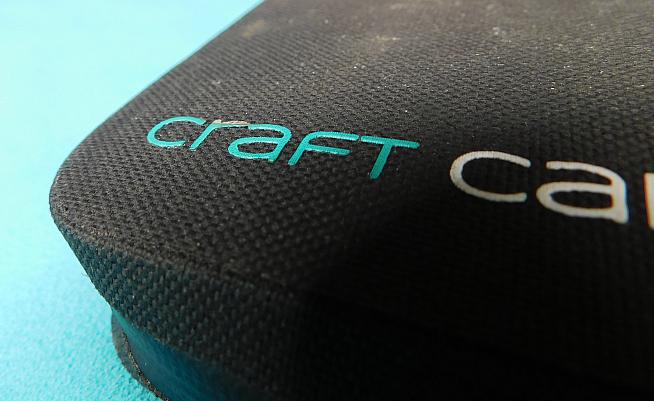 Impressively, the YKK zip is almost entirely concealed by waterproof edging. To be honest, I don't quite understand how the zip works so smoothly, given the fact that it really does look like it should get constantly snarled up on the fish-lip tight little flaps. I guess fastener-engineering has advanced somewhat since my childhood, when traumatised kids, locked into their snorkel-anoraks by crappy trapped zips, blindly stumbled around school playgrounds, arms outstretched.
Anyway, along with the welded seams, the overall effect is that the case will protect your smartphone from water under most circumstances. Unlike Craft Cadence's other bags, buyers should be aware that the case doesn't have an 'IP Waterproof' rating, which means that you might still want to pack your phone into a zip-lock bag inside the case for complete peace of mind.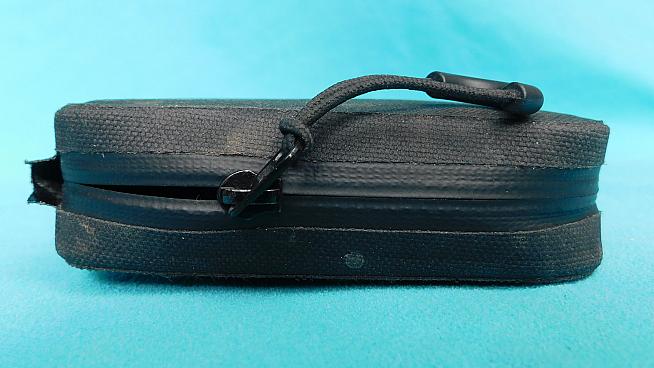 The case has purposefully been designed to be considerably larger than many others on the market, so that it can hold larger smartphones up to 6.8 inches (17.3 cm) in length. Given the overall external dimensions of 19cm x 10cm x 2.8cm, Craft Cadence's claim that the case 'fits in the back pocket of jerseys' is a little bit of a stretch. I found that the case fitted snugly into the central pocket of all my large-sized jerseys, but with a considerable amount of the case sticking out of the back.
On road rides, the tightness of the fit and the grippy woven texture of the case reassured me that the case would stay in place throughout the ride, but I was very aware of its bulky presence in my pocket.
On rougher terrain, I found myself worrying after every jarring descent that the case might have been dislodged from my pocket and flung onto the trail. To be fair, on a recent gravel trip on the King Alfred Way, the case stayed put in my pocket throughout the three days despite some badly rutted lengthy descents that did manage to send my pump flying.
For future peace of mind though, if using the case on an off-road trip, I'd fashion some sort of clip-on strap or chain to attach the zipper loop of the case to the key-holding loops sewn into the rear pockets of some of my jerseys. That way, if it did come out of my pocket it wouldn't drop to the ground where it could get lost.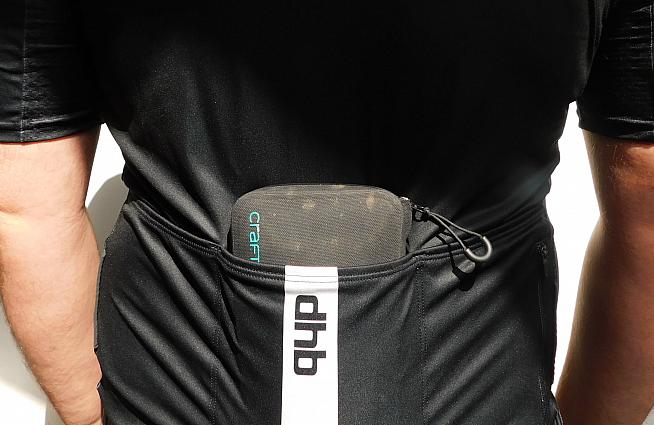 For smaller riders, such as my wife, the case may simply be too large to fit safely into the back pocket, which is a real shame.
I hope that Craft Cadence might consider producing a smaller version of their case, like Rapha and Condor have, that would work for smaller riders, or those of us who don't own a jumbo-sized smartphone.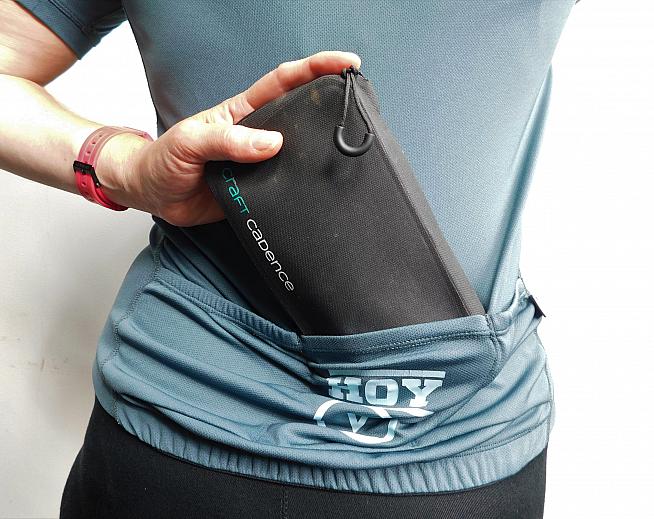 Opening the case with gloved hands is simple, thanks to the loop attached to the zipper. Unlike similarly priced high quality cases from Rapha and Silca, the zip completely goes round three of the four sides, so that the wallet can be fully opened like a book, rather than partially opened like a purse. This makes accessing and organising the contents easier for the user.
Inside the case is an array of flaps and pockets, two elastic straps and a keyring loop. The main phone compartment is lined on the inside cover with a soft microfibre to help ensure your smartphone screen doesn't get scratched. This does mean that the screen is facing the outside of the case, which could make it more vulnerable to external knocks, but does prevent the other contents of the case from bashing against the screen when the case is being jiggled around.
Behind this sleeve are three credit-card sized flaps and a small zipped mesh pocket. Similar in size to the teeny 'watch' pocket found in jeans, this zipped compartment is really useful at keeping smaller objects secure in one place. I've used it to hold quick links, disk pads, tubeless plugs, inner-tube patches, coins and tablets that might otherwise get lost or damaged if left loose in a saddle bag or pocket.
The opposite side of the case is split into two larger compartments, one of which is mesh-lined so the contents can be easily seen. These compartments hold bigger items such as a multi-tool, tubes of rubber cement, allen keys, tyre levers or tubeless tyre tools.
Both of these sleeves have a broad elasticated strap over them which some reviewers have used to hold thinner road-bike inner tubes. Personally, I have only used the straps to secure a spare gear cable, as the wider tubes needed for my gravel bike were too big for the case.
This is fine though, as thanks to the extra storage offered by the case, I'm now able to use my saddle pack solely for storing inner tubes, safe in the knowledge that they won't be inadvertently punctured by any of the metal tools that I used to squeeze in there alongside them.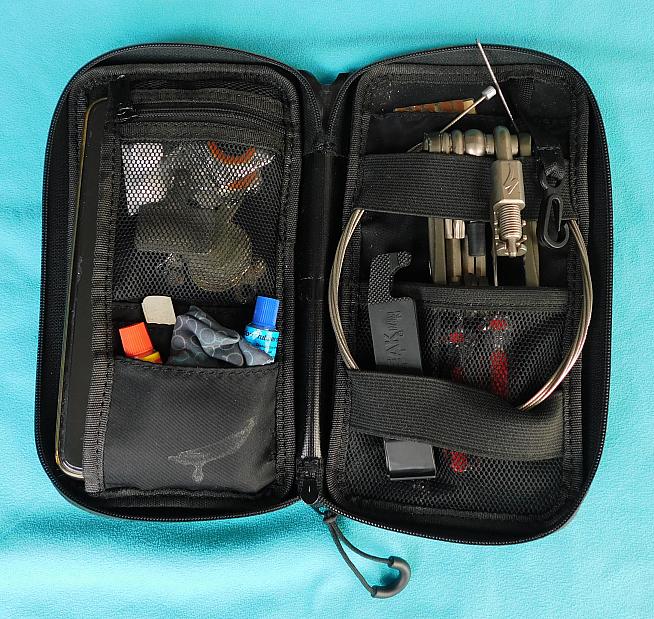 For gravel riders or bikepackers, the case may not be big enough to carry larger inner tubes, but it does offer valuable extra storage space for those tools and spares that might not otherwise fit elsewhere. Many of the bits and pieces I carry in the case - such as painkillers or spare brake pads - stretch the definition of 'essential', but do give me greater peace of mind on rides.
Below, are all the essentials and 'unneccaccessories' I carried in the case for the three-day King Alfred Way trip. (The doll didn't go on the trip - it is instead a feeble attempt to replicate the obligatory bikepacker kit grid photo which shows them spread-eagled on the floor surrounded by all the stuff they take on their cycling adventures.)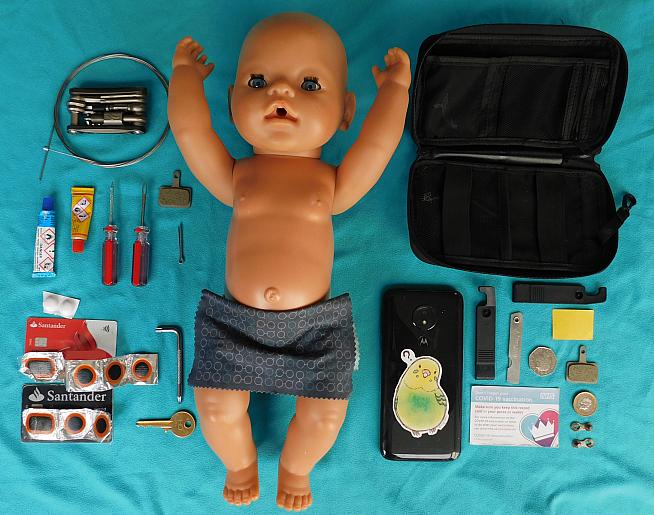 Roadies, and pro-racer wannabies who'd rather not clutter-up the clean lines of their bike with an unsightly pack under their saddle, could use the case to stash away inner tubes, a multi-tool and - at a stretch - even a micro-pump or gas canisters alongside their phone.
Personally, however, for club rides I'm happy to keep those bits and pieces in my road bike saddle bag and my phone in my trusted zip-lock bag. Saying that, I can see myself using the Essentials Case for longer road rides or sportives, when I might want to carry a few extra gels or spare cables, etc.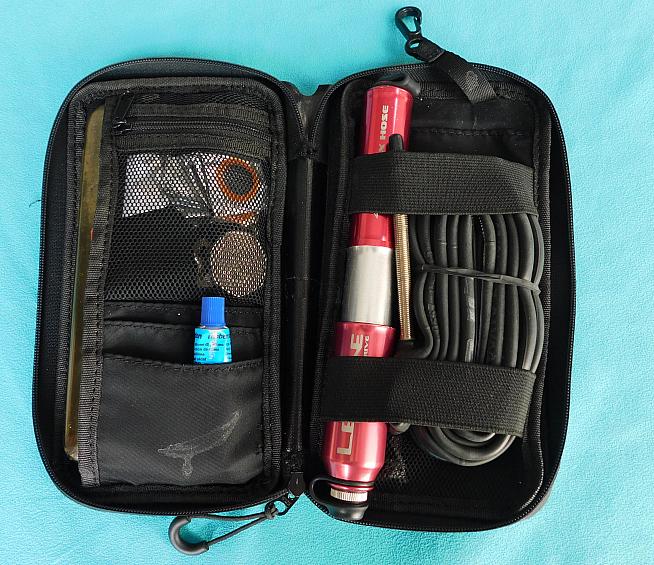 At £34.99 the Craft Cadence Essentials Case is certainly priced towards the top end of what you'd expect to pay for such an item - competing with products from high-end brands like Rapha and Silca - but it oozes quality.
Although its large size was a little off-putting for me, it does mean that it can not only act as a phone case, but also a wallet, spares carrier and tool case, which should make it appeal to bikepackers.
Alternatively, if you've got an unfeasibly large phone and deep pockets, or the urge to carry more stuff on your body rather than your bike, this case could soon become an essential companion.
Craft Cadence Essentials Case - £34.99 from craftcadence.com.
0 Comments