I've got to the point in life where I don't want to ever have to buy certain items again.
A combination of being well into my middle age and having a bit more spare cash than I ever had in my youth leads to a mundane/existential inner dialogue before I hit the 'buy now' button.
"OK, it may cost seventy quid, but it's made in Germany and comes with a 10 year guarantee... Get this right sunshine and I swear this'll definitely be the last kitchen bin you'll ever need."
This is particularly true of luggage. I'm sick of buying backpacks for commuting to work with flimsy straps that fray, waterproof linings that wear out after a while, or zips that gape open after I've overfilled the bag. So, when asked to test the 'IPX5 Waterproof Backpack' made by Craft Cadence, I was interested to see if this was 'the one' - the backpack that could outlive me.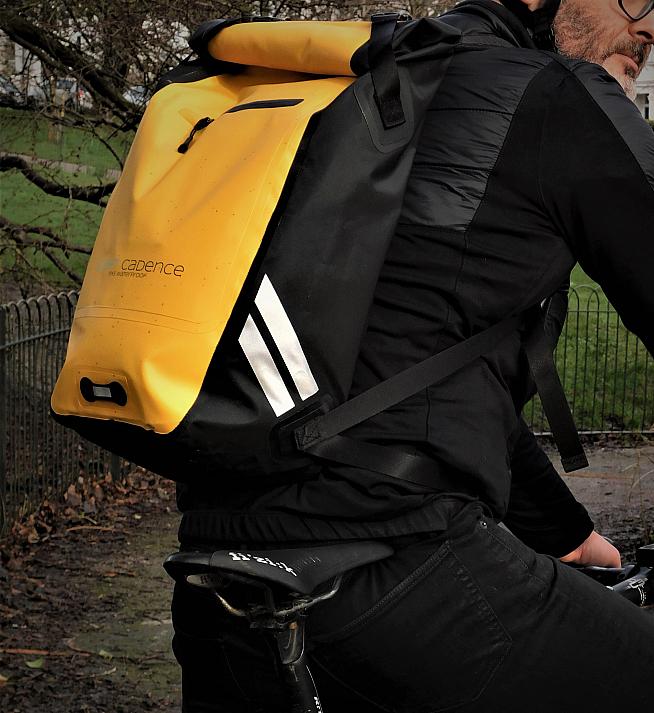 Craft Cadence was formed in 2016 in London by a group of like-minded riders who wanted to 'create a company dedicated to the cycling commuting community'. Their first product was the Cadence Waterproof Backpack, which was designed to be sturdy, waterproof, minimalist and smart.
Selling direct from their website, Craft Cadence has encouraged real world feedback from their customers to help them improve their products. The result of this is a refined design which is now in its third iteration.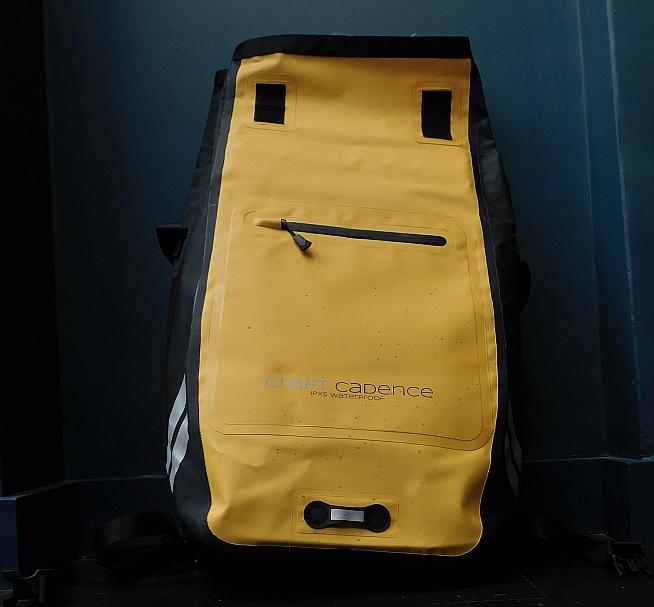 Apart from the fact that it looks like a giant stony-faced emoticon when opened up, the first thing that strikes you about the backpack is that it's Tonka-toy tough looking. Made of 0.5mm thick tarpaulin, which is claimed to be the thickest on the market, it's no surprise it weighs in at 1.1kg.
As well as being completely waterproof, the tarpaulin is tear resistant and far stronger than nylon, polyester or waxed canvas. The simple design means that seams are kept to a minimum, but these are so firmly welded together it's difficult to imagine how they could come apart under normal use. The base of the bag is strengthened with an extra patch of grippy rubber to resist wear.
Colours are limited to stealthy black for introvert ninjas, or look-at-me bright yellow for the extroverts. Both versions come with highly reflective stripes on the sides and shoulder straps to enhance the riders visibility when commuting. There's another reflective patch on a loop at the bottom of the bag, which can also have lights attached to it.
Where stitching is used, such as on the straps and the roll-top enclosure, the quality is very high. After a couple of months of almost daily use, there is not a single visible loose thread to be found - even on the Velcro patches which have to cope with constant shearing forces.
Indeed, the whole bag has been given an 'IPX5 rating', which technically means that it can withstand water being directed at it from a nozzle like a hose pipe or showerhead. Taking this rucksack into the shower with you might be showing it just a little bit too much love, but it's nice to know that there's scope for these things to happen in the future should the relationship develop in that way.
The second thing that strikes you about this bag is its size. With a capacity of 30 litres, there is room in this bag for a laptop, change of clothes, shoes, towel, tools, lunch and dinner too if you wanted. Inside the bag there is a removable nylon 'organisation sleeve' which is fixed into place with Velcro. The sleeve has a padded laptop compartment on the inside back of the bag and a pair of zipped mesh pockets on the front for storing smaller items like keys or a wallet.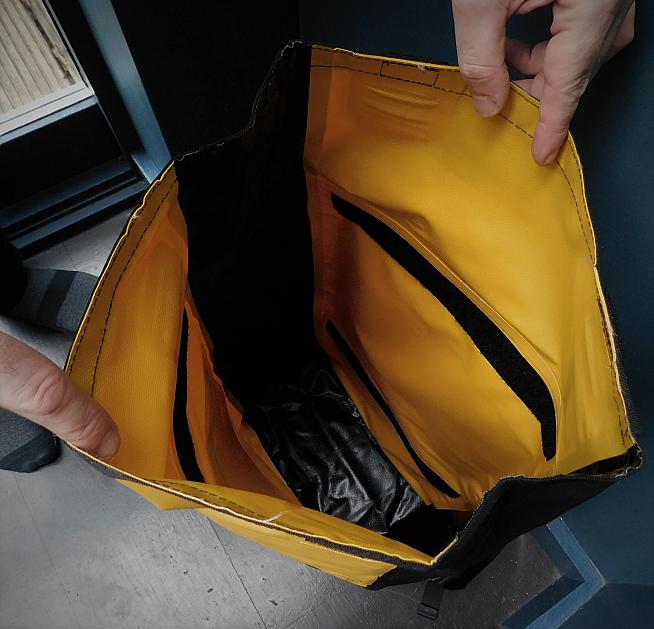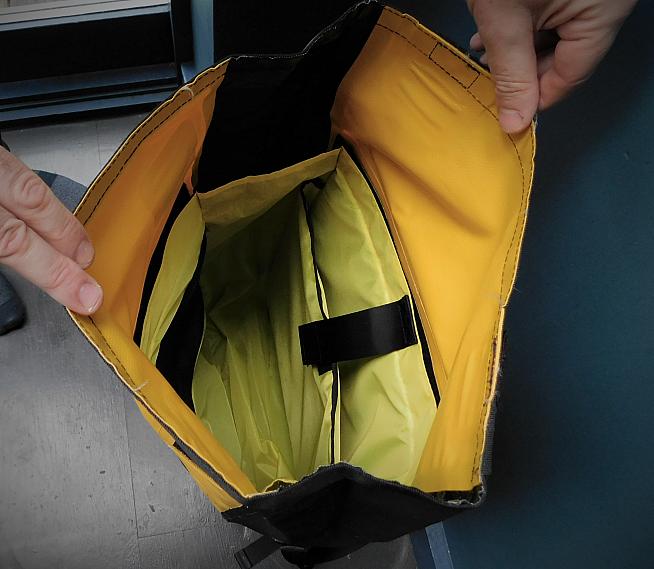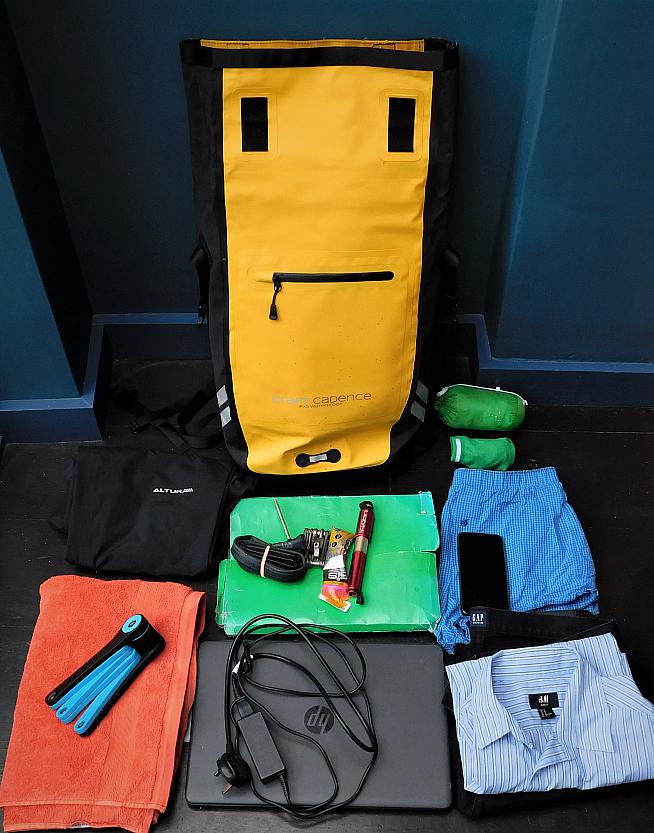 On either side of the main central compartment are two smaller compartments which can be used for storing bottles upright, though I'm not sure how wise that would be if you were using the bag to carry a precious laptop. Removing the inner sleeve reveals a cavernous interior, which most commuters would struggle to fill, unless they were in the habit of carrying home shopping as well.
To close the bag the user simply folds down the roll top three times. Velcro pads at each end, coupled with a strap across each corner, secure the roll top and keep the inside watertight.
It's pretty important to squeeze out the air as you do this otherwise you'll end up with something resembling a mini-lifeboat strapped to your back. It can be a bit of a faff with roll-top bags to get to the contents quickly, so Craft Cadence have included a single external zipped pocket for stashing items like your phone that you may need to get to quickly.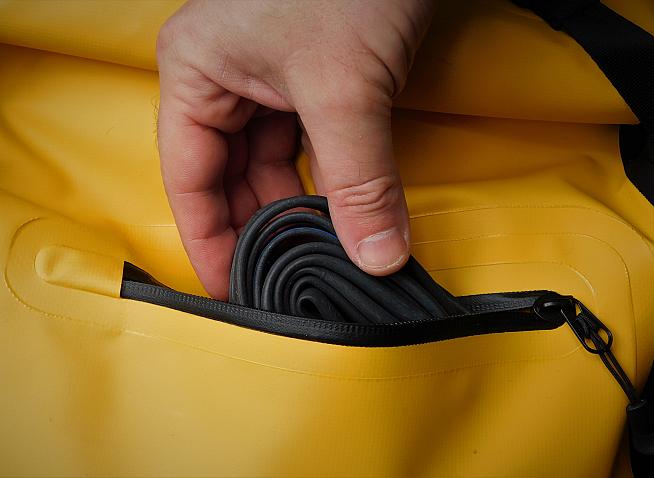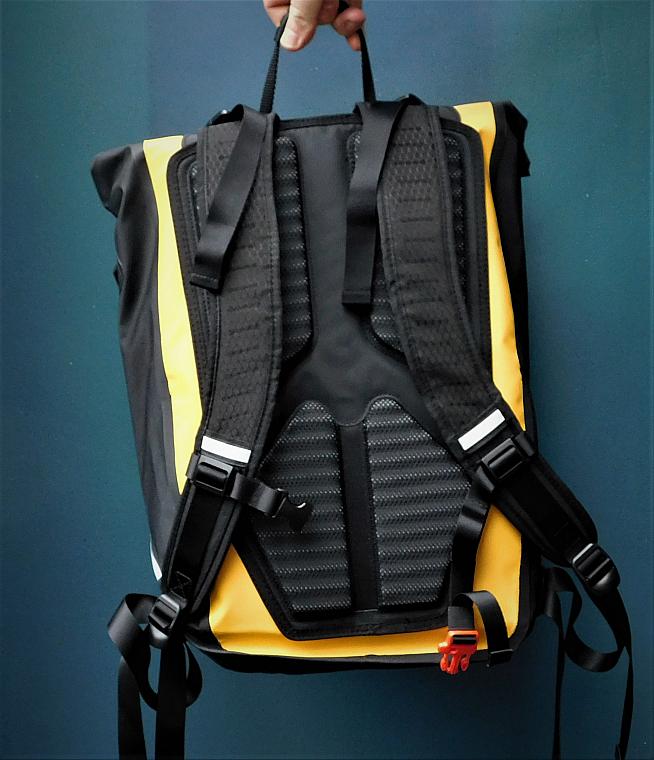 Although this pocket is not given the same IPX5 rating as the main compartment, a water resistant zip 'garage' and zipper flaps mean that the contents are going to arrive a lot drier than the rider in the event of rain.
When I loaded it with a laptop, a bike lock, a full set of clothes, a towel, rainwear and gubbins for work, the backpack weighed over 7kg, and still only seemed half-full. Thankfully, the padded and vented shoulder straps and back pads seemed to have been designed well enough to cope with such a weight easily.
This is mainly due to the high density foam that firmly cushions the weight of the bag where it contacts the body at the collar bones, shoulder blades and kidneys. A lightweight hip-belt keeps the bottom of the bag from moving around too much, and helps the rider shift the load onto the small of their back and away from their shoulders.
The shoulder straps are kept firmly in place by a fully adjustable strap across the sternum. For reasons that are not explained, the chest strap buckle also contains a bright orange 'rescue whistle'. I guess this could come in handy should you take a wrong turn on your commute and find yourself lost in a rainforest, or if you want to recreate the sounds of an old-school steamy rave whilst testing out the bag in the shower.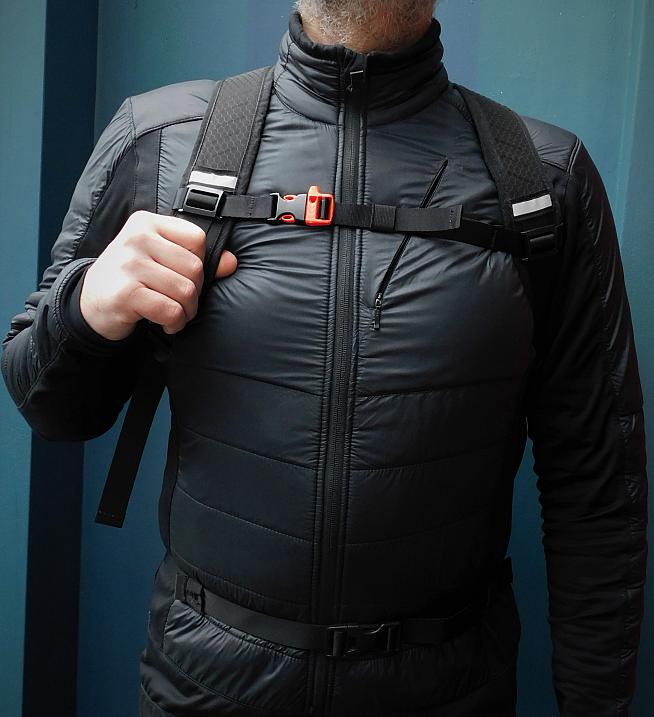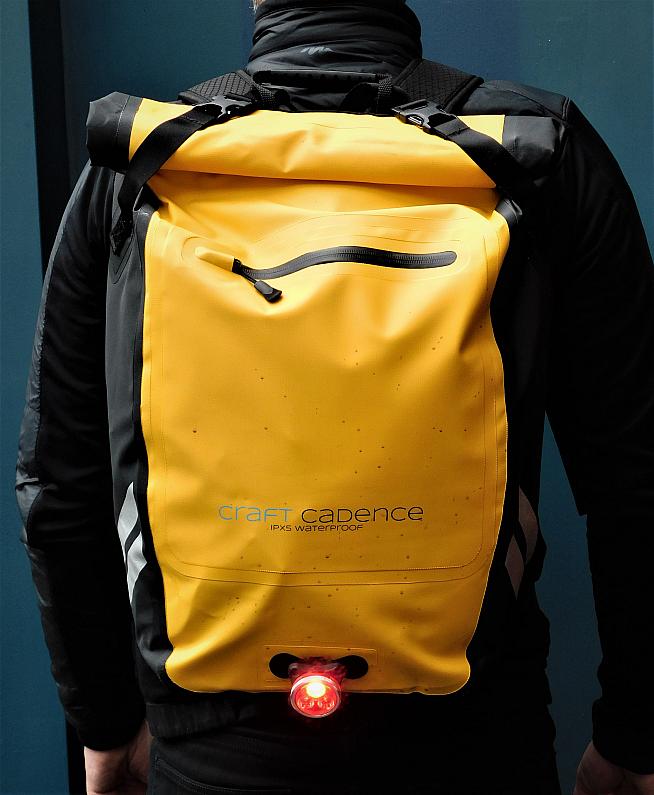 The overall effect, with all the straps tightened up is that the backpack is comfortable with this weight for rides up to an hour. No doubt the mesh covering on the harness system as well as the holes and channels cut into the pads help to minimise the build up of sweat when using the bag in the summer months - but as I was testing the bag during the winter I didn't get the opportunity to find out how well they worked.
It's easy to see why owner reviews of this bag are glowing. When I was a kid I remember how having the usual Sunday-night-itis that started when Antiques Roadshow came on the telly would vanish if I had a brand new school bag or trainers to show off in the playground the next day. In much the same way, I found myself wanting to use this bag at every opportunity.
I've found myself popping to the shops on the way back from work just so I could carry some more stuff in it. I've even been mildly disappointed that it hasn't bucketed down on my short commute - having instead to make do with testing it in the mild December drizzle that came before Christmas lockdown.
The design is so good, it's hard to find fault with this bag without feeling unduly harsh. If I was being picky I'd say that the belt strap feels a bit feeble when compared to the rest of the bag. There is no padding with it, which I imagine will make it less comfy against the body in the summer months when I won't be commuting with a thick jacket on.
A commonly raised issue with the bag is that the ends of the roll top protrude slightly from the top corners. Some users say this can obscure their vision when looking over their shoulder whilst riding in traffic. To be fair to Craft Cadence, they reduced the width of the opening on this version of the bag in an effort to reduce this issue. I found that simply pinching in the sides at the top of the bag before rolling it down solves the problem completely.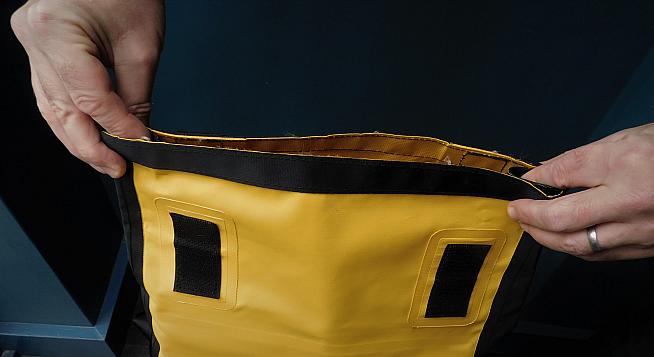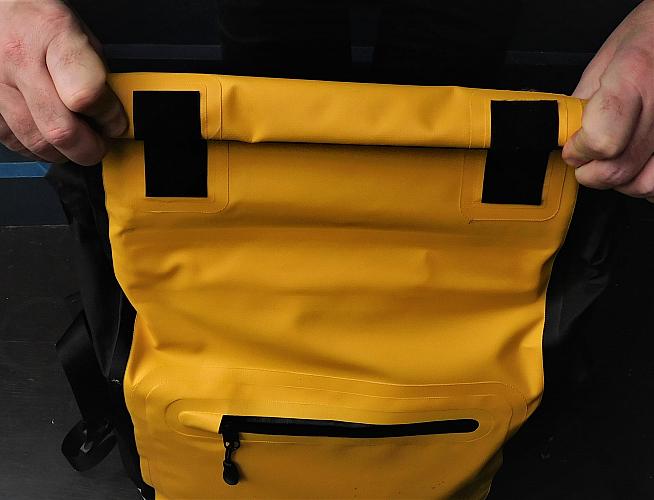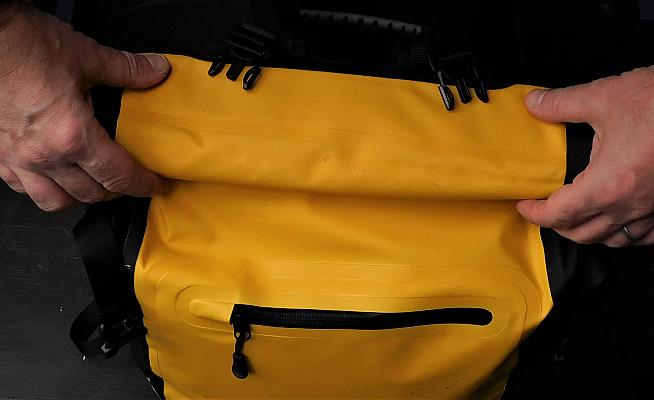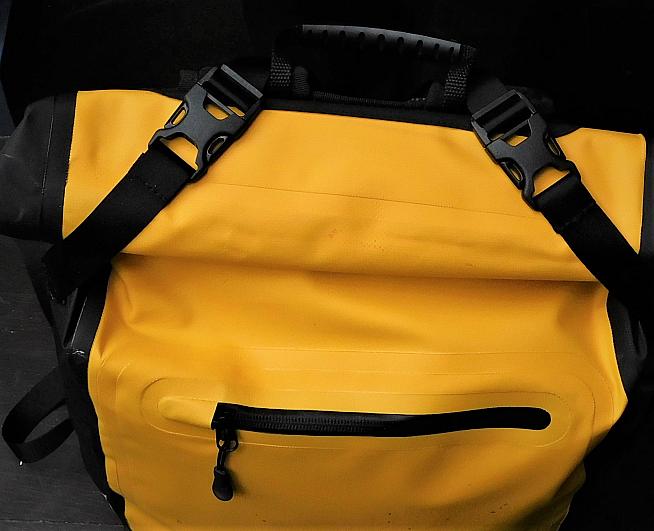 For the two months I've been using this backpack on my daily commute I've been hugely impressed. It's sturdy and spacious but comfortable to wear, highly visible and completely water-proof.
It's become my go-to bag for shopping trips on the bike and I can even see it being used on days out, shorter bike-packing adventures, or as a kit-bag when racing or taking part in sportives.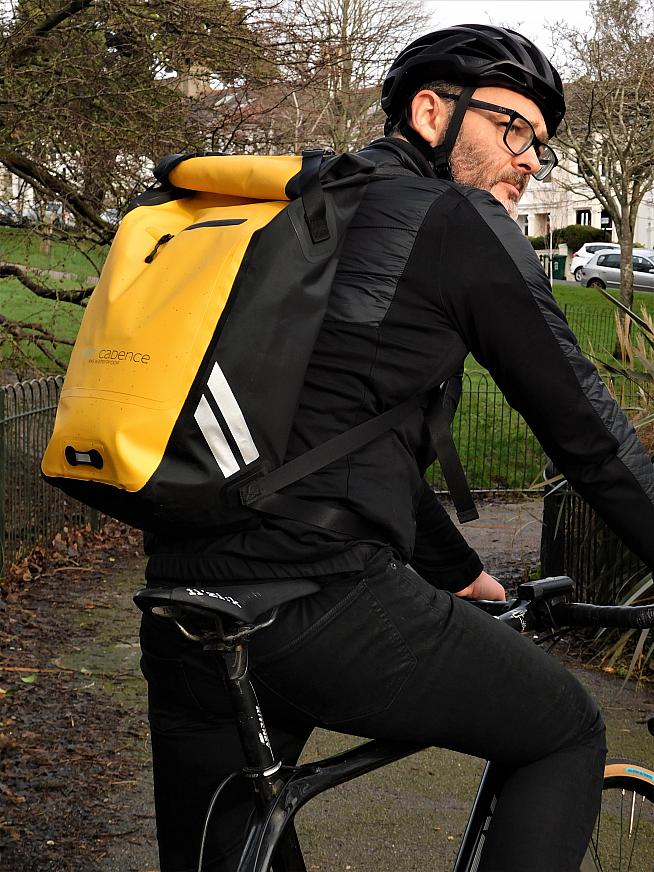 Craft Cadence are confident enough to give their bag a 5 year warranty, but with care there really is no reason why the main body of the bag shouldn't last a lot longer than that.
So is this 'the one'? It's early days in the relationship and we're yet to share a shower together... but call me an old romantic, I think I may have found my commuter bag for life.
Craft Cadence Backpack, £79.99 from craftcadence.com
0 Comments