I've flown in an aeroplane. I've used a plane when hanging a door. I've eaten plain crisps and (unbelievably, you'd imagine) like a plain salad.
I've done things that have been plain sailing, used plain English (again, unbelievably) and I like Virginia Plain by Roxy Music - although my favourite version is one in which the lead vocal is sung by Kevin Eldon as Chairman Mao Zedong during an episode of the BBC's Big Train.
I've never ridden a bike on Salisbury Plain, until now.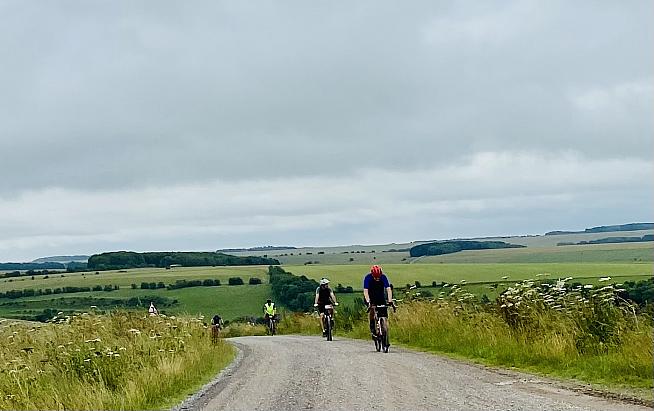 After my ignominious failure at the last Glorious Gravel event, I was dubious about attempting another, but the circular course from Thuxton Airfield west over the 'Plain was billed as fast and flowing and, aside from a couple of short sharp climbs, relatively berg-free.
> Inglorious Grovel: Andy reports on the Glorious Gravel South Downs Sportive >
I was staying with a friend a few miles south of the airfield so I cycled to the start and found the usual efficient registration and signing in experience from my last GG Sportive. I strapped on my timing chip and then went to find my company for the day, a rare outing for two of us from Sportive.com.
My weapon of choice for the ride was my All-City Space Horse, whereas Oisin was riding flat-bar Franken-Focus with MTB gearing. Hardtails seemed to be de rigueur for the ride and I guessed many locals maybe knew something I didn't. Still, there was a good selection of drop-bar bikes and some riders even had road clip-ins optimistically on their rides.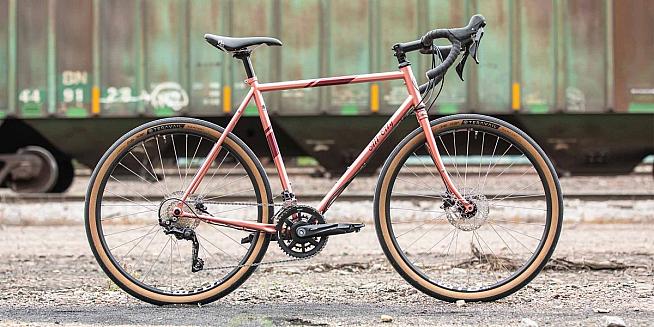 > Gravel meets steel: All-City Space Horse review >
After the usual excellent send-off instructions, we hit a section of singletrack to get us to the Plain which confirmed my worst fears. Full of pre-ride adrenalin and breakfast tackling the brambly bridleway barely wide enough for one rider was made even more sketchy by a dose of overnight rain.
We were relieved to be spat out on to tarmac but what came next was worse. A rutted uphill track with a centre section two tyre-widths across proved to be a greasy wall of death for anyone daft enough to diverge from its centre, and what happened next sounded like a doppler wave of foul language, swept up and down the trail as each one of us imprisoned in it came a cropper and took a mouthful of late spring vegetation.
It was almost a blessed release to encounter a steep and rocky, wooded downhill at the end of it, with only the most courageous releasing their brakes for anything more than to stop the squeals of resin on rotors and saddles on perineums.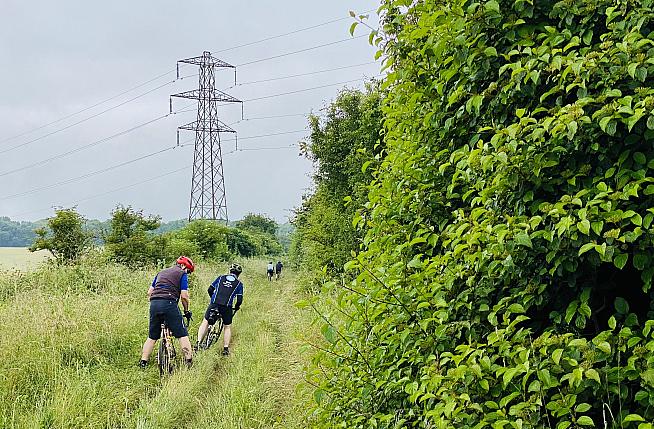 This was just an overture to the main concerto as soon we were on The Plain proper - my first experience of Bona Fide gravel in the UK, the medium that the whole gravel scene has been cultivated for. The UK has its fair share of good routes to ride gravel bikes on - a mixture of forest trails, fire roads, bridleways and B-roads, but this is what gravel with a capital G is all about - miles of open, wide, loose, crunchy, unmade perfection.
It was bizarre to think that all of this was thanks to Her Majesty's armed forces needing to play around with tanks and other heavy vehicles, and for them to pummel the countryside with heavy ordnance. Evidence of their presence was immediate on us hitting the Plain and the ultimate Broom Wagon, a heavily armoured tank, roared its way along an adjacent road.
There was always a reminder of the Plain's primary function - multiple signs warning of the risks of straying from the main tracks on pain of pyrotechnic death and or the consequences of touching any suspicious-looking metal objects lest they send you to your Maker in a cacophony of heat, sound and shrapnel. Another curious indicator was the plentiful positioning of numerous portaloos adjacent to many of the roads ridden.
Granted, there are potentially more picturesque settings for a gravel ride, but I've yet to ride them and was in rapture. For once, seeing a road stretch out ahead of me for miles, fellow riders merely bobbing dots on a slowly changing horizon, I didn't feel like I wanted the distance to shorten. The undulating flow, the crunch - the unmistakable sound of wide profile tyres on pressed local stone - was all I needed.
Magically, the breeze seemed to come from nowhere, the sun blazed but was warming, not stifling. Inclines were steady enough to keep a reasonable cadence, if not speed and the downhills sweeping and randomly pock-marked with shallow scrapes that encouraged slaloming around the edges, rather than nervous slow progression through the middle as that was the least treacherous route through.
Oisin left me at the route split as he had a pass for the whole day, whereas I'd promised a swift return, half thinking that I might again bite off more than I could chew. But as the miles ticked by I began to regret not turning right and taking in a few more hours on the Plain.
Even a Milky-Milky moment when my tubeless front tyre picked up a stray flint and began to shower my lower legs and downtube with latex didn't dampen my spirits. It quickly sealed, a short way from the feed station, where I got my fill of cheese rolls, tins of cola, crisps and cynicism about tubeless from the mechanical support guy when I asked him to top up my tyre with air for the last 10 miles.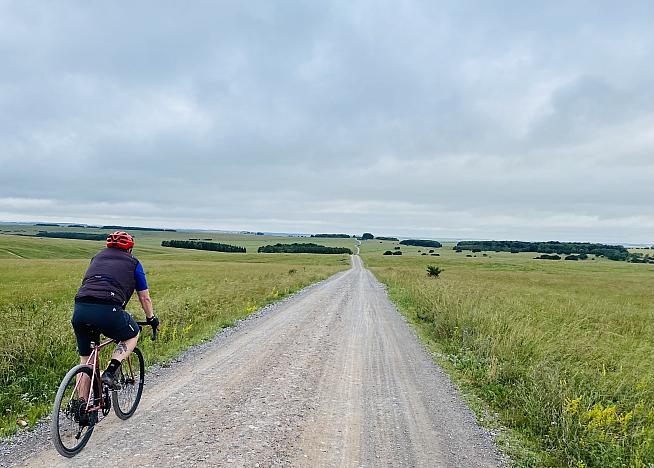 After a brief diversion due to the previous night's rain affecting the route once more, the gravel came to a sudden halt and we were plonked back to revisit the perilous first section from the morning, this time in reverse. Going downhill in the slippery channel was only slightly less perilous than doing it in the other direction, and the expletives less imaginative.
Relieved to be back at Thruxton, all riders were greeted with a bottle of locally brewed fermented beverage. There was a choice between two different beers but sadly I was not allowed to try both - purely in the interests of balance, of course.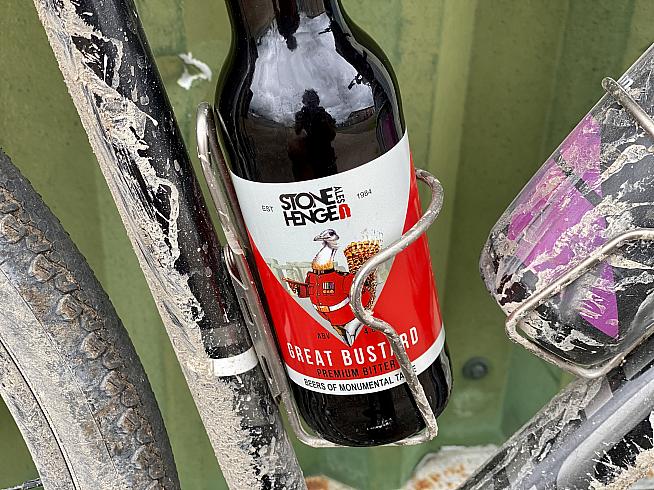 I loved my first taste of Salisbury Plain gravel roads, despite sharing them with the armed forces and local riders on noisy, small-wheeled motorcycles. I'm determined to come back one day and re-ride the route, taking on the extra loop I shunned in favour of Brownie Points and the opportunity to watch the early part of the men's singles final at Wimbledon.
After my spanking on the South Downs, this event was more to my liking and even though I'd downloaded the wrong route (a new version was sent out to everyone the night before due to the weather) I never felt lost as the signage was excellent and frequent. I'll definitely look into events further afield if they can stage them on desolate MOD land with the risk of certain death if I stray off the designated route.
Check out the full programme of Glorious Gravel sportives at www.gloriousgravel.com.
0 Comments