Steel bikes - what's that all about?
I had one 45 years ago and it wasn't all that much fun. It was my first actual proper bike - a Raleigh 20 Shopper with a hinge in the middle.
At the time I thought it was great, it was my first taste of independence and cotter pins; but despite its iconic status, it was soon discarded in favour of something that didn't weigh as much as Giant Haystacks. Plus I got tired of saying that it wasn't a girls bike.
Several dogs' lifetimes later I was looking for something to replace my gravel bike with. I'd recently moved jobs and had fallen out of love a little bit with my Pinnacle, not because it was a bad bike, it just reminded me of the unhappy circumstances of my last weeks there. Plus, I'd upgraded the hell out of it, and it never seemed to fit right - like it was wearing an expensive suit for a court appearance.
So the search was on, and for a while I'd been hankering for a steel-framed bike.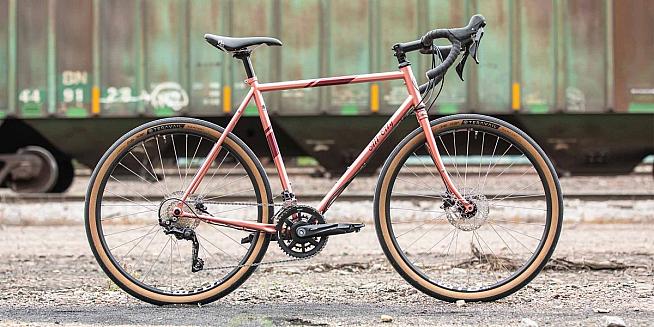 Whether there has always been a huge choice, or my confirmation bias had kicked in, I was literally spoiled for choice. A couple of colleagues at my new shop pointed me at their steel-framed All-City bikes from an American manufacturer who, despite only being less than a decade old, seemed to ooze retro style and sophistication; and their choice frame colors (sic) were bangin' (as the youth of today might say) .
All-City's range of framesets is bewildering - from single speeds, carbon forked road machines, thru-axled, wide BB'd monster crossers - but I was drawn towards the beauty and simplicity of the one they called Space Horse. Cosmic Stallion had a marginally cooler name, but it was the steel forks on the 'Horse that swayed it.
Whatever the style of the frame, one thing about All-City was obvious - every offering was dripping with quality and exquisite detail, from the achingly ornate lugging to the subtle bottle cage bosses. Each page of the website I skimmed through seemed to have yet another glossy sled with paint so shiny and lustrous, it looked like it had just been applied and would start running if you blew on it.
The disc brake frameset uses 612 Select Tubing, a propriety blend of double-butted 4130 Chromoly steel tubing with a custom-lugged fork crown. Seven frame sizes are offered ranging from 43cm - 61cm, with the two smallest sizes built around 650b wheels. It has clearance for 700c x 45mm tyres (41mm with mudguards) or 47mm if running 650b wheels (42mm with guards).
The Space Horse is available in Dusty Pink or Nautical Blue, and I wasn't about to fall into the trap of gender definitions about a colour scheme. Anyone chanting 'Pink is for girls' first of all needs to examine their preconceptions about gender identity and then needs to look back past the mid 20th century where the reverse used to be true.
Pink was considered a stronger, more virile colour (not that it matters anyway). Dusty Pink was ordered and delivered.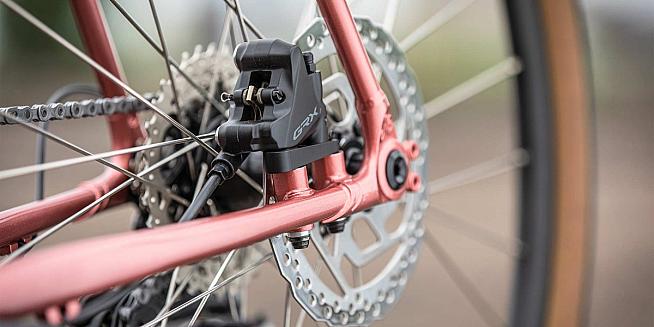 The photos on the website were misleading - the frame looked even more stunning in the flesh, and there is other detail that cannot be shown hidden away in every corner.
Like medieval masons crafting gargoyles for crenellations on the top of cathedrals, these details were necessary for the glorification of the finished product, whether they were noticed by the naked eye or not.
For the home mechanic, there are plenty of details to please - from the 68mm English threaded bottom bracket, to the external cable routing that makes wrenching a relative cinch. Flat mount disc brakes and thru-axles front and rear keep the Space Horse up with the latest tech trends belying its classic profile.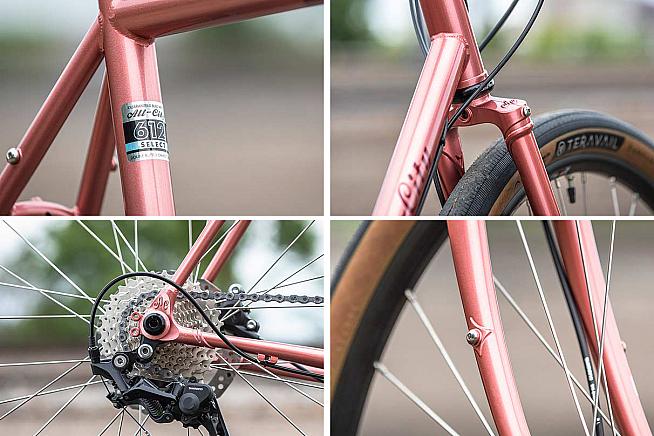 A build like this was not for my hamfistedness, so I took the donor bike and the new frame over to Wesley in Sevenoaks for him to fettle with. My groupset, finishing kit and wheels would hopefully find a home more worthy of the outlay, rather than me having the nagging feeling that with the Arkose I'd rolled a poop in glitter.
Aside from a minor panic about the wrong crankset (note to self - BB30 does NOT work with external 30mm bottom brackets, unless you want a really expensive balance bike) the metmorphosis was completed in a week and I ventured out east for a gravel ride round the Darenth Valley.
First thing I was aware of was that the Space Horse felt so... right. A slightly more upright position and a shorter reach than the Arkose meant that I wasn't stretched forward with the feeling I was pushing slightly backwards when pedalling.
After a short section of road, it was into the woods for my first taste of off-road and time for Dusty's lacquer to experience Kentish clay. Despite being slightly heavier than the alloy frame, the 'Horse felt more sprightly and definitely more sure-footed down a set of leaf-buried steps I wasn't expecting. Even a carry over a footbridge was comfortable.
Each time I looked down, I wondered where the rest of the bike had gone. The strength of steel means that thinner profiles can be used, and that lack of visual bulk deceived my eyes. I was begining to appreciate the comfort of the frame material, not least because of the way the fork worked. The more forgiving nature of steel over carbon gave the front end a more controllable and predictable ride over the rough stuff, and the rake meant toe-overlap was eliminated for me.
The 40c Vittoria tyres that are tubelessly stretched over my wheels coped well with the majority of the terrain, and the massive clearance meant that mud or leaves didn't impinge on wheel rotation, even if they did reduce the tyre tread to slicks leaving me spinning my wheels like a Vauxhall Nova next to a drive-thru KFC.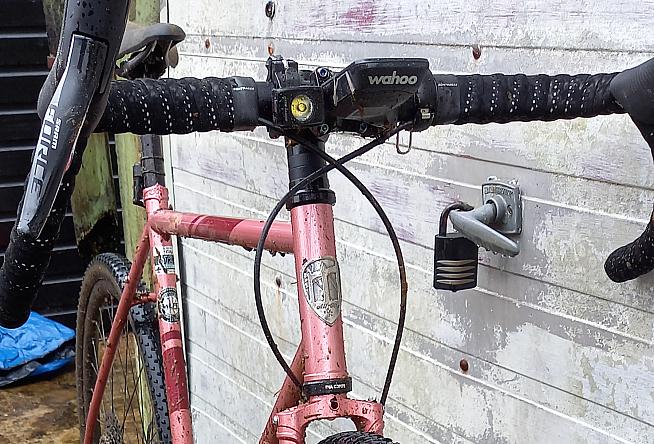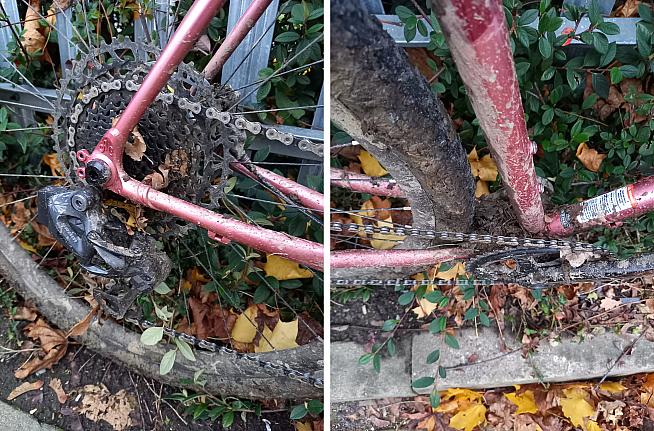 I wasn't worried about the muck and mud - if anything it made the bike look cooler.
Back on the road we pushed on a bit faster as the rain had started and a bit of uncharacteristic out-of-the-saddle action from me resulted in a pleasing change in character from the frame.
Usually this kind of behaviour from me had my Pinnacle's rear end wallowing about in sympathy with my own, but the Space Horse was having none of that silliness. Stamping on the pedals had an instant reaction akin to pushing on a 'pull' door, converting my not insignificant gravitational attraction into forward motion, the like of which I'd not experienced since I was two stone lighter and riding a Cannondale CAAD12 for the first time.
Needless to say, I am very very pleased with this bike. Its price (around £1000 for frame and fork) may seem expensive, but for that you get fine craftsmanship, beautifully finished with amazing attention to detail and a finished product that is greater than the sum of its parts.
I have been using Dusty - this bike is worthy of having a Proper Name - on my daily 10 mile commute and have stopped trying to race to work as quick as I can. I'm just out there to enjoy the comfort and poise of this wonderful machine.
I decided to get some full-length mudguards fitted at work to save having to have spare trousers for days where puddles are unavoidable, but discovered that with the guards fitted there wasn't clearance for my gravel tyres. In annoyance and desperation, I had to fit an old pair of 28c GP5000s to get me home. They looked ridiculous, but the extra speed compensated for the ignominy suffered and chatter from the road, and the constant fear of a blow-out.
Once home, I replaced the 700c tyres with my 650b wheels shod in Plus Road tyres, and the commute is now both fast AND comfortable.
I have a whole winter of commuting to come and a couple of gravel adventures planned for the New Year, including another tilt at DoomCross, pandemic allowing. I'll be making notes on my progress and be back with an update.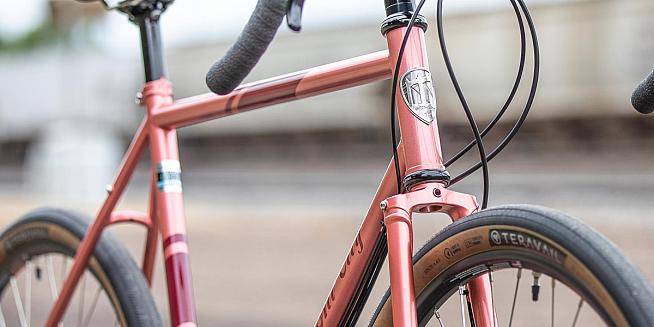 This was going to be a tryout to see if I could get on with a steel bike, but I've already sold my Arkose frame so I guess I must be enjoying it. I'm even looking for more practical bling to add.
Steel has come a long way since that old Raleigh Shopper, and the All-City Space Horse would make a very fine addition to any cyclist's stable.
All-City Space Horse, frameset from £1000 at www.ison-distribution.com.
Find out more at allcitycycles.com.
0 Comments