There's an opening sequence in one of my favourite all-time sitcoms, very Bergmanesque, where the Grim Reaper is playing chess with a mortal.
The mortal moves a piece and declares "checkmate". The Reaper stands up, surveys the board and, in a booming voice, says "Hmmm - Bollocks to this," knocks all the pieces over and raises his scythe...
As it was the 1980s and only just post-watershed, you don't actually see any soul reaping but the phrase stuck in my mind. I revisited that scene in my head many times last Saturday during my tribulations on the Glorious Gravel South Downs Dirt Sportive - about every time the gradient increased above the ambient temperature.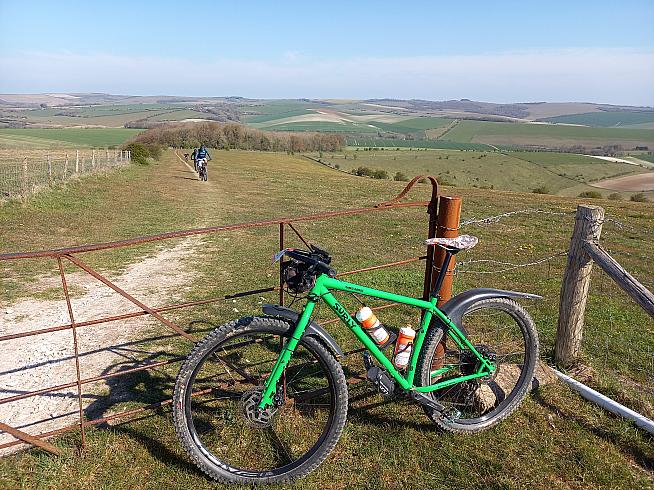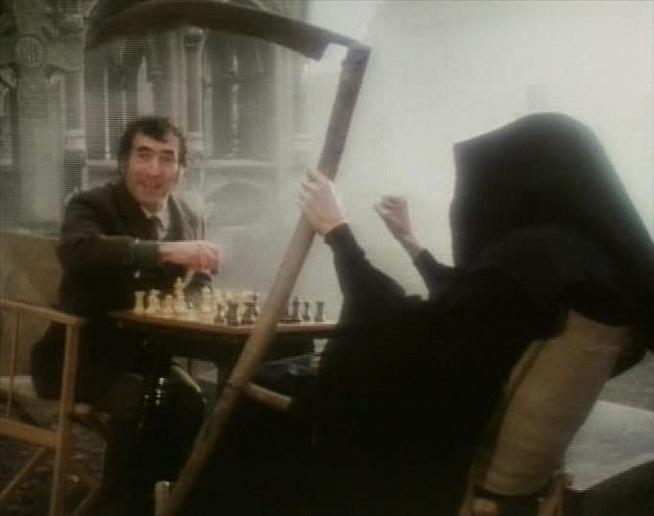 It all started relatively calmly - I haven't done an actual sportive for quite a while, global pandemic and national lockdowns and whatnot, but the start venue was all too familiar to me from previous outings.
The last time I'd been to Plumpton Racecourse was a slightly unpleasant affair, having a giant cotton bud shoved into my facial orifices when I got a Covid test last December. That was thankfully negative, and I felt much less negative about the day's ride.
Back when Evans Cycles ran their RideIt events, I'd been over some of the course up the Downs and beyond, so I had a fair idea of what lay ahead. I had no illusions that it was going to be anything but uncomfortable for me. Rather than take my gravel bike, I decided to hop on my rigid-forked MTB, a popular choice amongst the other participants.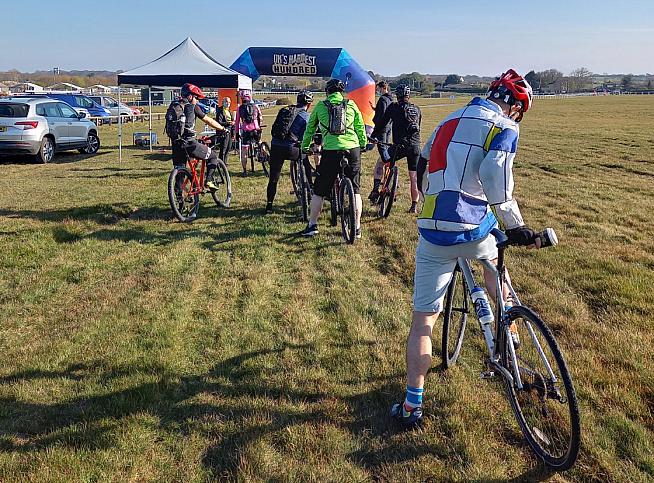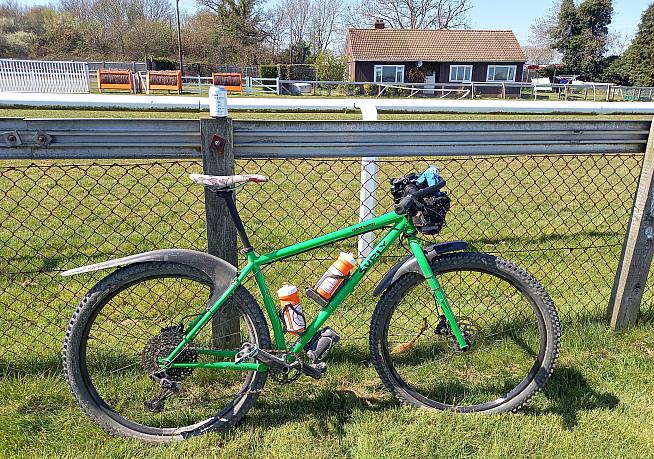 There were also many full-suspension and hardtail mountain bikes, a few cyclo-crossers, and a cornucopia of exotic gravel-specific steeds. The makers' names I saw overtaking me in the first five miles were like a fashion parade of boutique brands with the odd high-end 'High Street' marque for good measure.
The Ribble CGR, Canyon Grail, Specialized Diverge, and Genesis CdF featured heavily, but there were some fine examples from Bombtrack, Singular, Shand, Surly, OPEN, Cube, and Stanton. That sort of brought home the popularity of this kind of riding to me. There was even some crafty soul on an eBike - made me jealous every time I thought about it over the six hours I was out.
The route really began with a doozy of an ascent, up to the South Downs Way via Plumpton Bostal. As an overture to the ride in general it was something between "it can't get any worse, surely" to "this'll ease you in nicely". Every time I tell myself I'll do the Bostal, and every time I get off and push. Not a great way to start the day.
Once on top of the Downs you're quickly reminded that the escarpment is also a massive wind-break. This can be helpful or not. Turning into the wind, I channelled my 1985 Grim Reaper - "Bollocks to this".
Still, I persevered and once I'd warmed up found progress was steady if not a little slow. A winter of commuting on tarmac does not prepare you properly for your first off-road venture of any note. The sun was very warm in the lee of the Downs but otherwise, it turned the sweat on my forehead a salty frosting worthy of the rim of a Margarita glass.
The gradient percentage went up and down like the relentless song of the numerous Skylarks as I slogged towards the first feed station of the day, at approximately 15 miles. After what seemed like a windy version of the Inferno, I finally came to cross the river Ouse at Southease - officially the flattest part of the route, and the welcome sight of an extremely well-stocked watering hole, teeming with a greater variety of lunatics like me than you'll find outside of the Houses of Parliament.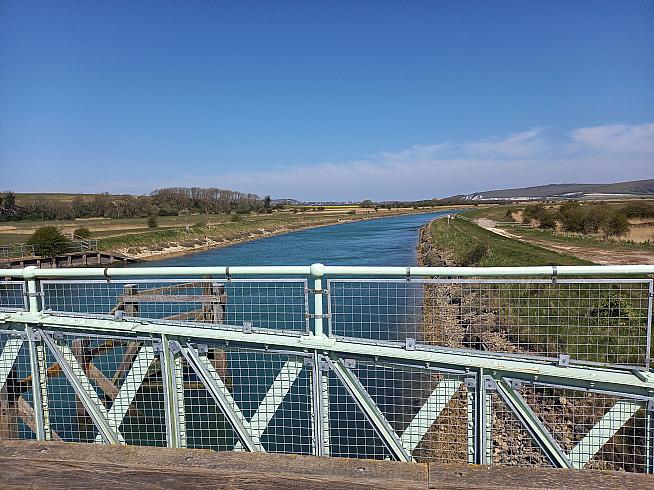 After cramming in as much free food as possible, and packing what I couldn't eat immediately into my bar bag, I heard from some cyclists coming the other way that they'd just done a 10-mile loop of some insane climbing on the other side of the river valley.
I weighed up the real and present threat to life against my sudden need to get back to a family BBQ, and decided I didn't need to experience said loop to know how horrible it would be for me. Instead, I turned and retraced the route back through Rodmel and onto the back nine of the course.
Heading westward again, and the headwind decided it liked my face so much that it would continue to desiccate it for another three hours. The climbs were not as horrifyingly steep but all worthy of the day's catchphrase as I raced stationary objects to the crest of one hill, only to find a more determined one hiding behind it, eager to make my knees pop.
One final assault of a single figure gradient got me to the top of Plumpton Bostal once more. The choice there was to career down the track to the racecourse or take another hour off my life going to Ditchling Beacon with all the other mad bastards...
I chose wisely; although, the last time I descended the Bostal I had front suspension and plus sized tyres, so I might have said goodbye to a few fillings and almost soiled myself on the way down.
Back at HQ, I managed (but didn't care) to get lost and looped around the inflatable start arch to clock up what, on paper at least, looked a reasonable time - albeit quite a few miles short of the day's parcours. There was even a complimentary can of very nice craft IPA from 'adventure brewers' Stohk, which would have been quaffed gladly if I hadn't been so dehydrated.
Glorious isolation
The Glorious Gravel South Downs is one of a new series of sportives from Sportive Breaks. With years of experience running trips to Europe's biggest granfondos, the Sportive Breaks team have buckets of first-hand insight into what works and what doesn't on a ride like this - and they've put that hard-won knowledge to good use.
The route, the signage, the setup, and the day were all magnificent.
This sportive should, however, come with a health warning. There was a breathtaking array of climbs to be done, ranging from the implausible to the impossible throughout a course that was not for the faint-hearted.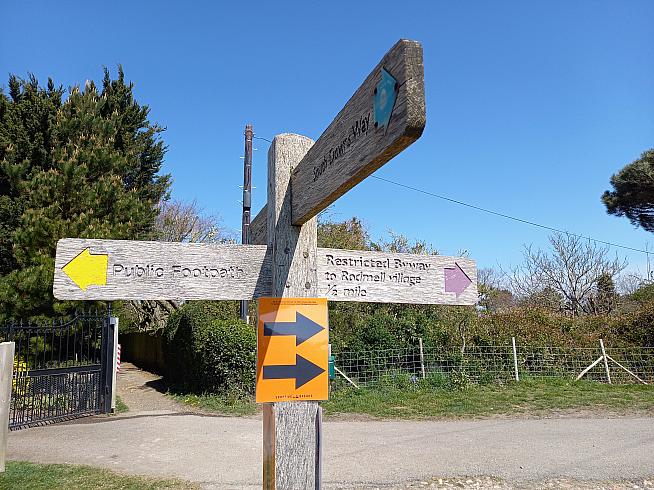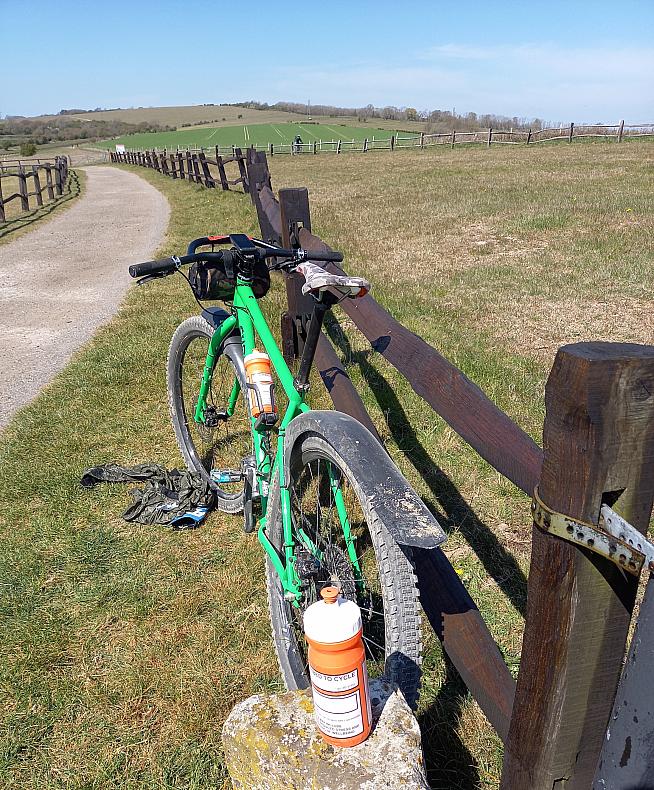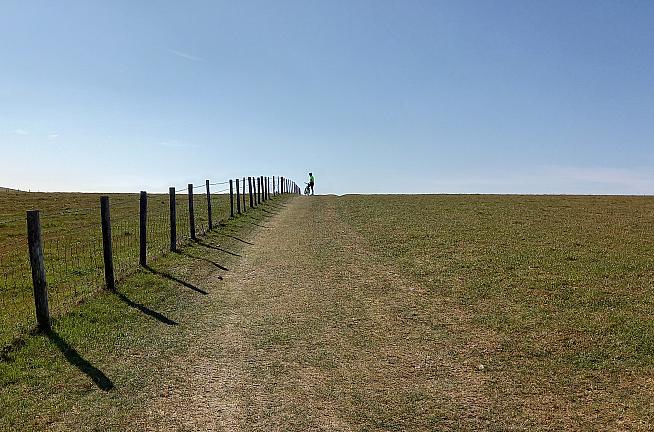 Despite being adjacent to Brighton, Lewes and Newhaven, the South Downs appeared as desolate in places as I've ever been in the Peaks or on the North York Moors.
It's an amazing area to ride and it's all on my doorstep. At times it felt like you were the only soul for miles, but then you'd come across a gaggle of walkers, a field of sheep actually lambing as you rode past and then turn a corner to traverse a busy main road.
If there's one criticism I'd make, it's that there was no 'less challenging' alternative route. But, if you're fully aware of just how gruelling this ride is, then you'll get back what you put in in spades.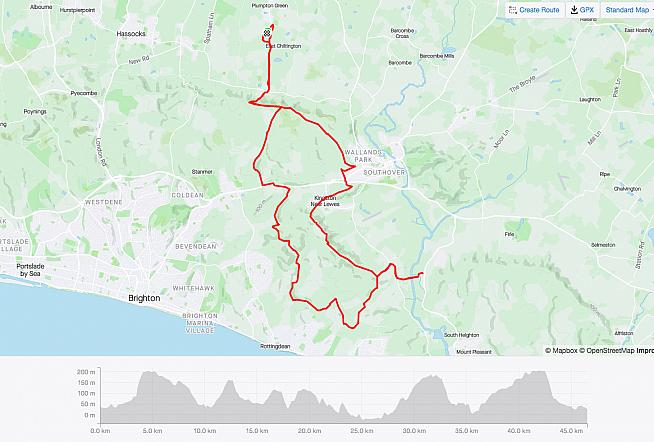 As I left Southease halfway through, I heard my first cuckoo of the year and thought, "Yup - I am" but I wasn't expecting it to be anything other than what it was - supremely challenging and supreme fun. And from what I could see in the faces of the other riders, they thought pretty much the same.
As for me, my Glorious Gravel turned into an Inglorious Grovel but I'm hoping to come back next year better prepared - either I'll train harder or borrow an e-bike.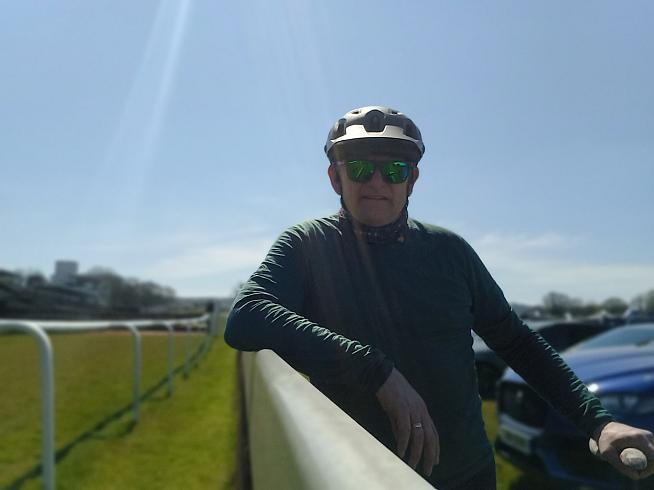 Follow Andy's customised route on Strava: www.strava.com/activities/5183141657
Discover the full programme of Glorious Gravel rides at gloriousgravel.com.
Sportive Breaks have also launched a new series of road sportives for 2021 - check out the UK's Hardest Hundred rides at sportivebreaks.com/uk-sportives.
0 Comments