That ominous ringing of bells in the distance can only mean one thing...
No, not a cyclocross race - it's the other C word. And if you're still looking for gift ideas, here's a selection of Christmas treats.
From gin to jewellery (and even a few socks), you'll find something guaranteed to bring festive cheer to the cyclist in your life. Merry Christmas!
Festive treats and tipples
1. Veloforte energy bars - £6.99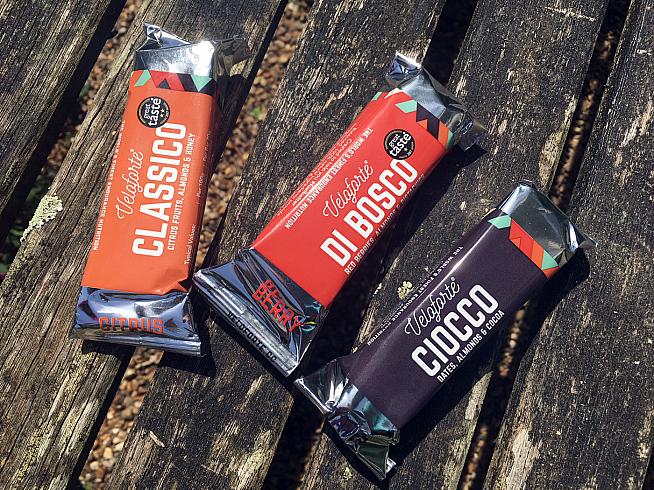 Delicious energy bars packed with natural ingredients, Veloforte's cycling snacks even taste Christmassy (at least the Classico version does). We tried them out this summer and were instantly hooked.
£6.99 for a pack of three - and they do gift vouchers too.
2. Ashmei Domestique Gin - £45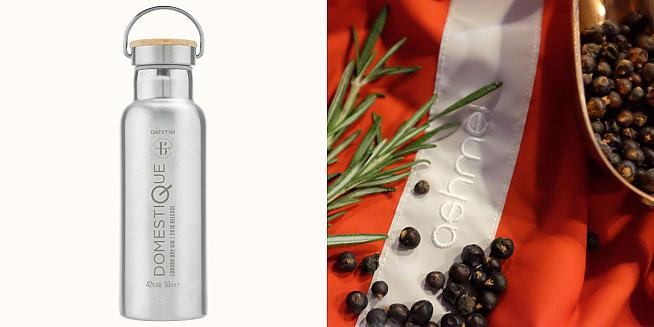 Raise a festive toast with this cycling themed gin. A collaboration between ashmei and the Puddingstone Distillery, it boasts flavours influenced by the locations of the world's greatest cycling tours - Spanish orange, French hops, Belgian angelica, Italian rosemary and Californian raisins.
Weighing in at 42% - that's ABV, not gradient - it'll put a spring in your step, and comes in a laser-engraved stainless steel bidon. Prosit!
3. Wacaco Nanopresso Mini Espresso Machine - £60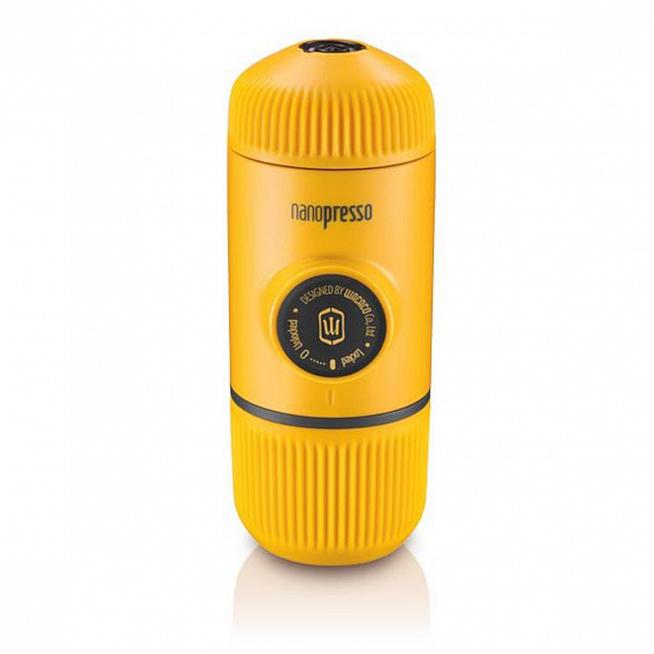 Cyclists love coffee, and no surprise - it's one of the few legitimate performance-enhancing substances we're allowed. Rustle up a perfect espresso wherever you are, with the wonderful hand-powered Nanopresso from bean wizards Wacaco.
Shiny baubles
4. Attacus enamel skull pin - £5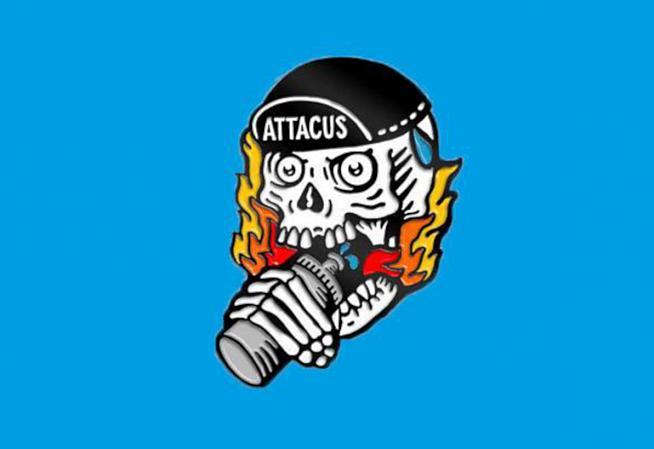 Why should Halloween get all the cute skeletons? This fetching little fellow from Attacus has ridden so fast he's caught fire. Ho ho ho.
5. Hasso chain link cufflinks - £65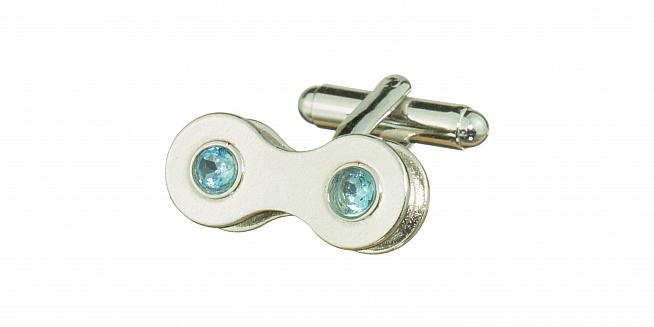 Possibly too late for your Christmas do, but our publisher Joe was most impressed by these bejewelled cufflinks made from real bicycle chain links. As discreet as a Masonic handshake, but those in the know will know: you're a cyclist with good taste.
Christmas movies
6. GoXtreme Rebel - £35.40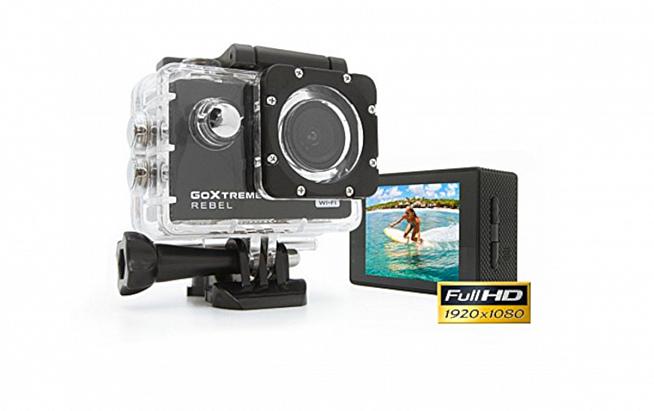 The quality of action cams has come on in leaps and bounds in recent years. While this GoXtreme Rebel is an entry level model, it's a great way to grab some very passable ride footage without breaking the bank.
7. Zwift e-gift card - $45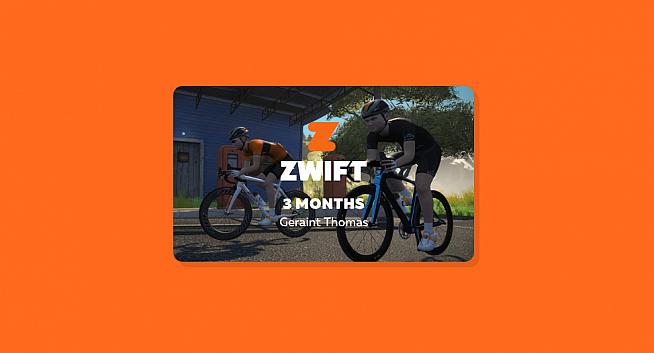 Cycling app Zwift has helped revolutionise indoor training, bringing lush graphics, structured training and even virtual granfondos to cyclists worldwide. If your favourite cyclist is still sweating in the garage on rollers this winter, treat them to a look at the 21st century with a Zwift e-gift card. From $45 USD for a three month subscription.
Christmas lights
8. SON Edelux LED Headlight - £79.99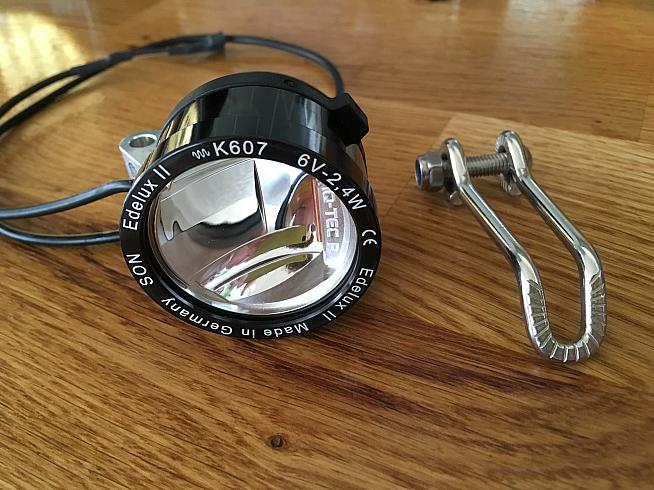 Light yourself up like a Christmas tree this winter with one of these excellent dynamo-powered lights. They all run off a hub dynamo (for example the SonDelux we reviewed here) and provide unlimited free light - as long as you keep the wheels rolling.
9. See.Sense ACE light - £44.99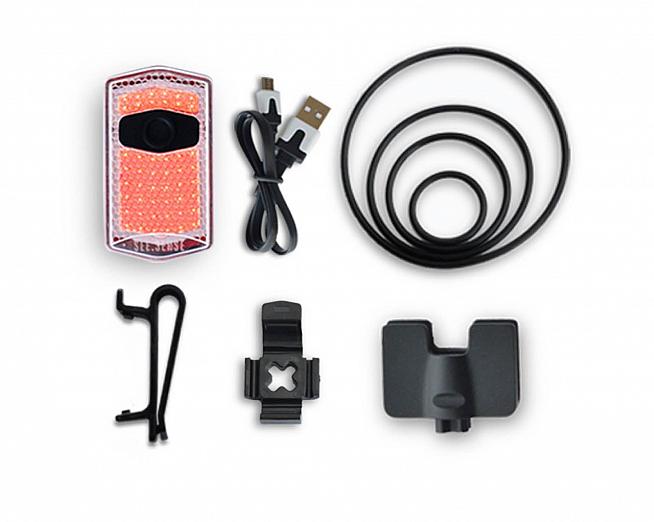 The latest in See.Sense's range of Kickstarter-storming smart lights, the ACE rear light changes brightness and flash pattern according to your speed and ride conditions. It's visible from over a mile away, and will even send an alert to your phone if someone moves your bike while it's out of your sight. Smart indeed.
10. Rear Blinker bike light - €99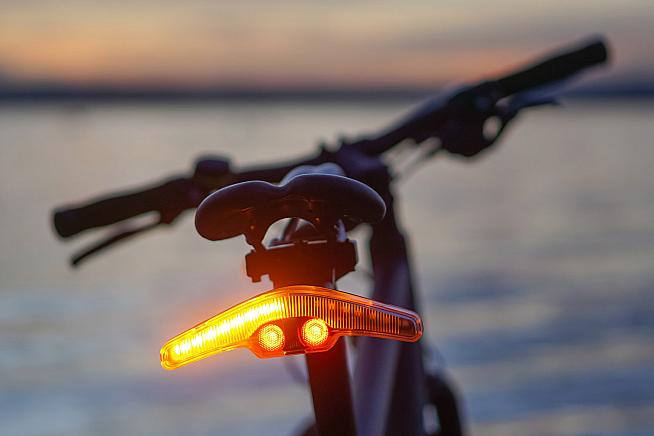 The Rear Blinker is a bike light that flashes to indicate left and right turns. It even has a 100 lumen brake light to alert road users that you're stopping - and will blink out profanities in morse code every time you suffer a close pass. (OK so we made up that last bit.)
Winter woolies
11. Ashmei KoM jersey - £129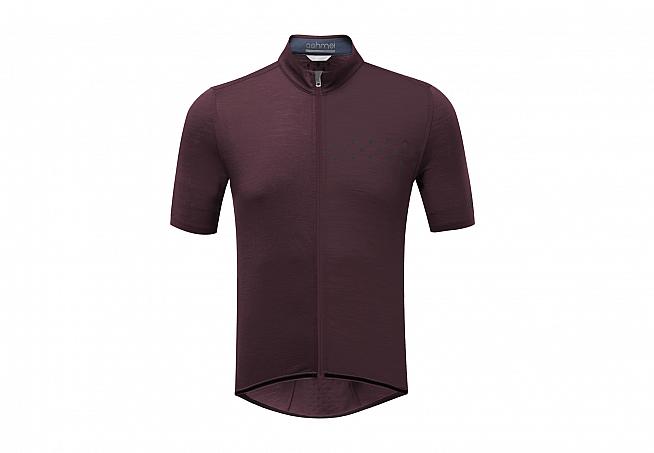 My personal favourite jersey of 2018, the KoM from ashmei is so luxuriously soft and lightweight you'll want to wear it all day. Its merino blend will help keep you fresh even after an epic Christmas movie marathon - and it performs pretty well on the bike, too.
12. 7mesh Corsa Softshell Jersey - £120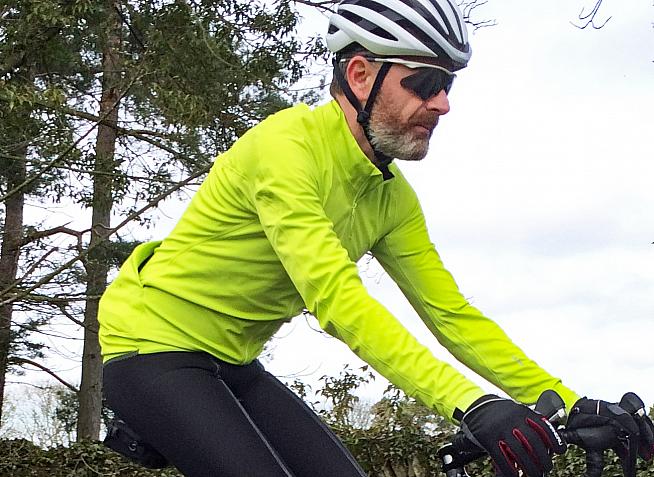 Hailing from Canada - where they know a thing or two about dressing for serious weather - 7mesh kit uses top quality materials and construction to make winter riding a pleasure.
13. Torm LE5 Reflective Jersey - £74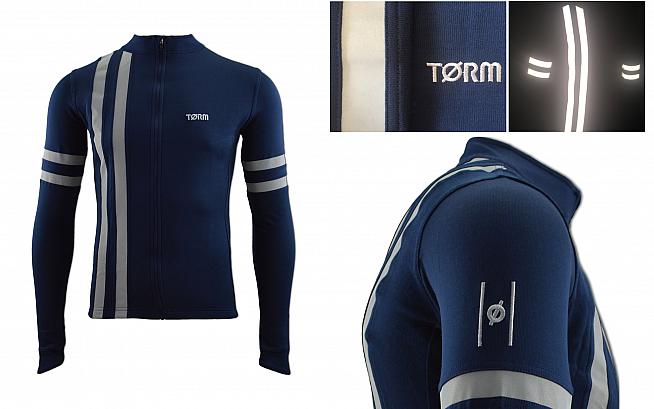 Torm have been around for years now, offering quality merino-blend jerseys with a minimum of fuss. Eoghan recently tested the LE5 and noted the quality of the fit and construction - it looks darn good too.
14. Galibier Mistral Bib Tights and Winter Jacket - £75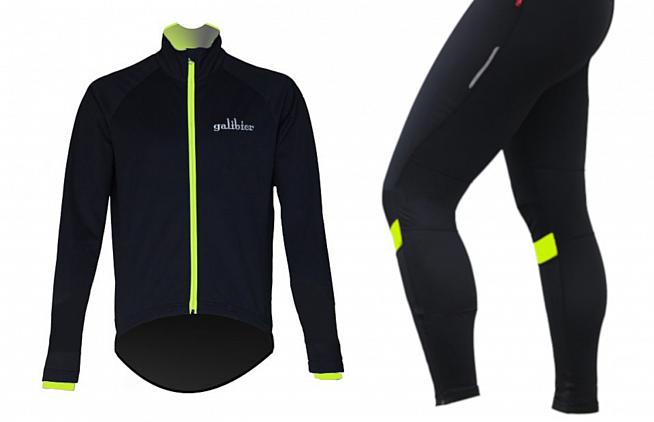 If you haven't seen Andy's glowing reviews of his Galibier kit, get reading: this Northern Irish brand have long been a byword for quality and value. The Mistral bib tights and foul weather jacket are designed to keep you dry and warm on chilly winter rides - just part of a great selection of gear to choose from on the Galibier website. Believe the hype!
15. Kalf Flux Women's Print Long Sleeve Jersey - £80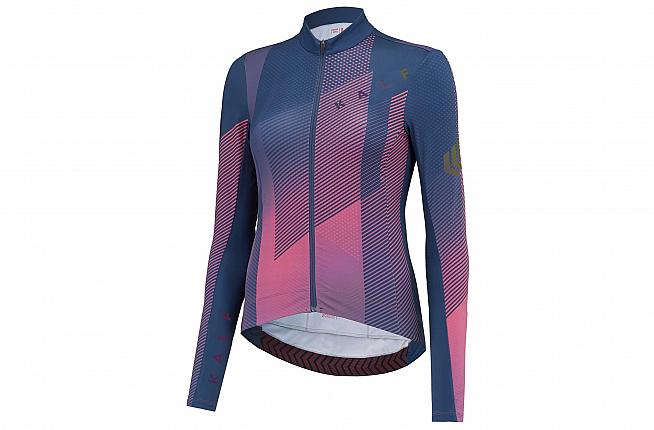 So fresh that we haven't actually seen it IRL yet (it was just launched last week), the new Kalf winter range includes this attractive Flux Printed Long Sleeve Jersey. Available from Evans Cycles, the jersey features "subtle fades and geometric lines on a super-soft brushed back fabric" that looks ideal for fast-paced rides in cooler weather. Iridescent reflective logos on the arms help you stay visible and exude a reptilian allure into the bargain.
Christmas stockings
16. DexShell Ultralite Biking Socks - £20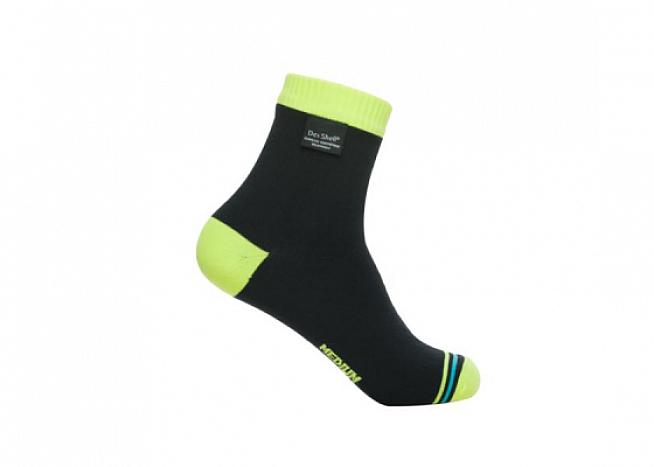 Here's a Christmas poser for you: how many pairs of DexShell socks would Santa need to outfit himself and all his reindeer?* Featuring a waterproof layer and snug cotton lining, they're just the thing to keep your hooves warm and dry on the night before Christmas.
*Answer: 19
17. Pongo socks - from £15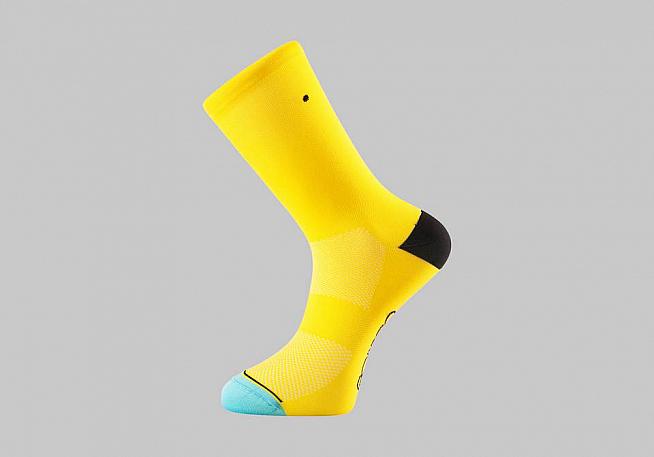 Hailing all the way from London, Pongo offer a range of cycling socks in every colour under the sun. We like these Canary Yellow Pro Classics, but Pongo also do a merino range that look great for chilly winter spins.
18. Maldita Buena Suerte MBS13 socks - £14.03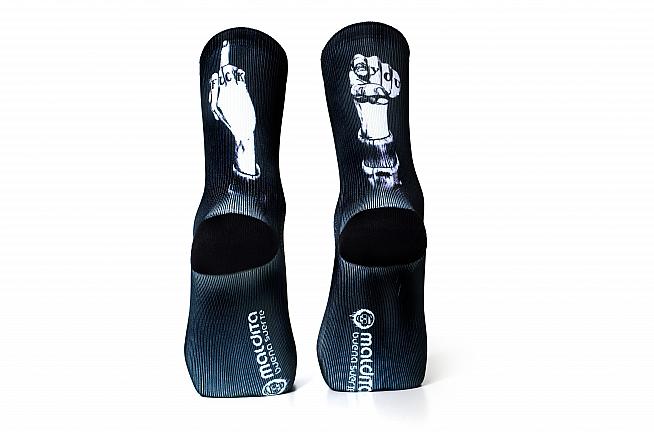 You can always rely on the folks at Maldita Buena Suerte to bring something different to the table. Among the smorgasbord of eye-popping, colourful stockings on their site, something attracted us to this particular design. One for all the Grinches out there.
malditabuenasuerte.patternbyetsy.com
The Art of Giving
19. Scratch Off Alpine Cycling Climbs Print - £14.99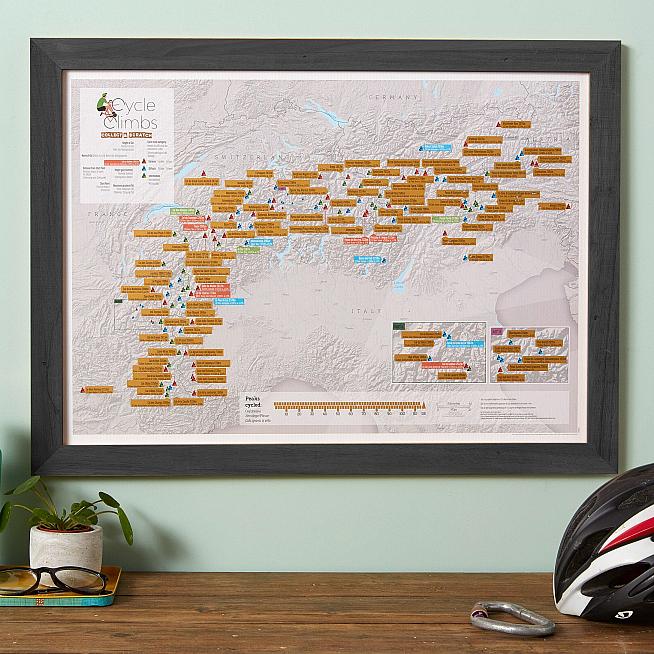 Of course they're all covered with snow right now, but come summer the Alps are cycling's greatest playground. How many of the iconic climbs have you bagged? Keep track with this addictive frameable print that lets you scratch off a tab for each mountain conquered. What, only 122 of them? Bah, humblebrag!
20. Hommage au Vélo cycling prints - £75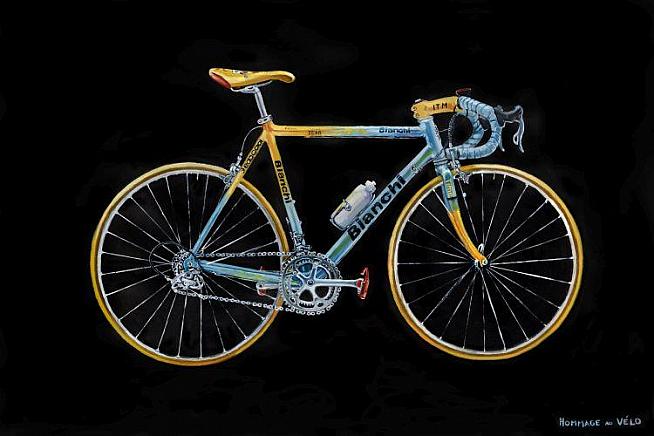 Throw away your TV, cancel your Zwift subscription and hang one of these lovingly created works of art in front of your turbo trainer instead. Featuring a selection of iconic - and controversial - cyclists and bikes including Marco Pantani and Lance Armstrong, these prints are exclusive to Hommage au Velo and sure to delight and provoke cycling fans in equal measure.
Jingle bells
21. HideMyBell - €36.95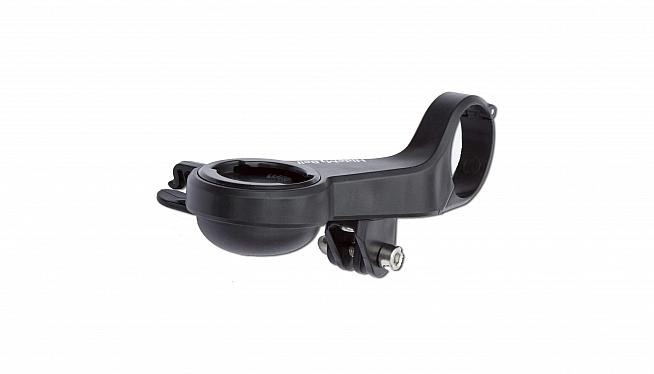 Sometimes the simple solutions are the best: this clever mount for your cycling computer incorporates a discreet bell, letting you alert other road users as you speed past. Practically invisible, and with an adaptor that lets you add lights and cameras, HideMyBell is an ideal gift for any cyclist. Even Chris Froome uses one.
22. Sportive.com Cowbell - £5
Cheer on your cycling hero with these Sportive.com branded cowbells - or fix one to your handlebars and enjoy a melodious tinkle every time you hit a pothole. Hup hup hup!
Coming soon - maybe!
Santa's sacks
23. Alpkit Tarmac Ultralight Bike Luggage Bundle - £175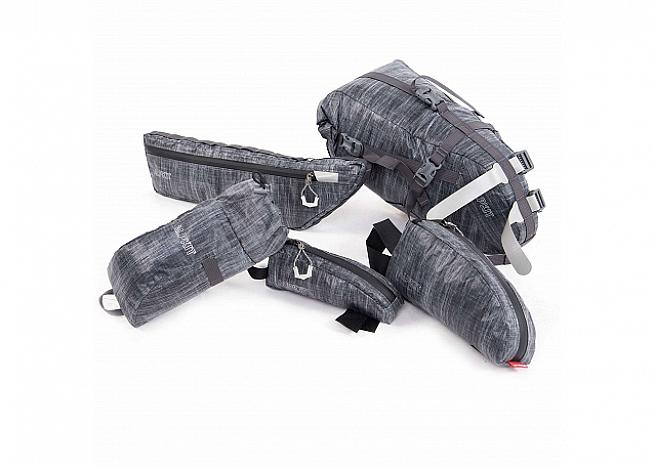 2019 should definitely be the year you try bikepacking. Treat yourself (or someone you want rid of for a few days) to some quality bike luggage - Alpkit's range is well regarded, and this bundle has everything you need to get started.
24. Ortlieb Back Roller Pannier Bags - £135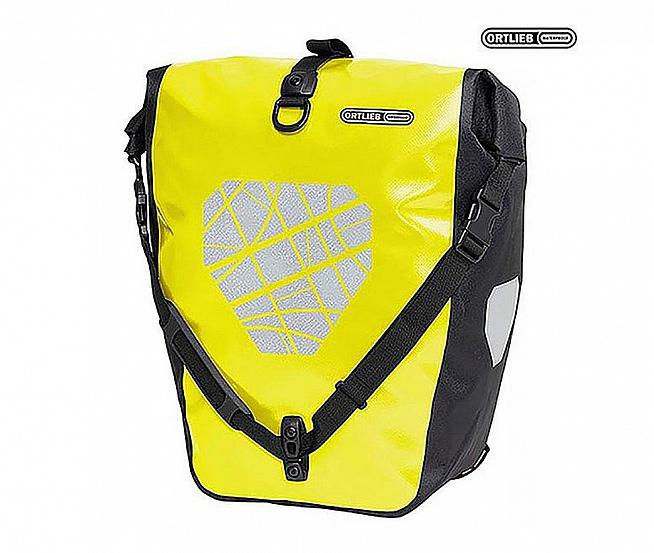 Ortlieb are one of the most venerable names in bike luggage, and if your preference is for a rear mounted rack then you can't look past their pannier bags. Sold as a pair with a whopping 40 litre capacity and reflective finish, we reckon if Santa swapped his sleigh for a bike he'd choose these.
25. Rapha Festive 500 Musette - £20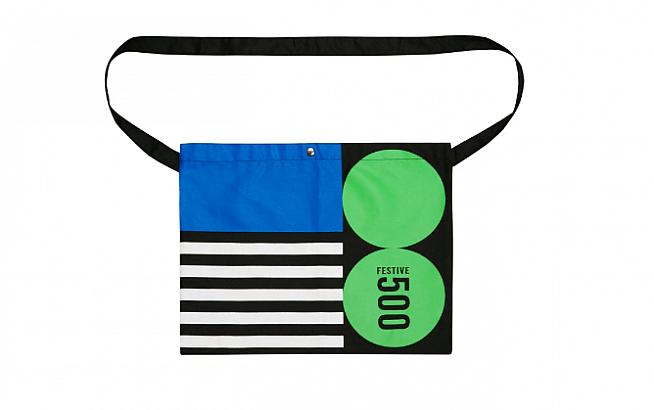 The lads at Rapha are getting well into their bikepacking these days, with a full range of clothing and luggage on offer. But since it's Christmas we've picked out this limited edition musette, designed for their annual Festive 500 challenge. (Warning: you may not see your other half over Christmas if they take part.)
Magic sleds
26. Goldhawk Rodax - £1,400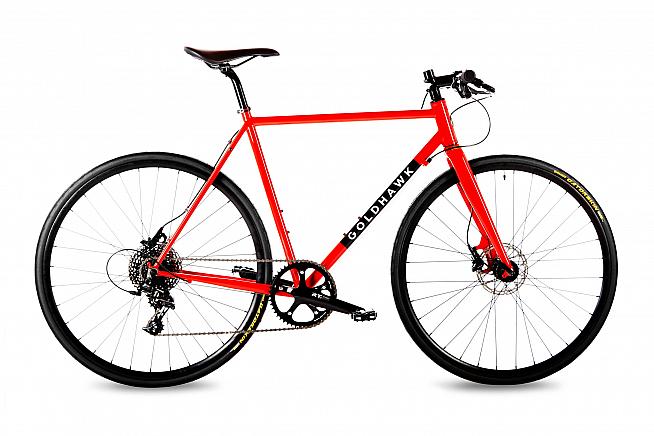 Has your giftee has been especially good? Treat them to the Goldhawk Rodax: a beautiful Reynolds steel-framed bike equipped with hydraulic disc brakes and practical gearing for fast-paced fun.
27. Ribble CGR Ti - £2,299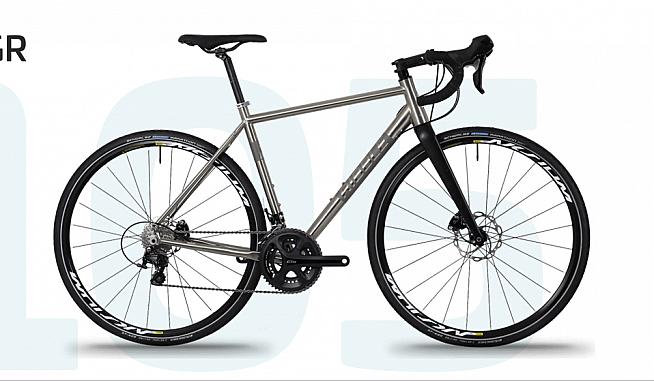 On the other hand, if you have been naughty this year and need to make amends, this Ribble CGR Ti should do the trick. Featuring a timeless titanium frame and carbon forks, it's available in a range of builds starting with the Shimano 105 commuter version shown here.
The gift of Sportives future
28. Experience the Tour de France with Le Loop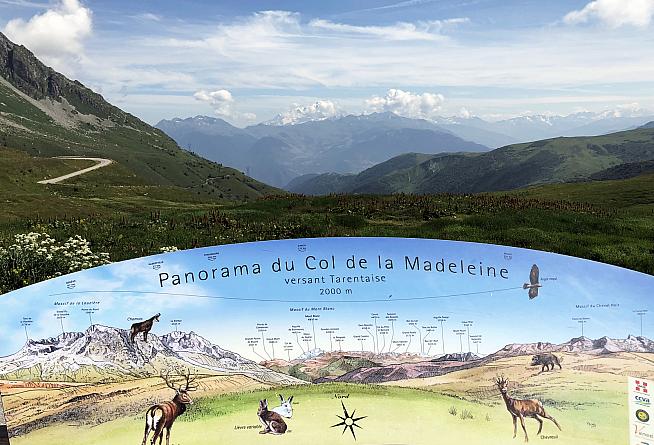 It's the biggest race in cycling, watched by a TV audience of millions worldwide - but what if you could ride the Tour de France? You can with Le Loop: the UK-based charity offers amateur cyclists the chance to ride the same route as the Tour de France each summer, raising funds for disadvantaged young people along the way.
With options ranging from two or three stages over a weekend, to riding the entire three-week tour - and fully supported all the way - Le Loop is the cycling holiday of a lifetime for any passionate cycling fan.
29. Ride a Classic with Sportive Breaks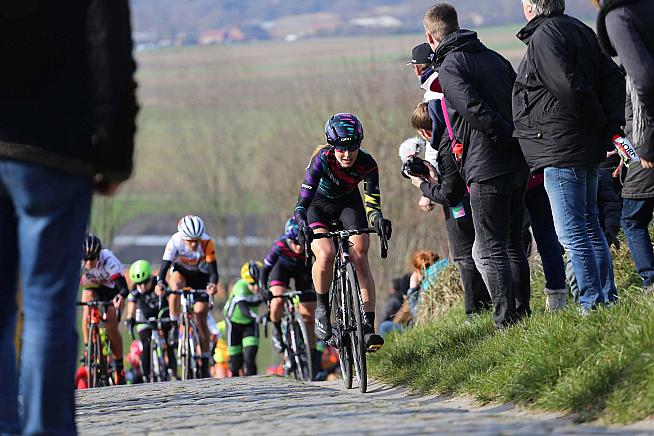 Paris-Roubaix, Liege-Bastogne-Liege, the Tour of Flanders... cycling's Spring Classics are eagerly awaited each year with thousands travelling to the cycling-mad heartland of northern France and Belgium to ride the sportive and then watch the pro race amid a carnival atmosphere the next day.
A trip over is a must for any cycling fan, and if it's your first time why not let an experienced tour operator handle the logistics. Sportive Breaks offer package tours including accommodation and sportive entry from just £145.
30. UKCE Sportive Season Pass
You don't need to travel far to enjoy a cracking bike ride. We're blessed with some stunning countryside right here on our doorstep, and UK Cycling Events run a packed programme of popular sportives across the country.
With a range of Season Passes on offer for 2019, treat someone to their pick of three, five or 10 sportives - saving up to 25% on entry costs.
0 Comments