I've written quite a lot of reviews for Sportive.com, but none has taxed me quite as much as reviewing Hasso's chain link cufflinks. They look fantastic and they are an unusual present for the cyclist in your life, but in the end they have quite a simple job - to elegantly hold together the cuffs on your shirt. How much more can you say? Anyway, let's see what I can manage...
I am probably one of the few people under the age of 70 who actually wears cufflinks most days, much to the embarrassment of my wife and the chagrin of my children, who wonder why I wear them when everyone else is in a T-shirt. That may well be why the editor decided to have me review them.
I think they just look a lot smarter on a shirt than buttons, and it allows you to tailor shirts to occasions; for example, I have some Art Deco horseshoe cufflinks for going horseracing, and tonight I am off to the Belgian embassy for a talk about the Tour of Flanders and will be proudly sporting my Hasso chain link cufflinks for the occasion. But I do accept that most people wear cufflinks for weddings and other special occasions.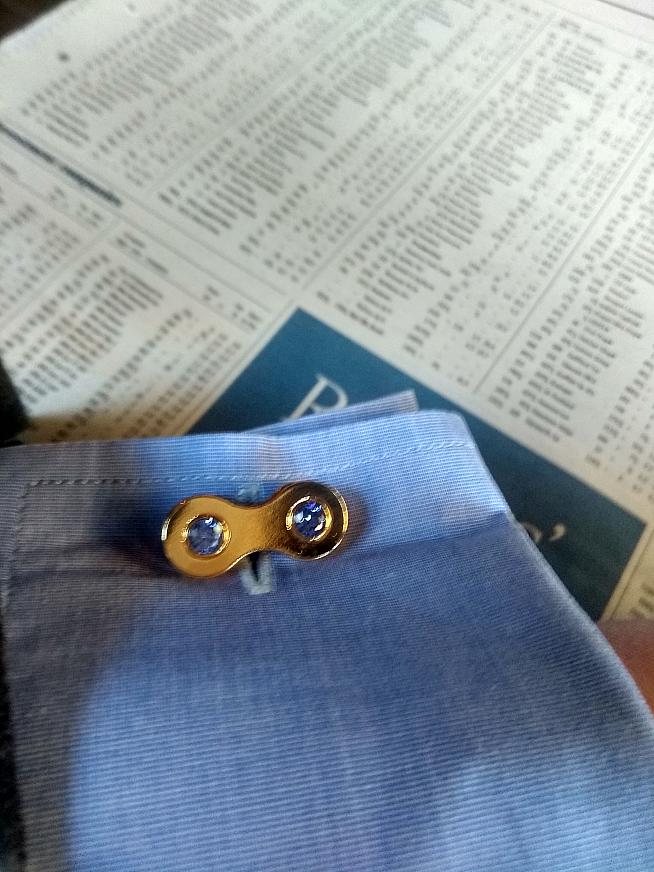 The Hasso chain link cufflinks are made from real bicycle chains. The links are stripped, cleaned, hand soldered and plated in a thick layer of gold, rose gold or silver before being set with a total of 1.3 carats of ethically sourced gemstones. Each set of cufflinks comes with four gemstones (two for each cufflink) and there is currently a choice of 15 different gemstones, so you can match them to your eyes or to your skin complexion - or, if you are buying them for a wedding present, to match the bridesmaids' dresses.
I was given the choice of which gemstones I wanted in my review cufflinks and chose the light blue Tanzanite Zirconia on a gold chain link, which came in at £55. Depending on your choice of gemstone, the cufflinks cost between £50 and £75. I do wonder whether Hasso are missing a trick by not producing a chain link cufflink with no gemstones, as a few people did mention that they found them a bit 'bling'. I guess the concern would be that without the gemstone you just have an empty hole which could then fill with dust or other debris.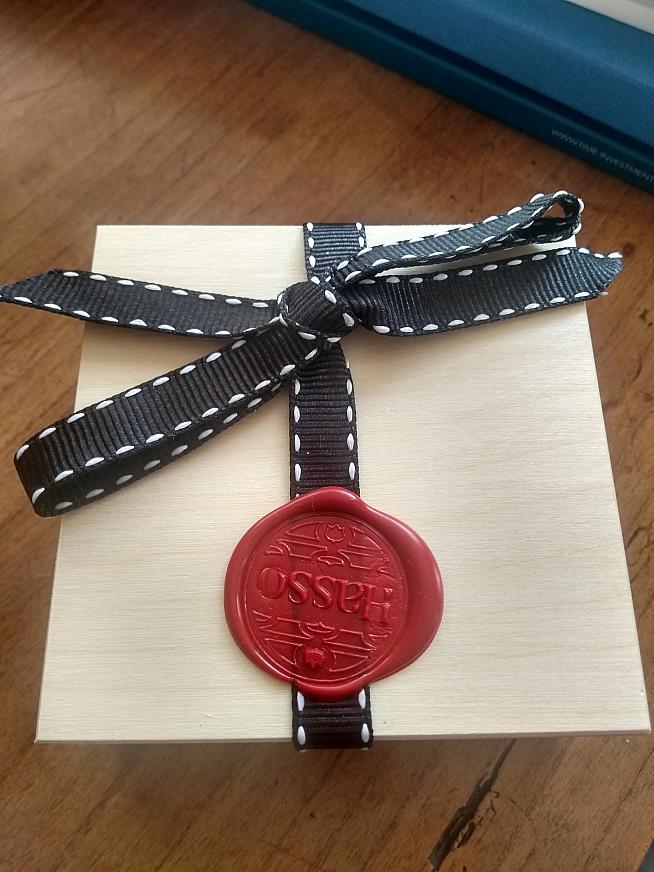 The cufflinks are very well presented in an attractive looking box. When you open the box, you are greeted by a very bright piece of fabric which opens to reveal the cufflinks.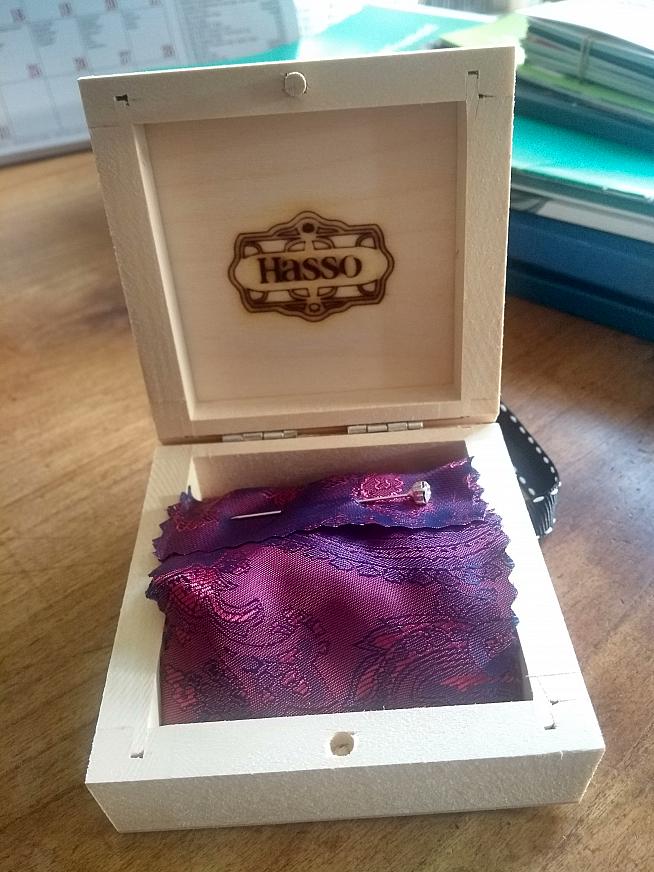 I like the cufflinks and will continue to wear them regularly. I was slightly concerned that their size - they are quite large by comparison with some of my collection - meant that they would get caught on my suit or sweater, as some cufflinks do (I have some that look like fishbones that have been responsible for the destruction of about three cashmere sweaters). But I have had no problems at all in the first week of wearing these.
Matt Henderson, the founder of Hasso, tells me that they are thinking of offering customers the chance to have 'memorable' bicycle chains made into jewelry, whether it be from the chain of your first ever bike or the one on which you rode the Etape, Marmotte or Maratona. He also explains what influenced him to start Hasso:
"I first visited Hasso and Sons on Radshid Street, Baghdad when I was five. I fell in love with the shop. Its glass cabinets, which I have fond memories polishing in a never-ending battle against the infinite dust of the souk, held the finest silk ties, Italian leather belts, mercerized cotton socks and Swiss watches. Shirts made of fine cotton, and rails of elegantly tailored Swiss and Italian suits transformed the shop into a haven from the bustling street outside.
"I returned to Baghdad several times, each time understanding more about the merchandise and the strength the shop gave to its patrons and to my family. And although the people of Iraq continue to experience horrific turmoil, the memories of the shop survive in our family and in the shop's many customers, almost all of whom are now displaced.
"Hasso today draws on those inspirations and memories of tailored fashion and tradition. I chose to revitalise and renew the Hasso brand, not least because of the influence it has had on my life, but also because I believe the journey is not yet complete; a humble act to show that memories withstand madness."
He later told me that Hasso shop in Baghdad was run by his grandfather, so you can see why this business has such importance for him.
Henderson's company also sells shirts with double cuffs for both women and men, so if you don't have any shirts that take cufflinks, now is your chance to buy both the shirt and cufflinks in one place.
These would be an ideal birthday or Christmas present for anyone who is a cycling fanatic and I hope Hasso continue to grow and bringing us more cycling related wearables.
Visit the Hasso website to see the full range of cufflinks.
Hasso chain link cuffinks, from £50 at www.wearhasso.com.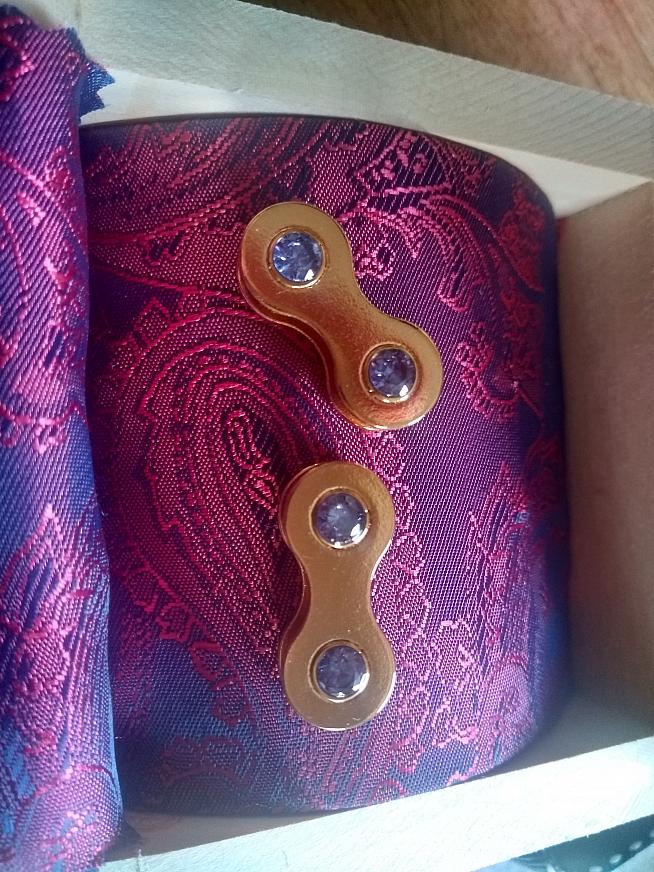 0 Comments