Rapha have launched their annual Festive 500 Challenge, inviting cyclists to clock up 500km over eight days between Christmas and New Year. More than just a cycling challenge, Rapha want to hear your stories too - and some fabulous prizes are on offer for the best winter tales.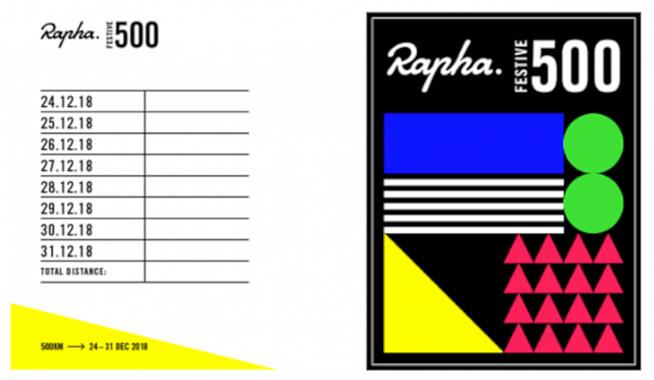 Now an established tradition, the Festive 500 began as a self-imposed challenge in 2009, when Rapha's lead designer, Graeme Raeburn set out to ride 1,000km to see what it was like to train like a pro.
As Graeme later discovered, pros ride nothing like 1,000km between Christmas and new year - so when the challenge was launched to the public in 2010, the distance was halved to 500km. From 84 participants in that first year the challenge has taken off, with 82,000 riders taking part in 2016.
"The challenge is the perfect antidote to offset the excesses of the festive period and ensure you stay active and keep the Christmas pounds at bay," say Rapha, who will be offering a series of workshops, rides and advice over the weeks leading up to the start.
Win with #FESTIVE500
Rapha's design elves have once again been hard at work creating a special Festive 500 range. The cap, musette, neck warmer, socks, bidons and T-shirt all feature unique graphics - and you can win kit from the collection every day of the challenge.
Simply follow Rapha on Instagram and tag your ride photos with #festive500 to be in with a chance to win.
As in previous years there's a commemorative woven badge for everyone who completes the 500km, along with an array of fantastic prizes for the most creative documentation of the challenge.
From photo albums to hand-drawn maps, short films to poems, it's up to you how you interpret the challenge. Rapha will reward the most inventive entries, with this year's top prize a Canyon Ultimate bike with unique Festive 500 decals.
Other prizes include a Wahoo Bolt bundle, Rapha bike luggage, Rapha custom kit for a team of five, and a selection from the Pro Team or Souplesse range for the winner of the Epic Fail category.
The Festive 500 challenge is now open. Sign up on Strava, or visit a Rapha clubhouse and pick up a printed brevet card to log your miles.
See you out there!
0 Comments