My childhood experience of open-toe shoes has me thinking about the kind of clogs that my mum wore, and I only ever saw in chemists along with Lucozade wrapped in orange cellophane - clumpy, wooden-soled lady shoes, a market dominated by Dr Scholl.
Their name and location suggested to the pre-teen me that only people with poor fashion sense or medically wonky feet were destined to wear them. Nearly 50 years on, and I appear to be smack bang in that demographic.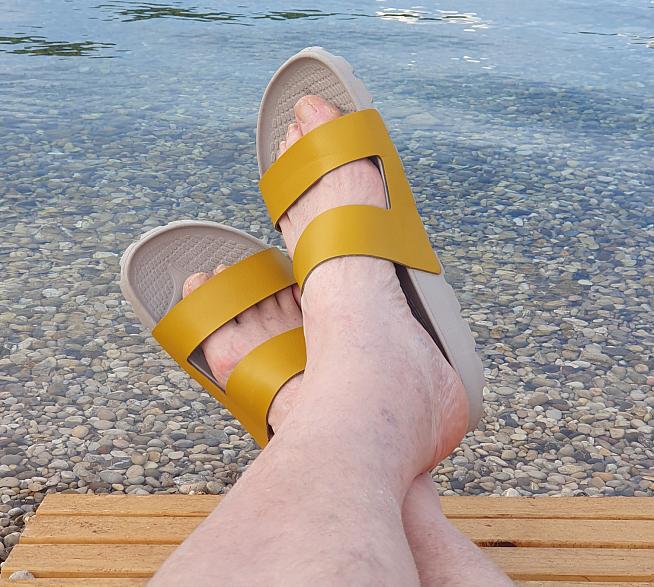 As if prompted by this opportunity to go into a sartorial tailspin, my body decided last year to assault me with ingrowing toenails that I had to have surgically removed. This meant a couple of weeks in non-restrictive footwear, so I invested not in a pair of Dr Scholls, but some slides made 'not from' alligators.
I already had a couple of pairs of their titular footwear (you can say Crocs, this isn't the BBC - Ed), justifying their purchase because Deadpool wears them in the eponymous 2016 film ("So comfy").
Aside from their necessity, giving my healing cuticles room to breathe, the subsequent confirmation bias opened my eyes to the open-toedness candidly on display all around us during a two-week camping holiday in Brittany.
As a result the slide - or flip-flop, if you prefer - is no longer a taboo footwear choice, which is probably why I said 'yes' to trying out a pair from my favourite shoemaker, Quoc.
The second incarnation of Quoc's Grand Tourer cycling shoe has served me well over the winter on all sorts of rides, and when I can break out the road bike, their Mono IIs are my go-to shoe.
Along with their Escape shoe launch, Quoc recently introduced the Lala Slide. Designed as an off-the-bike "athleisure" shoe, these minimalist sandals are light enough to take on rides to be slipped on at coffee stops or at the end of a dusty day's bikepacking.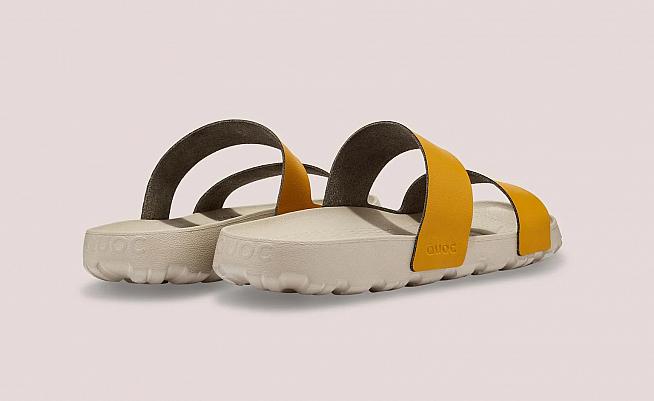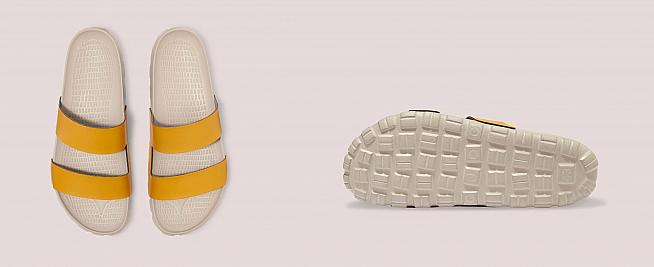 They have an anatomically designed footbed, offering gently aerated support. I found the gravel tyre-inspired sole quite grippy and feather light but still with a premium feel.
The footbed is held in place with a couple of minimalist, leather-like straps that enhance the quality of look and feel without any resulting bovine harm.
They've been a pleasure to wear on our first camping trip of the year, if only to float over the sodden grass between our van and the on-site ablutions. Sure, their crocodilian predecessors were preferable to walking on gravel with bare feet - but these Lala Slides allow you to do it with more than a modicum of panache.
Free your little piggies, and slide on in style.
Quoc Lala Slide, £39 from quoc.cc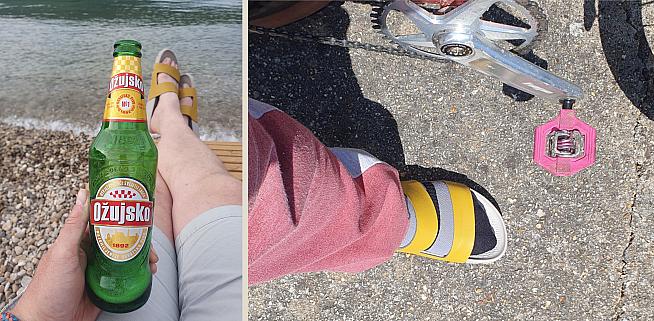 0 Comments