I've always liked Quoc's Gran Tourer shoes, even before getting a pink bike.
My experience with the brand's original Night lace ups and the newer, lighter Mono shoe augured well for an off-road version.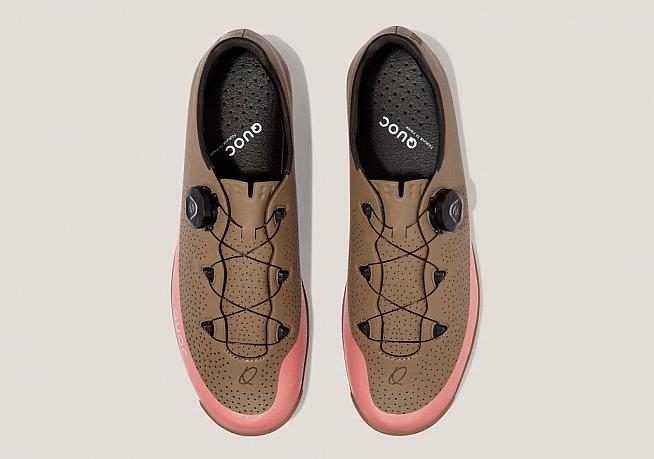 > Review: Quoc Mono II road cycling shoe >
But I never actually got round to getting a pair because, like Imelda Marcos, I have a thing about shoes. Cycling shoes, to be exact. I have more pairs of cycling shoes than I have actual, normal going-out shoes.
This causes tension in the Lulham household as there is only so much shoe-rack space in a three-bed semi, and we don't have a loft. I pledge to keep some out of the way in the bike shed, but they soon migrate back, like pebbles thrown up on the shoreline.
I've had my pink bike, my All-City Space Horse, for just over a year now, and last week I even threw out an old pair of MTB shoes - along with some that I was going to get round to taking back to the shops as the BOA dial had come away from the upper. So that counted as two pairs.
Which was lucky, as two pairs of shoes turned up to review from Quoc in the form of their Chelsea Boots and the new incarnation of the Gran Tourer, the GT II gravel shoe. My wife gave a sigh so impressive it measured on the Richter Scale.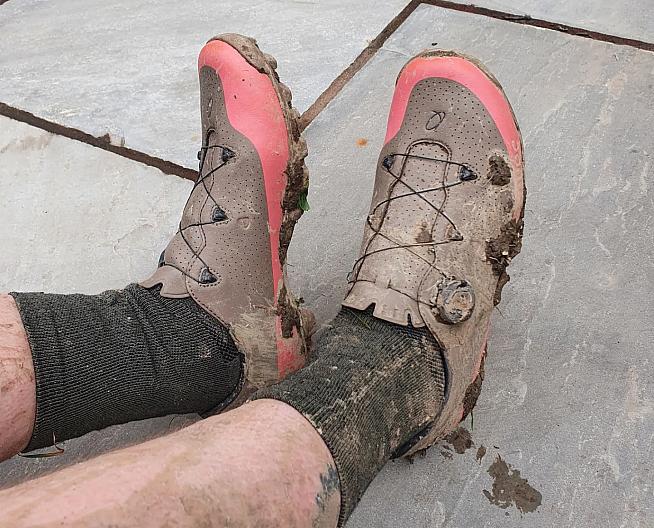 For an unnecessarily long time, I just looked at the Gran Tourer IIs and wondered what special route I could do as their maiden voyage - I didn't even try them on. I had lined up a sportive in Cannock Chase but sadly had to cancel, so I popped them on for a leisurely pedal along a section of the Downslink, between Christs Hospital and Shoreham.
Of course, they matched my bike beautifully.
But what I was really impressed with was the weight, compared with the other shoes I'd been using all winter. My Northwaves had been trustworthy and kept my feet warm and dry, but the fastening system was a faff and the rubber around the dial had worn off on the left side. This made it hard to tighten them, especially with the feeble fingers of someone for whom bending over is now part of the journey to exhaustion.
It also didn't help that they didn't release properly and I was starting to form callouses on my thumbs and a reputation for swearing at inanimate objects.
No such issues with the GT II, which have moved away from their lace-up beginnings to embrace the same fit system as Quoc's Mono road shoes, albeit with one dial per shoe rather than two. This makes getting them on and off and adjusting on the fly, an absolute cinch.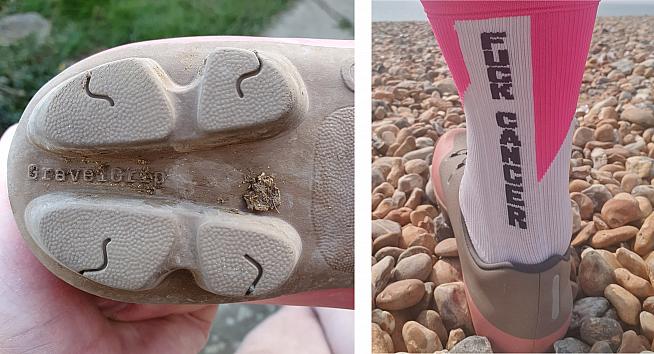 The fit is snug and supportive, like the Mono, and they also benefit from a one-piece upper; although, unlike the road shoe, there is a separate tongue rather than an overlap.
The upper material is a weather-resistant microfibre, with one-way breathing holes, which I didn't believe for a second would keep out moisture despite the promo blurb showing someone actually dousing their shoed feet in a running stream.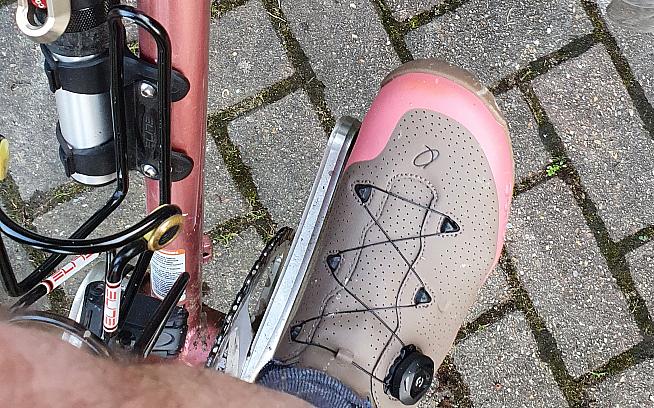 Throughout my four-hour ramble to the south coast, I had no problems at all with the fit, on or off the bike. Coffee stops and photo ops were ambled through with ease, the grip on the sole coping with wet grass, dirt roads, car parks, concrete, and shingle without any suggestion of my toes appearing horizontally in front of me in a comical pratfall.
On the way back, disaster struck and I had to push my bike to the nearest train station as a sidewall puncture curtailed my day, but there was no reminder of Mysterons stalking Capt Scarlet at the start of his eponymous show, keeping my cleats away from damaging and being damaged throughout my half-mile bike-hike.
The tread on the underside is widely spaced, so shifting any debris from the sole is a piece of cake. (I don't think what I removed was cake, though, seeing as my tubeless failed at the side of a popular dog-walking spot.)
On another ride out I was prompted to test their water resistance and durability as I went ankle deep in a bridleway hoof-swamp, closely followed by my hip, elbow, and glove.
The only part of me that remained dry was my foot, below the ankle at least, and the shoes' hydrophobia was tested some more shortly after during a yomp through some moist, knee depth grass which thankfully cleaned most of the Wealden Clay off.
Later in the same ride, I misjudged a line and I was thrown over my bars into a deeply rutted forest track, blemishing the painted pinkness around the sides on some rocky debris. This is why I can't have nice things. At least my face now matched my bike and shoes while the embarrassment lasted.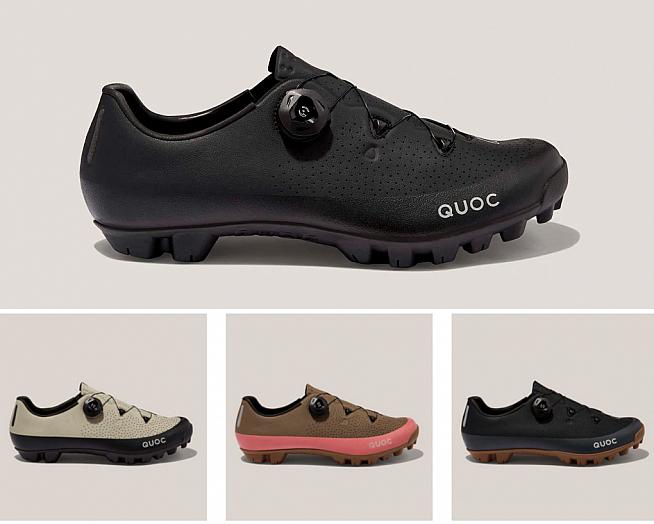 Once again, Quoc has produced a cracking pair of shoes - light and just stiff enough to be race-ready thanks to the nylon composite mid-sole, while being comfortable to walk in for at least as long as it takes to get to and from the nearest train station.
There's lots of interesting tech in these shoes that justify the price, not least the unique in-house ratchet dials and custom specced GravelGrip outsole sole, keeping you grounded when not clipped in.
They cost a lot less than, say a pair of S-Works Recons and don't scream 'LOOK AT ME' - unless you have the pink ones and, um... a pink bike.
Quoc Gran Tourer II, £190 - available for preorder at quoc.cc
0 Comments