I've got terrible feet. The bone structure is all wrong, bits stick out all over the place and my circulation is awful.
My wife has studied foot care and regards them like a council clean-up squad would a rented house when a compulsive hoarder has been evicted. Looking down, you'd see more attractive sights in a butcher's scrap bin.
There are very few shoes that can be beaten into shape to support my plates, especially when those shoes have to do a job other than making Lego less painful to step on. There have been a few brands that have catered for my weirdness, and my poor tootsies have been saved, of late, by the popularity of knitted uppers. My current disco kicks for road riding have been a pair of lace-up Giro Empires in the exact shade that a blue shirt goes when hot-washed with a pair of red underpants. They don't go with any of my cycling gear, and therefore they go with everything.
The only shoes that came close to matching them for fit and comfort were the debut design from Quoc Pham, their lace-up Night road shoes. I wore a pair back in 2017 on the Etape UK from the Olympic Park in London, a distance of ride that would otherwise have had me reaching for a chainsaw and a bottle of Dettol.
I'd previously dallied with Fizik, Spiuk, and Louis Garneau, but all had me in the sort of discomfort only felt these days watching an X-Rated erotic film with your parents. The Night lace-ups were, sadly for me, a bit too hot for summer riding.
Four years on and with my feet being ever more demanding of a full episode of Embarrassing Bodies, Quoc has launched a new super-lightweight premium shoe and asked me to cover them up again for the good of mankind.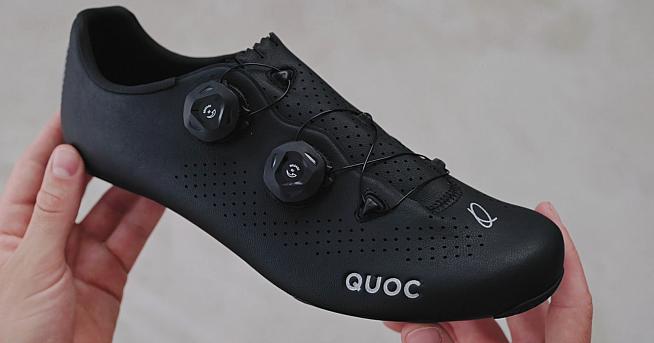 The Mono II road shoe is an evolution of the race-grade, superlight original Night Mono eschewing the strap fastening for a more popular and adjustable dual dial closure system. This pulls together an all-weather two-piece upper over the foot, avoiding the need for a tongue and the areas around the top have been feathered to avoid pinches and pressure where the ankle tends to bunch material.
The pedalling platform is a uni-directional carbon fibre sole that Quoc say is moulded and mapped for enhanced comfort and power transfer. With the wires tightened and locked in, it feels like the shoe has been screwed into your pedal axle.
The size 44 was generous enough for me not to have to worry about pressure points on my toes or down the outer sides of my feet, where I've experienced extreme discomfort before.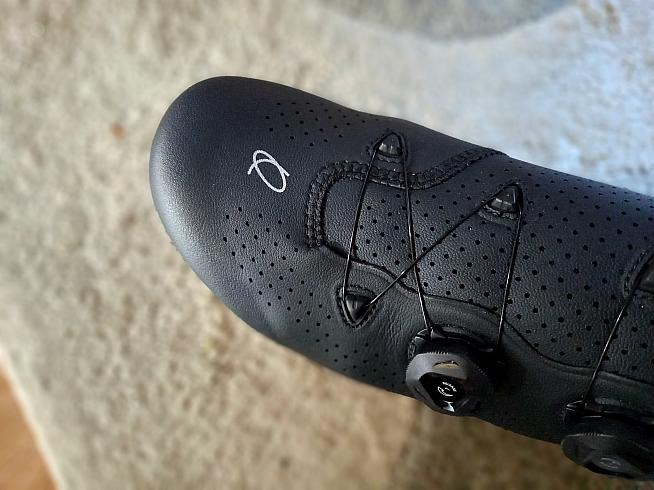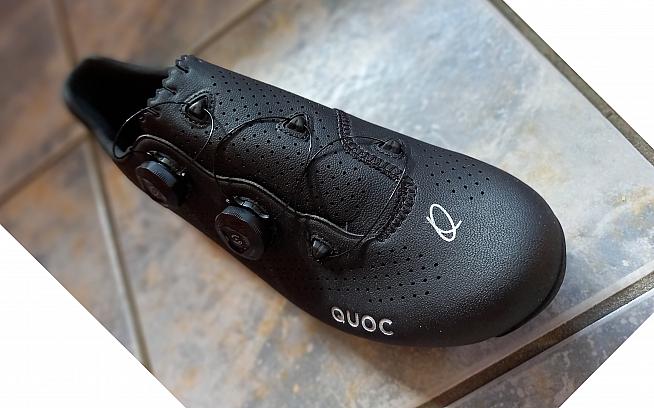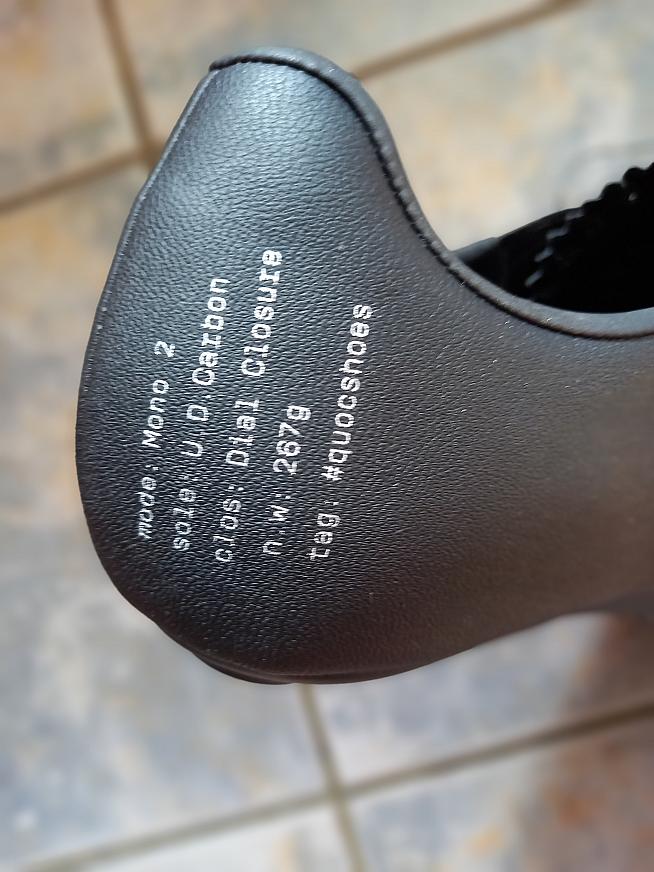 The dial closures have been carefully thought out, in that they don't release all tension in the wires immediately, so if you need to release the fit a smidge, you can confidently do so without the risk of your foot coming out. Equally, if like a lot of people of my advancing years, your foot swells up as the ride goes on you can do the same until the daily diuretics kick in.
My maiden ride in the Mono II was only a couple of hours but included some periods out of the saddle (and I don't mean cake stops) and I couldn't fault their comfort or feel. If my meagre wattage was wasted, it wasn't through the shoes.
The minimalist uppers put me in mind of the kind of creation that former pro cyclist Adam Hansen was famed for riding in; their simplicity belies a good deal of clever design and attention to detail. They came with a couple of pairs of inserts to place under the inner soles to enhance the orthopedic fit, and although I didn't feel like I needed them, I may experiment with them at a later date as my feet continue to evolve into the stuff of Cronenbergian nightmares.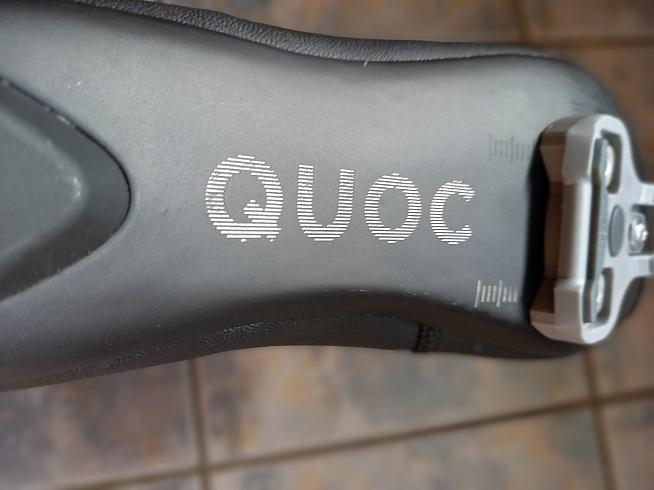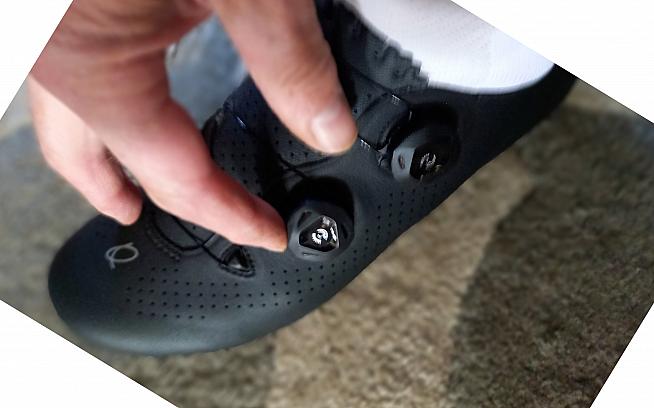 The Mono II shoes are super cool, lightweight (249g apiece in size 43), and exquisitely finished. They rival the mainstream offerings around their price point for features and quality and exude a "timeless design that transcends seasonal trends" - provided you don't commute in the white ones.
I've yet to see how the black version clean up as I shamefully muddied them down a country lane on way to a scheduled beverage stop. However, the replaceable heel pad was a nice bonus that saved me from an involuntary tap dance on my way back to the bike and kept the gravel from chipping or scraping the smooth UDC soles for just a bit longer.
The wires and dials are also replaceable (should they become damaged in a crash or said involuntary tap dance).
Realistically though, at £270 and honed to the last gram and watt for race-day performance, the Mono II are not a shoe for commuting, pub or hoedown duties. But for dancing up climbs and on the top step of the podium, Quoc have come up with a superb shoe that ticks all the boxes.
Mono II Road Shoes - £270 from quoc.com
0 Comments