Bikepacking is all the rage right now, wherever you look - from Rapha launching their own Pennine Rally gravel tour, to EF Education Nippo's Lachlan Morton riding the Tour de France solo and fully loaded with camping kit.
But cycle touring comes with some baggage - and not just literally. An image persists of sandalled tourists with canvas panniers, and some die-hard roadies are about as keen on attaching a bag to their sleek race bikes as they would be on turning up to the local 10 on a Penny Farthing.
So no surprise that when Wout van Aert recently posted a shot of his handlebar bag, reaction was... divided.
For every hipster millennial in favour, there was an equally outraged bar-bag basher - among them Simon Warren of 100 Climbs fame: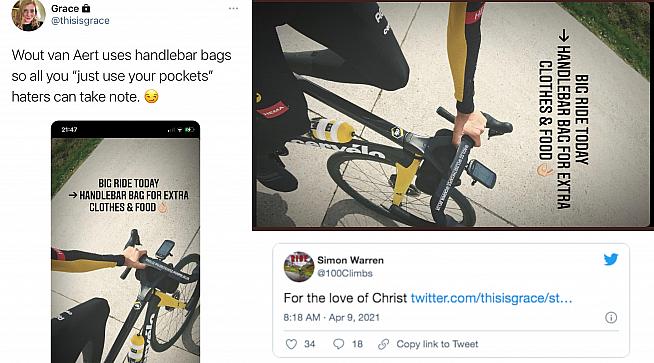 Simon's forensic obsession with cataloguing the Great British Bump has duly earned him 'nuff respect in cycling circles (or should that be triangles); although my faith was shaken recently when I tackled Yorkshire horrorshow Oxnop Scar - a 25% ordeal Simon describes as "a joy" of a climb.
That wasn't exactly the phrase running through my mind at the time, and I'm now inclined (geddit) to take what Simon says with a pinch of salt.
But is the hill maestro right about bar bags? I decided to try one out for myself.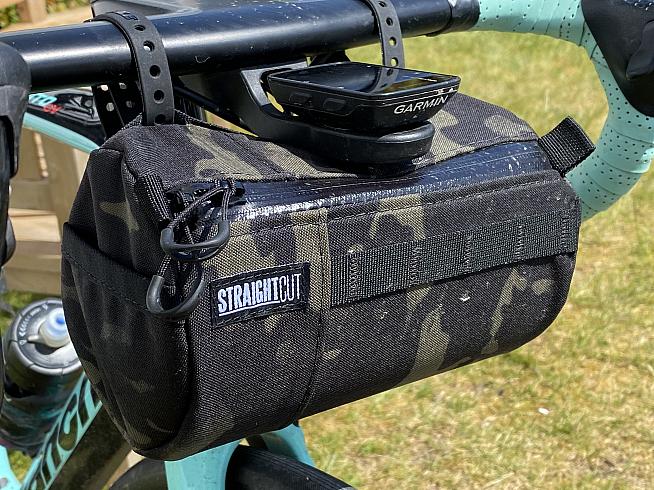 The bag in question is the Bagel Bar Bag by Edinburgh couturiers Straight Cut Design.
Led by Ross O'Reilly, Straight Cut offer a wide range of hand-made bikepacking gear, from handlebar harnesses to tool rolls as well as custom bar and frame bags.
The Bagel bar bag is a cylinder-shaped barrel of water-resistant Cordura that attaches to your bars by means of two Voile nano straps (included).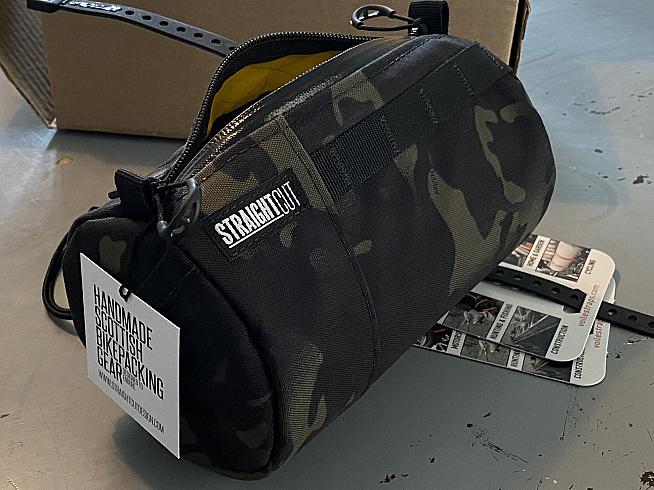 The capacity is 2.2 litres, or four bagels to put it in laymensch's terms. Measuring 20cm wide with a 12cm diameter, it's compact enough to fit easily on drop bars, with plenty of space for a waterproof and enough snacks to see you through an all-day sportive, audax or training ride.
I've been trying out the Dark Multicam version (custom colours are available on request) and it really is a top quality piece of kit.
The materials and construction are top drawer - as you would expect given the premium £70 price tag. The side panels and edges are a tough 500d Cordura lined inside with a X-Pac VX21 in a jazzy yellow. A removable plastic insert tucked out of sight between the lining and cover helps the bag retain its shape and save your bagels from getting squashed.
I like an occasional bagel but not so much on a bike ride; too doughy and chewy, and I'd worry about the smoked salmon and cream cheese fermenting into some kind of malodorous Icelandic delicacy over the course of a hot day's cycling.
Luckily the shape is versatile enough to cater to your every dietary whim; I've stowed away sandwiches, crisps, a can of iced coffee, flapjacks and bars along with my keys and a power bank. The bagel bag swallowed it all with ease.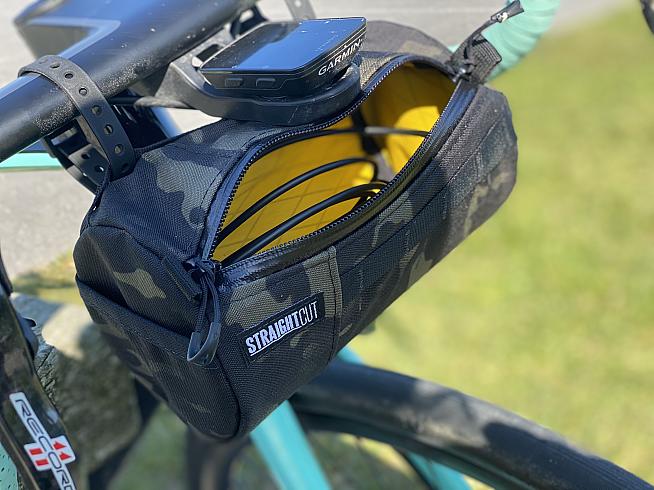 Fitting the bag is easy enough too, even for olde timers like me still riding with passé exposed brake and shift cables cluttering the cockpit. The Voile straps thread through a length of webbing along the top of the bag, and are notched like a belt so you can tighten them as required.
The zip - a quality YKK aquaguard number - is cleverly offset forwards to allow access even if the bag is tucked beneath an out-front computer mount. The zip is double sided too, so you can open from either end. They've thought of everything!
Opening the bag while riding is a bit of an acquired skill, but arguably no more so than fumbling in a jersey pocket on your back - it's certainly manageable.
I've used it on a number of all-day rides on both MTB and road bike, including a couple of 200km audax, and it's pretty near perfect for that sort of mission where comfort and convenience trumps eking out every last aero gain.
Mountain bikers, if you typically wear a backpack for a day on the trails, ditch it and try a bar bag instead -  your sweat-free back will thank you.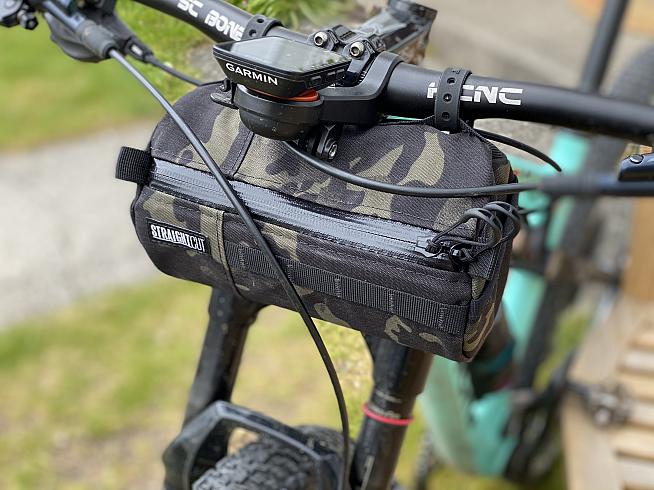 Robust, beautifully made and highly practical, I just can't think of a downside to the Bagel unless you're one of those for whom the very idea of luggage on a bike is anathema.
But even then, give it a try... you might just find yourself converted.
Bagel Bar Bag, £70 from straightcutdesign.com.
0 Comments