Starting today, EF-Nippo rider Lachlan Morton will set off on his most ambitious Alternative Calendar ride to date - attempting to ride the whole Tour de France route solo and unsupported, including transfers, to beat the pro peloton to Paris.
"Is it possible? We don't know," say team kit sponsors Rapha.
Lachlan will cover 2,400km and 15,000m of elevation more than the pro peloton, a grand total of 5,510km and 65,000m of elevation in 23 days.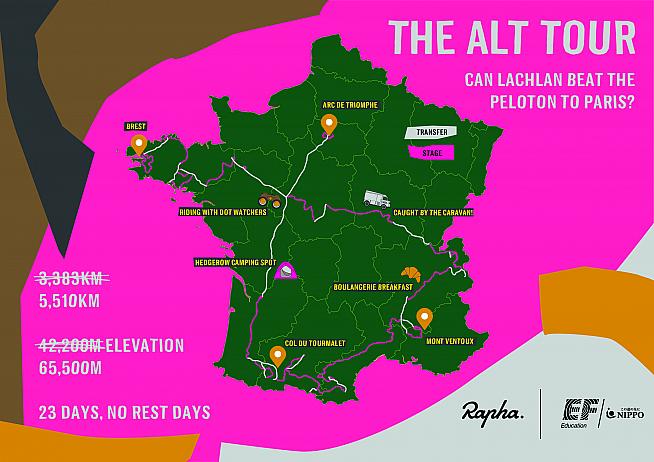 Morton has previous when it comes to epic off-menu feats; the Australian rider has embraced EF-Nippo's alternative calendar of sportives, gravel and ultra endurance rides like no other. In 2019 he took on the inaugural GBDuro race, riding 2000km from Lands End to John O'Groats largely off-road and wholly self-supported.
This isn't just a ride for the hell of it; there is a charity element attached to The Alt Tour as Lachlan will be riding in aid of World Bicycle Relief. Rapha & EF have kickstarted a fundraising campaign with a pledge that represents 1,000 bikes and fans will be able to donate too.
As tough as this challenge is, our money is on Lachlan beating the peloton back to Paris.
You can follow his progress live at rapha.cc/thealttour.
We'll be tracking his dot all the way. If you'd like to chip in towards the fundraising target, the World Bicycle Relief page is at give.worldbicyclerelief.org/campaign/ef-rapha-for-wbr/c329966.
0 Comments