The Rapha Pennine Rally starts this Tuesday 15 June, with 74 riders rolling out of Edinburgh on an unsupported off-road (mostly) adventure to Manchester over the Pennines.
There are three checkpoints on the 517km route, which has been created in partnership with Christian and Luke at Outdoor Provisions.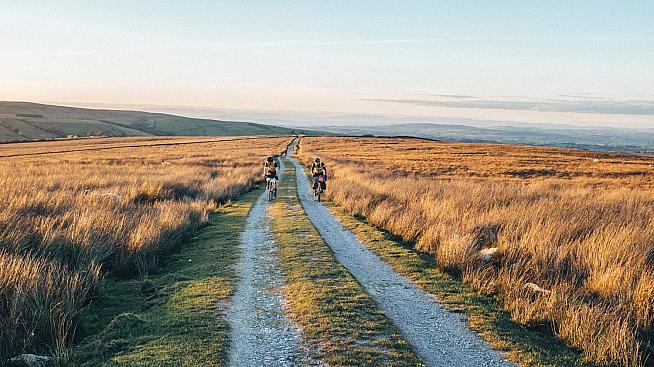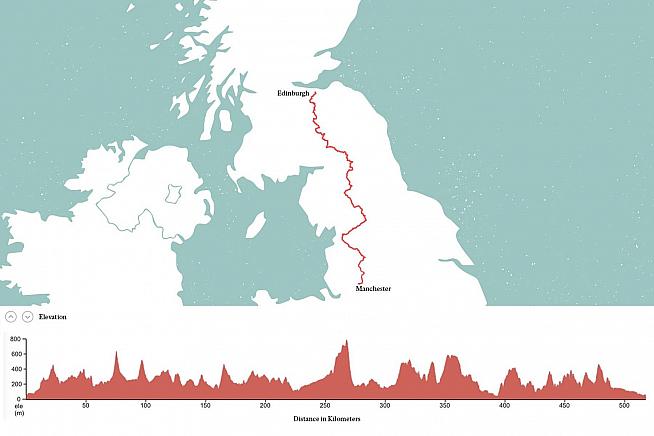 It's a rally not a race, with a suggested finish time of five days although some will no doubt be looking to beat that. All the riders will be wearing trackers and you can follow progress live at live.opentracking.co.uk.
Avid dot watchers will recognise one or two names from ultra rides past - notably Emily Chappell, author and Transcontinental winner 2016.
With roughly half the course on paved roads (of varying quality) riders have faced some interesting kit choices. Gravel bikes are the most popular choice offering speed over mixed terrain, but when it comes to luggage selection there's everything from fully loaded camping rigs to grit crit-ready rockets.
Check out some of the riders' bikes below, and tune into Rapha_UK for updates and live.opentracking.co.uk to cheer on those dots.
CLARE LILEY - #51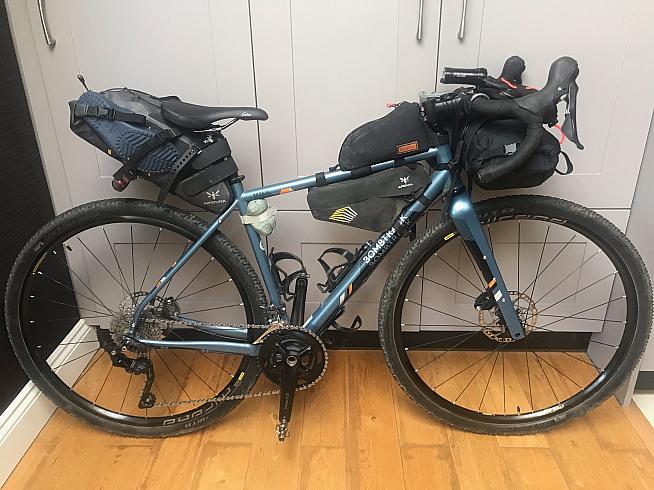 Here is my rig, built for comfort. Steel Bombtrack Hook ext with Restrap quick release front roll with magnetic food bag (love that detail!); Restrap top tube bag (well used from my audaxing but still in good shape to house my electrics; Apidura food pouch, frame bag for spares and tools; and Apidura 14L on the back which is essentially my "day bag".
I'm ashamed to say I am staying in accommodation but this is my first bike packing adventure (apart form PBP which doesn't really count as I slept and ate at the controls) so haven't refined the art of light packing. I'm hoping to learn lots from this trip!
Nervous, apprehensive and excited.
JAMES ATKEY - #55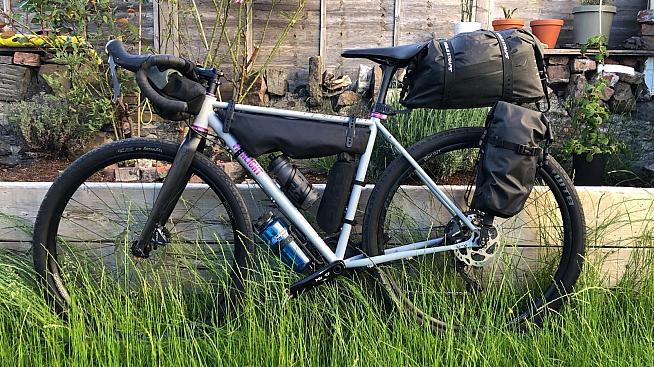 Riding a Fairlight Secan - great bike, can't praise highly enough those guys. Not sure I can say much, except that I work for Tailfin and that you can probably tell from my setup!
WILL FOX - #53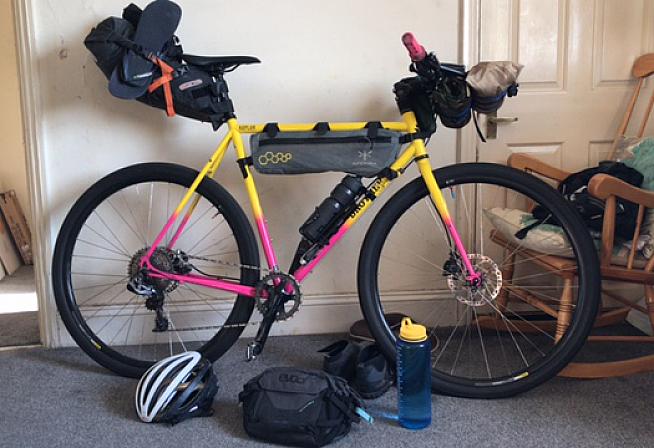 This is my Brother Kepler, set up with SRAM XX1 and Shimano XT Brakes. Packing Apidura/Ortlieb mix!
It's done me proud on the King Alfreds Way, now running Specialized Sawtooth tyres for extra all round Pennine ability!
EMILY WORMALD - #46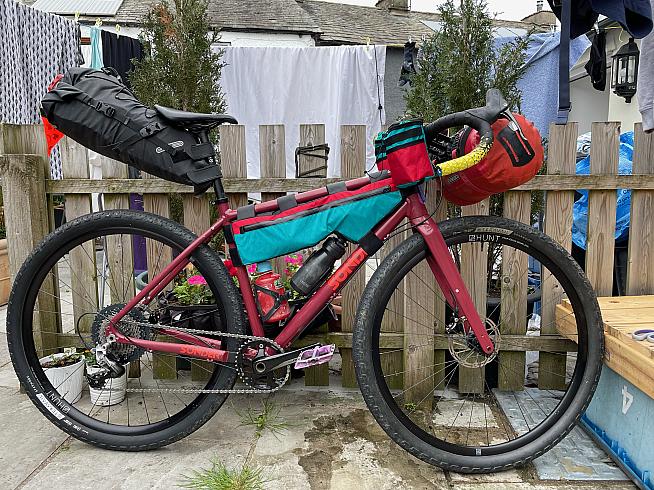 I'm riding a Sonder Camino, Hunt wheels and 2.1inch Teravail Sparwoods. I'm riding in a pair and wild camping along the way, so am carrying half of a tent.
Highlights of my set up are my handmade (by me) frame bag and snack packs, that I finished sewing last night because I wanted them to match!
BOBBY MCNICOL - #4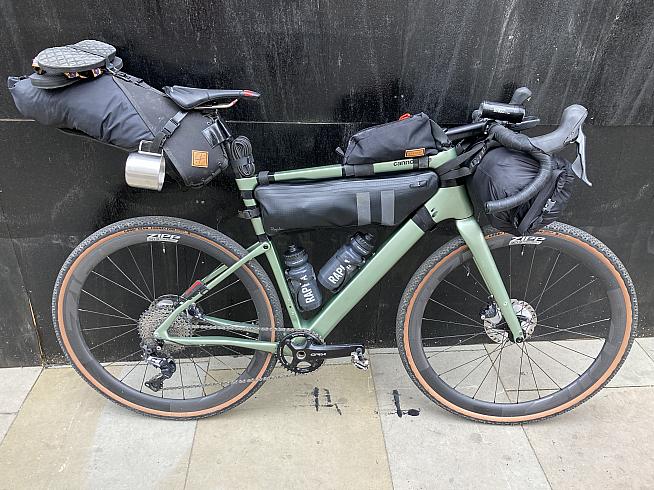 Riding a Cannondale Topstone with Shimano GRX 1x11 (38 x 11-42). Zipp 303 Firecrest wheels with 40mm Goodyear Connecter Ultimate tyres.
I'm wild camping each night, hopefully in my bivvy bag, but I've also brought my Big Agnes Copper Spur in case the weather turns bad.
CATHERINE OSBORN - #14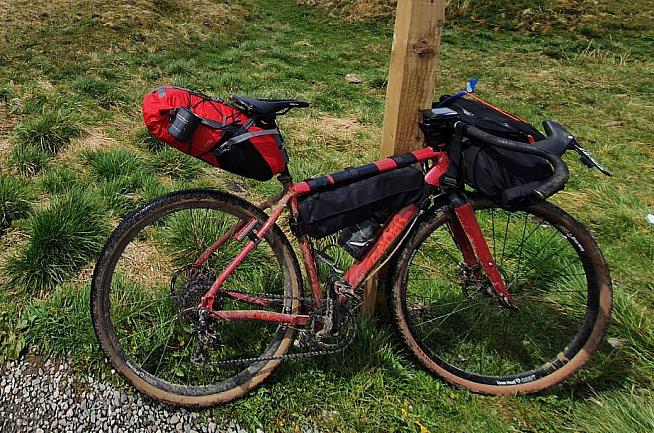 The bike is a Sonder Camino. It's done me really well so far, including on the Badger Divide route last year. The bars do attract some interest! They just have an exaggerated flare but they're really comfortable to ride!
My setup includes tent, stove and quite a lot of food squirreled away, so I should be fairly comfortable throughout, hopefully!
PAU WONG - #35 / JANINE HALE - #34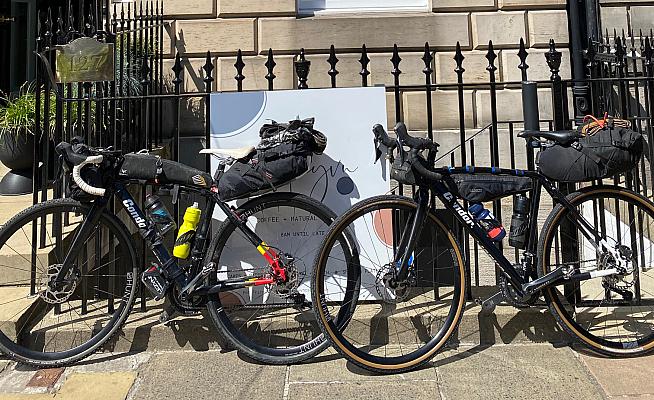 Here's the Condor pair on Pennine Rally. Left is Condor Terra-X (mine) & Condor Bivio (Janine's). Both on Hunt wheels, Gravel King SK 35c tyres.
LIAM YATES - #19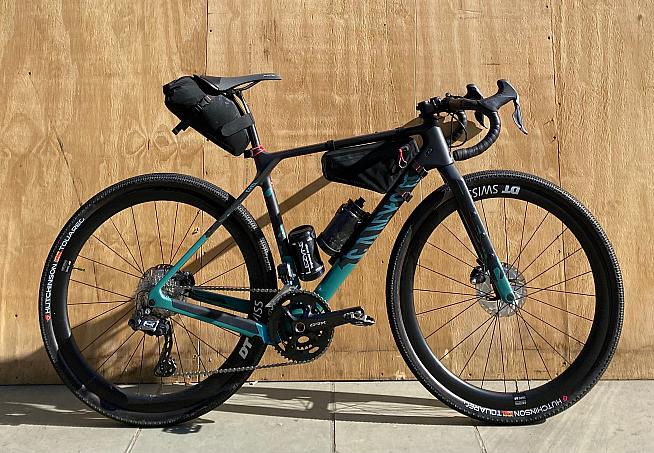 My bike setup for the Pennine Rally is the new Canyon Grizl with 2x Shimano GRX, Hutchinson Touareg 45mm tyres, Wahoo ROAM for guidance and Exposure lights for when the sun goes in. All finished off with my Apidura packs to carry my kit!
OISIN SANDS - #21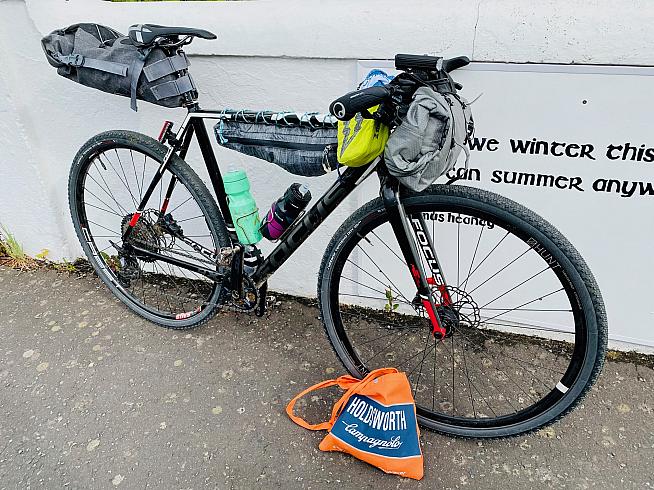 I'm riding a Focus Mares cross bike with Shimano 1x12 MTB drivetrain and brakes. I've gone for flat bars, hoping for extra control on the rough stuff and some Ergon bar ends to really seal that dorky tourist vibe. Secret weapon is a dynamo hub allowing me to sleep happily in ditches without worrying about lack of plug sockets.
HOLLY DUCE - #40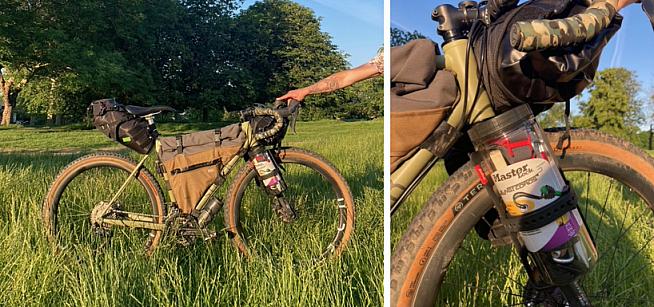 Here are some pictures of my Stayer Groadinger UG, packed up and ready to go on the Pennine rally. Also running some beautiful Stayer gravel wheels with a 2.1 Terravail Rutland on the front and a WTB Sendero on the rear because I'm very indecisive!!
Discovering that the best bit of kit is this bungee cord plastic tub which makes the perfect container for fork mounts!
NIKUL KANSARA-JONES - #72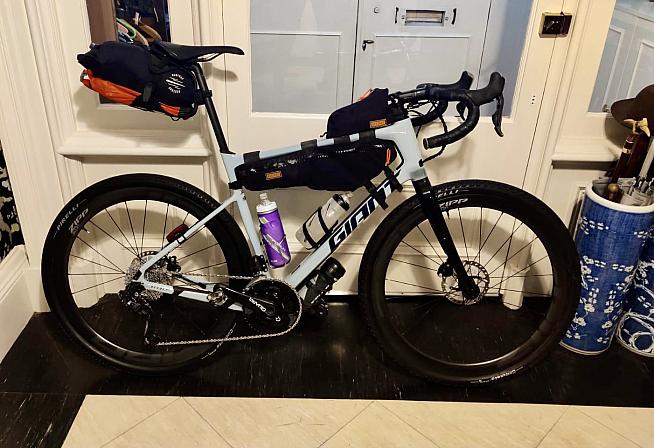 Above is my "do it all bike". I use it on the road, gravel and through winter which sums up most of my riding. For this trip I'm using the Restrap race saddle bag which takes about 7l capacity. I swapped it out from the large Restrap saddle back, because I absolutely hate the sway you get with big saddle bags. In addition on the front I have the large frame pack (using for anything that needs easy access - rain jacket, arm warmer, gilet etc) and the top tube bag (which is holding about 10 bars!).
I spent a long time agonising over tyre choice and ended up going for 45mm's Pirelli Cinturato's the front is the M (mixed terrain), the rear is the H (hardpacked) version.
ISSY HILL - #60
From a MTB background it had to be the HT for me! Trek ProCaliber 9.6 with a 100mm travel, 12 speed shimano and a set of 2.2 Maxxis ikons to help with speed on the road sections!
KIRSTY EGGLESTONE - #47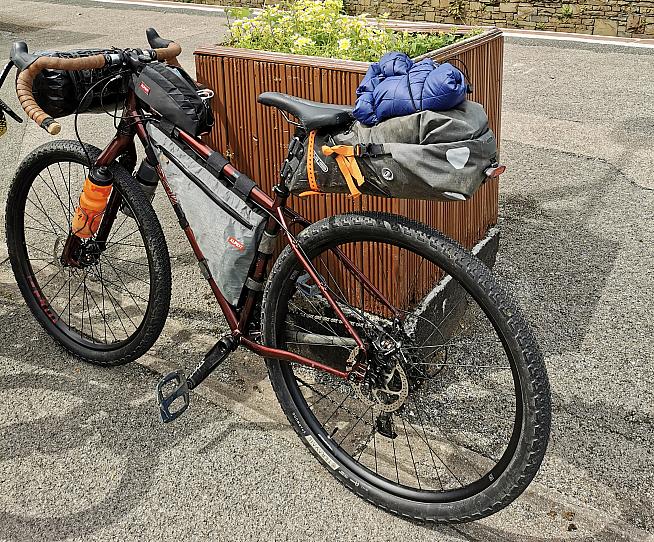 Riding a Salsa Fargo, first time tubeless so wish me luck. Alpkit frame & stem bag which are the newest additions to my Bikepacking attire.
I'm riding in a pair with Emily. We're camping a couple of nights, so we've split the set up. Luxury item: pillow.  @kirstyegg89
DEAN HILL - #28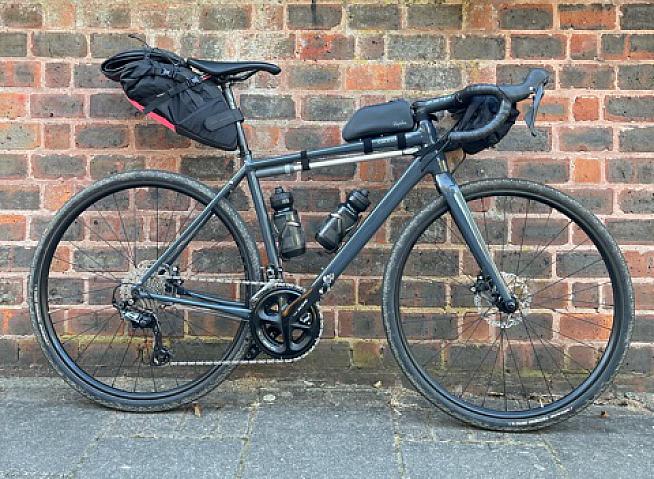 I will be doing this year's inaugural Rapha Pennine Rally on my Cannondale Topstone 1 or as I like to call it the Gnar Wagon. It's been fitted out with a Shimano GRX groupset and 105 52/36 chainring & 11/34 Cassette. Zipp Speed finishing kit and to keep me rubber side up Vittoria Terreno Zero and packed all my goods into my Rapha x Apidura front and rear bags for that pack light travel advantage.
TAYLOR DOYLE - #69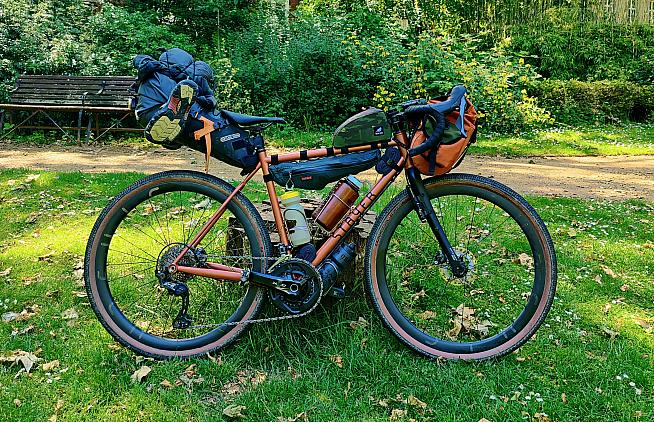 You are feasting your eyes on a freshly built Stayer Cycles Groadinger UG. I am planning on camping for the duration of the Pennine Rally and I'm really pumped to see what kinds of trails lie ahead on the route, ready for anything!
KITTY DENNIS - #48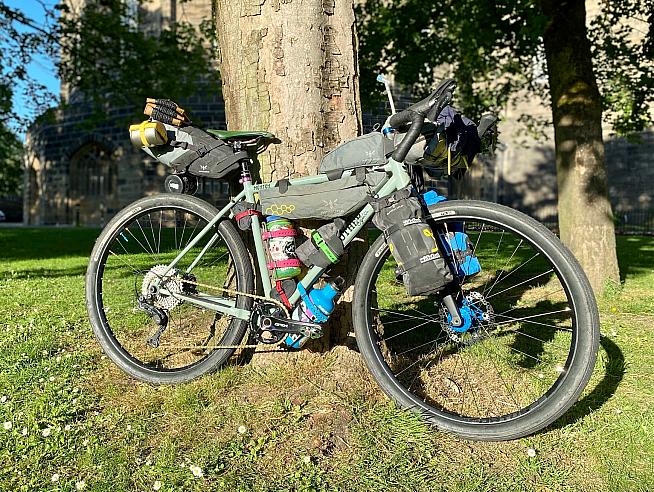 Here's my Brother Mehteh! It's got some amazing Hope Hoops on it and has carried me many miles. Can't wait to adventure more this week.
SEAN KING - #13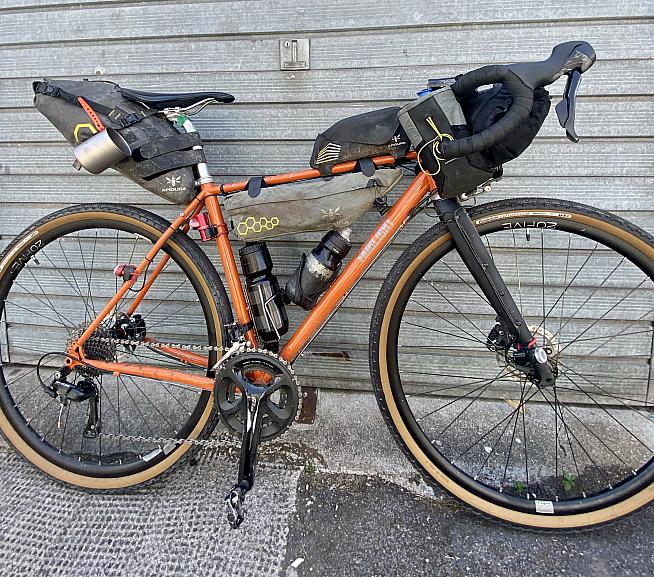 Bristol based - Yorkshire born. Normally rode Fairlight Strael on previous adventures including various audaxes, RCC ride leading in South West and TCR no 7 in 2019 -  scratching  in Switzerland - but happy to have crossed eight countries.
New Fairlight Secan frame with Hope wheels, hubs and Panaracer tubeless SK 43s. Exposure lights via Dynamo hub + extra front light. First time packing lightweight stove set - as aiming to bivy most nights. Test rode bike on Transkernow this May - bike did well with 330km and 6000m of south west hills! Included as essential is nice Coffee from Clifton Coffee (support your local independent!)
For more details of kit grid etc - check out @_.seanking on Instagram. Looking forward to an adventure!
JACK SADLER - #12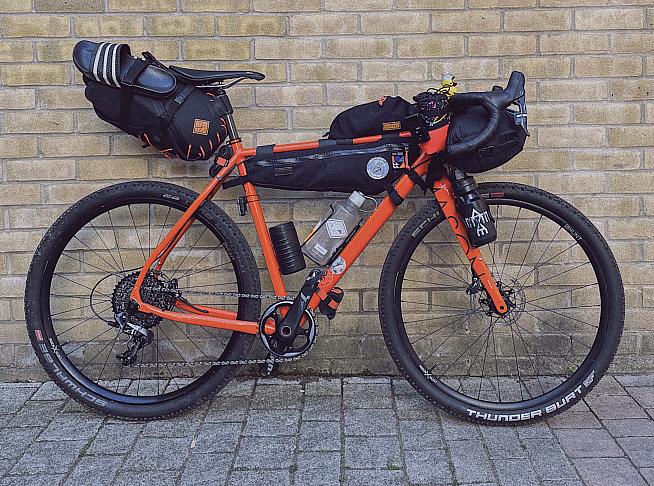 Phoebe, aka "Flame Princess," is my Mason Bokeh that was finally ordered after years of admiration from afar. So far she has been a faithful partner on a number of overnighters but also club rides and laps in Regent's Park. I did consider putting 700c wheels on for winter duties, but a fellow Bokeh owner rebuked that with, "yes, but then it becomes a sensible bike. And the best thing about the Bokeh is that it's a road bike with mountain bike wheels — a silly, fun bike."
BECKY ARROWSMITH - #67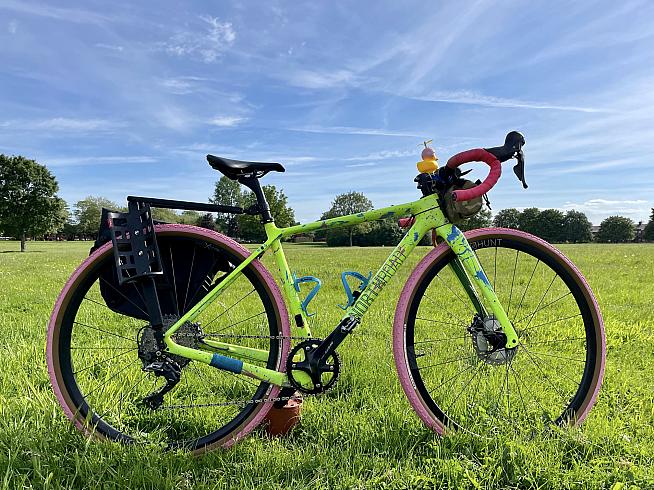 Here is my bike: "The Vengabus". I don't take cycling too seriously and I think this is the bike to reflect that. It's a Northroad Cycles Explorer frameset with a mish mash of 105 R7000 and GRX. A bit of a Frankenbike but it's brilliant both smashing it around trails or long trips hauling stuff.
My insta is @beckybicycle.
JAMES SOMERFIELD - #44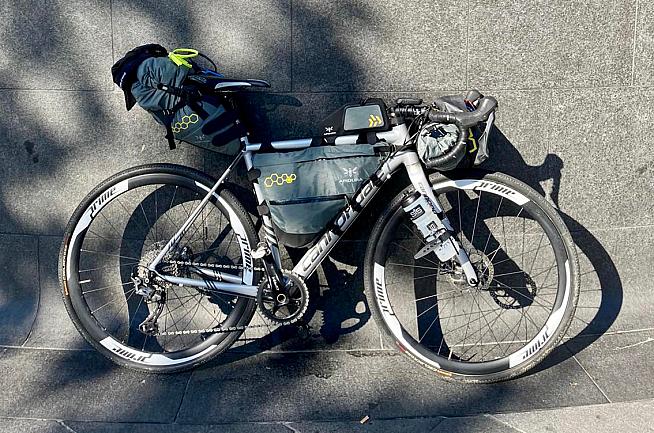 James is riding his trusty Cannondale laden with a full set of Apidura bikepacking bags.
ALISON DEX - #31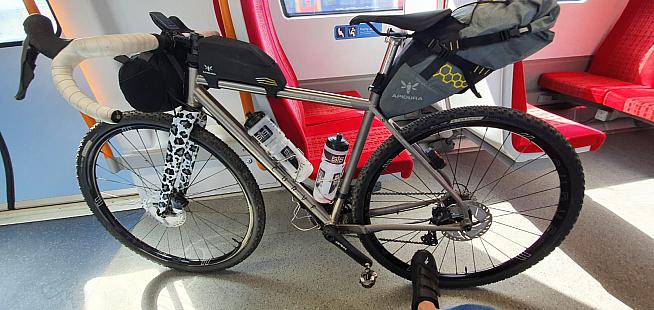 My bike is a Curve Ti 'Kevin' which I spent lockdown saving up for. I've got GRX groupset with 2x11 and huge 46cm Walmer bars which took a bit of getting used to but which I now love.
I got a buying group together at my all female cycle club and six of us ordered the same bike so we negotiated a group discount and as a thank you Giro gave me a good price on customising the forks so, after a lot of angst, I went for snow leopard. You won't miss me out on the hills or anywhere else!
On the bike I have an Apidura 11 litre rear pack for clothes, toiletries and tools etc. The Apidura racing top tube bag is for stuff I may need during the ride and my Apidura 4 litre front bar bag is purely for food, as are my pockets. My heart wanted to bivvy - which I love - but my sensible head booked beds and showers although now, seeing the good weather, I will be having FOMO of those sleeping under the stars!
0 Comments