Whether you're brand new to cycling or a grizzled veteran with multiple sportive, commuting or CAT 3 race campaigns under your belt, there's no denying the allure of a lighter bicycle.
A lightweight machine will generally feel more nimble and responsive to ride - and can help you go faster for less effort, especially on a hilly sportive course.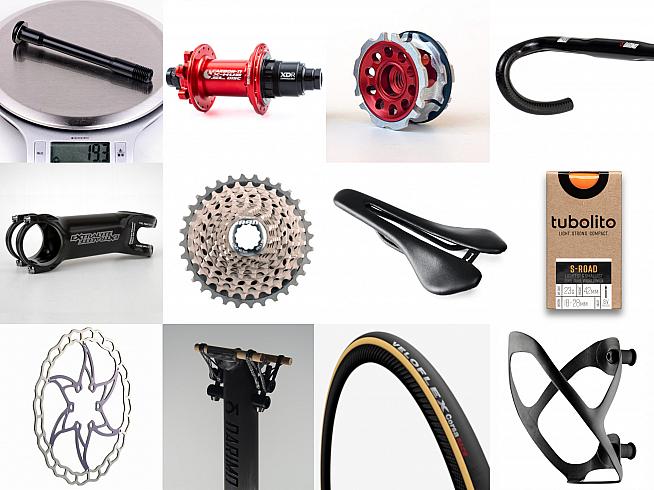 Oddly enough, the trend towards more aerodynamic frame shapes and disc brakes, even on race-oriented road bikes, means that the typical weight of a top-end bike is actually higher now than a couple of years ago.
Trek grabbed attention recently with the launch of their 6.78kg Émonda SLR 9, combining aerodynamic features with low weight. But with an RRP of £9,700 it's firmly in super-bike territory, and out of reach of most cyclists.
The mid-range Émonda SL 6 with Shimano Ultegra, priced £2,900, weighs in at a considerably chunkier 8.28kg. That's not heavy by any stretch, but it's about a kilo more than an equivalent rim-braked bike.
It's a similar story for high-end disc-equipped bikes from the likes of Specialized, Bianchi and Giant, most of which come in well above the UCI's minimum weight limit of 6.8kg.
While it's fair to say a pro contract won't be materialising for us any time soon, with a bit of fine-tuning we can still ride a bike as light - or lighter - as those raced by the elite.
We've shopped around, and come up with a list of 12 weight weenie components that we reckon could shave 1.5kg off the weight of a typical disc brake bike in the £1,500 - £3,000 price bracket.
Some of the upgrades are relatively cheap, while others - like wheels and boutique carbon finishing kit - represent a significant outlay.
The weight savings will be higher if your bike currently has heavier components, while you'll find diminishing returns if it's already equipped with lightweight kit - so pick and choose to suit your bike and your budget.

Weight: 1215g
Weight saving (vs 1650g wheelset): 435g
Cost: £927
Often the first port of call for riders looking to upgrade their stock kit, wheels can make a massive difference to the feel of a bike.
Best bang for buck depends on what you're after and your budget, but for many the search finishes with Hunt wheels. With a range of disc and rim wheels for road, MTB and gravel bikes, Hunt's wheels are competitively light and reasonably priced - we currently have their Mason x Hunt 4 Season disc wheelset (1588g, £339) on our gravel bike.
If your tastes (and wallet) run to something a little more exotic, check out Spada wheels. This Italian brand specializes in lightweight wheels - largely thanks to their stunning hubs - with the lightest being the Spillo tubulars at just 880g the pair.
Thanks to those hubs, even the alloy rimmed wheelsets post low weights and, more importantly, high performance. We recently tested the Breva Disc wheelset (1360g, £705) and were really impressed.
> A cut above: Spada Breva Disc wheels review >
Looking a little further afield, and if your budget will stretch to the £1000 mark then FarSports are worth a look. Offering their own carbon rims built to a selection of premium (and genuine) hubs from the likes of DT Swiss, Chris King, Tune and Carbon-Ti with top quality Sapim CX-Ray spokes, FarSports offer great value.
As an example of a disc brake wheelset, the 35mm deep Feder carbon tubeless rims on a set of Italian Carbon-Ti hubs tip the scales at just 1215g, offering a saving of around 500g over a typical stock wheelset.
Priced around £927, these are not cheap and shipping times can be several weeks - but start shopping around comparable wheels from the likes of Campagnolo, Enve, etc and that price tag starts to look more than reasonable.
Find out more: www.wheelsfar.com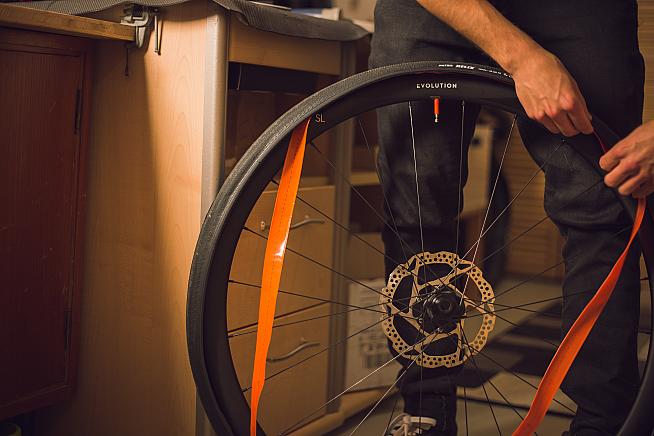 Weight: 23g x 2 = 46g
Weight saving (vs 100g butyl tube): 154g
Cost: £22 each
Easily overlooked, one of the most cost-effective weight savings you can make is running lightweight inner tubes. A standard butyl tube can weigh over 100g, but by employing a totally different material Dutch brand Tubolito are able to produce a tube weighing just 23g.
It packs down to a tiny size as well, making it an ideal spare for your back pocket.
Find out more: www.tubolito.com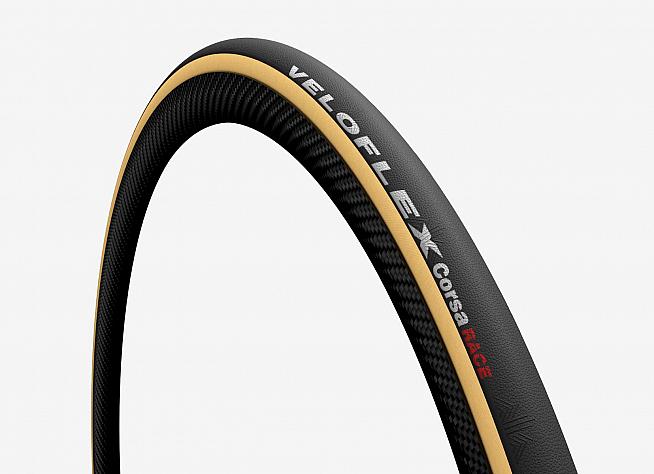 Weight: 200g x 2 = 400g
Weight saving (vs a 260g clincher): 120g
Cost: €42 / £38 each
Launched just this summer, the Veloflex Corsa Race is the latest handmade clincher (or "open tubular") from Italian tyre artisans Veloflex. At 200g in 700x25c size, the Corsa combines low weight with a superb ride feel thanks to the high thread count of its supple sidewalls.
Tubeless versions are available too, weighing just a little more, and both come with a choice of black or classic cotton sidewalls.
Find out more: www.veloflex.it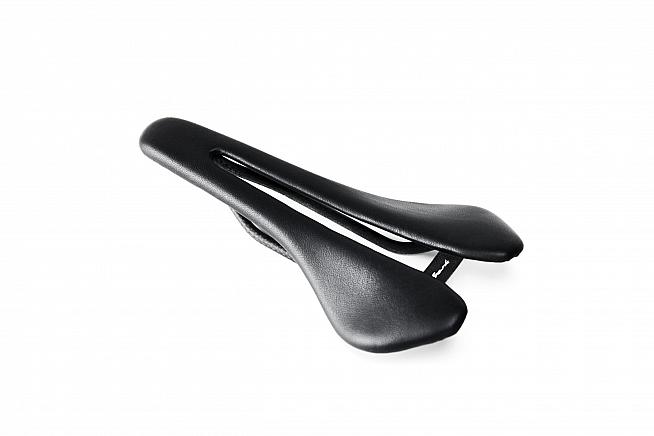 Weight: 79g
Weight saving (vs 210g saddle): 131g
Cost: €235 / £213
A couple of years ago I rode the Mallorca 312 on a steel bike using a bare carbon saddle that I'd covered with an offcut of thin leather. Well padded shorts prevented it being a total disaster, but generally speaking saddles are an area where it's worth paying attention to fit and comfort over low weight.
Luckily, with the Berk Lupina saddle you can have both. Weighing a mere 79g, the Lupina has just enough padding on its carbon chassis to offer all-day comfort.
The central cut-out channel reduces pressure, and we appreciated the hint of flex in the wings - you can see our full review here:
> Review: Lupina Padded Saddle by Berk Composites >
Find out more: www.berk-composites.com
Weight: 62g
Weight saving (vs 220g seat post): 158g
Cost: €299 / £272
Now you've got your lightweight saddle, how about sorting out that heavy metal tube it's attached to?
Based in Valencia, Darimo produce a range of exceptionally lightweight and innovative carbon parts for bikes. Their T1 Loop Seat Post is a case in point, employing Dyneema cords to clamp the saddle rails.
The result is a seat post that weighs from 61g, with the 27.2mm post in 250mm length weighing a claimed 62g.
If the £270 price tag of the Darimo post is prohibitive, check out KCNC. Their Ti Pro Scandium seat post is lighter than most carbon posts at 158g (27.2mm, 350mm length) and a slightly more wallet-friendly £99.
Find out more: darimo.eu
Weight: 73g x 2 = 146g
Weight saving (vs 120g rotor): 94g
Cost: £18 each
Brakes are another area where you don't want to push the envelope in pursuit of weight savings - but we're happy with the performance of these ultra light rotors from Ashima.
At 73g in 160mm size, these 6-bolt stainless steel rotors are available in a range of colours and offer a decent weight saving over an equivalent centerlock rotor. Not only that, they're cheaper too - a first.
If your wheels are centerlock (rather than 6-bolt) you'll need an adapter. Ashima's Centra-Lite adapters weigh 23g apiece, but as you don't need bolts the negligible weight gain is more than compensated by the lightweight rotors.
Find out more: www.bikeinn.com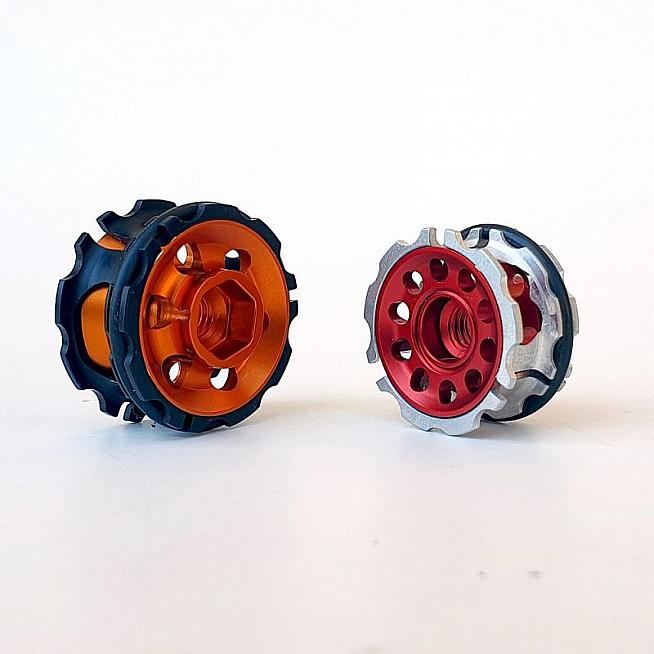 Weight: 4.7g
Weight saving (vs 40g steerer bung): 35g
Cost: €29 / £27
A stealthy upgrade, this one - but you can save a few grams by swapping out your steerer expander for this highly machined beauty from Italian boutique ExtraLite.
Weighing just 4.7g (you know they're serious about weight when they measure in tenths of grams), pairing the UltraStar 4 with the ExtraLite HyperCap - 2.9g including bolt - will shave around 40g from your set-up.
Every little helps...
Find out more: retail.extralite.com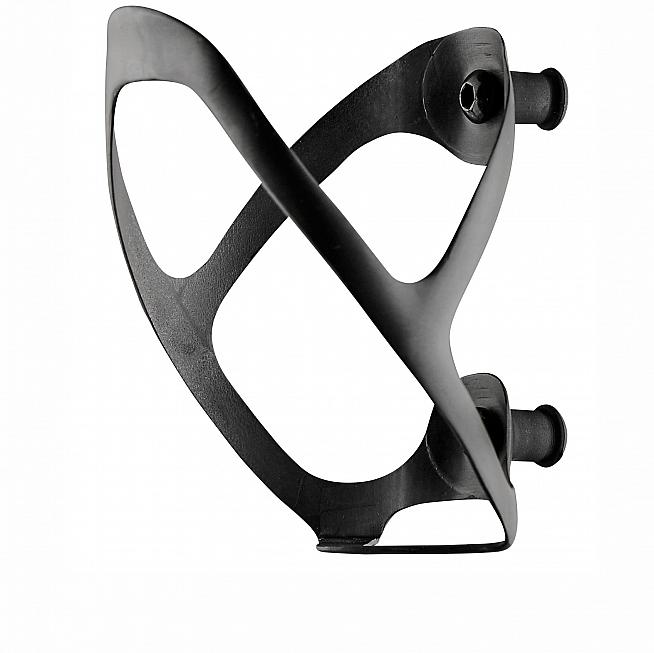 Weight: 9g x 2 = 18g
Weight saving (vs 41g cage): 64g
Cost: €42.34 / £39 each
Bottle cages are another area that few cyclists would think to save weight on. But, with a typical cage like the Elite Race weighing 82g a pair, diligent dieters will spot the potential to go lower.
Tune's beautifully sculpted Wassertrager 2.0 cages weigh a scant 9g apiece, offering a saving of 64g a pair.
If the price tag is a bit much to swallow, we've had good experiences with the Bontrager Race Carbon XXX cages. Still light at about 16g apiece, and versions can be found on eBay for under a tenner.
Find out more: en.tune.de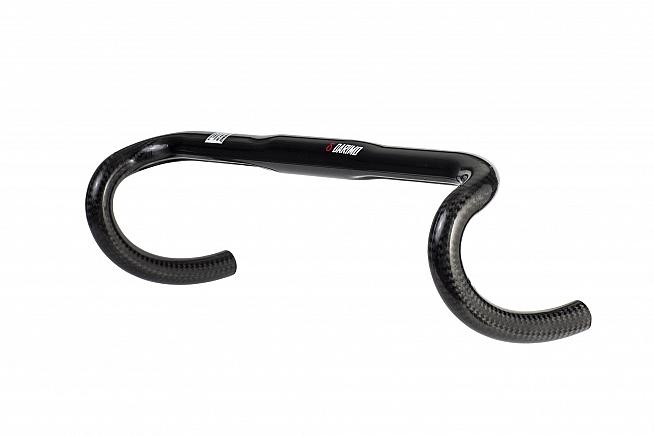 Weight: 124g
Weight saving (vs 230g bars): 106g
Cost: €399 / £362
Handlebars are a bit of a hassle to swap out, but if you're looking to change to a different shape or width of bars then weight may be another factor you consider.
Darimo produce among the lightest bars we've found anywhere, with their carbon Ellipse road bars weighing just 124g in 40cm width. Featuring a compact shape and rated for a rider weight up to 90kg (reinforced versions can be requested for larger riders), the only drawback is the hefty price tag.
Coming in slightly heavier and €100 cheaper, the 4200 Ergo bars from German brand AX-Lightness are another worthy contender. At 157g they feature internal cable routing to keep your cockpit looking clean (and marginally more aero).
Find out more: darimo.eu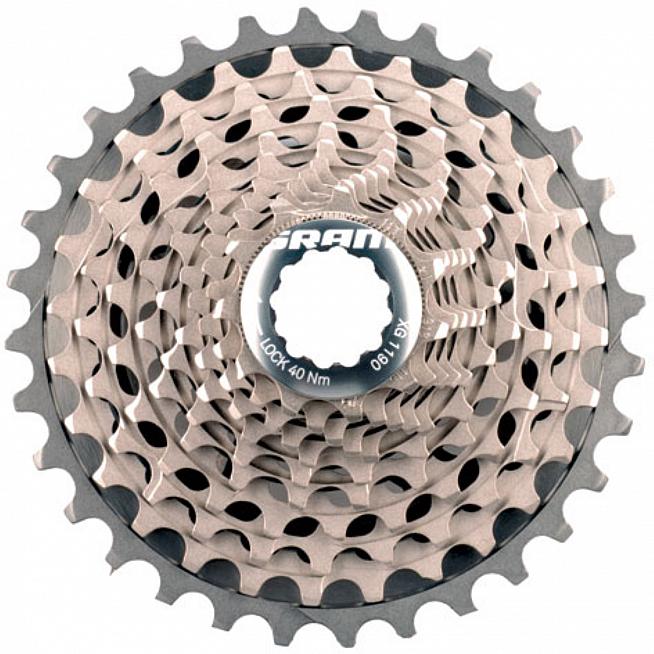 Weight: 170g
Weight saving (vs Campagnolo Chorus 12-29T): 127g
Cost: £238
The beauty of 11-speed systems is that the cassettes are interchangeable between the three main brands. If you're running an 11-speed groupset from Shimano, Campagnolo or SRAM, then upgrading to a lightweight cassette can save a considerable chunk of weight.
The SRAM Red XG1190 cassette, weighing just 170g in 11-28T gearing, saves over 120g compared with an equivalent Campagnolo Chorus 12-29T cassette (297g). Just make sure your wheels have a Shimano/SRAM compatible freehub.
If you have a Campagnolo freehub and don't want to switch it out, an alternative is Edco's Monoblock cassettes. Machined from a single block of steel, they are lightweight at 236g (12-29T) and can be picked up for around £150. Shimano/SRAM compatible versions are also available.
Just remember to choose a cassette that offers the gearing you need for the terrain you ride. An 11-23T cassette may be light, but you won't find it much help if you're pushing your bike uphill on the Fred Whitton Challenge or La Marmotte!
Find out more: www.wiggle.co.uk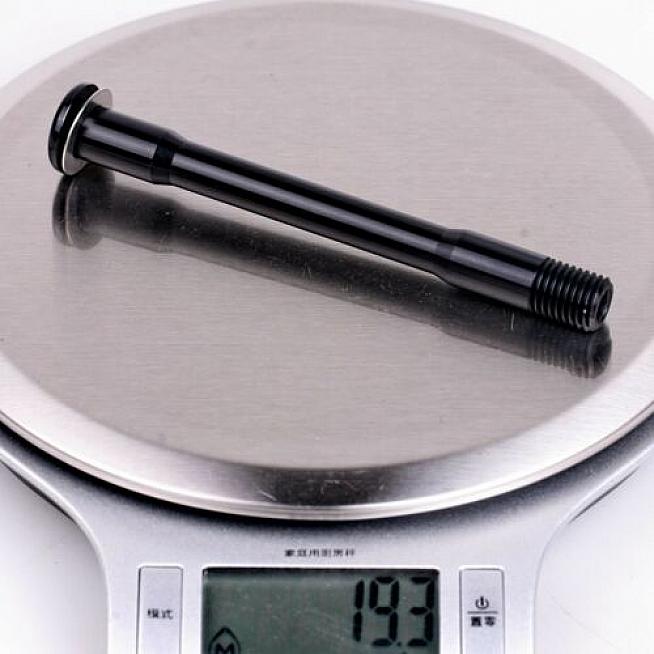 Weight: 19g + 26g = 45g
Weight saving (vs Bianchi QR thru axles): 52g
Cost: £15 each
Cyclists have been swapping out their stock quick release skewers for lighter titanium and carbon versions for years. But now, with the switch to disc brakes, it's a bit more complicated.
Most new disc brake bikes will come with thru-axles in either 12mm or 15mm diameter, with other variables including axle length and thread pitch. Some brands like Focus use their own proprietary axle systems, while others - like Bianchi in their Infinito and Oltre disc models - include neat concealed levers to speed up wheel changes.
The upshot is that upgrading to lighter thru axles requires a bit of research to determine whether it's worthwhile. If you're chasing every last gram, then check out J&L axles. At 19g front and 26g rear for 12mm, these save 50g over Bianchi's quick release thru axles.
On the other hand, you now need to carry a 6mm allen key in case you get a flat...
Find out more: www.ebay.co.uk
Weight: 83g
Weight saving (vs 130g stem): 47g
Cost: €189 / £172
While most weight upgrades involve moving from metal to carbon fibre, this is not the case with stems: here, alloy can still rival carbon.
ExtraLite's HyperStem is among the lightest, starting at just 61g. For a more typical 110mm length you're looking at 83g, which is still just a little over half the weight of a standard OEM stem.
An honourable mention goes to KCNC, whose SC Wing Scandium Stem weighs in at a respectable 104g for £73.
Find out more: retail.extralite.com
0 Comments