Nestled in the mountains on the Italian-Swiss border is the Tirano workshop of Spada Wheels.
Spada - Italian for "sword" - make some of the lightest production wheelsets you'll find anywhere: their Spillo wheels come in at just 820g for the pair.
While this makes Spada a natural port of call for cyclists looking to save weight and upgrade their existing wheels, their wheels aren't just for hill climb specialists. The range includes MTB and gravel wheels ready to tackle any terrain across cycling disciplines.
The man behind the Spada brand, Corrado, is also a big believer in disc brakes. In fact, when we originally contacted Spada to ask about borrowing a set of rim brake wheels for review, he pointed us instead to Spada's disc range.
"(We are) not really focused on testing an old model," he replied, explaining that the majority of their customers are now requesting disc brake wheels.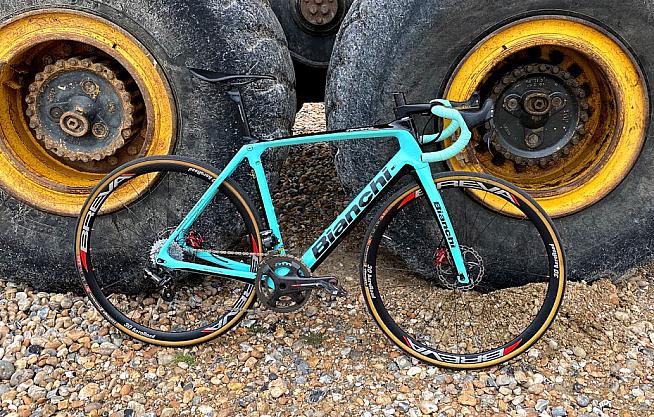 While we wouldn't write off rim brakes just yet, any lingering whiff of discord was quickly dispelled when we took delivery of the Breva Alu Disc.
Sitting somewhere in the middle of Spada's range, the Breva Alu features Spada's latest Hertz hubs laced to a mid-section 30mm alloy rim.
The wheels weigh just 1360g, a remarkably low weight for a disc brake wheelset with alloy rims.
The secret sauce is the Hertz hubs, which are super light at 179g rear and 83g front (149g rear and 49g front for the rim brake model). Beneath the carbon fibre hub shell lies some genuine innovation, with Spada's "no flexion system" providing a significantly wider load bearing base compared to a standard hub body:
The result, say Spada, is a reduction in flex under load making for a stiffer rear wheel.
In the case of the Breva Alu, the hubs are laced to lightweight alloy rims with bladed aero spokes; a lighter - and more expensive - Breva carbon rim wheelset is also available.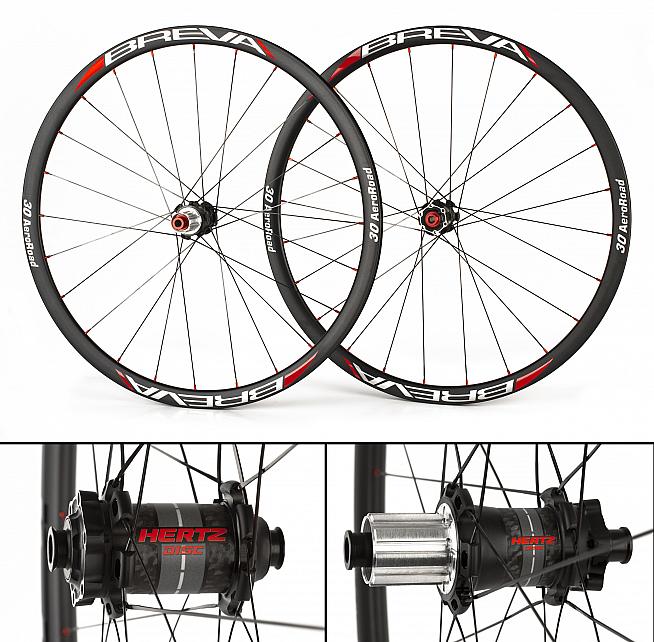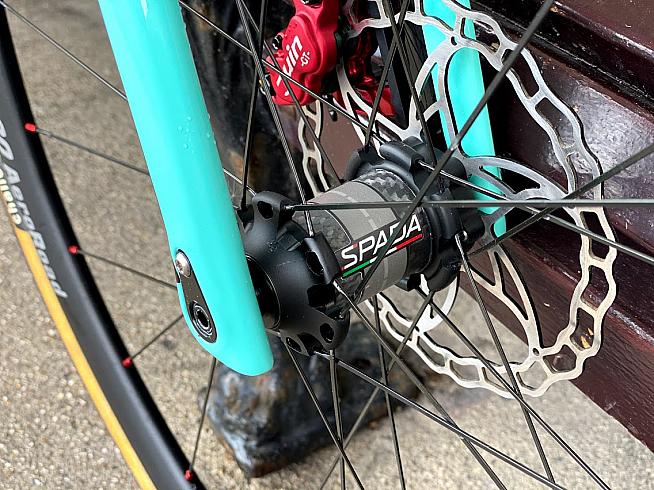 We were hoping to put the Breva wheels to the test on some gravel riding - the Dirty Reiver sportive, to be exact - but then along came coronavirus to put a stick in the spokes.
While Spada turned to 3D printing flanges for hospitals (developing techniques they say will allow for some complex carbon shapes in future), we set about the more frivolous task of testing the Breva wheels.
I got as far as mounting a set of the new Hutchinson Touareg tubeless tyres (the rims were supplied pre-taped and the tyres went on easy), but with gravel plans in disarray, decided to revert to a road set-up.
On went a pair of trusty Challenge Paris Roubaix clinchers with latex tubes. The tyres' 700x27C width paired nicely with the 18mm rim channel and seated securely on the hooked rims.
Spada ship the rim brake Brevas with lightweight (58g the pair) quick release skewers, while the disc versions tested are compatible with 12mm or 15mm thru axles. The hubs are for 6-bolt disc rotors rather than centre-lock, allowing for lighter rotors.
From Tirano to the South Downs
So to a road test, and the Breva lived up to every expectation. The wheels felt stiff, responsive and were fast to spin up to speed. And of course, the light weight was welcome on the short, steep climbs that punctuate our Sussex testing ground.
There's not much riding at a steady speed around here, you're always out of the saddle for a climb then working to accelerate over the brow of the hill. A lightweight rim really makes its presence felt in these conditions, and while the Challenge tyres aren't the absolute lightest they contributed a welcome amount of cushioning on the road surfaces around here, which are not so much billiard table smooth but do feature plenty of pot holes.
The Brevas zipped along, with a distinctive purr to the freehub when easing off the pedals. The 30mm profile is at the threshold of what could be considered an aero rim, but still offers an advantage over shallower box-section rims. Meanwhile the wider rim bed ensures a smooth transition from 25-28mm tyres to rim to help keep the airflow attached.
The wheels score highly on cosmetic appeal too. The hubs are beauties, with Spada decals laid over the matte carbon fibre weave.
The alloy rims themselves could quite easily pass for carbon. Being disc wheels, there's no need for a polished braking surface so Spada have opted for a uniform black anodised finish.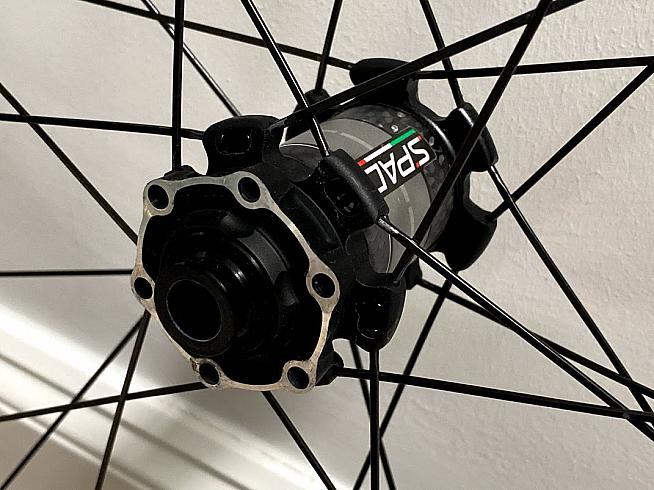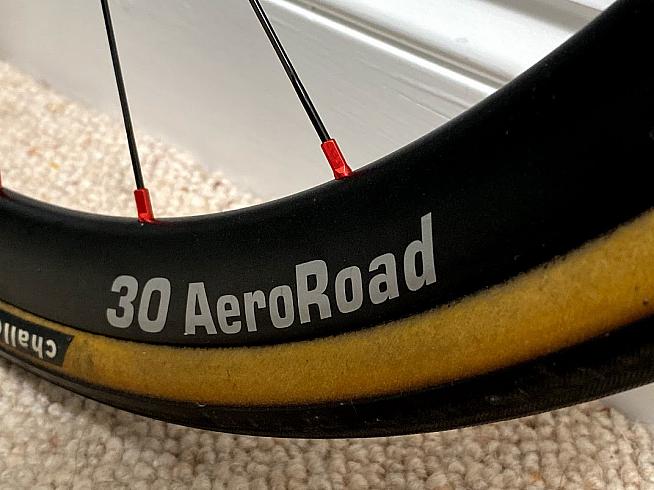 Some of the rim decals did show signs of starting to peel slightly at the corners, but were easily smoothed back into place. If these were my wheels I'd be tempted to remove at least the "30 AeroRoad" stickers anyway; black on black "Stealth graphics" can be selected at purchase for fans of a more understated finish.
The overall look is undeniably attractive, with red anodised spokes complementing the accents on our Bianchi Infinito test bike. They drew appreciative comments when I posted a photo on a Bianchi Facebook group, the only drawback, as one fan observed, being the 85kg weight limit.
The test period came to an end all too soon, and we were sorry to have to return what is a really impressive set of wheels.
Choose your weapon
Riders looking to put hills/their ride mates to the sword will find several versions of the Breva disc to choose from. The lightest is the carbon rim tubular version at just 990g the pair. With a 32mm rim depth and slightly higher rider weight limit of 88kg, these will set you back €1,680.
That's a hefty investment, and with fewer cyclists looking to tubulars these days the tubeless-ready Breva Disc alloy wheelset, at a more affordable €790, will be an appealing choice.
The 1360g weight is competitive with anything we've found for a similar price. For comparison - although Spada will bristle at having their hubs mentioned in the same breath - a set of Hunt 30 Carbon Aero wheels at 1367g is priced £799.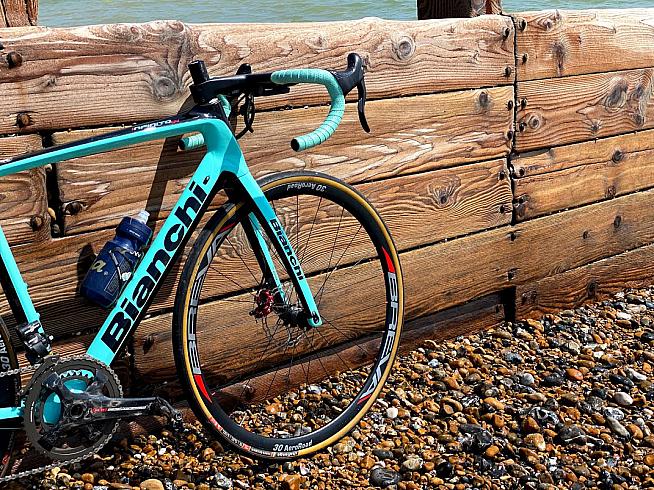 Bottom line, whether you're running disc or rim brakes, there's plenty to appeal across the Spada range. With their high performance, good looks and - in theory at least - versatility for both road and gravel use, we'd be happy to recommend the Spada Breva wheels to anyone looking for a quality upgrade to their rolling stock.
Top tip: the English version of the website is sometimes less detailed than the native Italian, so select Italian as your language and fire up Google translate if you'd like the full lowdown on a particular wheelset. Note that "T" in the wheel name designates a tubular rim; copertoncino means clinchers.
A full range of spares is available on the website, and you can even buy the Hertz hubs by themselves if you fancy taking them to your local wheel builder to build up with your rims of choice.
One final note: Spada advise us that the Breva Disc Alu is currently out of stock; readers may like to check out the Stiletto Disc instead. The Stiletto features a shallower 23mm rim profile and an even lighter weight of 1280g, priced €770.
Verdict: Excellent upgrade offering boutique quality at a reasonable price.
Spada Breva Disc Alloy wheelset, €790 / £705 from spadabike.com.
0 Comments