The Ribble CGR AL is a member of Ribble's wider CGR (cross, gravel and road) family. Designed to excel across a variety of terrains with ultimate versatility, the CGR range now includes bikes in all four popular bike frame materials: alloy, titanium, carbon and steel.
Here at Sportive.com we've tested the carbon, titanium and eBike models in the CGR range over the past year. It's hardly a spoiler to say we're inpressed - you can check out the reviews below.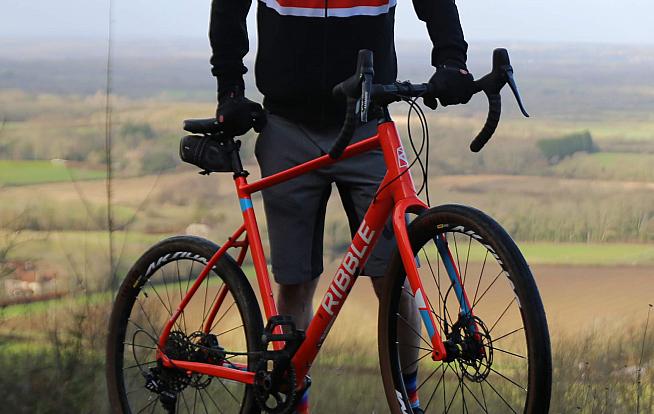 > Ribble CGR AL e Review: Well-specced eBike that's not afraid to get dirty >
> Review: Ribble CGR SL Shimano 105 >
> Ribble CGR Ti Review: Titanium-framed go-anywhere adventure bike >
> Ribble Reborn: Sportive.com visits a cycling giant in Lancashire >
Each material has its particular advantages, but common across the CGR range is a versatile spec that means the bikes perform well across a wide range of terrain and uses.
With disc brakes and generous tyre clearance, the CGR is designed to accept both smaller 650b and standard 700c road wheels, enabling riders to swap around depending on what they want to do. This versatility, allied to a geometry that's less aggressive and more comfortable than an all-out road bike, make the CGR range on the one hand difficult to categorise and on the other, easy to turn to whatever style of riding you have in mind.
It's not a race bike, but with mounts for mudguards and racks, the CGR can easily double up as a commuter bike during the week and a fast touring or fun gravel bike at weekends.
The core element of the CGR AL - the frame is made of 6061 T6 heat treated, seamless weld aluminium. The forks are CGR full carbon fibre monocoque. To this blank canvas Ribble offer their usual wide range of specifications, ranging in price from £999 to £1,799.
The versatility doesn't stop there. The test model I rode arrived in stock orange, with a blue version also on offer. But if neither of those float your boat, you can design your dream paint job using Ribble's online Custom Colour tool.
I've been testing the SRAM Apex 1x 650b model (£1299). Attached to forks and frame is a pair of Mavic Aksium 650b wheels shod in WTB Horizon Road Plus tyres - in a roadie-astounding 47mm width!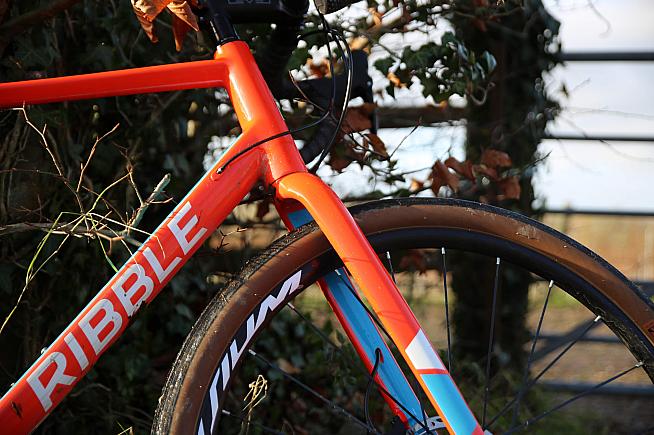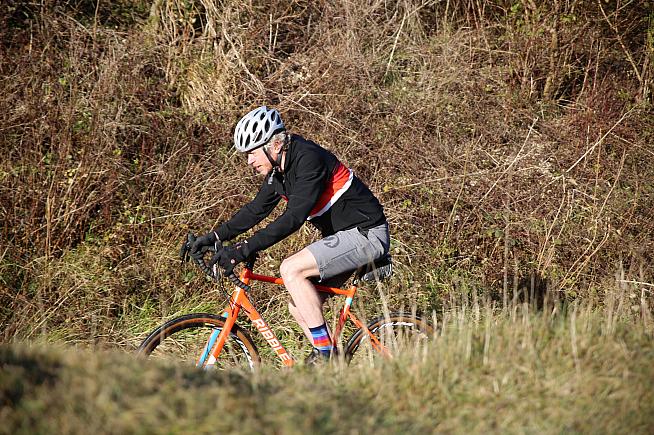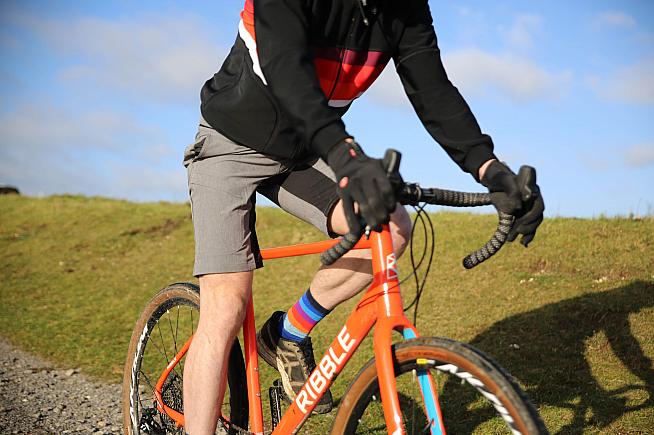 This was my first experience with SRAM's single chainring 1x Apex groupset. There's only one shifter (as there's only one derailleur - more on this later), which keeps things simple. Up front you've got a 42T chainring, with an 11-speed 11-42T cassette offering a wide range of gearing. Braking is handled by SRAM's Apex flat mount hydraulic discs.
The finishing kit - bars, stem and seat post - is supplied by Ribble's own Level brand and made from 6061 alloy. The saddle is a comfortable WTB Koda Race.
Claimed build weight is a shade under 10kg for my size large, with scope to go lower by switching to lighter tyres, wheels and finishing kit.
A speedy treat - both on and off road
I've been testing the CGR AL for about six weeks, and rode both on-road (a couple of club rides and a few work commutes) and off-road. The big off-roader was Doom Cross, a 50-mile cyclocross sportive through the South Downs.
True to its billing, I've found the CGR AL performs well wherever I pointed it.
If you're going to get this bike as a commuter, warn your employer you're going to be late for work occasionally. Not because the bike is slow - it's not - but because you may find yourself tempted to do the same as me and tack on a few extra miles to work.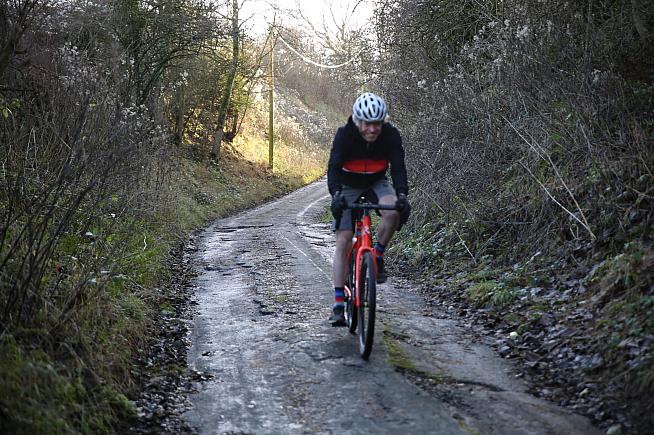 Riding bikes is fun. Work isn't - unless bike riding is your job. But the wide tyres, the geometry, the saddle and the lighter alloy frame all combine to make most rides to work quick-paced and comfortable. The AL would make a great commuter year-round with the addition of mudguards.
Come the weekend, and I was keen to try out the CGR AL on my regular club ride. Certainly, I got ridiculed turning up on a gravel bike. Especially when I went out with group one, AKA the speedy crew. They were fascinated, touching the tyres, squeezing them and measuring their girth like it was a first encounter!
But the CGR AL handled well on roads. Even on those chunky tyres and undersized wheels, aside from a few miles of an average 26-mph chaingang where I was spinning out, I kept up.
I may have been pushing the limits of the 1x gearing, but with its light alloy frame the CGR AL felt sprightly and responsive. Swap to 700c wheels and a bigger chainring up front, and I could easily imagine the bike tackling a long road sportive at speed.
Mud larks
Getting familiar with the AL's handling on roads gave me the confidence to bring it to its more natural terrain - off-road.
Mid-week, I popped out on my lunch breaks to a wood around the corner from the office to bound and bounce down some mucky trails. The bike was a blast, and opened up terrain I'd never have attempted on my normal road bike.
One caveat here was the choice of tyres. The WTB Horizon Road Plus 650b tyres haven't much tread, and while they're rapid on roads or hard-packed gravel, I found in wet conditions it was difficult to gain traction in muddier sections.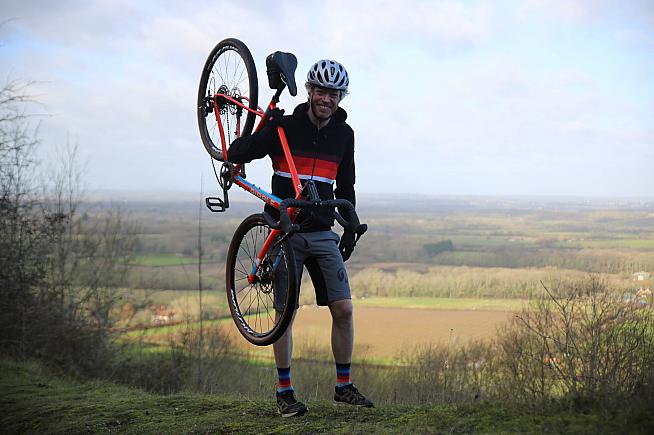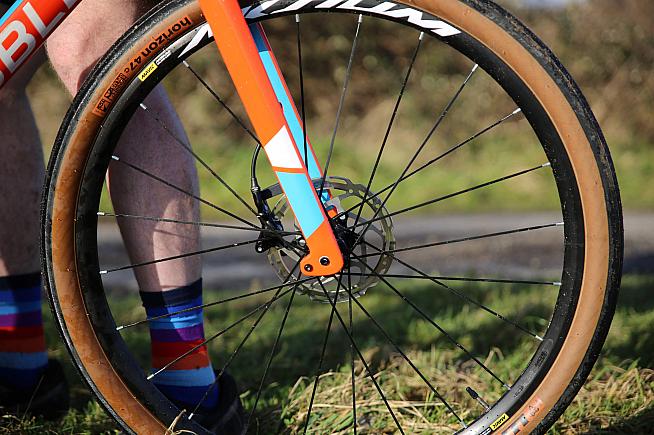 On to the big off-road ride, Doom Cross - this was a true test of the bike (and my confidence)! Across the day, we rode frosty and frozen ground, slick grass, chalk and flint strewn tracks, deep mud and massive puddles - uphill, downhill and flats. It was a great day out.
I was impressed with the bike's handling. Again, it would be advisable to swap out the tyres for a bit more traction. The gearing, though, was spot on. Despite how challenging the inclines and terrain got, I never found that I was wishing for more gears.
I also witnessed first-hand the logic of a single chainring as far as limiting the amount of places gunge could collect, stick and interfere with the drivetrain. Poor Oisin suffered a terrible fate when his rear mech couldn't bear the load any longer from all the muck collected on it, and snapped off.
> Ride report: Doom Cross Nearly Killed My Bike (And I Loved It) >
Conclusion
The CGR AL, like all the CGR range, is a genuinely versatile bike. The line's lower priced models make it a great choice if you're looking for an all-seasons commuter on a cycle-to-work scheme.
Ramping up expectations and taking the AL off-road and into competition, the bike's geometry, weight and design make for a nippy, nimble bike that you can throw around road and trails with confidence.
If you're sticking mainly to roads then the stock tyres are a good choice. If your commute - or leisure rides - see you venturing onto unpaved paths or singletrack then you will probably fare better with more grippy rubber outside of dry summer conditions. It's an easy swap to make at point of purchase thanks to Ribble's intuituve online Bike Builder, or indeed at home.
Whatever your reason for buying a Ribble CGR AL, it's an impressively pacy, reliable ride that will do you right. Yes, this alloy model may lack the polished allure of titanium or the feathery low weight of its carbon cousin - but for my money, it hits a sweet spot between low weight and durability at an affordable price point.
Ribble CGR AL - from £999 at www.ribblecycles.co.uk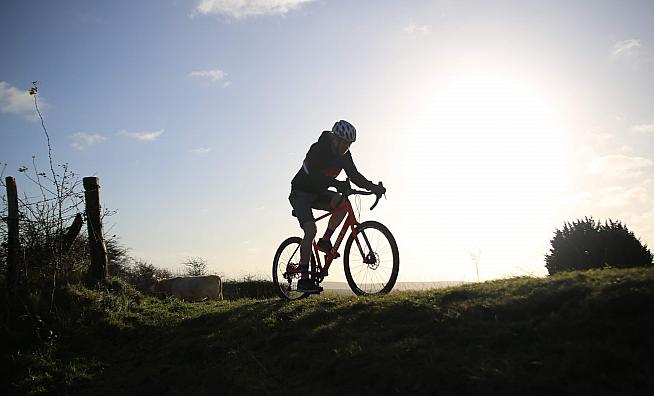 All photos by Peter Levenspiel.

0 Comments