Anyone paying even casual attention to Ribble Cycles in recent years will have noticed that something is stirring in Lancashire.
Founded in 1897 in Preston - just 12 years after the world's oldest bike brand, Bianchi - Ribble have been through more than one boom and bust cycle. For what seems like decades, their ubiquitous blue alloy Audax model was THE winter bike for generations of cyclists through the 1980s and 90s.
And, like their Audax, Ribble have weathered the seasons and come out the other side.
A recent injection of funding has seen the company noticeably shift up a gear. Almost overnight, the bikes on display at trade shows went from tried and trusted old favourites - comfortably familiar, if not particularly exciting - to bold new designs marrying the latest design trends with sharp livery and fresh branding.
Over the past 12 months we've been able to test a selection of these new bikes, most noticeably from the newly introduced CGR range - and in every case we've been impressed by the versatility, value and sheer appeal of the new range.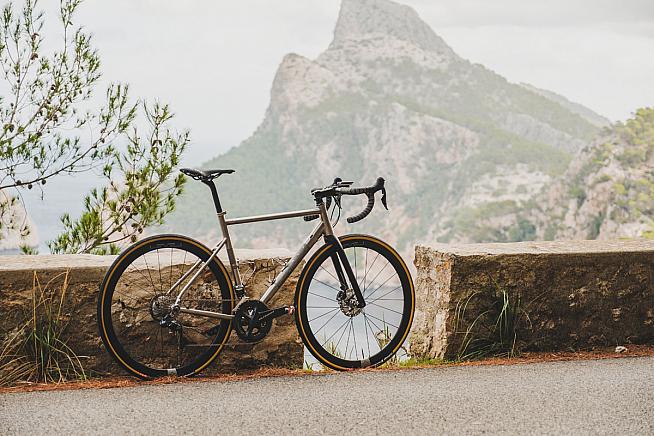 > Ribble CGR Ti review: Titanium flavoured go-anywhere adventure bike >
> Ribble CGR AL e review: Well-specced eBike that's not afraid to get dirty >
> Ribble CGR AL review: Sturdy mule with a surprising turn of pace >
> Ribble Endurance SL e: Andy goes power-mad in Preston >
So what's changed at Ribble?
New leadership, new direction - and new money - is the glib answer. Along with True Capital's investment came a change in direction. Under new CEO Andy Smallwood, a core team including head of design Jamie Burrow have overseen sweeping change. Ribble's entire range of bikes was scrapped, and the team started afresh with a clean slate.
The results have been impressive, both in terms of sales and the critical reception of the new bikes.
Back in February, we headed up to Preston to visit Ribble's headquarters. Eoghan and Andy - who've both been testing Ribble's newest bikes over recent months - joined me for the ride.
Everyone loves a road trip, but who'd have thought that, three months later and in the middle of a coronavirus lockdown, we'd be looking back on an overnight stay in Lancashire as the holiday highlight of 2020?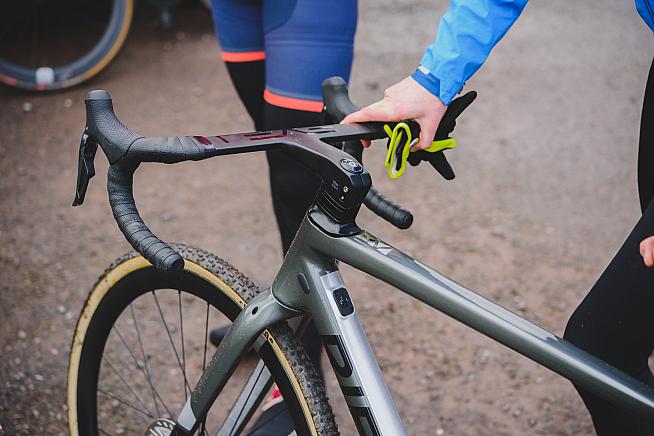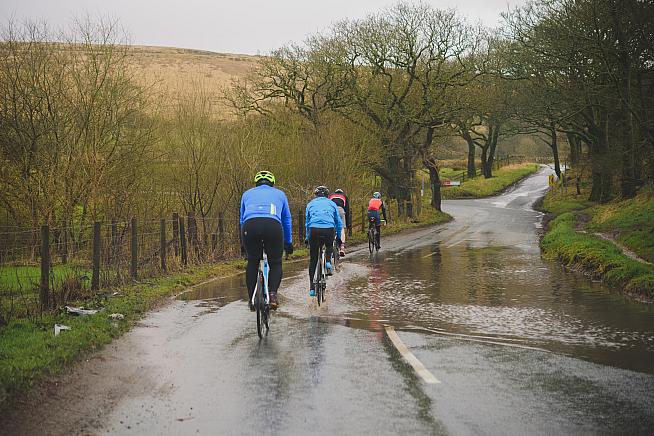 Ribble have opened stores in some of the UK's most sought after and prestigious retail locations in the past two years, but their headquarters is in the more down to earth environs of an industrial estate on the outskirts of Leyland.
There's no mistaking the giant RIBBLE sign on the side of the corrugated steel warehouse, and soon we're standing in the reception area where a display of Ribble's latest models greets visitors.
This is where Ribble's new live customer experience takes place; you can hook up with an advisor by live video link, and they'll take you through the range and answer any questions. Now that we're all so familiar with Zoom, FaceTime and WhatsApp, it's an innovation that's likely to see increasing takeup.
Through an opening to the right, the factory floor is visible with further bikes on show - but before we can wander off piste, CEO Andy Smallwood emerges and invites us to his office for a chat.
Andy is younger than I'd expected, and leaner. It comes as no surprise to hear he's still a passionate cyclist, averaging 100 miles a week - often fitting in an early morning turbo session before work.
After getting in the teas and coffees, Andy starts us off with a brisk history of Ribble as a cycling company.
"Ribble as a brand has been around since 1897, 120 years," he begins. "Historically, as you know it's always been a premium hand-built bike brand and it was one of the forefront of that mail order kind of route to market back in the 1980s, 1990s.
"I remember my first proper race bike was a 653 Ribble bought out of the back of Cycling Weekly. Custom coloured it, custom built it just with bits I'd collected over the years and saved up for - and that was 25 years ago."
The 1990s saw Ribble's focus widen as it looked to compete first in the mail order and then the nascent internet retail markets.
"I remember it back then," continues Andy, "and it really went hard into the parts accessories and clothing - selling other people's brands - they were in the early online side of things.
"Then they found themselves competing against Wiggle, CRC (Chain Reaction Cycles), and anybody and everybody who was selling other people's products direct to consumer. They were part of that whole race, while at the same time the bike brand - they were still manufacturing and designing bikes, albeit I think it did take a bit of a back step compared to driving the parts, accessories and clothing side of the business.
"That side of the business proved to be successful for a period of time, but then the market changed. It got very, very competitive. What Ribble found was the same as what a lot of other people found: that when everybody can get the same product to you the next day or within 48 hours, there's very little customer loyalty when it comes to a Shimano Ultegra rear mech, or a Dura Ace or XT rear mech, whatever it is.
"It's all about who can get it to you and who's the cheapest, so ultimately it came down to a pricing war and it came down to where you rank on Google.
"So you're cutting your margins, just because you're trying to be competitive; at the same time your Google costs, your ranking, your digital costs are going up, and therefore you're kind of... there's not a lot left in the middle.
"And that was exactly where Ribble found itself. They still had this bike brand, this long history of being a bike manufacturer/designer, albeit historically very much in steel, whilst the majority of the business had become parts, accessories and clothing online retail."
The story so far seems one of a brand that perhaps slightly lost its way, lost its connection with its roots. Although Andy avoids saying as much directly, it's clear that his mission in joining the company was to resurrect Ribble as, first and foremost, a bike brand.
"I joined the business two years ago last October," he continues, "working very closely with True Capital who are now the owners of the business.
"We pulled together a strategy which was very much around getting back to being a premium British bike brand. We spent the last two years essentially doing that. So the first year, we did two things: one is I inherited a significant amount of parts, accessories and clothing stock, that i had to exit, and I inherited a range of bikes, which had been developed with the previous design team, so I had to clear that; whilst at the same time we also had to design and develop a range of products which befitted the strategic direction and the new vision for Ribble into the future.
British design, tailored for UK cycling
When it came to revitalising the Ribble name, originality was at the heart of the project.
"(It) was absolutely about R&D, technology and it was about British design," Andy confirms.
"Nothing was open mould; if we're designing anything it's all our product, and it was designed for the UK. We feel that if you design for the UK then that travels very well.
"It's quite a tough location to design a bike for if you're riding all year round, and particularly around here, to be fair! It's quite tough riding around here, and the weather's not exactly brilliant here; I can count on one hand how many days I've been up here in the past two years and it's not rained. It just comes off the Irish Sea and it stays here."
The fruits of the new strategy were apparent almost immediately.
Looking in from the outside, London Bike Show in March 2019 marked the turning point: Ribble took out a huge stand at the show, with pride of place going to a super light 5.4kg build of their new Endurance SL R, suspended in mid air by helium balloons. As a visual metaphor, it served notice of Ribble's intent to aim high.
"Yeah - glad you noticed," says Andy.
"We started from scratch. We knew that everything that was old Ribble had to go, we had to start completely from scratch, nothing carried over, and it was all about new product, new design, and a new team as well.
"It's only been two years but it's good. Our bike sales this financial year to date - so since October - our bike sales are up by 75% year on year."
I'm curious to know whether the change has been picked up on by the cycling press?
"Yes, well one of the first things we did, myself and Sasha (Ribble's PR lead) was we went around the publishing houses, met with the journalists, people like yourselves. And I must admit (there) was a legacy that came with Ribble. You can't be a discount retailer, pushing pricing that hard, for so long and not have a stigma attached to you, or a legacy - so we had that to overcome, which meant that it was doubly important that the product stood up and it did what we said it was going to.
"So yeah, there would have been some scepticism, there would have been me sitting there in a meeting room saying 'This is what we're going to do with Ribble, I'm going to turn it around and it's going to become a premium British bike brand again, and I'm going to do x y and z'; and if I was sat on the other side of the table I'm thinking, 'Yeah yeah, I've heard this all before.'"
"But I knew that we could do it, and I knew that with the team we had in place that we could really change things.
"And it's not just about the product, for me it's also about the way that we sell the bike. And for me that's really important. I think that online is only part of the customer journey, and particularly as we've diversified the range. So if I go back 18 months to 2 years ago, if you wanted to buy a carbon fibre road bike with Ultegra on it for about £1000 to £1200, Ribble was brilliant at that.
"If you wanted to buy something above that, or anything that wasn't a road bike, we weren't the place to come to.
"So really one thing we did was diversify the range. So we now have adventure bikes, gravel, electric bikes - very important - MTB bikes we've started to go into, TT, triathlon; we're really broadening the range, so that's helped us as well."
Apart from flying off the shelves, Ribble's revamped range has been achieving some notable success on the domestic race scene with Ribble Weldtite.
"Yes, that's right," says Andy. "Dan Bigham and John Archibald won bronze medal in the team relay at the World Champs in Harrogate. It's been a really successful year. John got second in the TT National Champs as well, to Alex Dowsett."
What we're seeing now with Ribble is a reversal of fortune playing out before our eyes.
For UK cyclists of a certain generation - predating the 2012 cycling boom, let's say - Ribble may already enjoy a certain nostalgic prestige. There are people who remember Bradley Wiggins riding a Ribble, and may now be thinking "I want some of that".
Andy nods. "The CGR is a prime example. People have been riding that kind of bike for a long time, but just not marketing it as such.
"So I go back to when i was a kid and we'd do a 'rough stuff' (the forerunner of gravel/adventure/bikepacking cycling) weekend, you'd be out in Derbyshire and you'd be on a road bike.
"But you'd start to get creative then with the sort of bike you'd use for the rough stuff weekends in winter, where you're carrying your kit for one night on it, and you're up and down whether its canal towpaths or trails.
"For me it was in Derbyshire, so it was Tissenden Trail, High Peak trail and whatever trails we could do. And you're on a road bike, then you go to a 'cross bike, then you realise a 'cross bike hasn't got braze-ons on it so you go to a touring bike.
"So then you kind of end up fabricating these bikes out of whatever you can find. It was a Dawes Galaxy I ended up with, with the mudguards off it but the rack on it, and that kind of did me, that was my rough stuff bike. And the CGR is not a million miles away from what that was then, it's just that do-it-all kind of bike."
At this point our own Andy (Lulham) is nodding in agreement. "My first Ribble was the Audax, that was my do it all bike. I did my first sportives on it, it came with mudguards; it wasn't billed as a feature with the Audax, they were just there,' he smiles in the memory.
"The CGR AL, that is now becoming that Ribble Audax," agrees the Ribble CEO. "You still see a lot of blue Ribbles (Audaxes) around from the last 10 years, now you're seeing a lot of orange CGRs around, because it's exactly that, that do-it-all winter bike."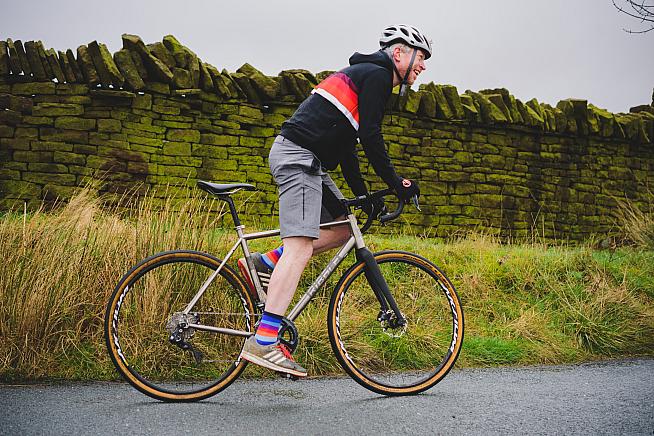 Along with the refreshed range of bikes has come a shift in Ribble's approach to the process of selling bikes. From a focus on distance selling, Ribble has changed tack and in the past years added several physical retail stores in strategic locations.
"We've started to change what bicycle retail is about as well," explains Andy.
"Me, we - the team here - we don't believe the traditional bike shop is the ideal place for a customer to buy a bike any more. And that's not to say that bike shops are doing a bad job or anything like that, it's just the way bicycle retail's gone.
"Because of what's changed in the market, in that there's less retailers around, and there's less distributors because there's not enough margin in there for them.
"A lot of brands now are going direct into retailers, and so what you're finding now is that a lot of retailers are grabbing brands and putting then in their stores, which means that if you're a customer, you walk into a store, you've got 150 bikes in a store, everything's all racked up, and you can't see what's the right bike for me, what do I want... Everything's all there - and it becomes a real mish-mash of bikes and products and handlebars everywhere.
"And pricing - is it this year's pricing, is it last year's bike, I don't know - and has it got the current stuff on it or is it just what the guy wants to sell me because it's what he's got?
"Whereas we see it quite differently. We liken it to automotive - we see a bike as being similar to a car purchase: it's a very big purchase, it's a very important purchase, and therefore you need to go through that excitement and that whole feeling of buying something that's the right product for you.
"Which is why reintroduced things like custom colour, introduced our Bike Builder as well.
"We liken it to if you're buying a car: your body type is whether it's the CGR, whether it's an Endurance, whether it's an Adventure - that's the type of bke you want.
"Your groupset is essentially your engine size, so whether it's GRX, whether it's Ultegra Di2, whatever it is, that's your kind of transmission. And then you've got your wheels - that's like selecting your alloys.
"And then very importantly, is your colour. Colour's so subjective, and it's such an important part of that emotional side of buying and owning a bike. Whether it's £1000 or £500, it's still relatively a lot of money whatever end of the market you're at, and people don't want to have the same bike as what someone else has got down the road; you want to put your own personalisation, your own mark on it.
"So the fact that we assemble every bike from scratch - everything's built to order here - means that we can add custom colour into the mix and that's proven to be very popular.
"Really investing in the digital side of the business, making the customer journey as slick and easy as possible, that's something else that we're really striving for."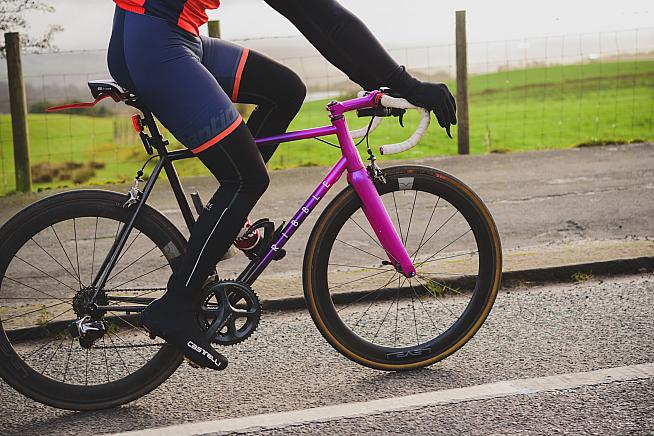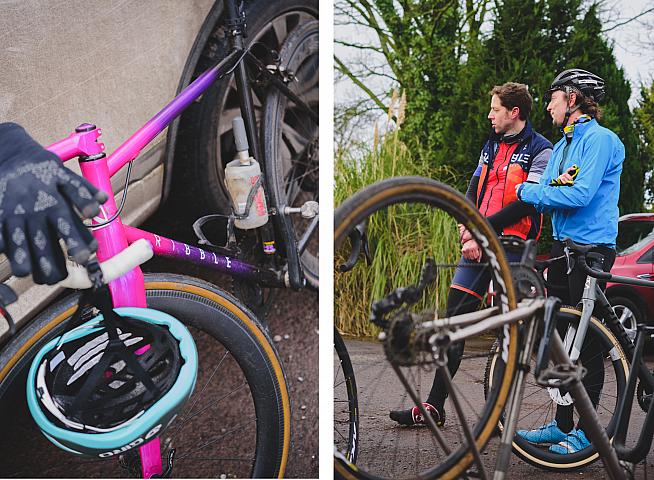 While online shopping may be booming - especially now in the time of Covid19 - for Andy, the physical side of buying a bicycle remains key.
"Particularly as we've diversified, customers value being able to see, touch, feel, be fitted to the bike and get expert advice," he explains. "And because it's a once every 3-5 year purchase, you will travel to go to the right place to be fitted for it.
"By making sure our stores are one brand only, so it's our team thats in the store, they are 100% Ribble - so the team here for example, we only sell ribble here - or whether you're at the store at Bluewater in kent, or Birmingham Mailbox, it's all Ribble, and they'll fit you for the bike, they'll make sure you select the right bike, there's a selection of bikes that you can try, and yeah, we see that as being very important."
What's noticeable, even from stepping into the foyer of Ribble's Preston HQ, is the work that's gone into integrating the digital and physical shopping experience.
Bikes line the walls of the room, with attentive staff ready to answer any questions in person - but there are also large interactive touchscreens where visitors can browse the Ribble range online, play with custom colours and build specs - and, crucially, save their build to continue at home where they left off.
"A lot of people, when it comes to bikes, they're into the finite detail of that bike, and the groupset, the gear ratios, whatever it is - they do a phenomenal amount of research online" says Andy.
"Just asking people, word of mouth, talking to key opinion formers, magazines, forums, there's a lot of that goes on - and we're very aware of that.
"So one thing we've got is large touchscreens in each of the stores as well, so it's that Bike Builder web experience in store as well, so you can configure the bike in store, on a big touchscreen, it means that when you get home you can continue configuring until you actually get to a point where you think that's the right thing for me.
"That's why we want to make sure the two things are joined up. It's the same journey whether you go digitally or in store, the transaction process is the same, it's just that there's a physical presence there if you want it."
I've yet to set foot in one of Ribble's new retail stores, but I remark to Andy that from the what I've seen, they look like Apple stores: very sleek, minimalist, and for want of a better word, "premium' in appearance.
"Some customers want that traditional bike shop experience, other customers want an experience that is more akin to other premium products and purchases. And we kind of feel that we'd rather go down that premium purchase route.
"Whilst our products are still good value for money, we still feel it's a high-end purchase, it's still something where you want to get the right advice, it wants to feel special. So, you buy a Tesla car in place like Bluewater - we've got a store opposite where the Tesla or the Apple store is - and no other brand's doing that, because we feel it's a different approach to bicycle retail."
Joining  the dots between physical and digital retail
At the time of our visit in early February, Boris Johnson was between holidays in Mustique and Chevening, and for most of the UK Coronavirus was still something happening in China (the threat level here had just been upgraded from "low" to "moderate").
Few could predict the havoc that that lockdown restrictions and social distancing were about to wreak - but Ribble's January launch of "Live In Store", a virtual retail experience that allows customers to interact with Ribble staff live via webcam, now seems strangely prescient.
Andy describes the new service as "'joining up all the dots', to make sure from a customer journey perspective it's exactly how they want to buy a bike.
"You want to go in store, you go in store; you want to do it at home but you want a bit of a store experience, you can have a one-way live video link up to the store so the guys here will pick up a video call. it's one-way, so the customer sees them but they don't see the customer. And they can ask them any questions, they can physically show them the bike in front of them.
"The uptake's been good," according to Andy.
"We treat it as another store, an additional store. We treated it very carefully at first because it's new, and not just new to the customer but new from a technical perspective, so we did a soft launch, we hard launched it about 2 weeks ago, and it's taken off well.
"It's a real cross-section of questions that are asked. Some of it's about buying or about product selection, some of it's advice: "I've got this bike, and I'm trying to (adjust) the gears or whatever it might be. Small little things like 'I need to change an inner tube' or 'I need help with my bolt through axle at the rear' - and then the guys on the video link can show them how to do that without them having to go somewhere. In real time you can ask a question and get a real time answer.
"Which is working really well, not just for selling, but for customer experience and customer service."
So what's next for Ribble; more stores?
"Physical retail has been a trial we did last year. And we've learned a lot from it. It's proved that there is - for Ribble - there's an opportunity for us to have a physical retail presence across the UK.
"One thing we learned though is that it's not about 20, it's not about a lot of stores; it's about stores in the right locations, with a lot of territory around them, and making sure that the store's in the right environment with the right level of product in there.
"And crucially, the right people working in the store. Accessibility's a real key factor as well.
"So yeah, we will be opening more stores this year. I can envisage that it'll be a steady rollout, locations are - if you look at where the stores are now, common sense will be that we'll fill in where there aren't stores. So we're finalising some agreements at the moment on a small number of leases for the next step into physical retails.
"But we're still learning about it, so there'll be a few stores - not many, this year, but there'll be a few more - and we'll keep learning, and adapting them as we go along. It'll be along the lines of what we've got now though."
Strolling the factory floor
Before heading out for a ride, Andy takes us on a quick tour of Ribble's premises. "Excuse the building work," he says as we pass a boarded up section near the entrance, "We're having showers put in."
The new changing facilities are for staff. A good proportion of Ribble's employees ride to work each day, and they also host shop rides for staff, customers and friends every Tuesday during the warmer months.
Just past the showers, occupying a full length of the vast warehouse, is the assembly floor. It's a big space, but doesn't feel crowded; just a handful of mechanics are at work, shooting us grins as we walk past.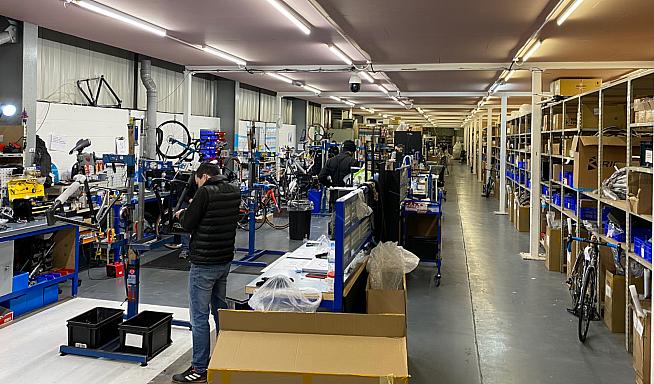 Andy is watchful as I try to take photos - "Not that one please, that's a prototype!" - but little else is off limits as we trot past endless aisles of shelves laden with boxes of high-end components.
"Campagnolo cassettes" is scrawled in felt tip on one box; moments later we pass crates of neatly arrayed carbon forks and frames.
I ask Andy about Campagnolo; being a bit of a fanboy, I'm sorry to see that Campag isn't specced on Ribble's current range?
"Well, Campagnolo's very funny," Andy replies. "We get asked for Campagnolo relatively regularly, and then we put it into bike builder and nobody ever buys it!
"So we've got Potenza on it (the Bike Builder tool), Super Record as well, on some bikes, but we never ever sell it, it's strange. But there is that - I mean for years I've had Campag, when i was a kid and when i was racing and that sort of thing it was always Campagnolo, but now it just seems to be that everyone likes the idea of Campagnolo, but then when it comes to it, they buy Shimano." He laughs.
"Not me!" I reply - in fact, when I tested the Ribble CGR Ti on last year's Trans Alba Trace, I built up the frameset myself with Campanolo's Record 12-speed disc groupset. Very nice it was too.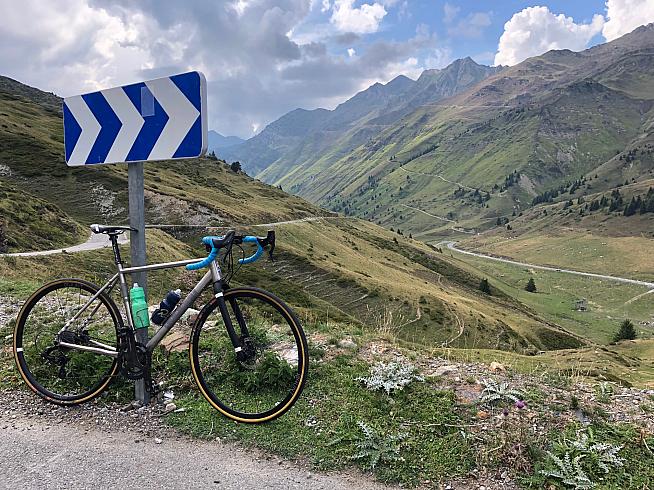 "Yeah, well there are still people that are traditional, that want Campag," admits Andy. "The good thing as well with us is that, because every bike's bespoke and built to order, all it is is a conversation with our customer service team and they'll configure the bike for you, and they'll source whatever component you want - if you want campag with lightweight wheels - they'll do it.
"It might take a bit of hunting about while they source components, but they'll do whatever you want. That's the beauty of it, you've got a team there that's passionate about bikes and they love doing things that are different. We don't advertise it, because if everybody wanted that then it makes our life very hard!"
Up a flight of stairs, on a kind of mezzanine, is designer Jamie Burrow's lair. A retro steel frame - his own childhood bike - hangs over his desk. A gravel bike leaning against a shelving unit catches my eye, still bearing a race number (and dried mud) from last year's Dirty Reiver gravel sportive.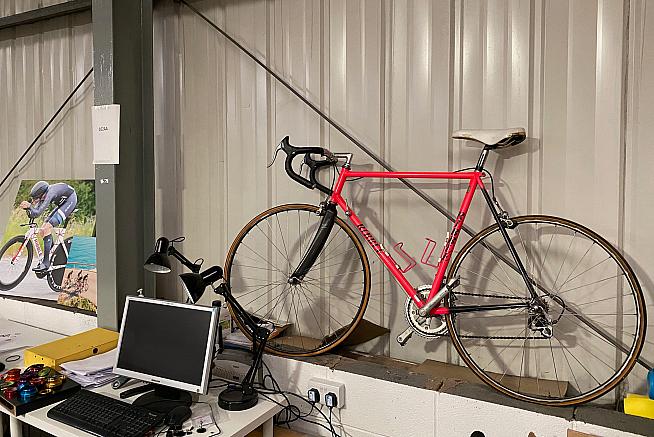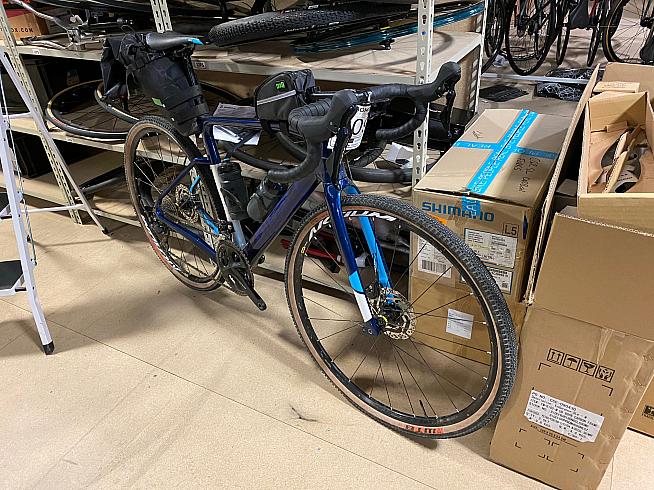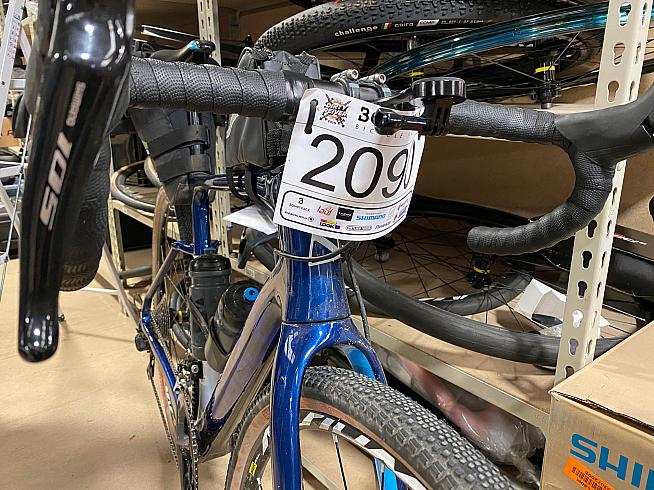 We bump into Jamie back at the foyer, and are soon eagerly discussing Dirty Reiver - a few of the Ribble team are planning to ride it again this year - and Eoghan's kit choices for the following week's Atlas Mountain Race.
A new event for 2020, the Atlas Mountain Race is an 1145km unsupported gravel ride through the Atlas Mountains of Morocco.
Ribble are loaning Eoghan their new Adventure Ti for the event, but after checking out the parcours Ribble's Roadshow Manager Darren decides a few spec changes are in order. The flared drop bars are swapped out for a set of swept-back touring bars from Ribble's house brand Level, along with SRAM 1x groupset and extra-wide tyres.
While Daz makes the changes to Eoghan's bike, Andy leads us out for a quick tour of Ribble's home patch.
Welcome to Ribble country
Just a few miles away from Ribble's base, we find ourselves in what feels like remote countryside. The Ribble CEO sets a sprightly pace on his custom-painted Endurance 725 as we climb into the Lancashire hills, all narrow country roads, with fields and open countryside stretching to views of Bolton and, in the distance beyond, Manchester to the south east.
I'm riding the CX SL, Ribble's lightweight cyclocross race machine, equipped with Shimano Ultegra Di2 electronic groupset and mid-section carbon wheels. The racy geometry and light weight mean it's an agile machine capable of rapid acceleration, but even so it's an effort to keep up with Eoghan and the Ribble CEO as they tear around the deserted roads.
Meanwhile our Andy, test-riding the Endurance SL E, can't resist engaging the rocket boosters and burns me off his wheel on one swooping section.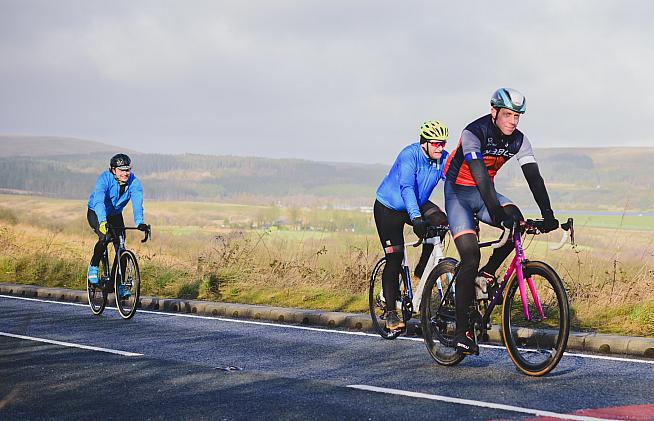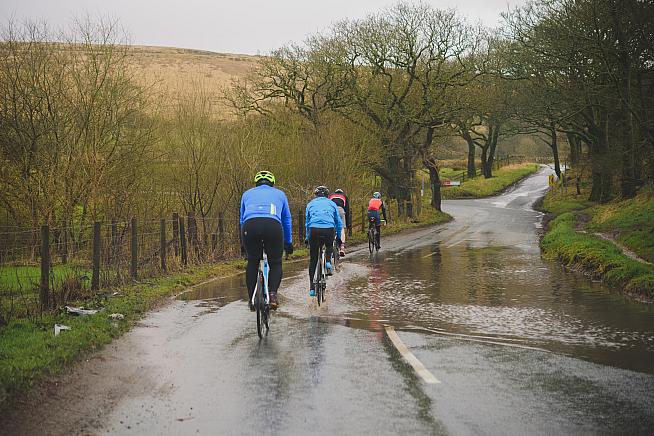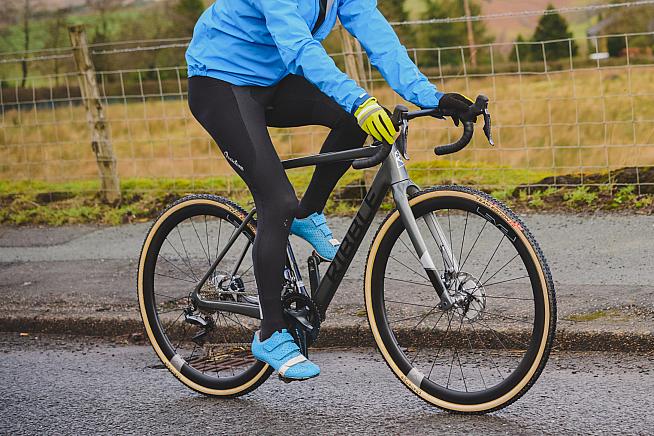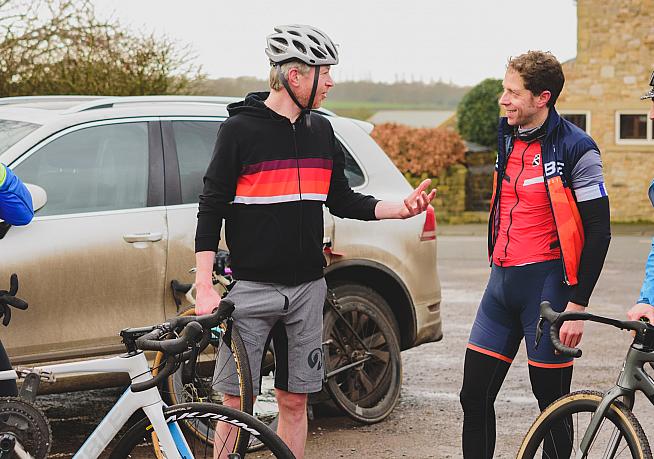 An hour later, and with just a brief diversion off road on my part to try the CX SL on a section of unpaid woodland path, we're back at the Yew Tree Inn. This country pub would be an ideal spot for a post-ride bite, but Andy has to get back to the office and do some work. We say our goodbyes, and change out of our kit ready for the drive back south.
It's only been an hour, but the ride has shed a little more light on Ribble's DNA. This terrain up here is a puncheur's paradise, with rolling country roads and plenty of climbing; but the roads are far from the tarmac carpets of the continent.
Up here in Lancashire's hills, where rainclouds from the Irish sea can change the mood of a ride in an instant, a bike like Ribble's flagship CGR range suddenly makes perfect sense.
Adaptable, enduring, honed by its environment, and ready to mix it when the going gets tough... you could say, much like Ribble itself.
0 Comments