I enjoy riding with friends, but I also like being in charge of my own direction when I'm cycling, so I do a lot of solo rides.
Cycling has, over the years, become my escape: my head-space, my psychiatrist's chair and my anger management. I can never stay stressed or anxious, angry or helpless on a solo bike ride.
I go as far as I feel I need to, as hard as I can cope with, and take the turns and deviations I want to.
I can't ignore the fun of riding with friends, though. Neither can I ignore the difference in ability between me and most of my riding companions, and this kind of puts me off.
I haven't been riding all my life and, although some might say I'm not a bad cyclist, I'm bad in many other ways. I dodge salads like a fly-half dodges tackles. I do more doughnuts than a hot-hatch convention in an empty car park, and my joints are dodgier than the roll-ups in the smoking area at a summer festival.
This causes me sadness, as I'm more than painfully aware that I'm always the last one up the hills on a group ride. I avoid looking at my reflection in shop windows as it makes me check to see who that tubby chap is who has joined us unnoticed.
Obviously, there are ways and means of coping with this dissonance, but one that doesn't involve dieting or radical surgery is always going to be more attractive.
Accepting that my salad days are receding as much as my hairline, I'm happy to see help is at hand in the form of electric assistance. I've been riding e-MTBs, fervently and frequently, for some years. Their torquiness outweighs their heft, and the places I've used them rules out the kind of group riding that is favoured by m' young friends. I've been impressed with the CGR e that Ribble Cycles have made, but I tend to ride gravel solo as well.
This is where I get to the point, and amongst fit young men in an environment that has no hiding place for a fatty like me - the open road. The last 12 months has seen developments in the e-road bike development, swapping turbo-boosted torque for increases in wattage over longer periods, more suited to the kind of terrain favoured by roadies.
Motors are smaller and less powerful, so batteries can take up less space. E-assistance is usually only required to give a gradual boost, augmenting a rider output challenged by age, (dis)ability or lifestyle choices.
Combating all three, I found myself on a recent trip to Preston astride the svelte and lively young sibling of the CGR e, Ribble's Endurance SL e.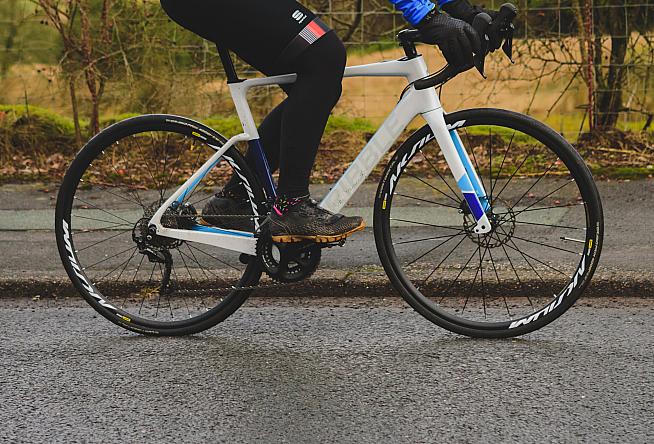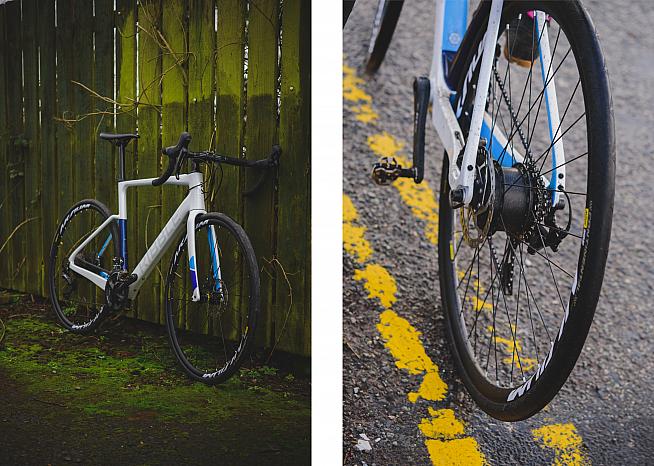 The only commonality between the two bikes is the Mahle motor system and eMotion controls. Like the CGR, the motor replaces the rear hub and the non-removable battery sits in the down tube, giving the SL e even more of a 'normal' bike appearance.
The only other clue to its bionic heart is the control button mounted on the top tube. A full Shimano 105 groupset is complemented by Ribble's own-brand Level finishing kit and a pair of sturdy Mavic Aksium wheels.
The carbon frame is gloriously comfortable, rear compliance being cleverly engineered into the design of the rear triangle. Small and stiff, it bends horizontally just before joining the seat tube, thus flexing enough to smooth out the rough whilst giving plenty of feedback.
On the road, it feels lively yet smooth, even with the motor disengaged. Our group of four riders, of which I was the least efficient by a long way, set out on a windy and hilly 15-miler on the roads around Ribble's Preston HQ.
After five minutes, the road ramped up horribly (along with my heart rate), but a couple of jabs on the control button glowing behind the handlebar stem soon had me catching up with the mountain goats without me experiencing the feeling that my lungs were about to jump out and wet slap me.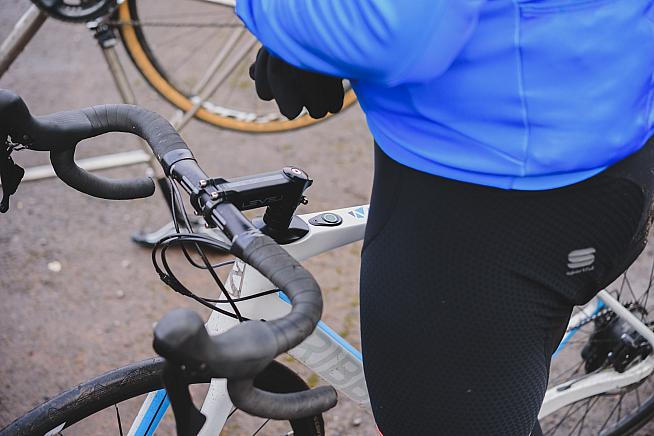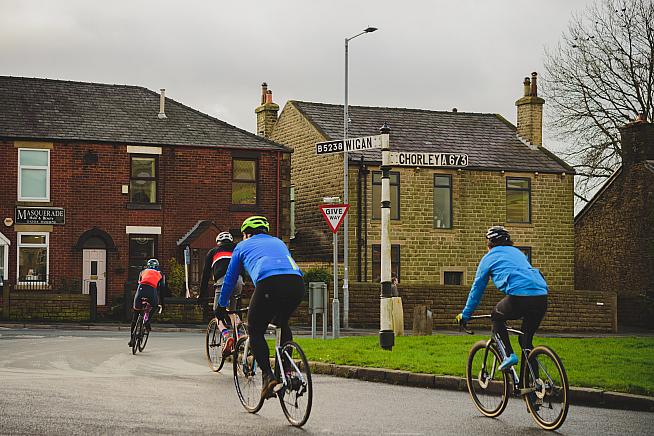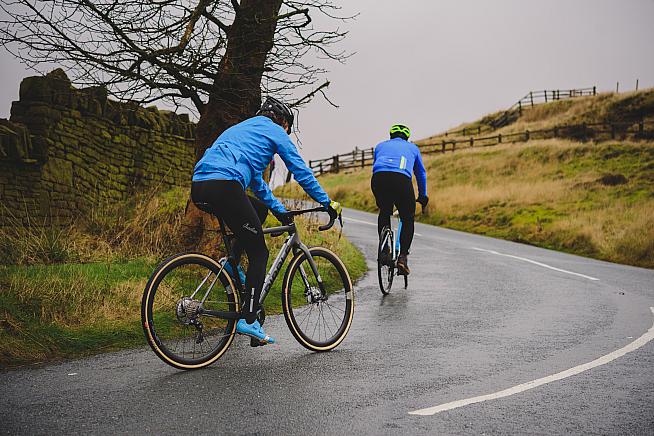 I'd had some minor range anxiety with the CGR e on a longer ride, but I knew we were expected for a pub lunch soon, so I set my metaphoric dial to eleven and left the assistance on max for the rest of the climb.
And on, and up we climbed. So this is what it feels like to be talented...
Keeping pace with the group where I'd normally be in oxygen debt and drooling incoherently, I found the climbing more than euphoric. Had the weather been more clement, I'd have found my idiot grin peppered with midges like a pantechnicon's radiator grille.
Long and speedy descents were even more fun, with my friend gravity hopping on for a saddler, the wind flapping my jowls like a bulldog on a jet-ski while the bike's precise handling devoured corners more efficiently than the fruity ones made by Mueller that I normally destroy.
For the latter part of the ride, the pace was slaughtered somewhat by some particularly nasty side- and headwinds. I felt sorry for Oisin, less attracted to the Earth's core than me, leaning over at crazy angles into the cross-blast while I tapped along, tacking slightly out of the gutter whenever I got persuaded to veer off course.
After an hour averaging 15mph, I felt fresh as a daisy and although my battery read half-full, I would have happily gone out for another hour had we not had to be wary of the fading light and the prospect of a five-hour drive home.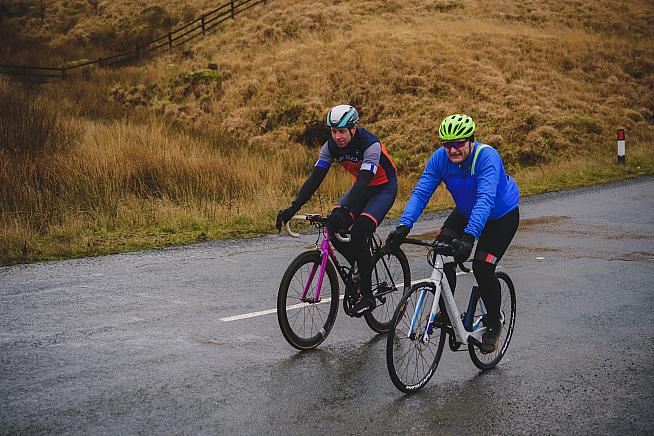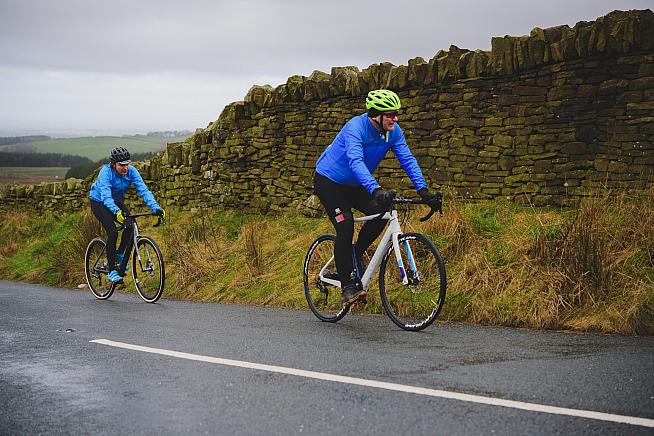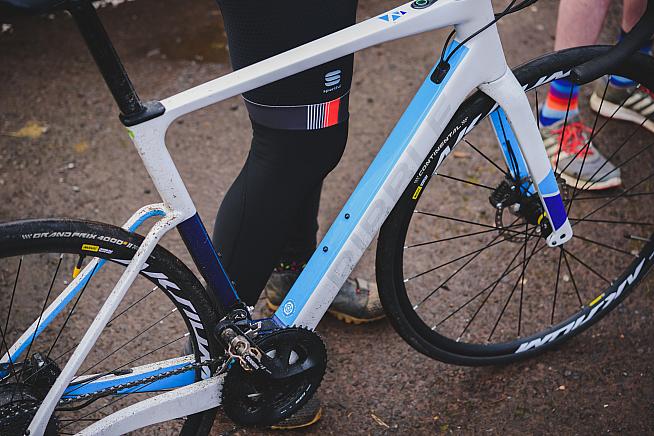 The Endurance SL e currently boasts an 8-model range, from £2,799 for the Tiagra specced version, right up to a choice between electronic Red eTap or Dura Ace Di2 at a pant-watering £5,499.
As a contrast though, Trek's Domane + LT and Cannondale's SuperSix Neo 2 (both mech Ultegra) come in between £4,500 and £5,000. Ribble's Di2 version undercuts both of them handsomely.
There is also the option of some very tasty paint customisation with Ribble, and the added reassurance that any bike you buy has been designed and assembled by a team dedicated to just making bikes.
I've either got to save up for an e-road bike, or stop riding with my friends.
Or maybe I should just get older, more broken friends?
Ribble Endurance SL e, from £2,799 - www.ribblecycles.co.uk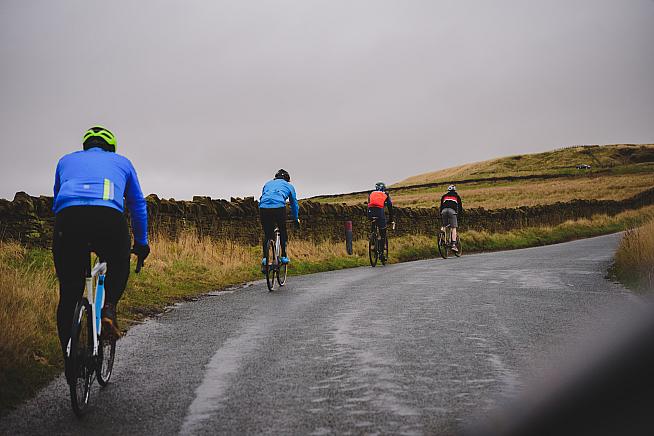 > Ribble Reborn: Sportive.com visits a cycling giant in Lancashire >
0 Comments