My first 'proper' bike was a Ribble. The Audax changed the way I thought about cycling, and got me into not just the hobby, but the sport, the tech and the community.
I did my first centuries on that bike (imperial and metric) and when it was time to upgrade, it was another Ribble I chose - the R872, full carbon road bike. Even more challenges were taken on and conquered. But then I strayed from the path. I dallied with Giant, with Kinesis and Trek, and I've recently abandoned the tarmac for the byways and bridleways of Sussex and Surrey, investing heavily into the gravel scene with my Pinnacle Arkose.
When I was offered the chance to try out an eBike from Ribble, there could only be one choice for me. Their CGR range - standing for "Cross, Gravel, Road" - has received plaudits throughout the cycling press for its versatility, whether it's riding endurance races like the TransAlba, or being stolen before the event started (Eoghan, I'm looking at you...).
Since testing a few "Road-plus" adventure bikes at last year's Eurobike, I'm sold on the concept - so I couldn't wait to get my hands on the Ribble CGR AL e.
With 650B wheels, a SRAM 1X set-up and hydraulic disc brakes, the CGR is billed as a go-anywhere bike that's equally caable on road or off. This eBike version has the benefit of a power assist motor to see you through when your legs need a boost.
> Ribble CGR Ti review: Titanium-framed go-anywhere adventure bike >
> Review: Ribble CGR SL Shimano 105 >
> Ribble Reborn: Sportive.com visits a cycling giant in Lancashire >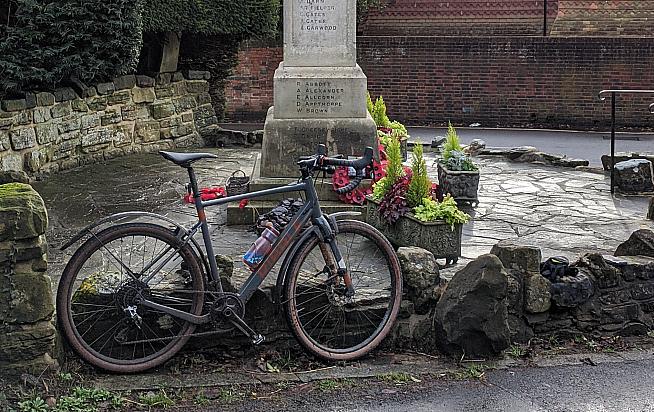 First off, let me say I'm an eBike convert. These machines are enabling all kinds of folks to start cycling, or to re-embrace it when they thought the physical effort was outweighing their enjoyment. Older or less experienced riders can now hang with younger or fitter friends and share the riding experience. Some may still say it is cheating, but my experience suggests otherwise - more on that later.
Out of the box, all I had to do with the CGR AL e on delivery day was to turn and torque the handlebars and set the saddle height. I ride with cleats, so I dug out a spare pair of SPDs and was ready to rock and roll - once I'd worked out the charge time, and how to switch all of the pedal-assistance goodness on.
While the bike was charging in my conservatory - Mrs Lul allows such things because the tyres were clean and I'd got the box out of the house - I took a look at the spec.
The CGR AL e may be an eBike, but you would hardly guess to look at it. The sleek frame gives no hint to the engine that lurks within (the motor is hidden away in the rear wheel hub), and only a discreet control button on the top tube sets the bike apart from its non power-assisted stablemates.
The alloy frame and full carbon fork are resplendent in a muted grey livery with copper accents; it's an attractive bike, and not just for an eBike. Frame and forks take flat mount disc brakes, there are mounting points for rack or mudguards, and the drive-side chainstay is dropped to allow extra chain clearance. Ribble claim a weight of around 13.3kg for a size large. The motor adds 3.5kg over the standard CGR AL, but it's still very much in the lightweight category for an eBike.
SRAM take care of shifting and braking duties; their hydraulic disc brakes are reassuringly good, and the 42T chainring allied with 11-42T cassette offers a good range for riding on mixed terrain.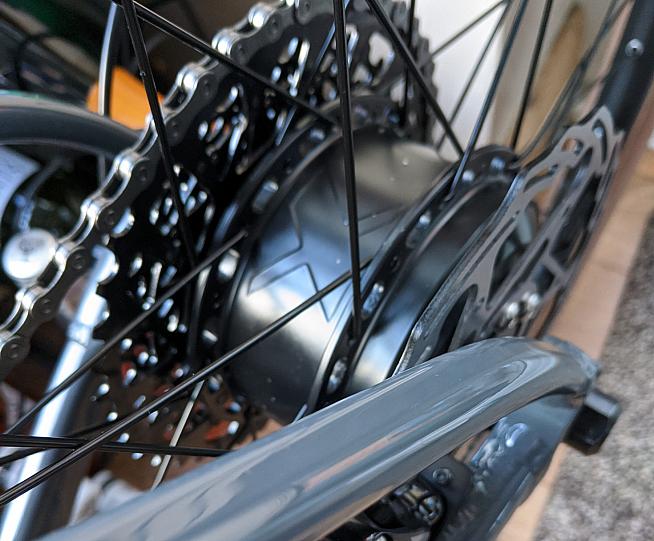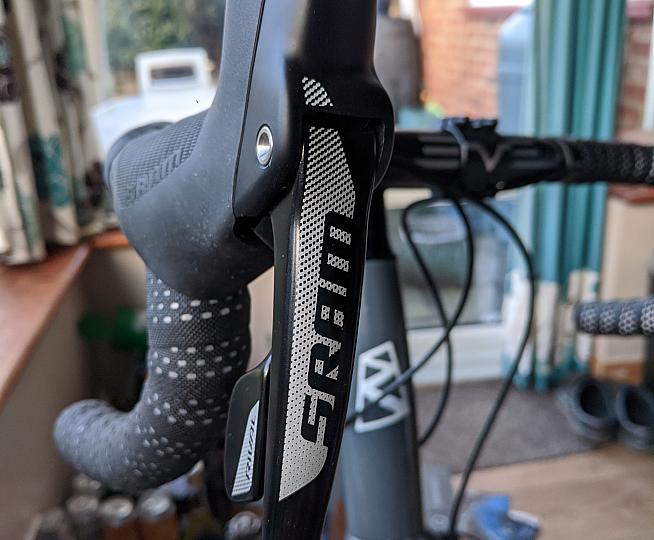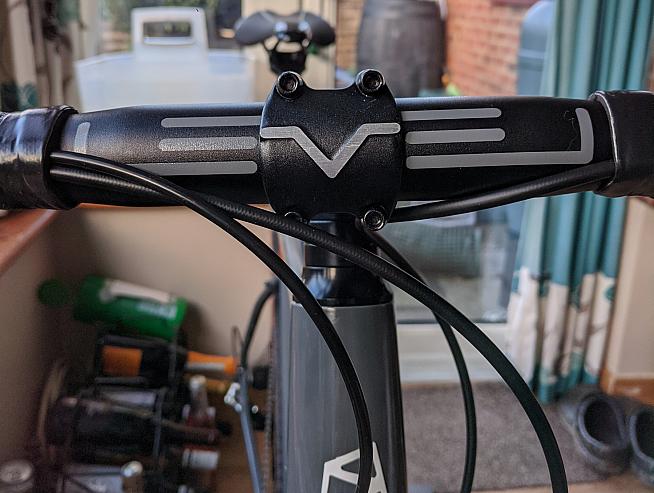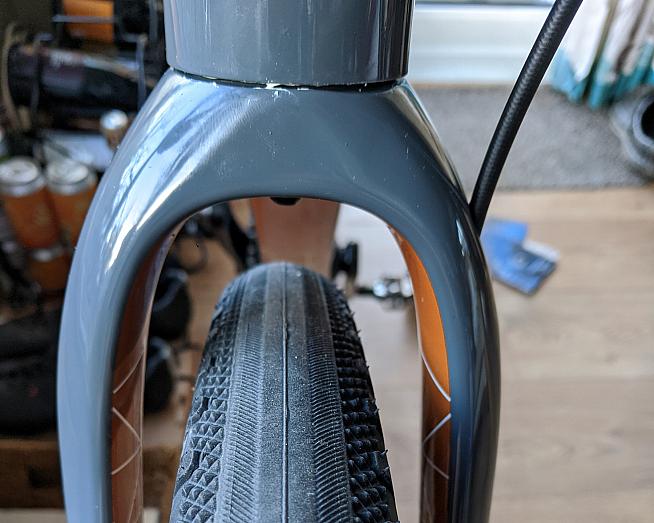 The CGR AL e is equipped with Ribble's in-house Level finishing kit. The seat post is a lovely carbon effort, while th ebars and stem stick with sensible alloy and are nicely fiished (even if the nerd in me hated that the 'V' of Level was stamped on the faceplate of the stem, so any rotation of the bars misaligned it with the 'LE EL' either side).
The bars themselves are simple shallow drops, and fine although I prefer a degree of flare for off-road. The bar tape, cleverly reflective through the perforations, would not be my choice either on- or off-road. It seems to have very lttle cushioning for me, although the grip is fine in wet weather. The saddle was supplied by Prologo - a brand I've not had the privilege to perch on yet.
The Level wheelset appeared to be robust and comparatively light, although the motor sits in the rear hub and it is hard to tell what the effect of that is. They certainly roll up to speed quite quickly, as 650Bs are prone to do. And, as I was later to find out, they are very nimble when the off-road gets a bit twisty.
The wheels came shod with WTB's Byway Road-plus tyres, maxxing out at 47c, giving me the equivalent of rolling like a 700 x 35c but with tons of floaty cushioning. The batttery took about three hours to charge, and while waiting for the flashing light to turn green, I decided to swap over the SKS Speedrocker mudguards from my Arkose to save me from a potential stripe of shame and boots full of puddle juice.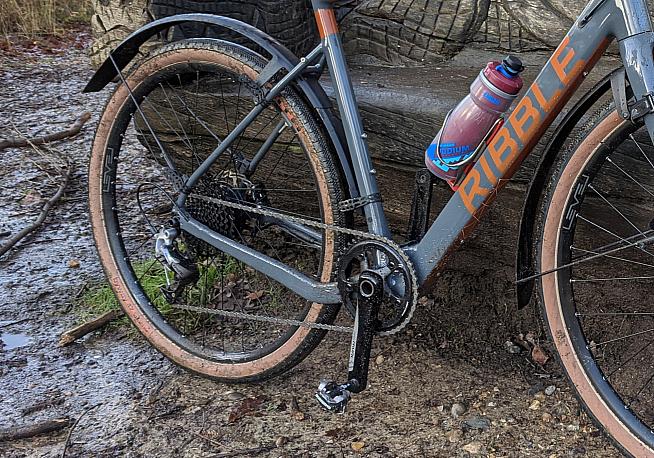 Feel the power
Out I went on to one of my favourite on-off road rides, down to the bottom of St Leonard's Forest on metalled routes and back up to Crawley in the muck. Initially the bike felt sluggish, and I wondered if the added weight of the Mahle battery and motor was worth the effort and price tag.
I briefly stopped to RTFI and discovered what I thought was 'ON' was actually 'ON with no assist'. A couple of dabs on the single control button cleared up that particular mind fart and I proceeded to tackle the first climb of my ride with renewed, and assisted, vigour.
My initial feelings were that it didn't really feel like assistance - the power boost merely compensating for the extra weight of the electrical ordnance - but when I reached the top of the first road climb, I felt none of the usual fatigue in my legs. When I checked my Strava times later, I noticed that the sector was completed in, not a record time, but a pretty good time - and achieved with notably less of an effort in the legs.
The Mahle motor is pretty torquey on max assistance, you can certainly feel the surge in power when you cycle through the settings. The flip side is that you have to be prepared for the sudden drop you get when you switch back from MAX to MIN, as the single button means you always have to go through the assistance settings in order, meaning a sudden absence of You-Plus when going back to cruising mode.
This boded well for the rest of the journey, and once I turned off the main roads onto the Bs, I began to feel that the Road-plus was worth all the hype. Smooth and comfortable on the flat and downhill, I wasn't breaking records, but I wasn't breaking sweat either.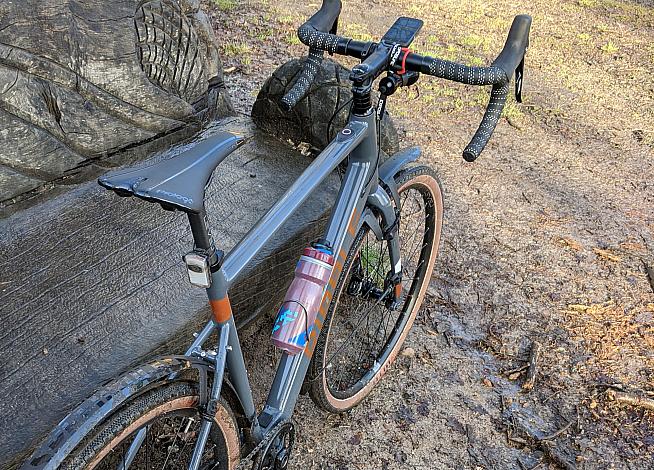 After 20 minutes of cruising, it was time to turn north and hit the bridleway. Initially, it was fine - I was caught behind a couple of horse-riders, but as soon as I passed I could push on. The recent rain had left the gravel loose and mushy but the Byway tyres seemed to cope fine, so long as I didn't push too hard through any corners.
The second half of the off-road ride was a different story, mind. Without any grip over 75% of their surface, the Byways found it very hard to cope with bridleways that had been churned up using an equine rotavator. They added a considerable amount of spice to riding downhill, especially if that spice was Carolina Reaper chilli, and it was the morning after, and you were excused trousers.
Had I attempted to change direction or even climb anything above a 0% gradient, I would have found myself pinned beneath the CGR, waiting for a kind passer-by to erect some screens put me out of my misery. Those tyres had to go, if only until the pecentage of water in the mud slipped below 100.
Ribble roadshow
The next ride was more of a road affair - I was determined to test the range of the battery, and the amount of assistance I could get from revisiting a couple of road climbs I'd not seriously tackled since I was in training for the Etape back in 2017.
I was not disappointed. Dabbing the top-tube mounted button until it shone red like the eye of a cyclops with conjunctivitus, I dismissed three minutes from my previous, two-stone lighter, two-years younger previous effort up in to Ashurst Wood near Forest Row.
The power remaining in the battery gets indicated by the colour of this button as well, and I was disturbed that this effort had caused it to also slip into the red while I wasn't. This told me that (checks manual) I had less than 25% power left in the tanks to assist getting me home, another 15km away.
I was only slightly concerned, but this 'slight' was converted to 'very' when the red-eye started to flash with 10km to go, cutting back to medium augmentation halfway up a slope. Range anxiety then prevailed for the last 30 minutes, but I'm glad to report that the motor never gave up and I got back home without having to push.
The third and final test was to try to ride a sportive course and see what the time/effort difference would be. I'd recently completed the Evans Cycles Cross Sportive out of Ardingly, an event of about 50km involving lots of challenging on- and off-road sections. It runs very close to my house, so I decided to join the route at a different place and compare times on segments and overall. I'd also get a feel for how much 'easier' it would be on an eBike.
As it turned out, the course was even more water-logged than when I rode it back in November and some of the sections, particularly the uphill ones, were near impassable. The CGR coped well, as I had changed the tyres from the near-bald 47c Byways to a pair of 2.1 inch Specialized Fast Traks, giving me more than enough grip in all but the slushiest of conditions.
Even in these conditions, the CGR AL e presented a strong case. There were a couple of sections where I actually managed to ride all the way through, where I'd previously run out of steam. They were still insanely hard, but the motor on full power made them doable.
Even on minimum assistance, the deep muddy puddles posed less of a threat to life and limb, and more of one to sock dryness, than before. The road climbs were nailed in record time, and the rideable gravel sections were a blast.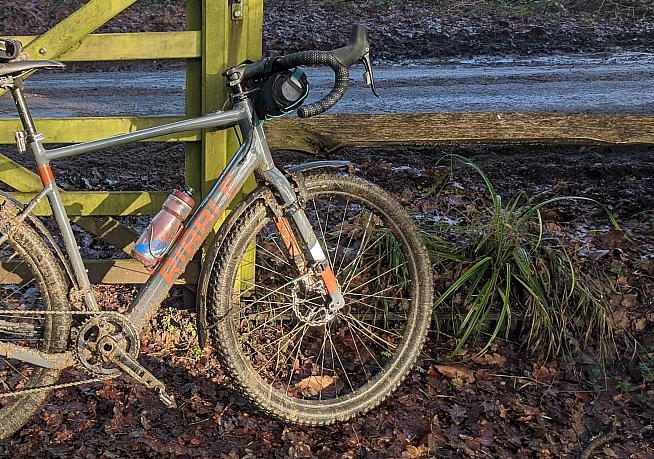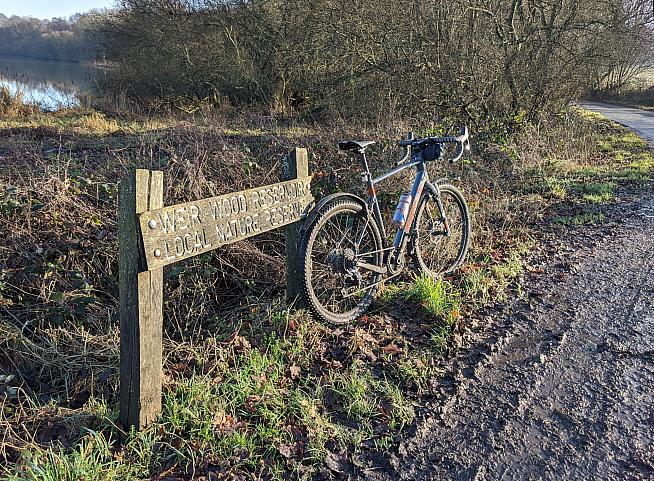 I finished the Sportive Cross route with the button blinking like a thousand unread answerphone messages and the strength drained from my legs. If anything the effort had been harder than before, due I think, to the feeling that I had extra oomph to assist me in the harder sections. Looking back at the data, I'd aced a couple of the road climbs by a significant amount, albeit probably expending the same sort of effort I would have done had I not had mechanical assistance.
The overall time was a good thirty minutes quicker, a feat I'd be hard-pushed to have done on a non-assisted bike. It was no easy ride - I felt drained, perhaps aware that there was a physical and mental penalty for the help I'd had.
It's easy to write-off eBikes as a cheat, but in my experience the assist, far from diminishing the effort I put in, encouraged me to push harder - perhaps a happy product of the added confidence from having a bailout option at hand should you need it.
The verdict
The CGR AL e is a fantastic bike - comfortable, agile, robust and a joy to ride. I've enjoyed riding it to work over the last few weeks. At the end of a long day, I no longer fret about headwinds or foul weather. The CGR AL e transports me home feeling fresh as a daisy.
I wouldn't really consider it for an endurance event though. I'm signed up for the aptly named DoomCross UCX ride on the South Downs this weekend, and had planned on doing it on the CGR. But, with a few rides now under my belt, I fear that there would not be enough juice in either me or the bike to complete the 50 miles without an airlift.
If you're targeting primarily longer, road-based rides - you know, like sportives - then the carbon framed Ribble SL e will fit the bill; it's lighter at just 11kg but offers the same pedal assist to get you up those hairpin climbs.
For commutes or free-range roaming, the CGR AL e is a great package.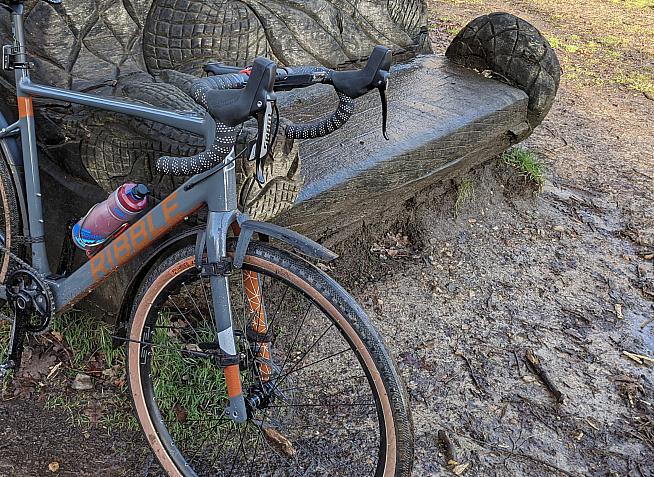 As ever with Ribble, you're spoiled for choice with six builds available off the shelf and the option to further tweak the specification to your liking on the Ribble website. Prices start at £1,999 for a Shimano Tiagra build, while this SRAM Rival option with hydraulic brakes sits near the the top of the range at £2,699.
Ribble's online Bike Builder lets you choose your tyres and if you're serious about off-roading on this beast, I'd advise ditching the Byways in favour of some knobbly goodness  - the WTB Ranger MTB tyres will be a better choice for muddy conditions. If you're planning to stay off the squelchy stuff and stick to roads or gravel paths, the WTB Byways will be fine - just wait until the gravel and bridleways have got bone dry, and maybe reduce the pressure a tad.
I was generally impressed with Ribble's finishing kit, although I would rewrap with a more cushioned bar tape and perhaps go for a flared bar. Comfort on a bumpy ride is paramount and thin tape is just asking for a sprained thumb and numb wrists. Again, the Bike Builder allows for plush tape and a flared gravel bar - or even a carbon aero bar - to be specced before purchase at the click of a button.
And finally, plan your outings to be within the range of the battery - at my weight, it was around 60km, maybe further if I just stuck to road or lost some timber. Without power assist turned on the bike feels quite tardy but still handles well. A couple of times I stopped to take photos and the power auto shut down, leaving me with a challenging battle against inertia until memory kicked in and I switched it back on.
It goes to show that the power assist does work. If that means the Ribble CGR AL e opens up new possibilities for cyclists to explore our magnificent network of trails, it can only be a good thing.
Just be warned - once you get a taste for power, you may find it hard to go back.
Ribble CGR AL e, from £1,999 at www.ribblecycles.co.uk.
0 Comments