It's not standard to start a bike review by declaring your love, but the Ribble CGR Ti isn't exactly a standard bike. CGR stands for "Cross, Gravel, Road", with the promise that this bike can handle it all. And if sleek titanium tubes, flawlessly shaped into an adventure-seeking disc-brake frameset are what you're looking for, then you can probably stop reading right here and head over to the Ribble website.
The CGR Ti's versatility can be put down to three key design features: provision for disc brakes; clearance for 650b or 700c wheels with up to 45mm tyres; and a finely calibrated frame geometry that offers a balance of speed, responsiveness, stiffness and comfort in more or less equal measure.
All of this, and with titanium's timeless good looks? It's almost unfair on the other bikes in your shed. We've been putting the CGR Ti through its paces over the summer, and - spoiler alert - we like it.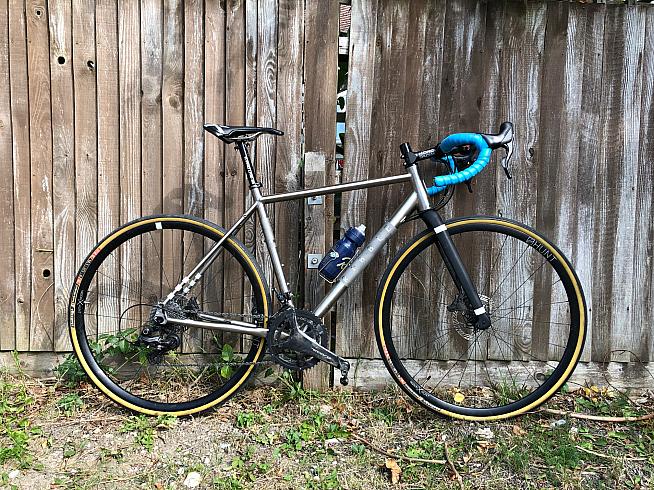 > Ribble Reborn: Sportive.com visits a cycling giant in Lancashire >
CGR Ti frameset tour
The CGR Ti, like all of Ribble's current range, is available in a choice of builds. I was sent the bare frameset, and set about building it up Campagnolo's new Record 12 speed disc brake groupset, Hunt wheels and KCNC finishing kit.
If you're thinking of doing the same, the CGR Ti is pretty straightforward to build up. Details like a threaded bottom bracket shell make life easy for home mechanics, and while the cable routing for gears and brakes is internal I think it's worth the added hassle of threading your cables through the frame for the sleek looks (and simpler cleaning) it affords.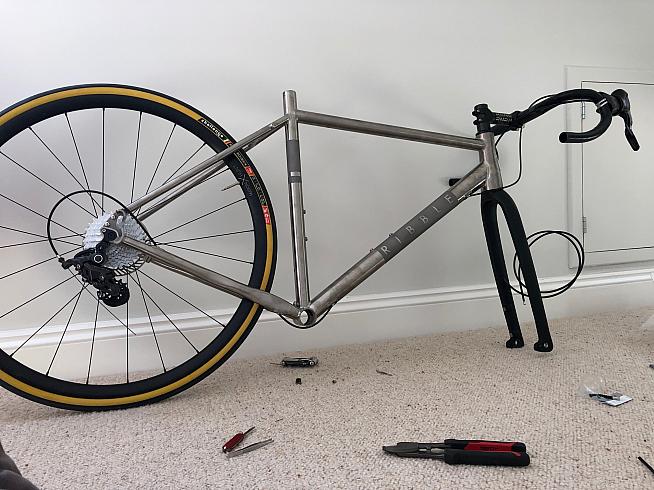 The frame is generously appointed with mounting points for mudguards and racks. That's obviously an advantage for commuting and touring purposes, although I'd suggest tightening and perhaps applying anti-seize or grease to those bolts before your first ride to avoid them rattling loose (I managed to lose one).
The full carbon fork has a tapered steerer and internal routing for the front disc brake cable, which helps keep things neat. It's also got a mounting point for a light/mudguard. The bolt was located under the fork crown, rather than to the rear of it as shown in Ribble's images, but this didn't pose a problem for mounting my dynamo light.
The CGR Ti comes with an integrated headset, which makes for super simple installation - just drop the bearings straight in, no need for headset press stress.
The steerer crown on the fork is bevelled to mate with the lower headset bearings, so I didn't need the crown race that came with the headset. I only mention as it took me some head scratching to work that out, not having encountered this design before. Again, not having to dig out the tools to seat a crown race is a plus in my book.
Both frame and fork are designed for flat mount disc brakes, and thru-axles (142x12mm rear; 100x12mm front) are included with the frameset.
Ribble claim a frame weight of 1800g and 550g for the fork. My size small frame hit the scales at 1865g, the fork was 529g. Including headset, thru-axles, seat post clamp, bolts and fork bung, the frameset came in at 2625g. Not bad, but weight weenies will wince at giving up almost a kilo to a comparable carbon frame.
>>> Review: Ribble CGR SL Shimano 105 >>>
Never mind the weight though, check out the aesthetics. The finish is first class, with neat, discreet welds all round. A stylised R logo gleams on the head tube; this and the polished "Ribble" on the downtube are the only branding.
So far, so classy.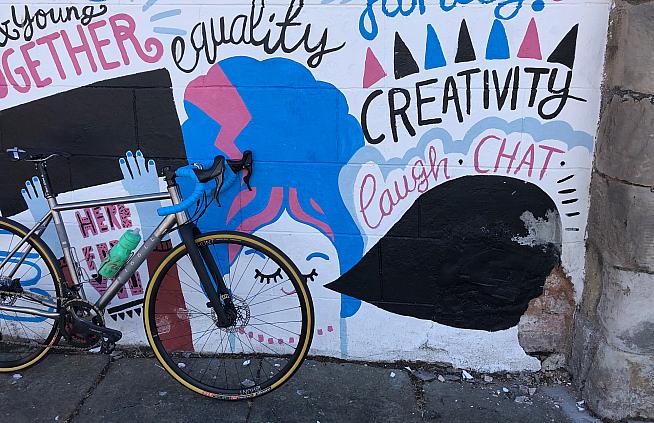 Ultra-endurance racer
My first outing on the CGR Ti was the Trans Alba Race, an 1100-mile bikepacking race around Scotland. And I mean literally the first ride - I only finished building it up the night before, and hadn't a chance to road-test it before slinging it onto a bike rack and driving up to Edinburgh for the start.
That was a risky move but fortunately it worked out. Over the next 10 days I got to know the CGR Ti pretty intimately, spending up to 14 hours a day steering it up and around Scotland's incredible scenery and unmatched variety of hills. Bealach na Ba, the Trossachs, Dukes Pass, the Cairngorms - we saw it all.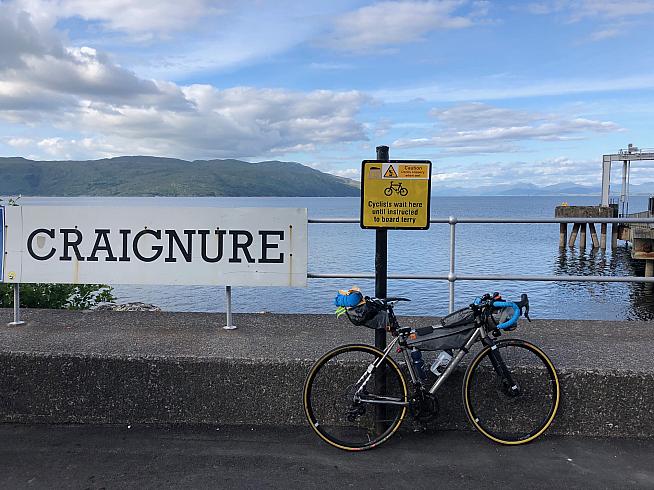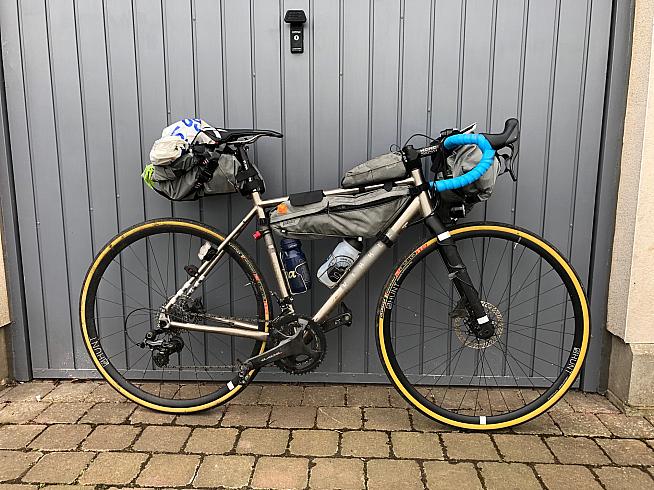 The CGR Ti proved an ideal touring partner. The longer wheelbase ensured a steady ride, even fully loaded with sopping wet luggage and a weary pilot.
Whatever the opposite of twitchy is, the Ribble has it in spades; it coped with the trials of wind, rain, wild gradients and warped road surfaces with a calm assurance that I struggled to match.
Ride quality
The CGR Ti proved its reliability on the Trans Alba, but with a full complement of luggage affecting handling and ride quality it was hard to get at the essence of the frameset.
Once I was home I chucked all the bags off, and the bike was instantly transformed. As you'd expect, being halved in weight it suddenly became a much more sprightly creature. Average speeds leapt up accordingly, as the CGR Ti revealed an unexpected turn of pace.
Aided and abetted by a set of excellent Challenge Paris Roubaix tyres, the CGR Ti was a pleasure to cruise around on. It perhaps lacks the frisky, zingy quality that comes with an out-and-out race bike, and I think this is partly down to the longer wheelbase. It's just that bit less responsive than a thoroughbred racer, so what you gain in terms of stability and tyre capacity you lose in, well, seat-of-your-pants excitement.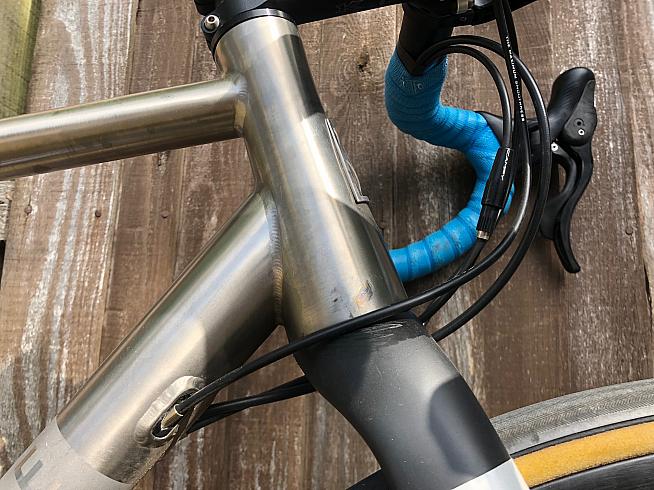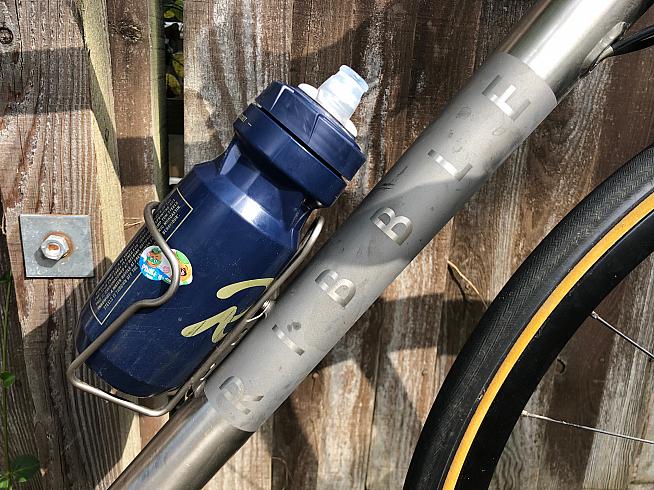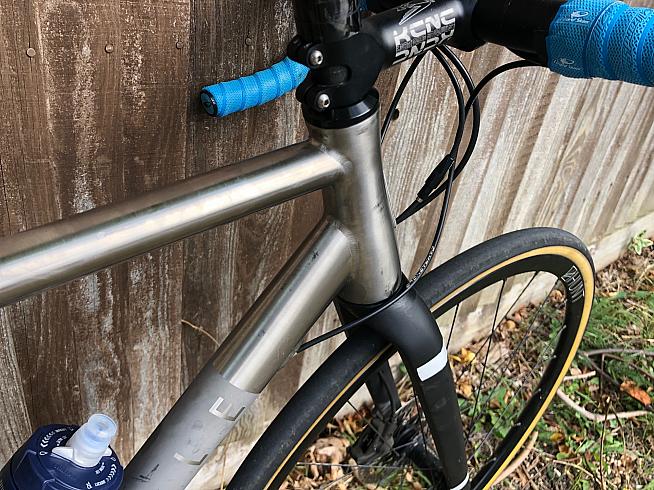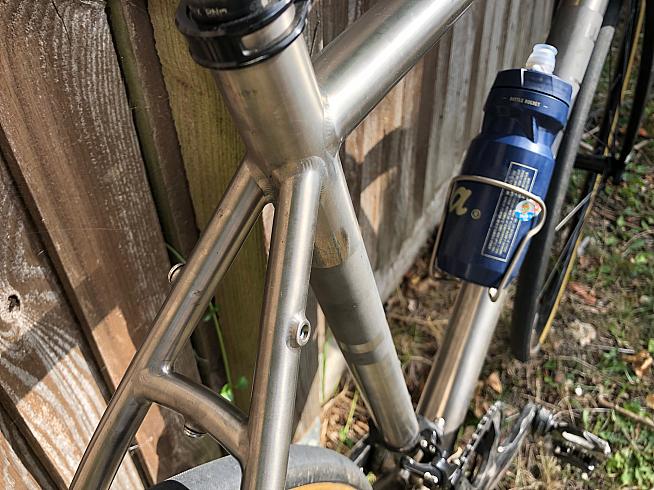 The oversized downtube, thru-axles, and those muscularly sculpted chainstays and fork all contribute to what feels like a solid, rigid chassis. That's not to say it's uncomfortable; thanks perhaps to titanium's much-vaunted qualities as a material, the ride feel is in fact superbly insulated from road buzz.
Titanium is also noted for its light weight when it comes to bikes, at least in comparison to steel. In gravel/cyclocross mode shod with WTB Nano 'cross tyres, my build came in at 9.75kg - that's with pedals (300g), bottle cage and computer mount. Road tyres would save a few hundred grams, but you're still looking at a 9kg bike in size small. That's by no means heavy for bikes of this class, but - as with most gravel/all-rounders - you will definitely notice the 2kg difference if you're coming from a lightweight carbon or even alloy race bike.
Obviously the CGR isn't designed to compete with a skinny framed race bike, so any comparison is merely for reference. The clue's in the name - the CGR is about versatility.
It might not be KOM in the weight stakes, but this bike can certainly do mountains. I took it for a spin up the Col du Tourmalet while on holidays over the summer. Any 19km climb will offer me plenty of opportunity to look for excuses, but at no point did I imagine the CGR Ti was holding me back.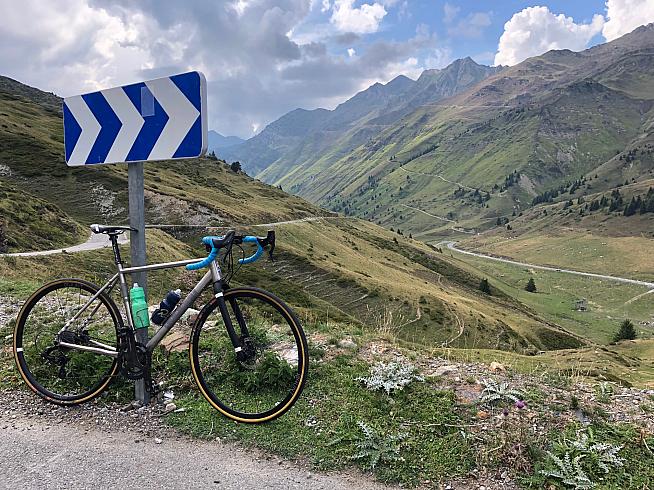 The Trans Alba wasn't exactly flat either, with over 10,000m of climbing - we had to trudge up a couple of the steeper Cairngorms ramps. But the CGR Ti is the sort of bike you can take anywhere, confident that you'll have a game accomplice for whatever adventure comes your way.
If you're looking to put in serious mileage in style and comfort, the CGR Ti should be on your list.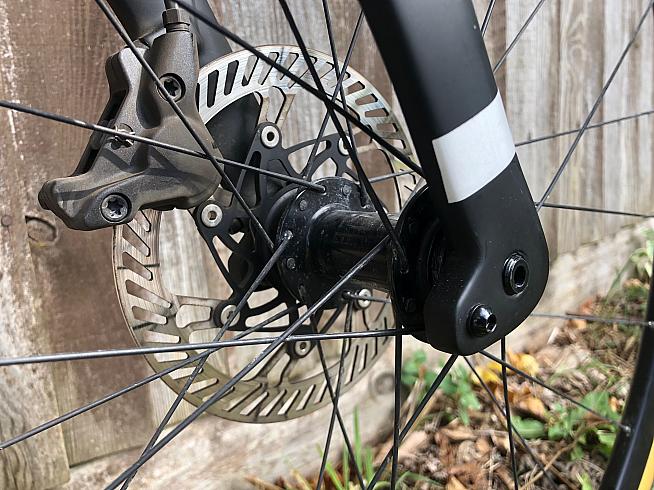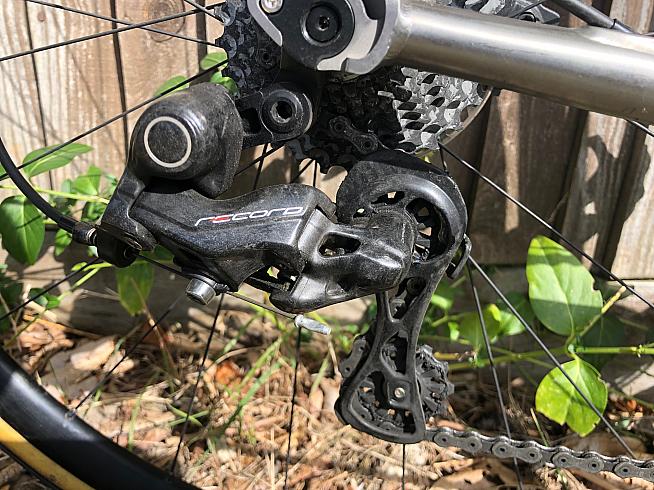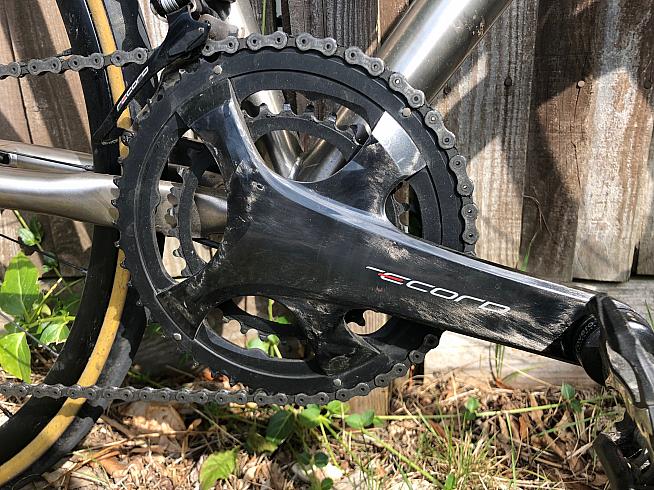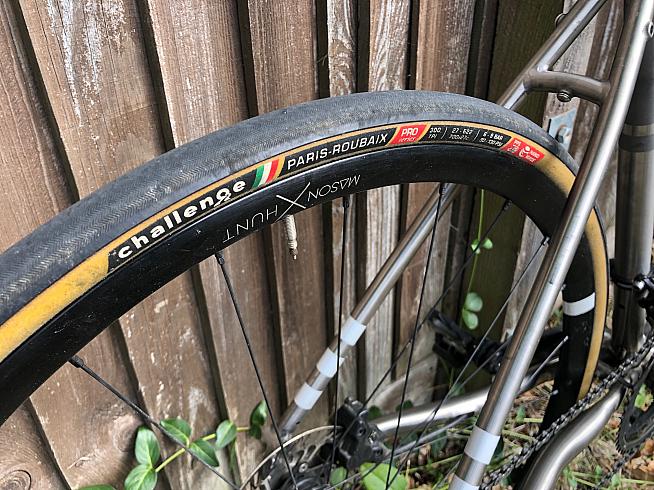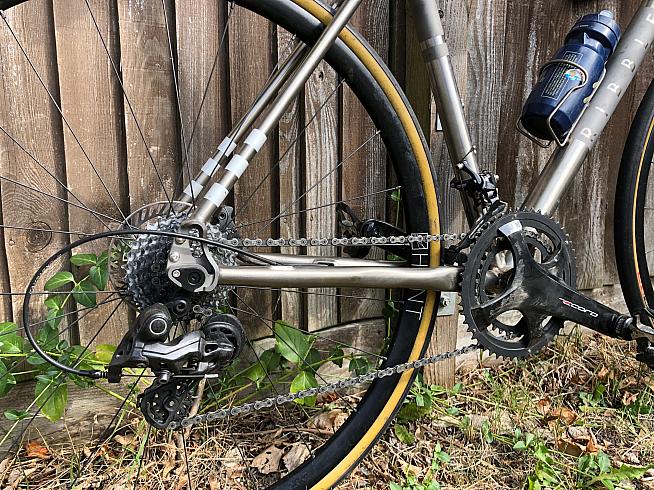 If this is sounding like a rave review so far, that's because there's very little fault to find here. Details have clearly been sweated, execution nailed.
One minor niggle might be the fact that the front and rear thru-axles require two different tools to tighten. That's about it, really.
Oh - and the beautiful brushed finish of those titanium tubes is subject to the occasional scuff, especially the matt band on the downtube. The areas on the top tube where my frame bag had been attached for the Trans Alba were left polished by the friction. Not massively noticeable, or even an issue - the patina just adds to the frame's industrial aesthetic.
Cross and Gravel
A review wouldn't be complete without taking the CGR Ti off road, so I headed to the South Downs for a spin. The CGR Ti bounced and splashed happily over rutted chalk tracks streaked with puddles from a recent deluge, and over rugged terrain the bike's sturdy qualities shone. Out here, on the wind-raked hills, I felt I'd found its true element.
I didn't come close to pushing it to its limits - I'm still a bit hesitant on sketchy surfaces after last year's injury - but there's little doubt you could chuck the CGR into a 'cross race or all-day adventure and come out the other side smiling. I think the bike's sweet spot may be rides that combine all-day distances with a range of terrains.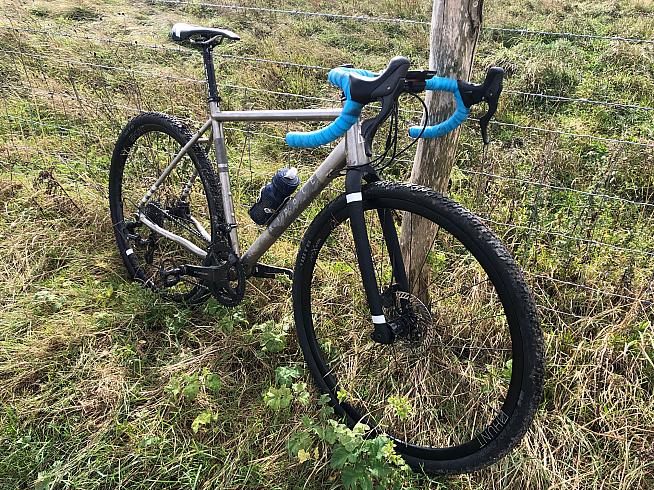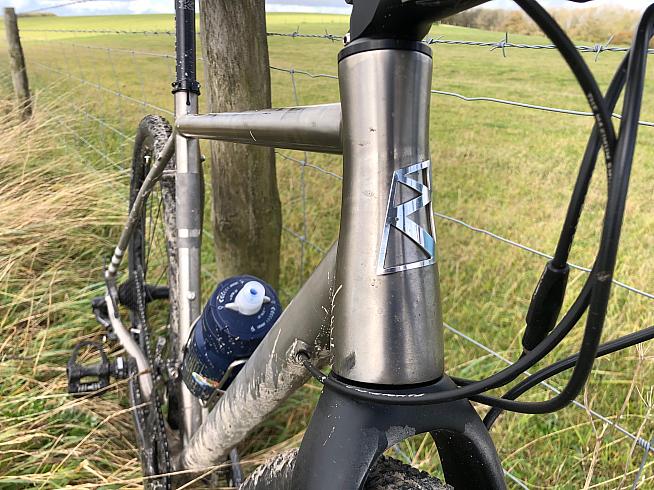 On gravel - certainly on well maintained grit paths like the Downs Link we have in Sussex - it's a blast. For something like the Dirty Reiver, or even the epic GBDuro race won by Lachlan Morton this year, it'd be perfect.
I would be tempted to switch to 650b wheels for a little extra agility, perhaps keeping the 700c wheels for road use. A luxury, maybe, but one that inches the CGR Ti even closer to covering all your biking needs in one machine.
Build options
As well as the titanium model tested, Ribble's CGR bikes are now available in steel, alloy and carbon. There's even an electric version, the CGR AL e.
I opted to build up a bare frameset, but Ribble offer the CGR Ti in a variety of builds reflecting the frameset's protean potential.
Starting at £1799 for the frameset, the pricing is competitive for a titanium frame of this quality. If you're shopping around, you'll find Planet X offer titanium bikes at a slightly lower price but lacking features like internal cable routing. I would place the CGR TI more in the category of the J.Laverack GRiT or the Mason Bokeh Ti: both beautifully finished frames, but with a level of customisation that means they work out considerably more expensive than Ribble's offering.
Full CGR Ti builds start at £2099 with SRAM Apex 1x gearing and 650b wheels. A more road-oriented version with Shimano 105 2x11 gearing is £2299, then there's a SRAM Rival-equipped build with 650b wheels for £2699. Topping out the range is the "Sunday best" model, with Shimano Ultegra Di2 electronic gearing and Zipp 302 carbon wheels for £4549.
And, hot off the press, Ribble have just released a build with Shimano's new GRX 1x11 gravel groupset priced £2199. If they ever launch a GRX Di2 option with 650b wheels someone's kidneys are definitely hitting eBay.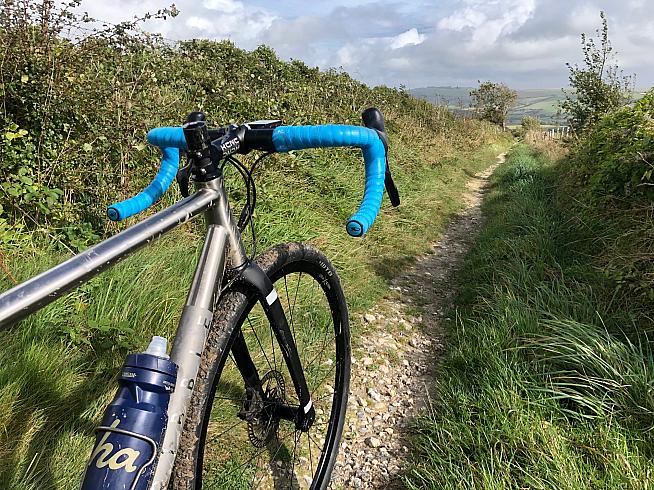 Conclusion
On paper the CGR Ti ticked so many boxes for me - beautiful titanium frame, internal cable routing, flat-mount disc brakes, threaded BB, 27.2 seat-post - that I wanted to love it. And I'm happy to say that in this case, the reality lives up to the spec sheet. Ribble, and more specifically designer Jamie Burrow, have come up with a bit of a triumph here.
There's always a risk that by trying to be all things to all people, you end up with a bike that's overly compromised - "a jack of all trades, master of none". But the CGR Ti is a gem: a genuinely versatile, multipurpose bike that is competitive across a range of terrains and disciplines.
And a master? Yes, absolutely... of adventure.
Ribble CGR Ti, from £1799 at www.ribblecycles.co.uk.
Looking for a lighter, more road-oriented option? Check out the new Ribble Endurance Ti:
> www.sportive.com/cycling/539344/ribble-launch-new-endurance-ti-disc-bike >

0 Comments