Single chainring setups - known as 1X, or "One-by" - are increasingly common on gravel and adventure bikes. But could ditching the front derailleur be an option for roadies too? Andy digs deep in his spare parts bin to investigate...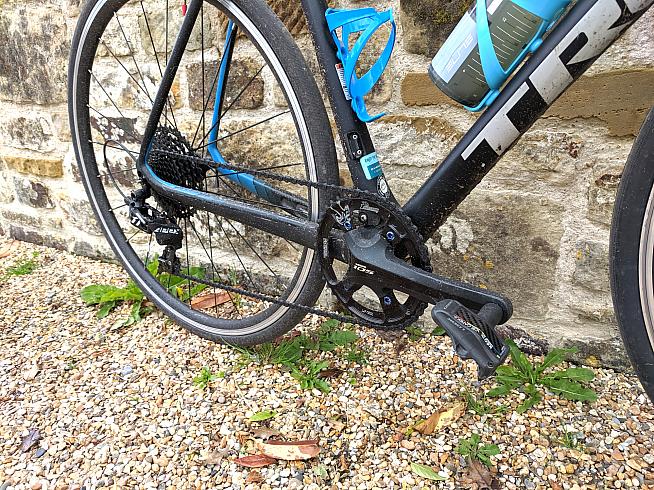 Those of you old enough to remember may recall the world's most baffling quiz show, featuring Ted Rogers, a Boy Scout salute of sorts and a plastic bin with an idiot grin, on wheels. As if that combination wasn't enough, the whole thing was chock full of enigmas (like "why was this ever commissioned?") and riddles and only makes sense, a generation later, to those who understand Only Connect and Deal or No Deal.
What this trip down senility lane has to do with my first road bike will become apparent as soon as I figure out a way of linking it together, but as a novice cyclist I struggled with hills in the same way millions of ITV viewers did on a Saturday evening with the concept of Dusty Bin. A triple chainset didn't seem enough for climbing even motorway bridges, and dropping into the granniest of granny rings seemed to make time stand still while pedaling air.
I manned up to a compact double with my first proper bike, a Ribble Audax, just as I started to get into sportive cycling and thought I would die climbing Box Hill, yet here I am still. Several bike iterations later, and after attempting the Etape on a semi-compact (did not end well), I discovered the simplicity of a one-by with my gravel Pinnacle Arkose. Yes, it's just got a single chainring - but it offers a spread of ratios big enough to cope with hauling 100kg of lard up 20% gradients and 'powering' along the flats at a cool cruise of 20mph (check *my* wattage cottage, eh?).
>>> Review: Pinnacle Arkose Ltd Adventure Road Bike >>>
>>> Too haute to handle: Andy meets his sportive nemesis on the 2017 Etape du Tour >>>
I would have been more than happy with that but for the chance offer of a carbon road bike frameset, complete with BB and forks. This Trek Domane SL had seen better days and, I'd wager, less embarrassing owners. I had a shed full of random bits I couldn't or wouldn't sell on eBay, and a desire to do something different.
So, armed with a PayPal balance, an eye for the quirky and no respect, I proceeded to build up this endurance bike with a SRAM CX groupset and some tubeless ready wheels.
The Rival levers I got online for less than cost and the Apex rear mech was also a steal (not an actual theft - it's just a figure of speech). The wheels were Bontrager's Affinity TLRs, like you get on the ALR5 Emonda and the brakes direct-mount mismatched 105, from a broken bike, and an ex-display Ultegra rear set (after mistakenly trying to fit the chain stay version to the seat stays - zero clearance, guys. I had to fit a pair of part worn pads on it just to get the wheel to move).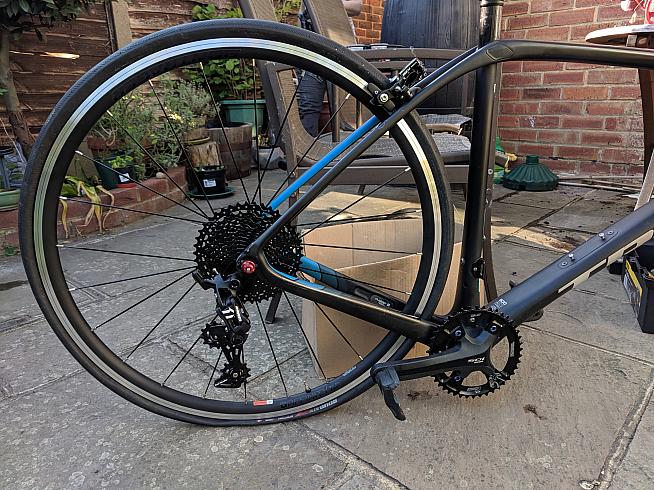 I had half a 105 chainset and bought an ovalised NW 44T chainring from Superstar Components. Their Raptor chainrings are the nuts.
Ebay came to the rescue with the final two pieces of the puzzle - a left 105 crankarm with a pedal spindle firmly seized in it, and a super cheap alloy mast for the unusual seat post arrangement. Chain and 11-42 cassette were added from shop stock and I set up with biggest tyres I could fit tubeless. S-Works Turbos went on without recourse to using a chamber pump, and some Stans sealant completed the job.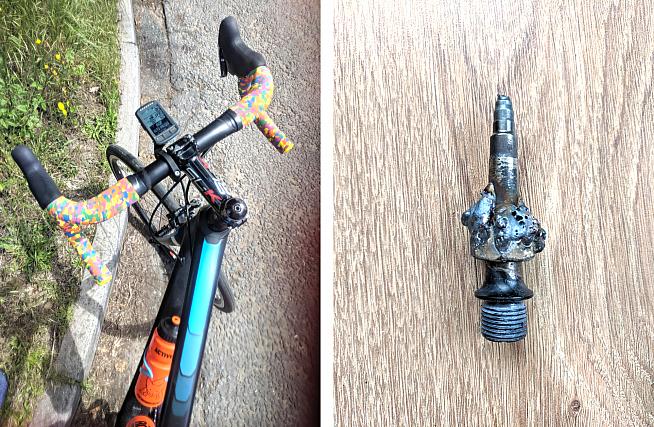 This was the first time in a few years I had a) ridden carbon and b) used SRAM road. My Ribble R872 was always too small for me, and I had cracked the seat tube with over-vigorous torquing. My only experience of Double Tap was on an Eastway I did Hell of the Ashdown on, and I had a miserable day trying to pushing it into an easier gear than the 11-28 cassette had.
Frankenbike rides!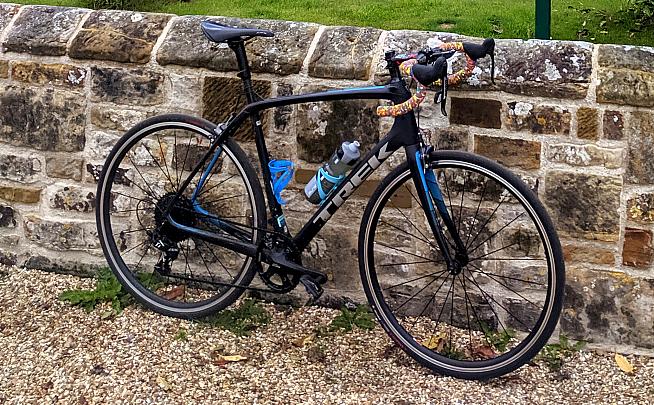 To start with, the Sramano Rivex05 (as I dubbed it, in the prevailing style) was ridden to and from work, and I was amazed at how much I enjoyed it. Despite being back-heavy (much like me) it was more nimble than anything I'd recently ridden, and comfortable over rough roads despite me dropping from 45c to 28c tyres. I was doubtful about the rim brakes, but the direct mounts were sharper than I recall my old Ultegra ones, although I still felt cringey when braking in the wet, hearing the sound of grit destroying my braking surfaces.
All of this was well and good, but I hadn't really tested the set-up with a real-world challenge. What I wanted to do was see how it was on some of the hardest climbs (for me) in the area, and how it handled a fast descent powered mainly by my downhill friend, gravity. The 44x11 top gear would spin out quite quickly, but I was hoping to reach at least a jowl-wobbling speed.
Off I went to Leith Hill on a 70km ride to point the Domane up some challenging terrain, both in gradient and road quality. Anstie Lane, on the south side, is a favourite lung-buster of mine and although I didn't climb any faster than the 2013 version of myself, I felt considerably more comfortable. This was followed by the woefully sketchy Logmore Lane, a maze of potholes with, seemingly, only one non-lethal route out of.
A trundle up the A25 led to Sheephouse Lane at Wootton, and a single width road of increasing slope that has a ramp midway that scares me rigid. The first time I did it, on my first Leith Hill Octopus, I did so with a broken rib on the hottest day of the year. Paperboying it that day was a nightmare, and this revisit was also a bit of a trial as halfway up, I shed my chain and had to return to the lower slopes to remount and do it again. Pausing at the passing (out) place at the top, I caught my breath, but congratulated myself and my bike for getting up it successfully.
Emboldened with my achievements, rather than turning towards the summit car park of Leith, I headed off on the route towards one last devilish climb, the final one on the Octopus. Tanhouse Lane.
On last year's RideLondon, some of the participants were diverted up this leafy single track to avoid a closure at the bottom of the classic Leith climb, where Boris Johnson was famously booed. There are sections that make grown men weep, and when I first did it, it hadn't been resurfaced, so as well as the crippling gradient, there were potholes the size of mortar strikes further hindering your progress.
Tanhouse isn't the kind of climb you do if you're not looking for a challenge. It's avoidable, it leads nowhere in particular that you couldn't get to by easier means. It's a climb that you say "Feck it, why not" at the bottom and "Feck it, WHY?" halfway up. That said, the Trek didn't fail me, and I didn't try to pop a wheelie through the toughest sections - is that to do with the larger ring up front? (Citation needed.)
Suitably smug with myself I pointed the front wheel downhill for the steep and sweeping descent more toward sea-level and was thrilled to be scooting past Leith Hill place at an amazing velocity, PB-ing the slope and not crashing.
Verdict
One-by bikes for the pro-peloton have been written off as a bad idea (for now) but they have their place amongst us mere mortals, I would argue. The majority of leisure riders (me included) don't know how to select gears correctly. We're unaware of the amount of ratio crossover you get and are frankly baffled by a double chainset.
A one-by offers the simplicity of single lever gear changing that you get in pretty much every other mode of transport. Lighter, less complex, easier to set up and maintain, neater and better looking (oh yes they are). As far as I'm concerned triples and doubles can get in the Dusty Bin.
0 Comments