Lots of people told me not to mess with my bike set up before this Etape, and I didn't.
Apart from new wheels, tyres, shorter stem, longer crank arms - as well changing my Look cleats for ones that weren't wafer thin at the tip and clogged with mud and melted tarmac.
It'll be fine...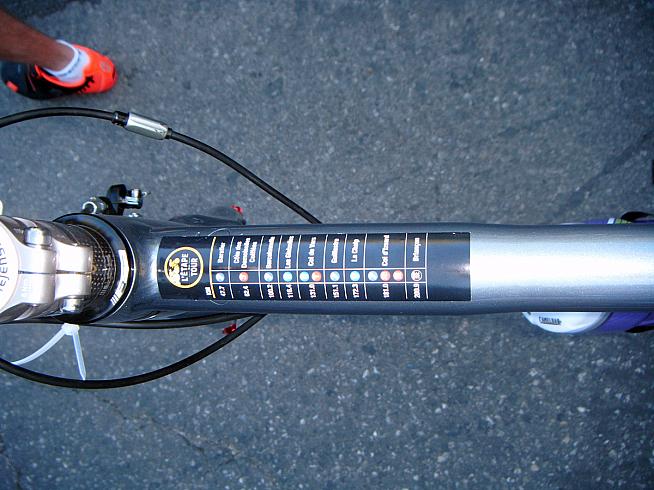 Last time I drove this far in France was on the way to Spain. We stopped overnight in Limoges and we had to turn off the air con when climbing the roads over the Pyrenees. This time, it was a bit of an endless procession of péage, comfort and fuel stops as my car has a relatively small fuel tank and I have a relatively small waste tank.
All was plain sailing until we reached Grenoble (apart from a SatNav hiatus that sent us north east towards Paris, rather than cross-country to Orleans), when we encountered the double shock of 'traffic' and humongous mountains.
Traffic I've seen before and it was like home-from-home, the M25 merely substituted by the A48. What I wasn't prepared for was the enormity of the climbs out of Grenoble and off towards Gap. With the light fading, and my beautiful co-driver in charge it was a nerve-shredding experience as local drivers leap-frogged the snail-slow tourists.
Coming into Gap itself, I began to imagine descending these roads on two wheels and confess a mix of tummy-shaming panic and nervous excitement. Thankfully, none of the climbs in this year's Etape ramp up as consistently steep - and I'm much better at the twisty fast stuff when I have my hands on the brakes and leaning over has more of an effect than bumping shoulders with the passenger window or the driver.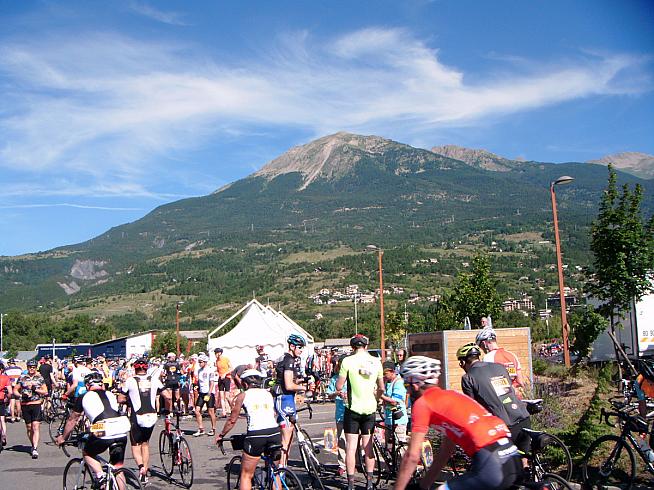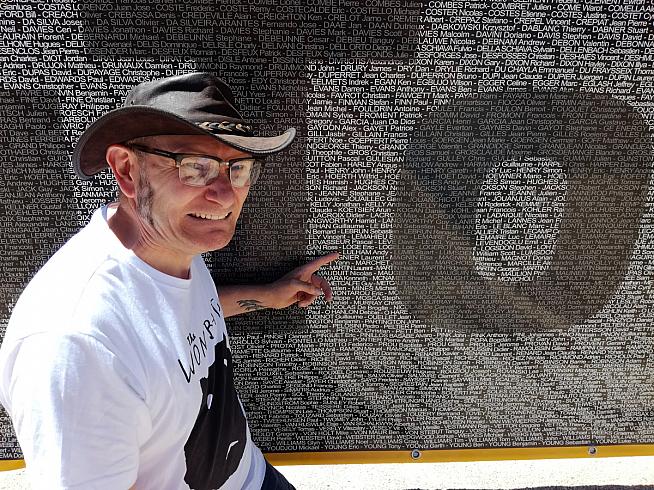 Fast forward to 'race day' - many treat the Etape as a race - and my prep up to this point had been steady, if meagre. My wife had spent hours fretting about how she would drop me off on the morning of the Etape and still have time to get out of Briancon before the roads were closed all along the valley.
Redemption, of sorts, came in the form of a last-minute offer of a hotel room adjacent to the start in Briancon thanks to Sportive Breaks. The car was duly loaded and a twilight dash made along the N94 to install me in a strange auberge for a night's restless sleep.
Joining the procession of Etapees next morning was an experience in itself. There were no real signs of nerves, nothing to give away first-timers. A multitude of different road bikes, a few flat-bar hybrids and, I shit you not, a single speed BMX. Channeled through to the start to the multi-lingual echoes of the start marshalls, I got to high-five Didi the Devil.
Was that going to be the high point of my day?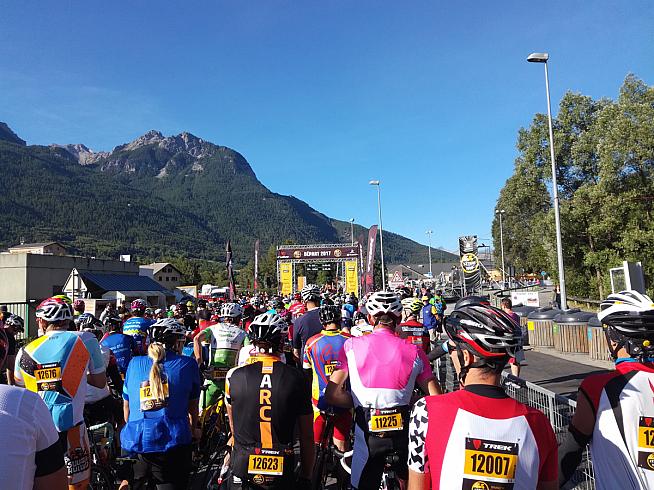 The start was fast and sweeping - the course out of Briancon was basically downhill for the first 30 kilometres, until a deviation from the main road at St Crepin to take us up the side of the valley to overlook the Durance river and begin to catch sight of the Serre-Poncon, second-largest man-made lake in Europe. We whizzed, cheered by locals, through pretty hamlets, twisting down the valley side to rejoin the main road and then close in on the first feed stop at Embrun.
I had been forewarned of Etape feed stations, in all their conflicting majesty, where water was both plentiful and scarce, food nourishing but dry, mechanics woefully overworked but always looking underused. I grabbed what I could, and pressed on along what was to be the last relatively easy terrain for some hours.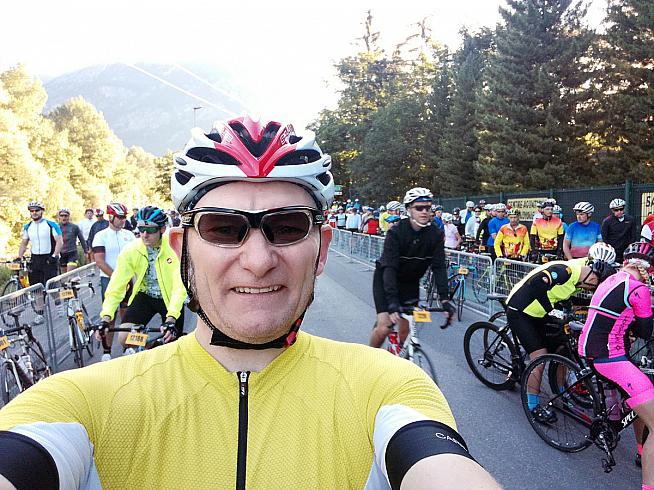 Turning off the N-road at Savines-le-Lac - the old village of Savines was destroyed by EDF and the French government in 1955 to enable the creation of the Serre-Poncon - all the riders began to trundle up the first real challenging climb: the Cat 3 Demoiselles Coiffées. At the top we then twisted down, for what seemed the last time ever according to the ride profile, to where the Ubaye river joins the reservoir.
Within the valley, the temperature began to rise, and rise, towards the mid thirties and I began to wish my age was closer to that than the half-century. The views across the valley, as we first rode one side then the other of the river, were magnificent and distracted me from my increasing discomfort. Taking a lead from several others, I stopped at one of the many road-side springs to refill my bidons and used the contents of one to douse my neck and back. The lack of available waste water in my system saved my chamois from a similar, yet slightly warmer, dousing.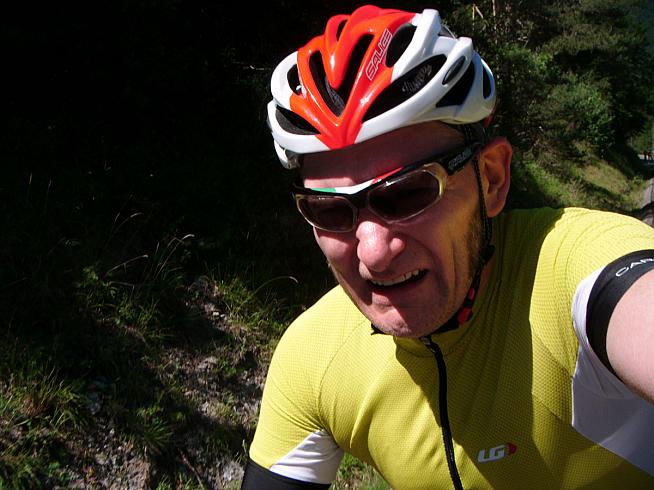 My focus in this beautiful wilderness of winding, gentle, relentless ascent was the feed station at Barcelonette at the 100km mark. My legs felt fine, tapping out a laboured but relatively rapid cadence. Every mouthful of water I took, I also repeated the neck soaking until I felt that it wasn't having the same rejuvenating effect. I thought then it would be great to pour water into the air vents on my helmet for it to soak into my bandana.
"What a genius idea", I declared out loud, in bold Anglo-Saxon that nearly caused a rock-fall from the cliffs above. The dried sweat from the previous four hours, newly rehydrated by my efforts to cool down, then poured into my eyes and resulted in a sudden, embarrassing and expletive-ridden dismount into a soft verge while I tried to rip my stinging eyeballs from their sockets. What the heck, I needed a break anyway.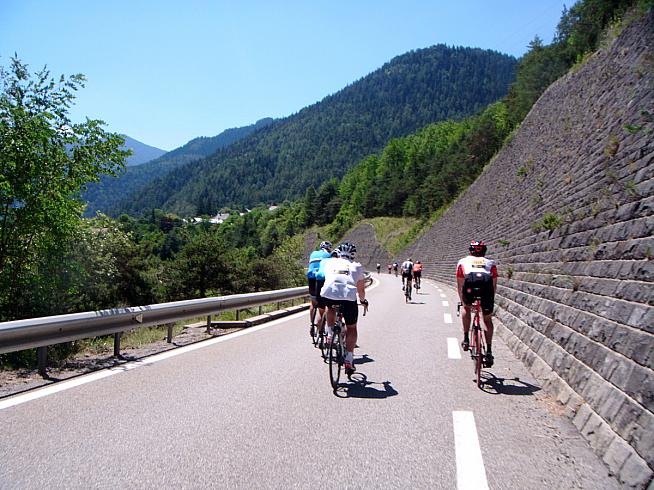 Barcelonette hoved into view and after trying to force down yet more desiccating breadstuffs and gargling over a litre of cola and water I sat down and took stock of my situation. When I say 'sat' I mean more of a 'plonk', and 'taking stock' was more like staring into space for a good ten minutes wondering where the feck I was and why I felt like I'd just been on an Irish stag do with Oliver Reed. Had that coke been laced with rum? Was the sugar in my energy gel stash slowly turning to alcohol in my pockets?
I picked the bike that looked most like mine and, not hearing any protests from those around me, I set myself a target of hitting the next drink station before trying to decide if I should go on to a nightclub and then have a kebab. I confess I remember very little of the next 16km, apart from an impromptu roadside douche from a couple of locals who must've found a cash-n-carry sized crate of Evian with which to squirt passing Etapees.
My wobbly arrival at the next oasis may've caused concern for those manning it, as I recall having a conversation with someone about their seatpost, in French (of which I know very little) before feeling a vice-like grip on both my upper arms and being placed gently into a chair and having my clothing loosened.
Continuing my misconception that I understood more of the language than "Deux pastis, s'il vous plaît" I was then reassured by a very French-looking lady in a thick Midlands accent that help was on the way. More water dousing, blood pressure and finger pricks were endured before a colossal shivering fit convinced me that something might prevent me from finishing this particular adventure on my bike.
So, I waited for the Broom Wagon with its burly bike handlers and cargo of broken disappointment, only to witness not one, but three go past on their way up the Col de Vars. Apart from giving me more time to master the phrases "Je vais bien" and "Mieux" this presented a slight problem in that my support crew were waiting for me the other side of the Cat 1 Vars, in the tiny town of Guillestre.
Guillestre was looking like it was going to be as hard to reach as it was for me to pronounce... But eventually secours came in the form of the Croix Rouge and the offer of an ambulance ride to my rendezvous in Gill-est-tree.
With one hand clamped rigorously to the bed frame and the other to my top tube, we bounced and swerved on what seemed an endless ride. I felt slightly guilty when I heard my Garmin auto start, but then thought of the possible KOM and secretly revelled in the feeling of blasting along with blues and twos going.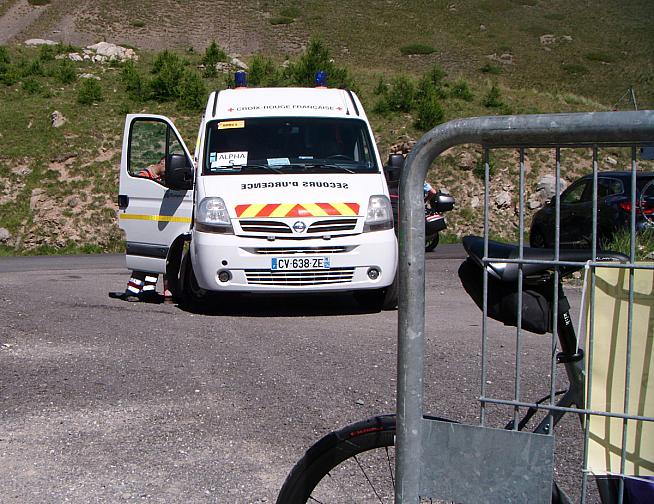 When we came to a juddering halt, it look my carers what seemed an absolute age to discharge me from the back of the van. I was expecting to see a friendly face peer around the open rear door, ready to cart me off to the car and back to Briancon to pick up my left luggage, but when I eventually disembarked, I found myself not in a rural mountain settlement but at the top of the Col de Vars with a couple of other broken DNFs and members of the French fire service for company.
I was assured in broken English (as my French is at best, substandard) that the Broom Wagon would pick me up this time. With no other option, I waited patiently wrapped in a space blanket which was more effective at keeping off the blistering sun than keeping me warm. I nodded to my companions in the universal language of dejected acceptance of failure and waited for the Fun Bus to arrive and carry onwards.
Again, not one, but three Fun Buses passed without stopping, much to everyone's exasperation. Swear words, it seems, have a way of being understood in a multilingual way when coupled with body language and much gesticulating. The bras d'honneur is always done best, in my opinion, by a burly bearded pompier at the top of a mountain pass.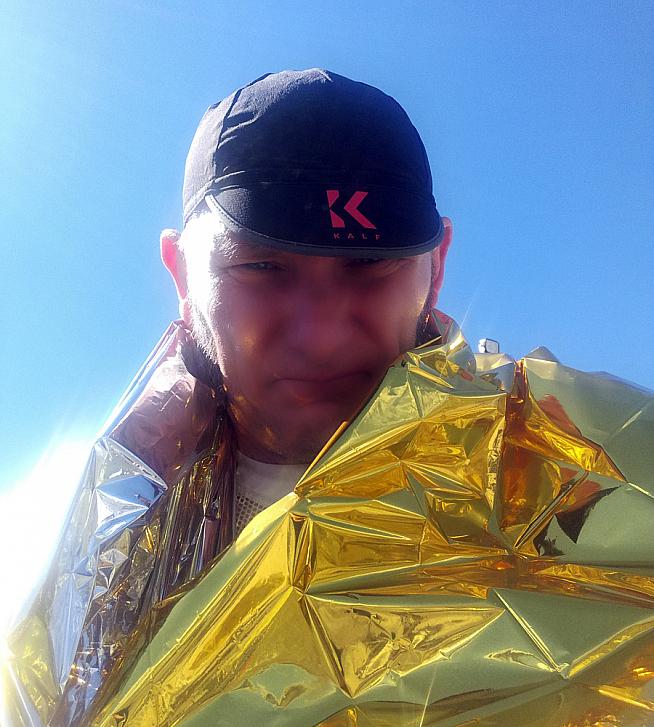 I was now faced with the safe option of waiting for the road to open and for my wife to come collect me, or stupidly hop back on the bike and take on a 20km Alpine descent. I glanced at the medic, who nodded approvingly at me, and got back in the saddle.
As I wobbled off gingerly, my hero pompier began to protest only to be shushed by my medically qualified (and psychologically correct) patron - and I was on my way.
Feeling amazing to be travelling at speed with little or no effort for what seemed an absolute lifetime, my adventure was almost cut brutally short when I seemed to have forgotten how to steer and nearly found out what my bike would be like off-road. After checking for matching skids, I resumed my descent with a lot more thought about how my return ferry ticket would be wasted if I'd gone back to Blighty cargo class.
I tempered my speed and the angle of entry to the hairpins accordingly, and began to rediscover handling skills previously fogged by heat exhaustion.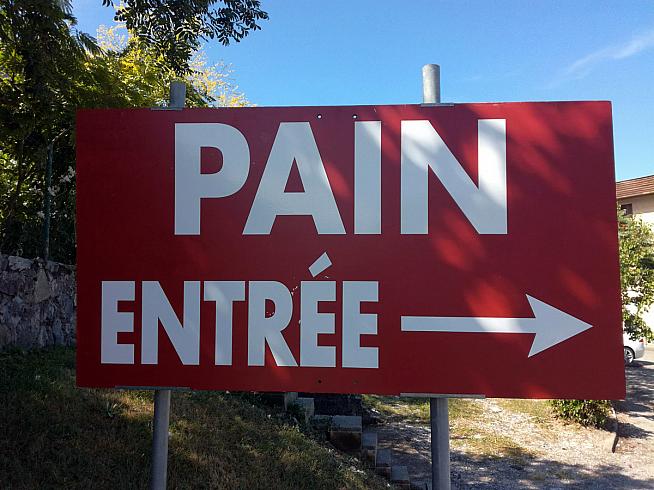 Feeling less busted and more Basso, I began to enjoy the speed and the scenery, overtaking a couple of camper vans on the lower slopes towards Guillestre and even catching up a lone cyclist I'd seen trundling through the feed station as I was shaking off my shiny blanket. Invigorated, I wondered how much further I could go - maybe I could try to get up some of the final climb of the day, the Col d'Izoard?
I freewheeled into town, and tried to climb the short rise into the centre and found nothing in my legs, and even less in my head. Reality once again poured salty water in my eyes and filled my limbs with blancmange, so I resigned myself to sittting tight in some shade and waiting for my wife to find me.
It seemed that the town's bars and bistros were full of cyclists wearing Etape dossards, and on the journey back to Briancon we saw many others, broken and exhausted like me, some literally limping back along the N94 trying to beat the daylight to the finish line. We passed the BMX-er, still going strong, about 5km from the end.
When we finally arrived, Briancon was still heaving with cyclists and supporters collecting their luggage and the spoils of their efforts.
Sadly, for those that abandoned, there was no fanfare and no goody bags. Despite all their exertions, not even a memento that they'd taken part. It would not be rewarding failure - for people like me, just taking part in the Etape was the hardest thing they'd ever done, and to have some acknowledgement or remembrance would have been a comfort.
As I trudged back to the car I saw many happy, relieved and proud cyclists brandishing medals, complimentary bidons and paper bags no doubt crammed with goodies from the ride's sponsors; I know I had no claim over a medal, but a token that 'I was there', other than an intense desire to lie down in the street and sleep for a week, would have been, well, nice.
That's probably why I picked up and kept someone's dropped bottle, and was sorely tempted to swipe someone's goody bag as they put it down to take a, no doubt, congratulatory phone call. It is a bottle I shall never use, never show and never discard. A reminder, when all my muscles have healed and my memories, or lack of them, have faded.
The Etape du Tour is a fantastic, hideously hard, amazing and frustrating experience. As you might guess, I've ridden hundreds of events, and what sets this apart is the sheer scale. The setting cannot be more impressive, the sheer numbers of those involved and the level of cooperation with the local authorities puts other events to shame.
It is not perfect, though. Had I not chosen to make my own way back down the mountain, I might have had to wait an even longer time to be recovered. The fact that I was missed not once but twice, is inexcusable. The fare on offer at the feed stations, and their frequency, should be reviewed. Two official drink stops in 100km of brutally hot conditions is, at best, illogical and in my case was potentially ruinous. I adhered to a strict regime of drinking and eating at regular intervals, but still ended up feeling like the undead.
I was woefully underprepared, I'll admit, but did not take my task lightly and trained as much as I physically could. Nothing I could have done would have prepared me for the heat, not in the UK at least.
I'm determined to try another Etape du Tour - maybe not next year, but certainly before I hit three score years. Perhaps I'll have more experience of cycling in hotter conditions by then. I'll just have to start training now. Seven years should be enough...
0 Comments