This week I missed my regular Saturday morning cafe run due to ice and snow on the roads and over the "tops". Waking up on Sunday however, revealed that the sunny periods and wind of the previous day/night had melted and vaporised the bone-shattering and buttock-clenching slippery foe. Leaving the roads ridable, safe and perfect for a Sunday morning potter.
With the temperature only just into single figures and the strong breeze causing a fresh wind chill I was faced with the dilemma which faces all UK-based cyclists at this time of year: the garment predicament. Layers or Winter Jacket. Both have their advantages and both have their disadvantages in keeping you warm and comfortable. To be perfectly honest with you though, my decision had already been made by the kind team at TØRM as I had received one of their sharp looking T8 Long Sleeve Jerseys in red. The website states; "When the weather gets cooler, there is no need to compromise on style" and I heartily agree. One should never compromise on style.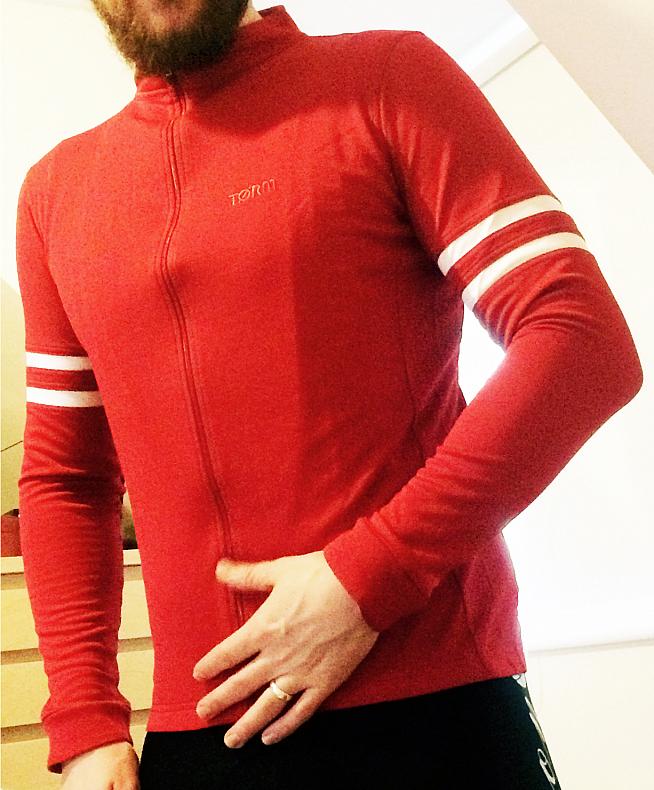 The T8 arrived in a striking red with their customary twin stripes in white. Right away the comparisons with another luxury cycling clothing manufacturer are immediate but I am not going to get into that in this review....well maybe just a bit. What is also immediate is the quality, craftsmanship and detail of the jersey. As with all TØRM kit, it is made of Sportwool, and as I've stated before I am a big fan as it helps to wick away sweat while keeping you nice and toasty.
"The name, TØRM, is a nod to the Scandinavians, because of the climate extremes they have always demanded the best technical quality garments and we wanted to reflect that in the name of the brand. As we aren't trying to take over the cycling world we get time to cycle, engage with customers over the forums, run our bike shop and enjoy life, and we don't have to work office hours!" says Paul, one half of the dynamic duo behind the brand.
So for my Sunday morning potter I decided on a Craft sleeveless base layer, a long sleeve 100% merino base layer and the TØRM T8; plus all the usual accoutrements - gloves, silk scarf, casquette et al.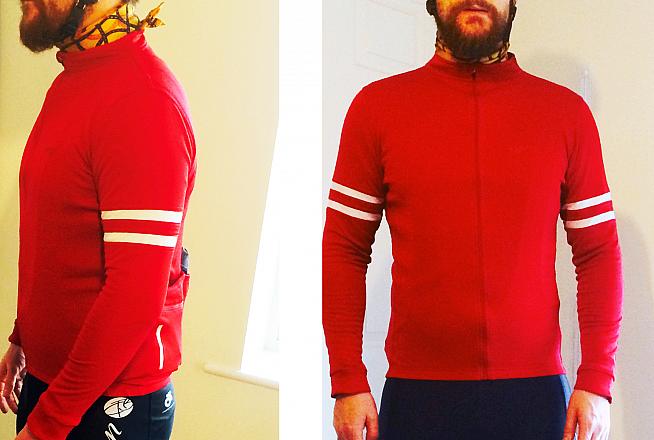 As I said, it was fresh, and once I'd set off I did wonder if I had been a bit foolhardy and needed a gilet or perhaps my winter jacket. Nevertheless 10 minutes into the ride I was warm and comfortable. "Like all of TORM's garments, seams are flatlock stitched for an irritation free ride so comfort is maximised without compromise to fit or efficiency. The in built stretch in the neck collar further promotes rider comfort without cutting corners on snugness for vital protection against the elements," say TØRM.
I am usually a 40/41 inch chest and had ordered a Large and the T8 fit like a glove. This in itself to any normal off the street consumer would not be a particularly interesting fact, but as we know only too well a Large in some cycling kit is actually Medium and XXL is sometimes only a Large; it's finger in the air, Kinder Egg surprise time! Not the case with TØRM, what you order is what you get.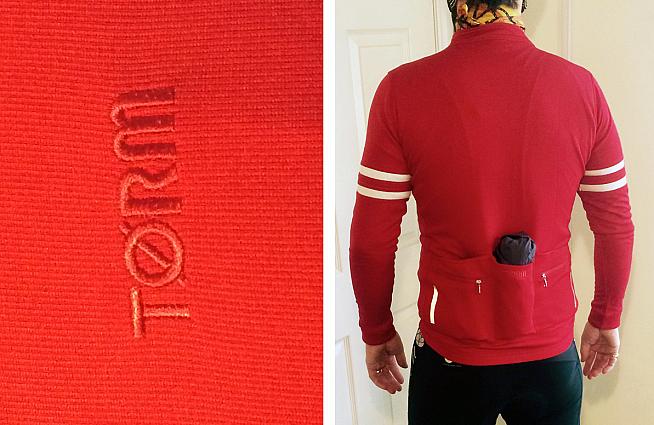 The T8 does not only have the regular three open pockets but also an additional two zip pockets for those essential items: money, keys. The open pockets are of decent size allowing you to easily carry a waterproof, small pump, gels, kitten, half-pint pewter tankard or whatever else you desire without pulling the jersey out of shape. As mentioned the jersey performed well at the start of the ride and continued to do so until the end. At no point did I overheat or become too sweaty, and neither did I feel a chill or become overly cold and uncomfortable.
At this point I am beginning to think to myself why would anyone pay more than double the cost of the T8 for a jersey that is of equal stature. Those of you who remember the 80s will be familiar with the Pepsi challenge. If you ran a similarly rigorous scientifically sound study between two control groups; one being the T8 jersey and the other being a Rapha long sleeve, having removed any stripes or logos, I think anybody would be hard pressed to choose between the two.
Which begs the question, what are you paying for? With one you are paying for fantastic quality, striking design and a great fit. With the other you are paying for fantastic quality, striking design, a great fit and a digitally hand drawn logo for the wannabe coffee shop cycling hipster (of which I am unashamedly a season ticket holder)!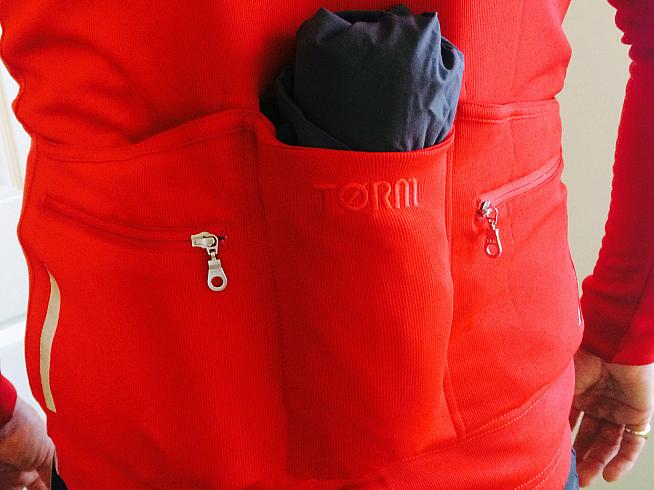 What I also like about TØRM is the personal touch. TØRM is run by Paul and Al out of SP Cycles in Broadstairs, Kent. They are unapologetic about the size and proportions of their operations, stating that keeping the company deliberately small gives them more time for their customers and for riding bikes; I really like that. There are few things more important in this world than riding bikes. This was backed up when I did not hear back from Paul immediately, a day later I received an email apologising but he had not had chance to check his email because he was out on his bike; no worries, everything is Kool and the Gang!
"Simple means we want to do one thing well. We have no interest in taking cheap cups, caps, socks and cufflinks and putting our brand name on them just to make money out of the brand, that just distracts you from doing what you're good at." How refreshing, a cycling brand who are not prepared to milk the general public for their hard earned money.
So in summary chums, I strongly recommend a look at TØRM's kit. Yes, there is not the variety of some of its competitors but the quality and style is unquestionably there. And you will definitely save yourself some cash and look just as good, either on the bike or drinking coffee (the beard is optional).
TØRM T8 Jersey, £59.00 from torm.cc
1 Comments