Entries for the 2024 Tour of Flanders sportive are now open.
The Tour of Flanders - or Ronde van Vlaanderen as it's called in Belgium - is one of the highlights of the early cycling season. Next year's sportive will take place on Saturday 30 March 2024, one day before the pros take to the cobbles in the famous Spring Classic.
Riders can once again choose from four distances ranging from 75km to 257km, experiencing at first hand the notorious cobbled bergs before settling back with a beer or two to enjoy the race the next day.
Enter now at www.werideflanders.com.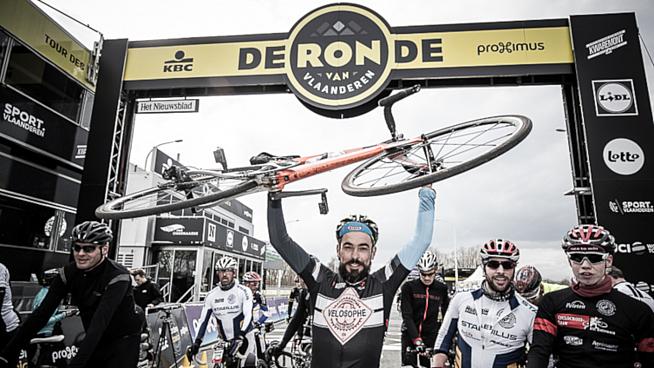 The Flanders cyclosportive, also known as the Ronde van Vlaanderen Cyclo, is one of the most popular in Europe. Each year 16,000 cyclists take to the cobbles to ride the route a day ahead of the Tour of Flanders pro race.
The start point of the Ronde rotates every four years. For the past few editions it's been Bruges, but for 2024 the start returns to Antwerp.
However, for sportive riders only the longest 257km route starts from Antwerp. Riders who choose the 179km, 144km and 75km options will start and finish in Oudenaarde, where the main action takes place on the cobbled bergs and rural roads around the town.
Prices are set in four tiers with early entries getting the best rates. Sign up early and you'll pay €90 for the 257km course, €80 for the 179km option, €70 for the 144km route, or €55 for the 75km short course.
The prices will rise as more riders enter, so it's worth booking as soon as possible to get the best rate.
For riders taking on the 257km long distance, a shuttle bus service is available from Oudenaarde to the start in Antwerp. You can book this at the same time as registering your entry; the price is €40 and you can travel the evening before at 7pm or 8pm, or at 5:15am on the morning of the ride.
If you go to ride this event make sure you stay for the full weekend to experience the pro riders in the actual Tour of Flanders the next day. This is the race that stops Belgium: when Fabian Cancellara won in 2014, over eighty percent of the population watched his victory either live or on television!
For more details and to book your place, visit the event website at www.werideflanders.com.
Read our reports from past editions of the Tour of Flanders:
0 Comments