If watching Ian Stannard and Mark Cavendish win this year's opening Spring Classics has inspired you to have a go at the famous cobbles yourself, the good news is that most of the classics have a sportive the day before the pro race. Each year hundreds of amateur cyclists from the UK travel over to ride the fabled Flanders roads, and soak in the festival atmosphere as the locals roar on their favourites.
The Tour of Flanders, Paris-Roubaix and Liege-Bastogne-Liege all have their own sportives. First up is the Tour of Flanders - or Ronde van Vlaanderen, as it's known locally - on 4 April. If you fancy giving it a go, here's some information and advice to help you plan your weekend.
REGISTRATION
Entry for the 2015 Ronde van Vlaanderen Cyclo is open until 19 March, unless places sell out first. There are three routes on offer: 71km (€25), 127km (€30) and the full 239km (€35). Entry is online via the official website at www.sport.be.
Place booked? All that's left to do is print off your entry and take it with you to registration on the morning of the sportive.
GETTING THERE
Ferry: If you're based in the south of England then the ferry is a great option, especially if you're happy to drive. Taking your own car means you can pack your bike, together with all the kit you'll need, without worries over baggage restrictions or weight limits. (You can also fill the boot with booze and chocolate on your way home, should you so wish.)
Ferries leave from Dover to Dunkirk or Calais, both of which are an easy hour or so drive from Bruges. At time of writing, a return ferry from Dover to Dunkirk/Calais for a car and two passengers on the Monday and Friday around the Ronde is available from £148 with DFDS Ferries.
There are also regular sailings from Hull to Zeebrugge. At 13 hours and around £350 it's the hardcore option - although you do get your own cabin on the ferry.
Train: Can't drive/won't drive? Eurostar run a service from London to Brussels (2 hours), where you can connect for trains to your Flanders base. A return ticket from London to any Belgian station will currently set you back £160.
You can take your bike on the Eurostar, with the price depending on how small it packs down: a bike bag under 85cm is free, 85cm-120cm is £10 each way, and bikes up to 2m (whether in a case or not) are £25 each way if you book ahead.
Flying: For the jetset, flying to Brussels is probably the best choice, although you'll need to arrange onward travel to Bruges or Oudenaarde. BMI Regional fly to Brussels from Nottingham, Easyjet and Ryanair offer services from London, while Brussels Airlines offer connections from various locations across the UK. They also have an offer of 20% discount on fares to anyone riding the Tour of Flanders sportive, plus free bike transport. For more details see the 'Practical info' section of the event website.
Once in Brussels you can rent a car or hop on the train. From Brussels airport to Bruges is a 90-minute train journey with one change. Expect to pay about €27 return if you buy a ticket online, plus an extra €5 per journey for your bike (unless it's carried as luggage). For timetables and bookings, check out the Belgian rail website.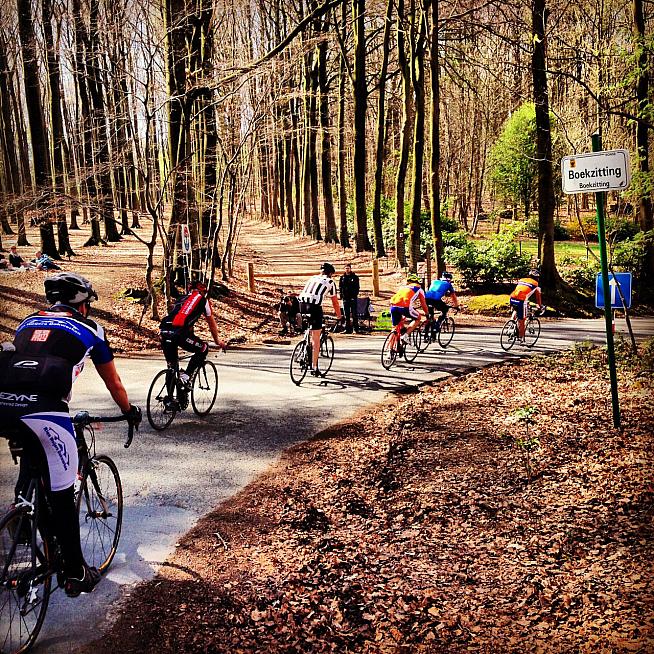 WHAT TO BRING
Your bike, of course - although rentals are available in Oudenaarde, for example from rent-a-road-bike.com. In terms of prepping your bike for Flanders, there are plenty of opinions on ways to mitigate the effects of the dreaded cobbles. Advice essentially boils down to running wider tyres (e.g. 25mm) and double-wrapping your handlebars. Make sure to tighten any nuts and bolts beforehand, especially on bottle cages.
Realistically though, unless you're riding a full-suspension MTB you are going to be severely shaken no matter how you prepare your bike. Instead, the best tip is to mimic the pros and avoid the cobbles where possible by riding in gutters (not pavements!). Spectators do tend to frown on this as 'cheating', but it's not their rear end being pounded to a mush so do what you have to.
What you wear on the day will depend on the weather, which is pretty changeable at this time of year. No surprises for riders from these islands in that respect: basically, be prepared for relatively mild temperatures with possible showers, sunshine, snow and gales. Last year the weather on the day of the sportive was lovely - warm and sunny. But the next day, for the pro race, it was overcast, a bit colder, and rained a bit at the end. Check the forecast before you leave, and take a few medium layers so you're prepared whatever the conditions.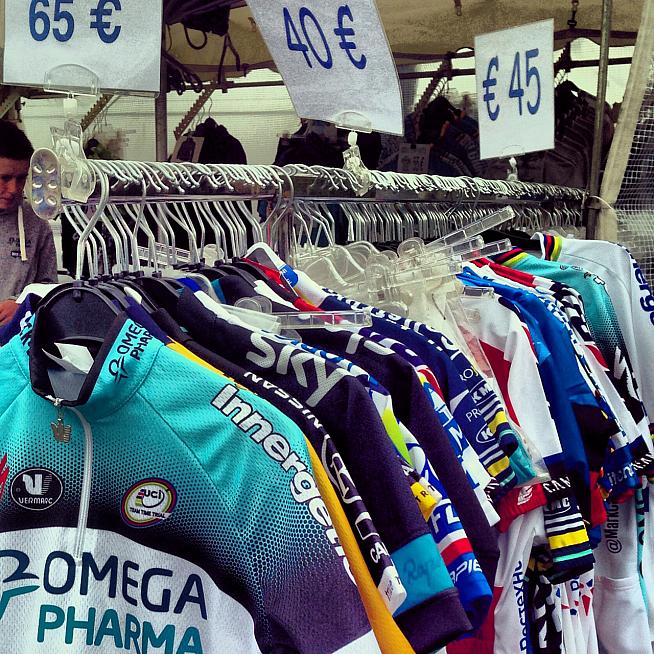 As with any ride, bring a couple of spare tubes, and your puncture repair kit just in case. If you're driving, you have the luxury of packing a track pump in the car which is handy to get tyre pressures sorted before the ride. Get your bike built up the night before, and maybe have a quick trial spin up and down the road around the hotel, to make sure a wheel doesn't fall off when you hit the first berg.
WHERE TO STAY
The two obvious places to set up camp for the Tour of Flanders are at the start in Bruges and the end, in Oudenaarde. The medium and short routes of the sportive start in Oudenaarde, while the full length route - and the pro race on Sunday - both start in Bruges.
Bruges: If you're doing the long route it makes sense to stay in Bruges, at least on the night before. It's a beautiful city with plenty to see and do apart from cycling. There are loads of accommodation options too - and if you're struggling to find an hotel, there are some excellent places on AirBnB that offer a chance to get some local knowledge at a range of budgets.
If you're doing one of the shorter routes it's also perfectly feasible to stay in Bruges and take the train to Oudenaarde on the morning of the sportive. The journey takes about an hour and costs €10.40 return. Bikes are subject to an additional €5 fee, which you should pay in advance - although the ticket inspector will sell you a permit on the train if you forget/plead ignorance.
Oudenaarde itself is a charming small town with a handful of hotels, and is an ideal base for both the sportive and viewing the pro race. As you might imagine, choice hotel rooms are snapped up early for the biggest weekend in the town's calendar, but if you find everywhere booked up then don't panic. Many riders, including several of the pro teams, choose to stay in nearby Kortrijk instead, which has a half dozen hotels including an Ibis.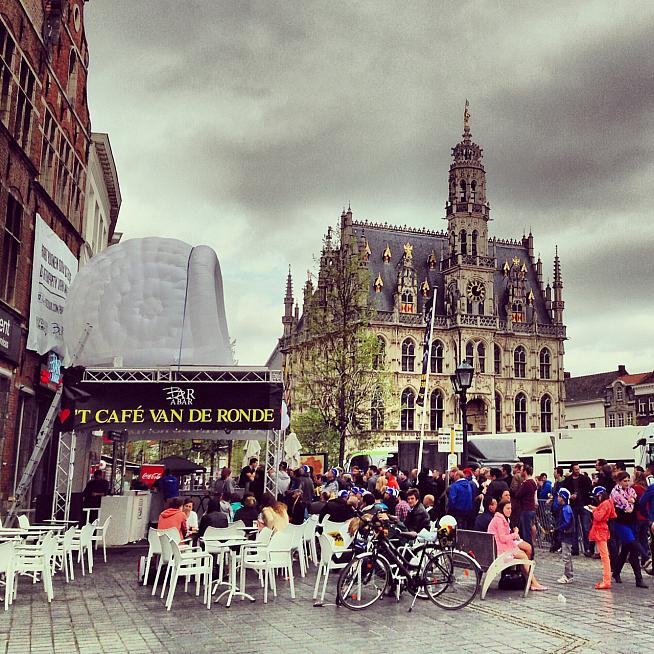 Kortrijk: You can't miss the sleek and garishly decorated team buses lined up outside Kortrijk's hotels over Flanders weekend; Tinkoff-Saxo are known to frequent the Parkhotel opposite the train station, for example. Pro-spotting aside, Kortrijk is a practical choice as it's just 19 minutes by train from Oudenaarde. Trains leave hourly. Of course, you could cycle from Kortrijk to Oudenaarde instead - the 30km spin is an ideal warm up.
ON THE DAY
For such a huge event - up to 16,000 cyclists on the day - the Ronde sportive is a remarkably laid-back and hassle-free experience.
If you're doing the 239km distance that starts from Bruges, your first port of call is the Jan Breydel Stadium to collect your race pack. Registration is open on Saturday morning from 7:00-8:00 am. The stadium is located roughly 5km to the west of the official start at Bruges Markt. Don't worry about getting lost though - you'll be able to follow the steady stream of cyclists making their way to the starting line.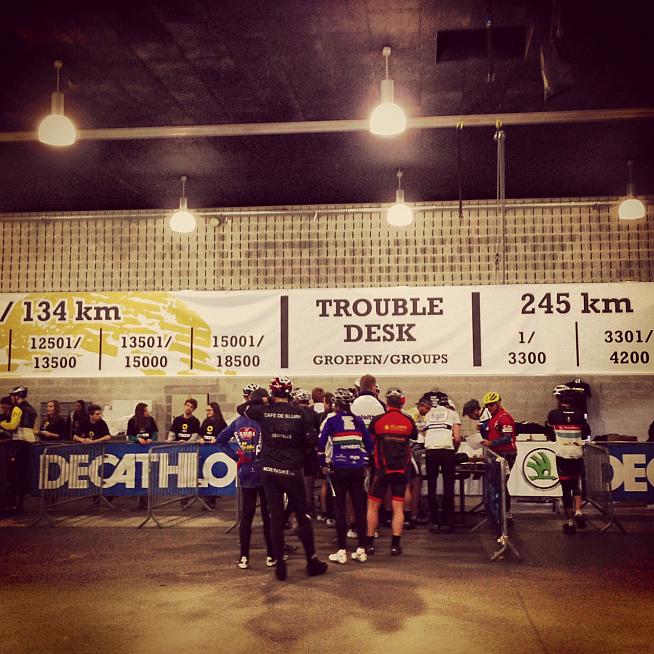 For riders on the two shorter distances, registration is not in Bruges but in Oudenaarde. You'll find the start point located at de Qubus, right next to Oudenaarde train station - it's well signposted. The registration desks are open on Friday evening, and from 7:00-10:00 am on Saturday. You'll be handed a pack with your numbers and a timing chip which you have to return at the end. Once stickered up, you're free to roll off under the starting arch in your own time.
There's a bustling event village at the start in Oudenaarde, with an array of stands selling merchandise, last-minute cycling gear and food (some of dubious nutritional value). Top tip: try to avoid overdoing it on the beer and sausages before the ride. Bumping over Flanders cobbles isn't great for the digestion.
Afterwards, of course, it's a different story. As you roll back into Oudenaarde, having survived a beating from the bergs and pavé, that first sip of Kwaremont will never have tasted so good.
THE ROUTE
If you start in Bruges then you have a lengthy stretch of main road to start with - the real fun (read: cobbles) begins once you reach Oudenaarde. While much is made of the cobbles - and rightly so - the majority of the route is on smooth tarmac or concrete roads as the course winds around the mostly rural lanes near Oudenaarde.
As for the notorious bergs, or cobbled climbs, if you've trained on your local legbreakers then you may actually find Flanders' hills less fearsome than you expected. Yes, they are steep - and the uneven surface can be treacherous - but they are all of the short, sharp variety rather than long drags. Helpfully, each climb is signed at the bottom with length and gradient so that you know what you're in for.
The main challenge is picking a line through the cobbles and your fellow Flandriens - it's worth shouting ahead if you're coming up fast behind riders walking their bikes uphill. Remember that overtaking, or the "fast lane", is on the left side, rather than the right.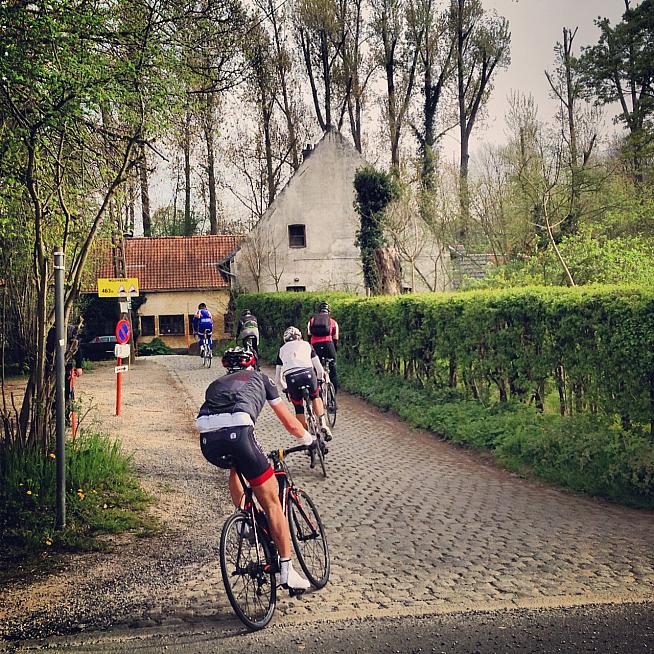 AND FINALLY...
The Tour of Flanders sportive is among the most memorable days you will have on a bike. It's an incredibly welcoming and inclusive event, with all sorts taking to the roads on everything from the latest carbon to vintage steel delivery bikes. The Flanders locals are passionate about their cycling and will line the course to cheer you on - while the chance to watch the pros ride the same course the following day is the icing on the Belgian bun.
Whatever your sportive experience, cycling the Tour of Flanders is an experience you don't want to miss. It's only a month away, so why not sign up... The cobbles are waiting.
0 Comments