The past weekend saw one of the calendar's biggest sportives take place, as thousands of cyclists tackled La Marmotte.
Rescheduled from its usual date in early July, event organisers put in place a bunch of covid safety measures - including a no hugging rule.
But, with an extra two months to train (or really lean into their taper), how did this year's cohort fare?
Results and times are now up on the Marmotte website, and it seems the delay - and ban on cuddles - didn't unduly trouble riders.
This year's fastest finisher was Michiel Minnaert of Belgium in a time of 5 hours 30 minutes and 4 seconds. The 28-year-old averaged 31.6km/h over the 174km course - pretty speedy, considering the terrain and the summit finish on Alpe d'Huez.
Second place went to Italy's Fabio Cini, 52 seconds behind with a time of 5:30:56. Julien Berard (France) completed the podium a further 15 seconds in arrears.
Among the women, Émilie Fortin (21) of Canada took the honours with a time of 6:33:42. Ils van der Moeren, 46, of Belgium finished second in 6:40:30.
There were however noticeably fewer British entrants than usual in what was a drastically reduced field as a whole. Whereas past years would typically see over 7000 cyclists ride La Marmotte, just 2004 took to the start line this year. Of those who started, 1826 lasted the distance - a 91% completion rate.
In what is likely to be a record, 948 riders failed to make the start line - no doubt a reflection of the ongoing travel difficulties and health concerns surrounding Covid-19.
Forty-one UK cyclists completed the ride; fastest Brit this year was the suspiciously French-sounding Antoine Magaud. Antoine - who is in fact from Islington according to Strava - rolled home in 6:23:04, placing him 64th in the GC.
Special mention must be made of the patron - or most senior rider - of the peloton. That honour goes to Arie Bunnik of the Netherlands who, barring some kind of typo, completed the full distance aged 79. His time, as if it really matters, was 12:14:16. A ridiculously impressive effort.
Mad props are also due to Andre Sainz, the 72-year-old Frenchman finishing in 7:54:53. Ahead of him were a couple of 68-year-olds, proving that possession of a bus pass is no barrier to kicking arse in the Alps.
And finally, we were intrigued to spot a solitary disqualification lurking at the bottom of the results table. Just what exactly did Dirk Claes of Belgium do to earn the DSQ - a hidden motor, perhaps? Stash of narcotics in his saddle bag?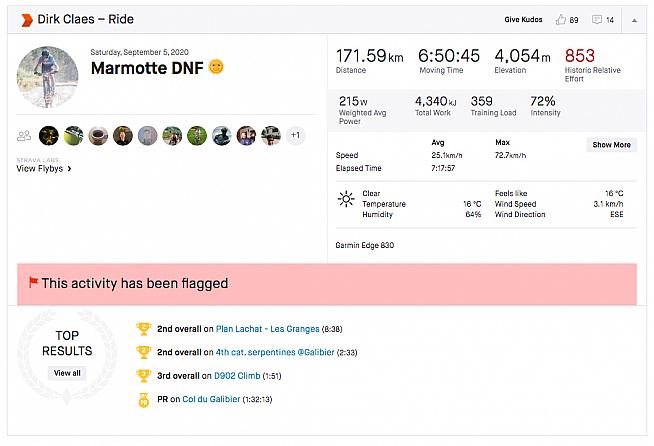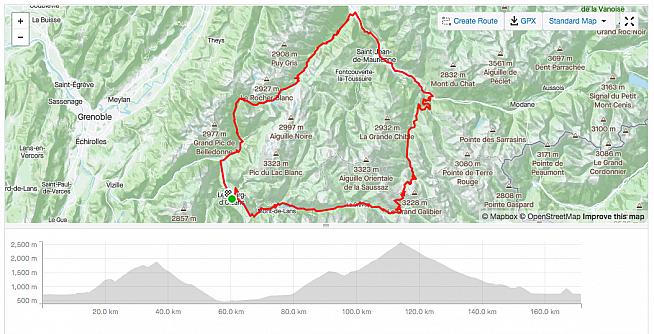 A bit of sleuthing on Strava reveals a rather more innocent explanation.
In comments beneath his activity (which has been flagged), Dirk cheerfully admits getting cramp on the Col du Galibier and hopping a lift home in a car.

Well, who could blame him?
To Dirk, and all the heroes who tackled one of Europe's toughest sportives in the weirdest year yet: chapeau!
0 Comments