If you've ridden L'Etape du Tour and are looking for the next challenge, how about riding multiple stages of the Tour de France - or even the entire route?

That's the unique proposition on offer from Le Loop, who each year help hundreds of cyclists experience the ride of their lives on the same roads tackled by the pro peloton.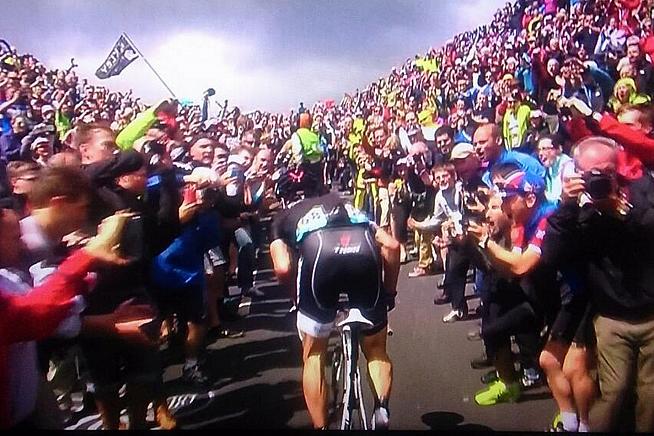 From the rolling vistas of the sunny south-west to the legendary climbs of the Alps and Pyrenees, Le Loop offers amateur cyclists a unique taste of the world's greatest bike race.
The ultimate option is to ride the full Tour de France - all 21 stages of it - with a package called the "Grand Loop".
That may sound like a tall order, but for many it's a dream come true: places sell out within hours each year. Thankfully, you can also choose from shorter Loops of 2-10 stages instead. (If you have your heart set on the full Tour, you still have a chance - Le Loop run a waiting list for standby applicants.)
You'll be supported all the way by the team at Le Loop, whose hospitality is legendary. We speak from experience here: our reporter Ben was lucky enough to sample Le Loop at first hand in 2018, riding three stages of the Tour with virtually no training.
You can read how he got on here:
Up for the challenge? Read on to find out more...
What is Le Loop?
Le Loop is a fully supported cycling challenge that follows the route of the Tour de France a week ahead of the pros. Think of it in terms of the hugely popular Etape du Tour sportive; except that where Etape riders test themselves on a single stage of the Tour, Le Loop riders can take on every stage.
The event supports the William Wates Memorial Trust, helping the UK's most disadvantaged young people to avoid a life of crime and violence and fulfil their potential. Riders commit to fundraising a minimum target depending on which Loop they choose. For the majority, this will be £1,200. To date, the Tour de Force/Le Loop has raised over £3 million. Their goal is to raise £400,000 a year.
The 2020 Route
The 2020 Tour de France will start in Nice, one week earlier than usual because of the 2020 Tokyo Olympics. Le Loop begins on Saturday 20th June and will end 21 stages and around 3,300km later in Paris on Sunday 12th July.
Only the first two stages have been announced at this time, with the full route of the 2020 Tour set to be unveiled by organisers ASO at the end of October 2019.
Stage 1 is a 170km double loop into the hills north of Nice, while Stage 2 (190km) sees riders take on some serious climbing in the shape of the Col de Turini, Col de Colmiane and Col d'Eze.
Both opening stages start and finish in Nice, presenting riders with the enticing prospect of three nights in the Cote d'Azur to begun their Tour adventure. Le Loop have booked a beach front hotel in anticipation - and their "Grand Depart" loop, featuring two days cycling, looks a tempting proposition!
For 2020, Le Loop are offering 11 Loop options in total. These range in duration from two to all 21 stages of Le Tour; some packed with iconic climbs in the Alps or Pyrenees, and some taking in a little of everything - we'll only find out for sure once next year's Tour route is revealed.
Check out the full list of options here: rideleloop.org/the-ride/the-loops.
I want to ride the Tour de France! How do I enter?
Entries for Le Loop are now open, but you'll have to be fast - places sell out quickly each year. Entries for the full 2020 Tour - the Grand Loop - have already been snapped up, but there's a waiting list, and you can currently still enter any of the other Loops.
For more details and to book your place, visit rideleloop.org.
0 Comments