Le Loop
Loop 5 - The Alpine Triple
Le Grand Depart - Darlington > Geneva > Annecy

Distance: 1411km
About a week ago my amazing, awesome and astounding (and accident-prone) Sportive.com editor contacted me and asked if I'd like to go to France to ride stages 10, 11 & 12 of this year's Tour de France with the 'Le Loop' crew at zero notice...
'Well yes my good man. Yes I ruddy well would!'
After some frantic haggling with Mrs Wife and work I was all set. The only nagging doubt in my mind would be my current level of fitness. Previous readers of my ramblings will be reminded that I have been struggling to shift that hard to lose pregnancy weight, and we all know the second time round it's so much harder.
Clocking the scales just north of 98kg, I wasn't exactly in top 'mountain goat' condition and with the three most mountainous stages of this year's Grande Boucle ahead of me I needed a plan. After a couple of wasted days trying to come up with one whilst drinking beer in the sun, I gave up and just accepted that I would stubbornly have to get round in whatever shape I was in on each day.
After a muggy and ultimately sleep deprived night my alarm demanded me from my bed at 4:30am this morning. To be truthful, this is not too much of a shock to my system as we have two tiny idiots, Billy - 3 years & Pollyanna - 6 months, so any sleep past 5am is somewhat of a lie in at the minute.
It has, however, been the first morning for over a week that I have woken up and been able to breathe tolerably through my snout without the help of a well-known nasal decongestant, currently on the WADA prohibited list - fear not, I have an in-date TUE from my team doctor. Any attempts at panic training for Le Loop in this last week have been thwarted by what has either been a summer cold or, for the first time in my 41 years, hay fever.
I followed the very helpful 'packing list' suggestions provided by Le Loop: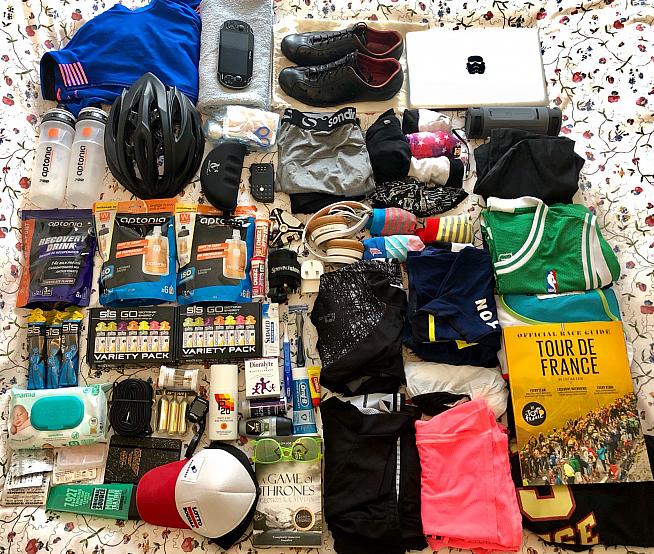 A huge thanks to Sarah, Kate and the 'behind the scenes' squad who have arranged all my travel and accommodation for the trip and done it in a cheerful and positive way, during what must have been a frantic and demanding pre-event period. They have even arranged for me to use a brand spanking new Trek Emonda SL 6 Pro; Mmmmmmmmm shiny carbon fibre!
So apart from forgetting my MacBook Pro and a madcap dash back across town this morning to retrieve it everything is going swimmingly.
Onwards to Gatwick, Geneva and ultimately Annecy for my 'French Odyssey' to begin. Tune in tomorrow and look out for my daily witterings appearing on various social media outlets and right here 'on the line' at Sportive.com.
Sportive.com: www.sportive.com/authors/ben-carlson-oakes
Ride Le Loop: rideleloop.org
Instagram: @bencarlson_oakes
1 Comments