Stage 10 - Annecy > Le Grand-Bornand - 10/07/18
Distance: 158.5km
Climbing: 3803m
Climbs: Col de Bluffy, Col de la Croix Fry, Montee du Plateau des Glieres, Col du Romme, Col de la Colombiere


Definition - to Dab - to touch one's foot to the ground while cycling; considered to be a lost style point; 'dabbing' highlights a general weakness in the rider.
Ok firstly let's address the rather large 'polka dotted' elephant in the room...yes I 'dabbed' today. Three times. And not only a little bit, I 'dabbed' all over three mountains, I dabbed until I had no dabs left. I dabbed and do you know what? I enjoyed it...
In my defence, if there is any to be had, I had about a week's notice to prepare for this epic undertaking, am currently carrying some extra 'clem' and was on a borrowed bike.
I learned three things today....
1: When riding in the Alps a rear cassette of 28 is not good.
2: People like to encourage a fat lad.
3: If you are suffering, look all around and embrace the scenery.
On the Le Loop menu today is stage 10 of the Tour de France, aka this year's Etape du Tour (which took place at the weekend), aka the entree in my set menu of three Alpine stages.
We left our hotel at around 7:45am in small groups to avoid causing further disruption to the Annecy daily commute. After a very brief foray on the roads we filed onto the cycle path that hugs Lac d'Annecy and with the early morning sun glistening off the calm and pristine water and the Commune de Tailores-Montmin looming sleepily in the distance you could just feel it was going to be a good day.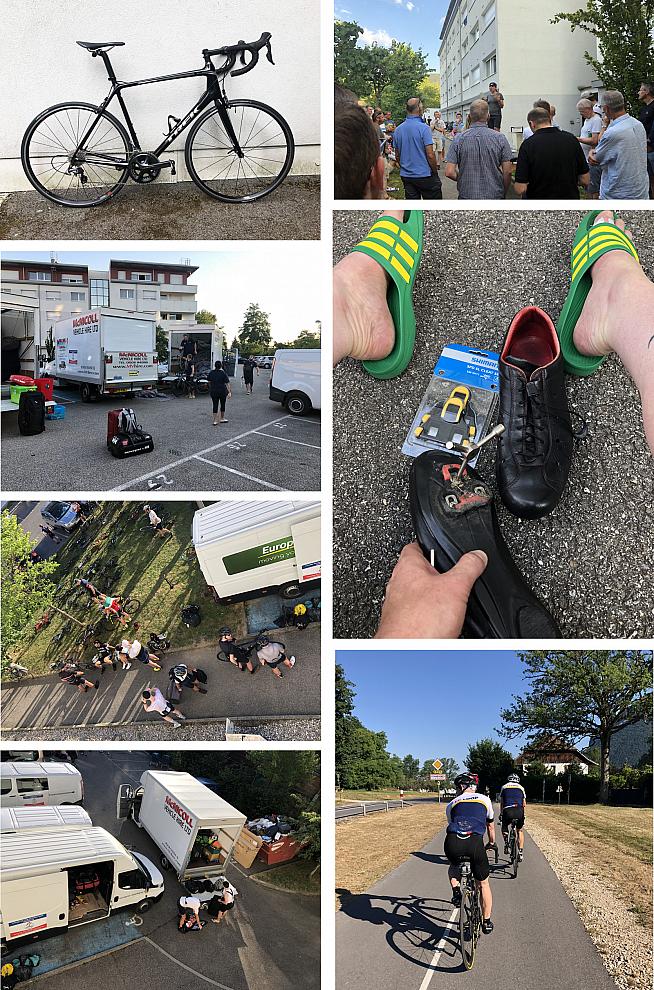 We were eased into the climbing of Stage 10, after 17.5km, by the Col de Bluffy, a miniscule 1.5km @ 5.6% with 622m elevation - my kind of an 'Alp'! Next up came the Col de la Croix Fry - a more serious 11.3km @ 7% with 1477m climbing. This climb offered breathtaking views of Mont Charvin, Le Treu, Pointe de Mandallaz and L'Etale and many a photo stop was taken by the group.
Feeling very pleased with myself and with the first climb of the day completed sans 'dab', I then descended excitedly but cautiously on my newly borrowed whip - a Trek Emonda SLR. The bike performed superbly, allowing me to sling it in and out of corners, like a chubby Alejandro Valverde, with confidence. Around 20km of descending took us to the first and only HC climb of the day.
Brimming with confidence and knowing that it was only a paltry 6km @ 11% average I sallied forth. This is where my metaphorical wheels fell off and this is where the first dabs were put down. A brute of a climb with 2km over 12% meant a lot of pain for all but the best climbers. Many swears were issued in both English and French.
Next came a decent descent and then a 20km rolling section with some particularly grippy roads which led us to the delights of the Col de Romme - 8.8km @ 8.9%. Another dog of a climb with ramps up above 11%. After the Col de Romme there was a short 7km descent to the foot of the final climb of the day, the Col de la Colombiere - 7.5km @ 8.5%. This started beautifully in the village of Le Reposoir - we were now in 'The Sound of Music' territory with amazing Swiss style chalets and the hills being alive with, well, the sound of music - mainly cow bells worn by the local bovine community.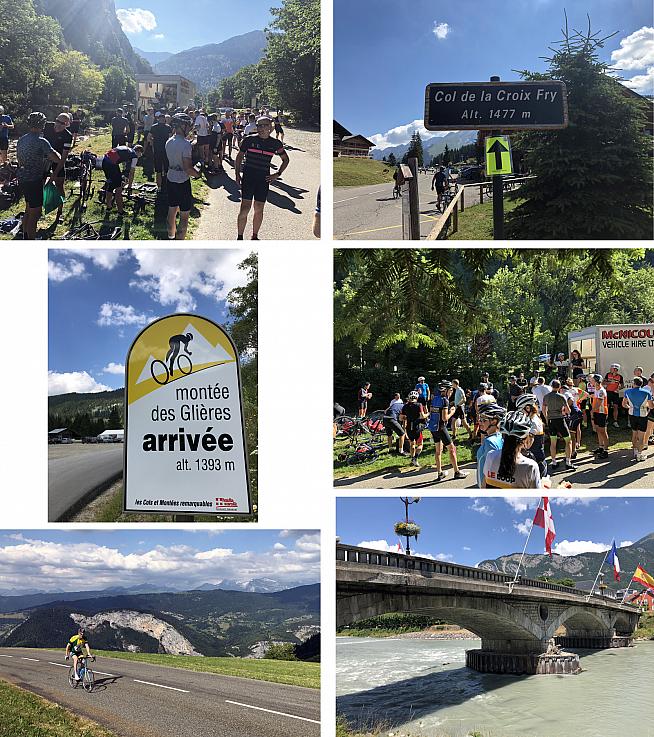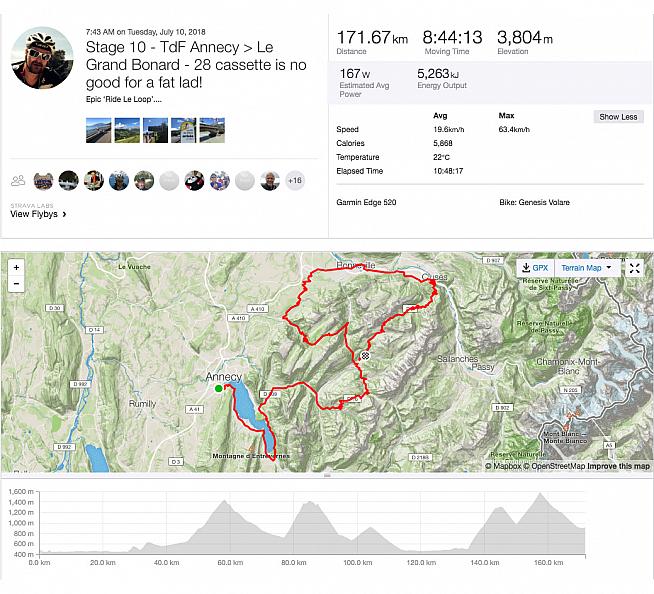 The Col de la Colombiere started off perfectly for a fat lad such as myself with some cracking switchbacks and gradients of no more than 6.5%. Dreamy. However, things changed towards the top with about 3km to go. An exposed section with a slight headwind added to a ramp up of gradient caused some further dabbing....and swear.
Once at the top we had a harum-scarum descent into Le Grand-Bornand and our lodgings for the evening. We ate local sausage, steady, and swapped stories of heroic derring do and unforgivable amateurishness.
Extremely tired and sore, we retired to our rooms and prepared for tomorrow's installment of Le Loop avec Les Alps.
A big shout goes to all the food stop staff, physios, docs, ride leader Emily and of course Le Loop head honcho Sarah who never flinched no matter how idiotic the request.
At this point Ben's report ends abruptly, leaving us to imagine him face-down on the open laptop, a smile playing across his features as he dreams of cows frisking melodiously across Alpine meadows. But just exactly what are these "idiotic requests" he's been making of Le Loop's Sarah? We'll be pressing him on this and other urgent questions, like what is "clem", in tomorrow's stage report. Stay tuned...
0 Comments