What a difference a week makes. As recently as Monday, we were reporting that UK sportives were going ahead, seemingly unaffected by the impending coronavirus pandemic.
Five days later? Not so much...
> Join the pros on Zwift as British Cycling launches virtual ride series >
It may have taken a while, as event organisers looked to government and the sport's governing bodies for guidance, but in the space of a few days Covid-19 has laid waste to the sportive calendar with event after event cancelled or postponed for the foreseeable future.
Unlike in Italy, Spain and France, UK cyclists are still free to ride outdoors - at least for now. But as the pandemic takes hold, increasing numbers are turning to indoor training rather than risk the outdoors.
We've heard from a source at Evans Cycles that sales of indoor trainers are up 904% in the past week - a staggering increase - and online training providers such as Zwift, Trainer Road and Strava have been quick to respond to the crisis.
This week saw one virtual training provider, RGT Cycling, offer free access to its premium service for the duration of the coronavirus pandemic. Alongside access to training programmes, that means users can try out RGT's "Magic Roads" feature free of charge.
Upload a GPX file of any route - whether that's your local training loop, a classic Alpine climb, or a section of that epic granfondo you've been training for - and RGT will create a virtual course from the file.
It sounds like a great way to liven up an indoor training session, we'll be giving it a spin over coming next weeks.
For now, here's a brief roundup of some of the other virtual training apps we use - all of them ideal for whiling away the hours of self-isolation.
Here's to coming out the other side of this coronavirus crisis stronger than ever.
RGT Cycling
As we mentioned above, RGT Cycling are offering access to their premium plan, free of charge, during the Covid-19 outbreak.
They offer a full suite of features, including a range of eight training plans designed by TrainingPeaks. The plans range from 6-14 weeks, and are designed to prepare towards different goals - for example, riding your first 100-mile sportive.
You can also create your own custom plan; you'll need a free TrainingPeaks account to get started.

We're also excited to check out RGT's "Real Roads". If you've used Zwift, you'll be familiar with Watopia - the virtual world in which its set - as well as the small selection of real-world courses like London and Box Hill, and the Yorkshire World Championships course.
RGT have taken this a step further by recreating eight iconic real-world rides in virtual form. The courses include Cap de Formentor in Mallorca, London's Canary Wharf crit circuit, the legendary Mont Ventoux climb, and that Flanders icon, the cobbled Paterberg, recreated in pixel-perfect glory.
Throw in the ability to recreate your own route of choice with the "Magic Roads" feature, and RGT look to have all your self-isolating bases covered.
What do I need?
Alongside a smart trainer, you'll need to download two apps: the RGT mobile app (available for iOS and Android) and the screen app. Set up is said to take 5 minutes.
Find out more at www.rgtcycling.com.
Zwift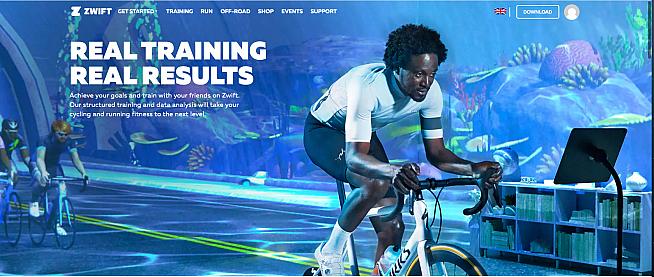 Zwift was a game-changer when it launched a few years back, bringing polished graphics and an immersive gameplay style to indoor training.
With over 80 routes spread across six virtual worlds, it's stil one of the most fun and accessible ways to liven up your virtual training.
If you're missing your weekend club rides, you can always arrange to meet up on Zwift instead. Ride with your friends, take part in a Zwift gran fondo, or even race - there's a packed programme of events to join each day.
You can try Zwift for free on a seven-day trial, after which a subscription costs £12.99 per month. It's free to riders aged under 16.
Find out more at zwift.com.
Strava
What more is there to say about Strava? If you only have one cycling app on your phone, chances are it'll be Strava - the online home of cyclists worldwide, who use it to record and share every ride and compete for bragging rights on local segments.
Strava is also a great way to discover and explore new routes, by seeing the popular routes where local cyclists congregate.
The app is free, but you can also upgrade to the premium service, called Summit, which opens up access to additional features including training plans.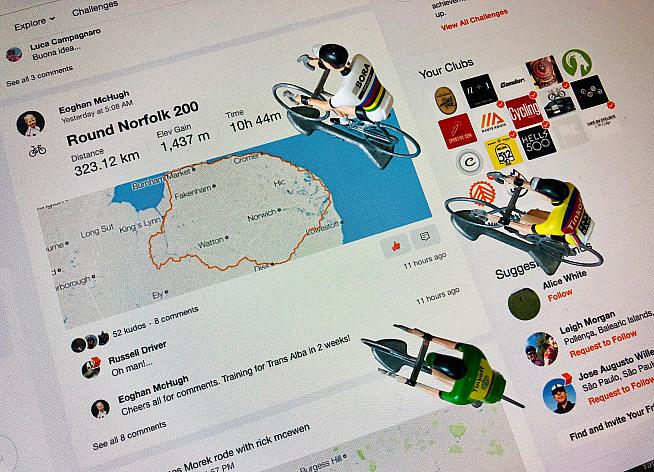 Apart from recording our own rides, we love Strava as a way of keeping tabs on what friends are up to. Strava challenges are a great source of motivation too.
Make sure to check out the Rapha Quarantine 500 - a non-sanctioned wink at Rapha's Festive 500 Challenge, that sets quarantined cyclists the challenge of riding 500km on their trainers during the coronavirus outbreak.
What do I need?
Strava is available as a free download for iOS and Android. Once it's on your phone you can start tracking and uploading your rides immediately - whether that's outdoors or inside on the trainer.
Find out more at strava.com.
The Sufferfest
Bringing a welcome sense of humour to seriously effective training, Sufferfest is renowned for splicing real-life footage from pro racing into a series of gruelling videos designed to wring maximum gains from an hour on the trainer.
Sign up for a training plan and each session will be tailored around your own fitness levels, established through Sufferfest's exclusive 4DP (Four-Dimensional Power) test. The test is a more nuanced version of the familiar FTP test, and uses four key performance metrics: Neuromuscular Power (NM), Maximal Aerobic Power (MAP), Functional Threshold Power (FTP), and Anaerobic Capacity (AC) to build up a profile of your fitness.
The test takes an hour, and based on the results Sufferfest assign you a rider type (eg sprinter, pursuiterand suggest a personalised training plan to either enhance your existing strengths or level up areas of weakness.
Alongside the on-bike stuff there's yoga and mental strength sessions, making for a great all-round package to improve your cycling fitness.
I've been trialling Sufferfest for the past 8 weeks and have seen definite improvements. Whether it's real-time sessions in the company of GCN presenters or just hitting targets set by head coach Grunter von Agony, the hour-long sessions fly by.
We'll have a more detailed review in a couple of weeks, but I'd recommend Sufferfest to anyone looking for a way of making performance gains on the trainer.
What do I need?
The Sufferfest app is available for Mac, Windows and iOS. A 14-day free trial is a great way to dip a toe into Sufferlandria.
Find out more at thesufferfest.com.
Turbo trainers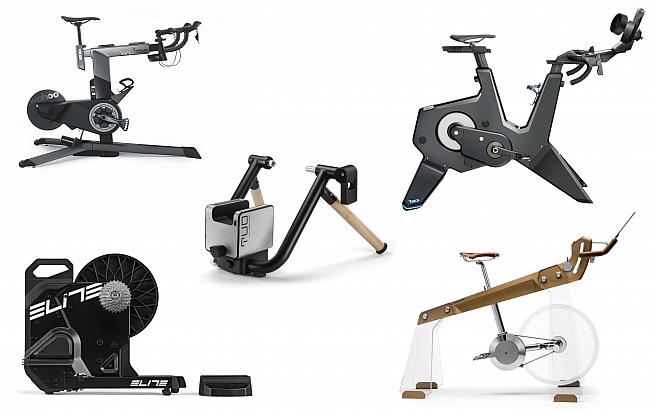 Of course, to get the most from any of these virtual cycling apps you'll need a trainer too. There are plenty of offers about now as retailers jump aboard the move indoors - we'll keep an eye out for any offers and add them here in coming days.
Look for a "smart" trainer if possible, from the Wahoo KICKR range for example, for the best experience when riding alongside an online app. This will pair with your phone, cycling computer and other devices over Bluetooth and/or Ant+.
Some trainers, like the KICKR and KICKR Core, will even increase the resistance automatically when the gradient increases in your virtual ride, adding a realistic feel to your ascent of that virtual Mont Ventoux.
> Five of the best turbo trainers at Rouleur Classic 2019 >
0 Comments