With current Government advice recommending against non-essential contact and all unnecessary travel, British Cycling has joined with Sport England to encourage the cycling community to #StayInWorkOut.
This week saw British Cycling cancel all races and affiliated sportives during the coronavirus pandemic. In place of outdoor events, they've launched British Cycling Race Series - an eight-week series of races and workouts on popular online training platform Zwift.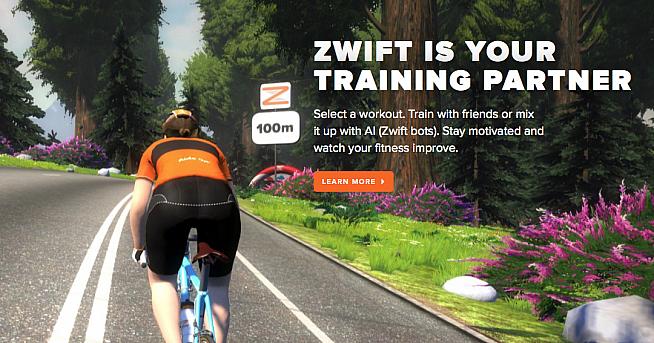 > Turbo trainer sales up 900%, RGT offers free "Magic Roads" as cyclists ride out coronavirus indoors >
The programme is designed for people to have fun and stay active during the global uncertainty around the coronavirus pandemic.
The series will feature group rides led by the Great Britain Cycling Team, including with women's academy squad Team Breeze, offering cyclists a chance to test their form against tBritain's elite pro cyclists.
Great Britain Cycling Team women's endurance academy coach, Emma Trott, said: "We're in an entirely unique situation that means there'll be no racing for a while, but it's important that we try to find some sense of normality in all this. For us, that's training and staying connected not just with each other, but the cycling community.
"Moving things online is a really fun way of keeping that connection and we're all looking forward to people joining us over the next few weeks."
The series will follow a set weekly pattern, with 30-minute races on Tuesdays, workouts on Wednesdays, and a 10-mile time trial each Thursday. Each day will see a lunchtime and an evening session, offering two chances to take part.
Races and workouts will begin next week - leaving you just enough time to get set up with a indoor trainer and Zwift account.
To join a British Cycling Race Series virtual road race or time trial on Zwift, click here. To join a workout, click here.
British Cycling Race Series schedule:
Race - all races are 30 minutes long and will be hosted on different courses
Tuesday 24 March - 12:20pm and 19:30pm
Tuesday 31 March - 12:20pm and 19:30pm
Tuesday 7 April - 12:20pm and 19:30pm
Tuesday 14 April - 12:20pm and 19:30pm
Tuesday 21 April - 12:20pm and 19:30pm
Tuesday 28 April - 12:20pm and 19:30pm
Tuesday 5 May - 12:20pm and 19:30pm
Tuesday 12 May - 12:20pm and 19:30pm
Workout:
Wednesday 25 March - 12:00pm and 19:30pm - big gear / low cadence session
Wednesday 1 April - 12:00pm and 19:30pm - under-over intervals session
Wednesday 8 April - 12:00pm and 19:30pm - sweet-spot session
Wednesday 15 April - 12:00pm and 19:30pm - threshold pyramid session
Wednesday 22 April - 12:00pm and 19:30pm - 40-20 intervals session
Wednesday 29 April - 12:00pm and 19:30pm - sprint pyramid
Wednesday 6 May - 12:00pm and 19:30pm - minute on / minute off
Wednesday 13 May - 12:00pm and 19:30pm - 3 x 10-minute intervals
Time Trial - all races are 10 miles long and will be held on a mix of courses:
Thursday 26 March - 12:20pm and 19:30pm
Thursday 2 April - 12:20pm and 19:30pm
Thursday 9 April - 12:20pm and 19:30pm
Thursday 16 April - 12:20pm and 19:30pm
Thursday 23 April - 12:20pm and 19:30pm
Thursday 30 April - 12:20pm and 19:30pm
Thursday 7 May - 12:20pm and 19:30pm
Thursday 14 May - 12:20pm and 19:30pm
0 Comments