The nights are drawing in, the clocks will soon go back and the majority of fair-weather cyclists have hung up their plastic hats for the duration, flying off to the island of Watopia or into the clutches of Peloton.
Others, for whom weather is just an excuse to change their riding clothes or those that enjoy the utilitarian advantages of two-wheeled travel, face the next few months with challenges to their well-being, comfort and safety. Many acknowledge the necessity of winter-proofing their bikes and their bodies to get through to when we're back to BST, swallows, cuckoos and the Grand National.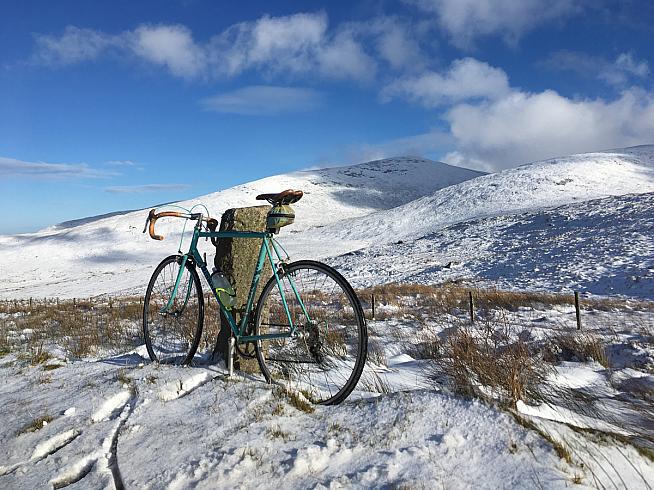 Winterising your bike and yourself seems to be a ritual some eschew in favour of getting out the old clunker from the back of the shed and giving it a rub down with an oily cloth. One of the best things you can do is check whatever bike you've decided to ignore hibernation with for roadworthiness, either yourself if you feel confident or competent enough, or down to your LBS.
There's only one thing worse than having to fix your bike at the roadside, and that's to do it in the cold, miserable, wet, dark midwinter. You might want to think about choosing sturdier tyres and check your brakes and gears for wear and functionality. It could save you hours of waiting to be rescued with only your fuming indignation to keep you warm.
Aside from a roadworthiness check, there are a few mostly obvious measures the hardened year-round cyclist resorts to when the weather turns, Strictly returns and Christmas adverts start appearing with the approach of the autumnal equinox. For those that like bullet points, here goes:
Mudguards
Warmer/waterproof clothing
Lights
Mudguards from Musguard, Bontrager and SKS
Weight weenies and those with a strong sense of aesthetics may frown at the suggestion to pollute their pride and joy with random strips of plastic and metal, and that's all well and good: but I'd wager that commuting (or any kind of riding) in inclement weather is unlikely to be their main focus.
For many others, keeping what's on the road off of you and (most of) your bike is of paramount concern, especially if you ride close to rural areas - although urban roads carry their own kind of diluted toxicity and soiling.
Nothing's worse than turning up for work with a stripe of wetness from gusset to shoulderblades which, over the course of the day, dries to suggest you've been leaning on a gap in a fence while you neighbour sprays the other side with effluent mixed with creosote. There's also the issue of moist footwear and for me, having soggy socks all day is up there with running out of coffee or the milk going off.
My gravel bike didn't need much prep, just the reapplication of last year's mudguards, but my road bike proved to be a bit more of a challenge. I'd previously tried SKS Race Blades and while they've improved immensely over various iterations they still lack the one thing that would make them flawless - length. The front blade stops behind the fork - the rear, at the seat stays.
The mainstream market for mudguards seems to be dominated by two main players - German company SKS and America's Bontrager. Both have an equally bewildering range of fenders and for the most part, your decision may come down purely to ease of installation.
While admiring the functionality and quality of SKS, many bike mechanics hate them with a vengeance as they are an absolute pain to fit, usually involving the careful application of bolt cutters and protective eyewear to trim the stays to the correct length. Then, if they're done correctly, you're set for the winter, unless... you change your tyres, knock the guards or something gets stuck up underneath and jams your wheel.
They have safety measures built in, of course, but adjusting the SKS once in situ can be a nightmare.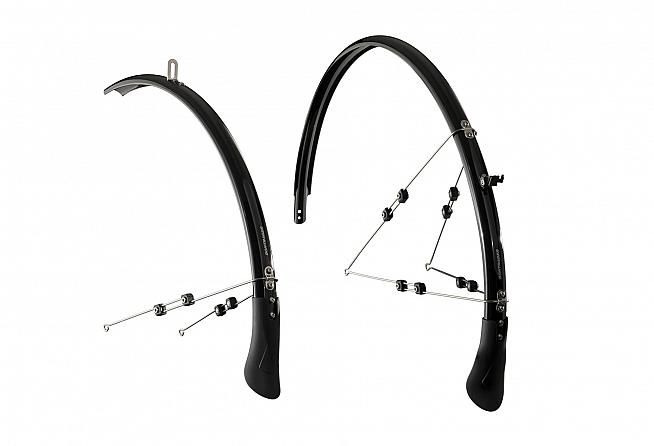 Bontrager's answer is the NCS (No Cut Stays) system. Rather than having a fixed length stay, NCS fenders feature a pair of adjustable rods that can slide apart, trombone-like, and fixes using a pair of clamps on each arm. This means that they're infinitely adjustable and tunable, even when in place. They also come with a mount for a rear (Bontrager) light using their proprietary Blendr System.
Full guards can be fitted on most road bikes, provided they have legacy mounting points - basically where rim brakes used to mount. You don't even need eyelets for the stays as these can either be secured using p-clips or rubber straps.
Sadly for me, my bike's frame has only ever been designed to sport disc brakes and I have no such luxury. It was either back to Raceblades or start looking for an alternative.
Last year I found Musguard packable fenders. They're a neat design, I initially thought of them only for emergencies, but they are robust enough for me to consider them for longer-term use.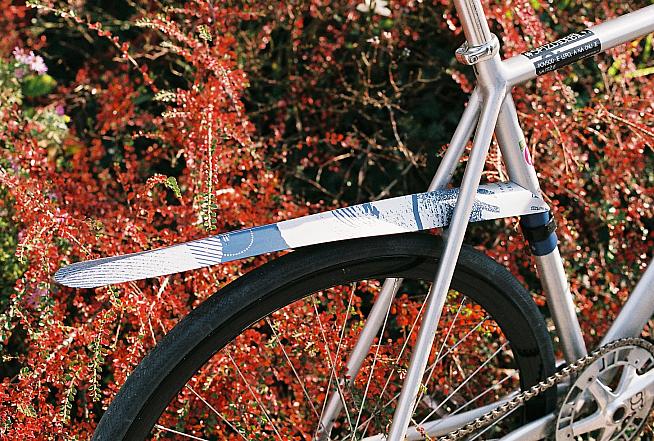 Consisting of two rollable blades of plastic, shaped to fit securely on to seat- and downtube, they give more than adequate cover, especially at the rear where the extra length of the blade over the wheel beats the more famous Ass Saver in the competition to banish the Stripe of Shame.
Unlike the Ass Saver, which affixes rather clumsily under a saddle, the rear Musguard wraps around your seat tube and is held in place tightly with a hook-and-loop strap. It then squeezes through the gap in your seat stays (if you have such a gap) to hover delightfully over your rear wheel.
The blade itself is wide enough to cope with all but the fattest of road or commuting tyres. The front guard is less effective, attaching as it does around the downtube and only deflects moisture from the wheel when it is steering ahead, although spray from the wheel when you're steering should douse your shoes.
They look kind of weird, but I'm happy to take 'weird' over 'drenched' on any rainy day.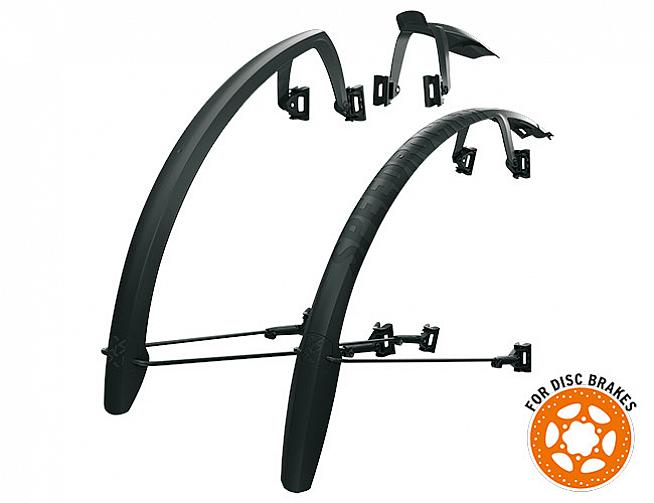 In the end, however, I fitted a pair of SKS Speedrockers - I'd previously had them on my gravel bikes and found them to be excellent, even off-road. They fix around the forks and stays using clever velcro and rubber straps to secure them in place, meaning they don't stop halfway.
The rear even has an extendable section that fixes around the bottom of the seat tube.
Musguard: int.musguard.com
Bontrager NCS Mudguard set: www.trekbikes.com
SKS Speedrocker: www.sks-germany.com
Galibier Barrier Deep Winter Gloves
Nothing screams 'winter riding' more than that first day when your choice of fingerless (or the absence of) gloves leads to shoving your hands down the front of your trousers at the first opportunity.
You may also want to dig out the base layers that have been languishing at the bottom of your drawer in an attempt to fight off that sudden change from a gentle breeze to a levanter with razor-sharp icicles of doom piercing your chest.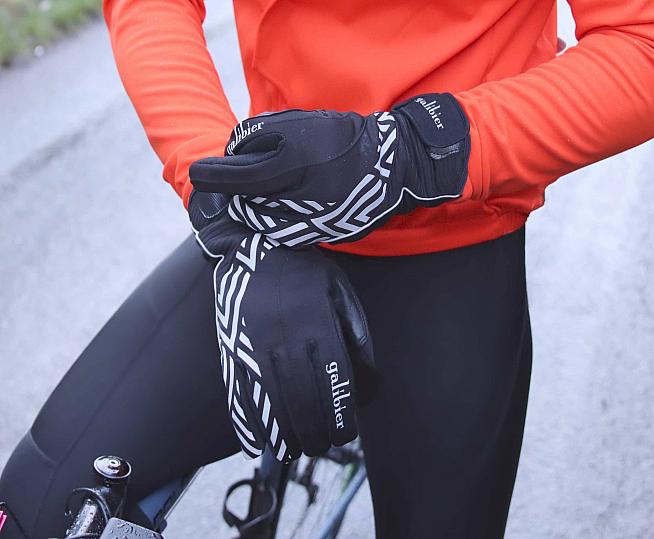 I've been using Galibier's supreme Barrier Deep Winter Gloves for several seasons now and they're hands down (or not) the best ones I've ever had. Through hours of rain, snow and frost they've not let me down.
The lining stays put, even when the rain gets in, or moisture can't escape - a rare occurrence - and they keep your digits unbitten by frost even when moist. The best thing about them is that they retail for under £30, so you can afford a second pair for use while one dries out.
Buy at www.galibier.cc/product/barrier-deep-winter-cycling-gloves/
Trek Commuter Pro RT and Bontrager Ion Pro RT cycling lights
Of course, the weather isn't the only thing trying to destroy your commute. The volume of traffic, and the peril from this, can make your cycle literally a near-death experience. The onus these days seems to be on you the cyclist to do everything possible to ensure you make it home in one (unbroken) piece, rather than change the behaviour of those who cause the greatest risk, and visibility here is the watchword.
You may like dressing up as a cosplaying politician on a building site but the truth is, whatever you wear, you can only be seen if someone is looking for you. My strategy is to trick drivers into looking for me by relying on humanity's evolutionary origins as a hunter (maybe the wrong choice of metaphor there).
Basically, you have to show drivers sparkly things to make you more noticeable.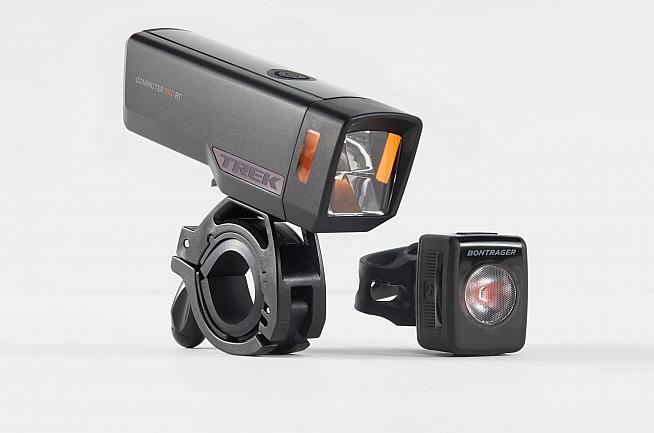 Trek has done a lot of research on kinetic visibility and concluded that you're nearly two-and-a-half times more noticeable when riding with flashing lights in the daytime. As 80% of collisions occur during daylight that's something to consider. All of Trek's riders use daylight running lights (DRLs) on their training rides.
You don't need lots of free handlebar real estate to mount one of Bontrager's front lights - their tiny, cube-shaped Ion (100 lumens) and Ion RT (200) belt out respectable brightness and aren't, like some lights, rated at their peak output. A light only has to sustain the max output for 30 seconds to be classed at a certain level, but these Ions pack a lux punch that lasts as long as the battery.
They also have switchable modes, from blinking to full-on with a pulse option as well. The Ion RT (along with Flare RT rear light) can be linked and synchronised to be controlled using a compatible Garmin GPS head unit or a Transmittr remote so that they can be switched on or off and adjusted conveniently from one place.
Trek has also released an updated version of their top-of-the-range Ion Pro - the Commuter which, along with USB-C charging, doubles up as a power pack should you need to top up your devices.
It also features what Trek call KindBeam, which tackles the issue of dazzling oncoming travellers, be they on foot, on a bike, or in a motor vehicle. KindBeam focuses the beam lower and wider to light your way more efficiently, but they still claim that it provides enough illumination to go trail riding. I'm about to get one of these, so I may let y'all know how I get on.
There are, of course, other clothes and equipment that you can use but the important thing is that you stay safe, warm and happy. To coin a cliche, winter miles equals summer smiles and hopefully, this might inspire you to ignore the dark nights and inclement weather and carry on cycling throughout the year.
Browse the Trek / Bontrager range of lights at www.trekbikes.com
0 Comments