Good quality sleep while touring or during an endurance race is priceless.
Exped have managed to put a price on good quality sleep while in the outdoors - and it's not as expensive as one would think!
The Mega Pillow and Synmat 7M mattress from Exped are lightweight, durable, easy to set up, and are very comfortable for a night's kip.
It's a comprehensive sleep system for bikepacking or cycle touring. You can happily say goodbye to the days of waking up too early because of being cold and uncomfortable.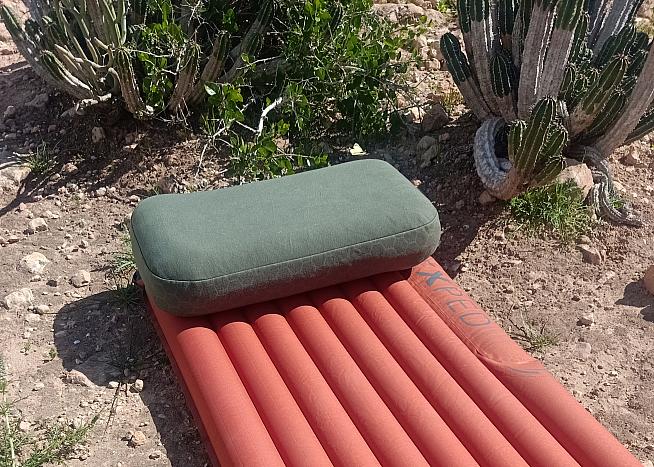 About Exped
Exped is a Swiss-based brand. They started in the early '80s as a distributor of other outdoor brands. In 1997, they began manufacturing their own equipment.
Exped's mission is to create the best technical equipment that can be. What that means to the team is that when not in use, the equipment has to be as small as possible. When in use, it has to be as useful as possible. And, it has to be as light as possible!
Exped has been pretty successful at achieving this mission so far. They've won numerous awards for the innovation and quality of their products.
Exped Mega Pillow
The Mega Pillow is the manifestation of Exped's mission. Light, small, and highly useful.
It's inflatable so it weighs a total of 180 grams.
When not inflated, the pillow folds down small. When packed into its stuff sack, it can fit in my open hand. When fully inflated, the pillow's dimensions are 53 x 32 x 12cm.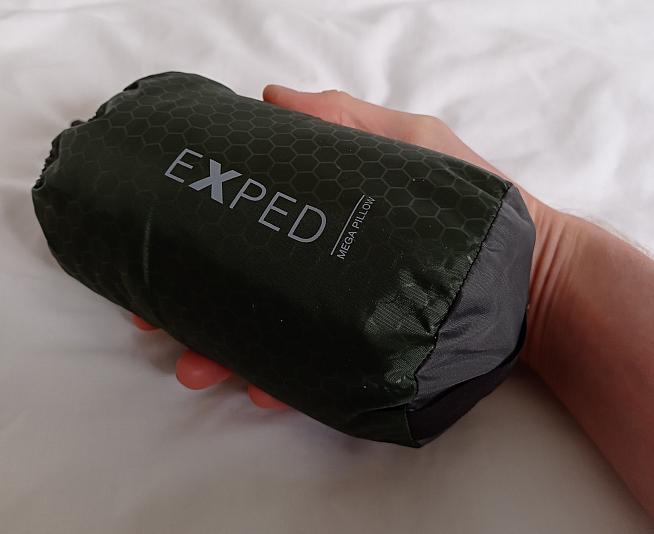 And, it is very useful. It can be inflated to different levels so you can dial in your pillow preference whether you're a side, back, or belly sleeper.
The pillow has fabric eyelets. Thread a bungee cord through the eyelets and slip the bungee cord over your air mattress. This fixes the pillow in place so it doesn't move or slide around during the night.
The pillow has a fleece-lined detachable cover. The fleece lining is very soft and comfortable. Also, that it's detachable makes it very easy to clean.
The pillow is an inflatable air-core pillow. There is a combo valve for inflating and deflating. To inflate, simply blow into the one-way flap. Nothing gets simpler than that. No pump or extra equipment is needed. When deflating the pillow, simply push the toggle or use the deflation pin on the combo valve. Lock the deflation pin into place to free both hands to fold up the pillow and push the air out of it.
The pillow comes in green, grey, and blue.
Synmat 7M Mattress
Much like its partner the Mega Pillow, the Synmat 7 mattress is a pretty techy piece of sleeping gear.
The mattress does weigh 850 grams (regular), which may be considered slightly bulky compared to other air mattresses. But, wait until you read why it weighs what it does before judging.
The mattress is made of synthetic materials - Texped-loft microfibers. The microfibers are formed into insulation and are laminated to the upper and lower sides of the mat. Dual-sided insulation means the mat can be used in temperatures as low as -17C.
Further preventing you from freezing if you do choose to use the mat in deeply sub-zero temperatures is the baffle construction. The mat has internal I-beam baffles to prevent cold lines. The baffles stabilise the mat. If you're going to some goodness-forsaken place that is just unnecessarily cold, this is the mattress you want to bring.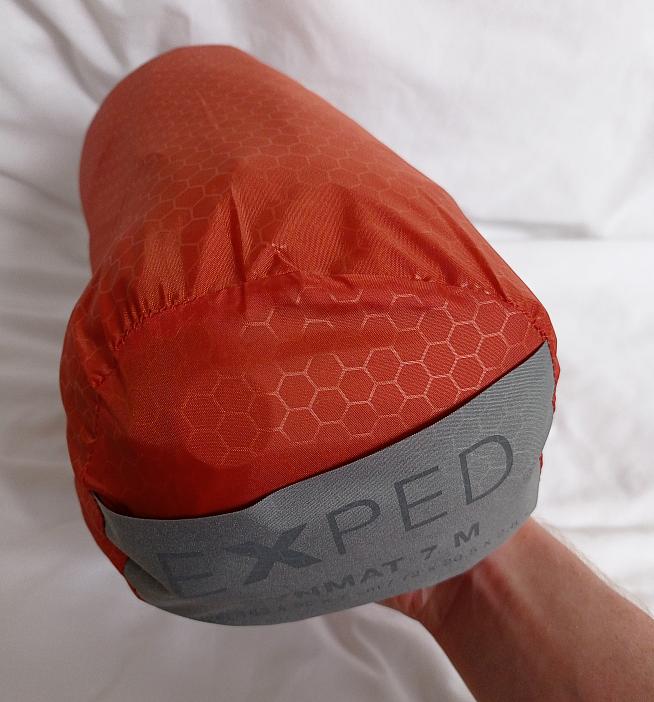 The mattress incorporates flat valve technology - meaning nothing pokes out from the surfaces of the mattress at any time. In addition to the comfort, flat valves are longer-lasting than their old-hat counterparts which I will refer to colloquially as "sticky-out" valves.
When deflated, the mattress packs down into a bundle 21cm long with 15cm diameter - about 3.7L volume. It fits along with the pillow into my handlebar bag.
Inflating the air mattress couldn't be easier. All you have to do is ask someone to do it! No, the mattress has an integrated pump. Make sure the air release valve is closed and start pumping away. The benefits of integrating the pump into the mattress are not misplacing the pump. It also protects the mattress, keeps the inside moisture-free, airtight, and impervious to degradation.
The mattress also includes a repair kit with instructions on how to repair it. Exped also covers materials and workmanship on their products for 5 years.
Test Conditions
I've been testing the pillow and air mattress across a long old ride, starting from France at the onset of winter and making my way south to Morocco.
I've had the good fortune of being able to test both products from Exped in a variety of climatic conditions - from dry, cold nights to damp and soaking nights.
I'm now in Morocco and am happily touring around. I'm calling this trip the North Africa Coddiwomple!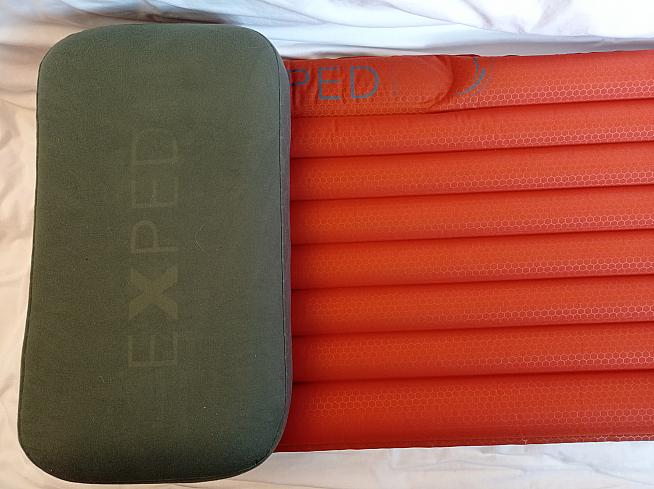 The pillow and mattress both pack away easily into my handlebar bag. There are no bulges, obstructions, or interference with accessing handlebars, drops, and brakes/gears.
To inflate, I simply check the deflate valve was closed, the inflate valve was open and pumped away. However, when I read the instructions after the fact, they advised letting the mattress self-inflate the first time it inflates. I've been using the mattress for a few months now and it's still performing well despite my ignoring this instruction.
Deflating the air mattress is easy, too. Make sure the deflate valve is open... and, it sort of does all the work! I've not had any issues with having residual air in the mattress, nor with getting it to roll up and pack away into the stuff sack.
I've used a bunch of air mattresses in the past and have to admit I've never slept well. I always wake up at around 3am with a slight shiver. And, then at 4am and 5am and 6am, until I get pissed off enough not to try to go back to sleep, but lay awake in my sleeping bag for a while.
The first time I used the air mattress was on a particularly cold and wet night in northern France straight off the ferry in Dieppe. I left the town in the middle of the night (because the ferry arrives then) and, bam, straight into the blackest of black nights. Even with a 1600 lumen light, I couldn't see a thing. So, I camped.
Setting up the air mattress, I more thought I was setting it up for something to do. I didn't seriously think I was going to sleep. It would have been too cold for good sleep with my other sleeping mats. When I woke up it was 10:00 or 11:00 in the morning. The sun was fully up. I had camped on the side of a quite busy road. And, I felt great! I felt well-rested.
France continued to let me learn about the mattress's ability to insulate against cold, wet nights! And I continued to hone my talent for sleeping through anything.
At 183x52cm, the regular size tested was just about right for my lanky 6'2" frame. A more spacious 65cm wide version is also available, with a small weight penalty, for larger tourists or smaller folk who enjoy rolling over in the night.
As for the pillow, after a few nights of trialing the inflation level I managed to dial it in. I tend to sleep on my side and fully inflated was too much to be comfortable lying on my side. About half-inflated was perfect.
I didn't find there was any displacement of air from my giant head either when I put my head on the pillow. I just lay down, closed my eyes, thought 'wow, I'm not cold' and fell asleep. There are no plastic crinkly sounds from the pillow whenever I move in the night.
The fleece lining is very comfortable to lie on, too. It was so convenient and small, I packed the pillow for a few bus rides around Morocco.
Rolling around Morocco didn't pose any issues either. Other people with experience warned me of the Argan trees and the dry sharp thorns or bark the trees shed. Anything sharp is going to cause a problem. But, I didn't have any.
Maintenance for the mattress and the pillow is also really easy. Morocco has a lot of sand. I'd try to wipe the sand off the mattress when packing up. When I got a chance, I'd use a broom. Or, throw a bucket of water on the mat and hang dry it. With the pillow, it was a matter of detaching the fleece liner from the inflatable part and washing. That one was really easy to do.
Conclusion
The Mega Pillow and Synmat 7M Mattress are sleeper hits, and not in the Hollywood movie sense of the word. You'll be loving them from the very first comfortable and warm sleep.
They have heaps of technological innovations that make them perfect company for any bikepacking trip. They pack away small and deliver a big, quality rest.
Exped's wide range of sleeping kit is well worth a look. Roughing it is a thing of the past - their kit really is the stuff of bikepacker's dreams!
Exped Mega Pillow Green - £47.00 from www.lyonequipment.com
Exped SynMat 7cm - £120.00 from www.lyonequipment.com
Thanks to Lyon Outdoor for providing the sleeping kit on my Coddiwomple. Want to follow my adventures? Follow me on Instagram and Strava.
0 Comments