Well, the winter's here and no one looks forward to that time of the year in the UK.
Gone are the hot temperatures and sunshine. Gone are the long days. Gone are the dry roads or rideable gravel tracks. Gone is just about everything worth 'anging about for!
And, this winter is going to be even more challenging. What, with the lingering uncertainties - COVID and Brexit.
That's why I'm bikepacking south for the winter. I'm chasing the sun, on a trip I'm calling the North Africa Coddiwomple.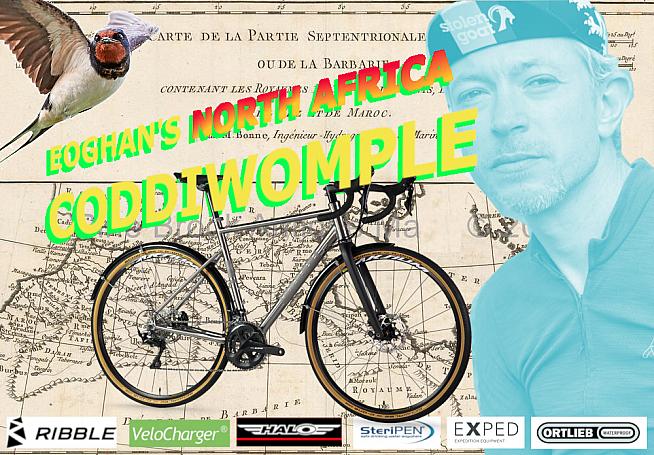 The plan goes like this: hop the ferry from Newhaven to Dieppe. From Dieppe, crack out a few 100-mile efforts day-in, day-out to clear France.
Once over the Pyrenees and away from rain, or even potential snow, I'll take a look at pace. Either continue or slow down and start to enjoy the ride.
I'm hoping to catch the ferry from Tarifa to Morocco around the beginning of November.
This part of the ride, from Dieppe to Tarifa, I do have roughly planned. It is currently looking like 1,270 miles (2045 kilometres) with 59,150 feet (18,029 metres) worth of climbing. Incidentally, the bulk of that 59k feet of climbing seems to start at the Pyrenees continuing to Tarifa.
Once I arrive in Morocco, the plan is pretty loose. I definitely want to get into Algeria and Tunisia, but when and for how long, I'll decide when he gets there. Or, be told when I can go into these countries depending on their COVID restrictions.
In total, I aim to be away for around five months. In that time, I estimate I'll cover around 6,000 miles (around 9,600 kilometres).
My plan is to bike-pack all the way, carrying his house on his bike or back. I'm grateful for the support of several partners who've assisted with kit for the adventure. Full reviews will follow here on Sportive.com, but for now here's a little rundown of what I'll be taking along.
The Bike: Ribble CGR Ti
My steed for the Coddiwomple is the Ribble CGR Ti Sport. This is perfectly-suited for a long distance spin. With a titanium frame, carbon forks, disc brakes and comfortable geometry, it's ompatible with both 700c and 650b wheels.
We reviewed the first edition of the Ribble CGR Ti, which Oisin rode on last year's Trans Alba Race. This updated model will give me the option to explore  off the beaten track on the occasional off-roading foray on some of North Africa's amazing trails.
> Ribble CGR Ti review: Titanium-flavoured go-anywhere adventure bike >
The Sport edition of the CGR Ti comes with Shimano 105 groupset, hydraulic disc brakes and Mavic Aksium wheels.
It's a capable and reliable set-up, but for this trip I'll be swapping out the stock hoops for a set of Halo Vapour GXC wheels.
These are lightweight, durable wheels designed for long-distance gravel races and adventure riding - in other words, tailor-made for a border-skipping jaunt to North Africa. And what's even better, the front wheel features an SP Dyno PL dynamo hub from Shutter Precision.
The dynamo hub will enable me to be more self-sufficient. During the day, while cycling, I can generate an electric current charging a battery pack. When my lights or other devices lose charge, I'll be able to charge from the battery pack. The dynamo hub is the piece de resistance allowing me to maintain social distance. I won't need to stay overnight indoors anywhere, or huddle for hours in a cafe to charge devices.
Integral to my dynamo set-up is a VeloCharger dynamo USB charger from Adept Electonics. This adapter connects to the dynamo. It converts the AC output from the dynamo into DC, allowing me to keep a battery pack topped up, from which I will charge my electronic gadgets.
Camping and Survival
I've previously reviewed Ortlieb's fantastic bikepacking luggage, and have turned to the Germans once again for this trip.
The Ortlieb Fork Packs provide extra storage on the front of the bike. When I completed the JOGLE (John o'Groats to Lands End) in 2018, I had all the weight piled on the back of the bike. Across the 10 days, I broke two spokes in my back wheel. The fork packs will allow me to distribute weight across the bike. This should reduce the likelihood of breaking spokes again.
> Review: Ortlieb bikepacking bags. Pack light, ride far >
With the plan being to camp out as much as possible, a reliable, lightweight sleeping system is essential.
I'm grateful to distributors Lyon, who've come up with a great solution in the shape of the Exped SynMat 7cm mattress and Mega Pillow.
Five months of sleeping on the side of the road is a long time. Plus, there could be snow and, definitely, cold temperatures. Having a buffer between myself and the ground will help me to cope with cold temperatures at night. Also, I'll have a bit of comfort to look forward to at the end of a long day's cycle.
Exped Mega Pillow - similar to the mattress, having a pillow to rest my head on at night will allow me to get better quality rest for the next day's cycle.
And finally, with my trip likely to take me to some fairly remote places I will be toting a Steripen Classic 3 UV Water Purifier. This portable filtration device will let me filter water from streams and rivers.
The Steripen filters out impurities making the water safe to drink - another big contributor to my self-sufficiency while riding. There may be big distances between towns and clean water access. Especially in North Africa where it can get pretty hot.
Join me on the adventure
I'll be posting regular updates on my trip, both here on Sportive.com and at the excellent BroomWagon podcast.
You can check out video updates with myself chatting to BroomWagon host Stefano here:
BroomWagon x North African Coddiwomple: Episode 1: Live from La Loupe (24 October 2020)
BroomWagon x North African Coddiwomple: Episode 2 (29 October 2020)
BroomWagon x North African Coddiwomple: Episode 3 (6 November 2020)
I'm also posting regular images and stories on my Instagram feed @storiesfromamanandhisbike, tune in for the latest including my reliably horific and/or calorific meal choices.
Do give me a follow, and please chip in with advice on where to go, what to see and weird stuff to eat.
See you out there...
0 Comments