In the world of biking baggage, Ortlieb need no introduction. The German brand is a pioneer in this field and proudly stand behind their well-recognised packs, continuously manufacturing better and better products.
Ortlieb was started in 1981 out of a simple need to keep items dry while cycling. A poor young chap, Hartmut Ortlieb, had his eureka moment while getting drenched on a genteel cycling holiday through the UK. He went home to Germany and started making waterproof packs for cycling.
Others identified the value of Hartmut's home-made handbags, and asked for their own to use or to sell - and history was made.
Since day one, Ortlieb has stuck to some fairly simple and honourable principles. Ortlieb's products are robust, useful and waterproof. Ortlieb continuously pushes innovation forward, incorporating new materials or techniques to adapt products. And, while their kit isn't the cheapest, the company offers great value to customers with solid after-sales service. Ortlieb are very proud of its Made in Germany tag and guarantee their products with a five-year warranty.
I tested four bags from Ortlieb's bikepacking range: the 9-litre handlebar pack, the cockpit pack, the toptube frame pack and the 11-litre seat pack.
Test conditions ranged from my daily commute to the 200-mile Round Norfolk Epic sporive. And, in the ultimate test, I loaded the bags and headed north for the inaugural edition of the Trans Alba Race - an 1100-mile bikepacking race around Scotland.
Ortlieb Handlebar-Pack - £79.99
www.ortlieb.com/uk/handlebarpack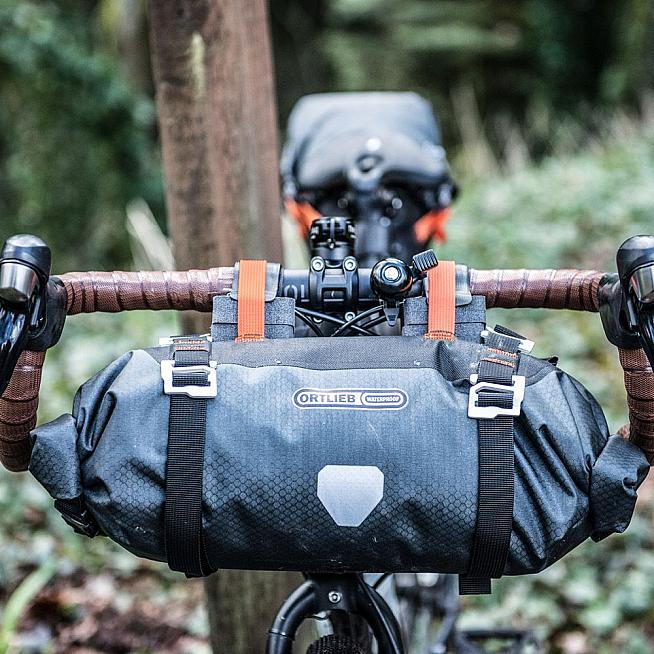 Exactly as it says on the tin. The Handlebar Pack is effectively a cylindrical dry sack with roll closures at each end that sits on - or in front of - the handlebars.
The pack comes in two sizes, a 9-litre and a 15-litre version. With drop handlebars on my bike, the 9-litre version was the suggested choice. The pack uses spacers and straps to suspend slightly from the handlebars; this makes the pack suitable for carbon handlebars, and allows access to the bar tops. The stiffened interior coupled with a head-tube Velcro strap provides additional stability.
The roll closure at each end - a typical feature of handlebar bags - is a super-effective and easy access point. The roll closure defends against water, dust and all other unwanted elements seeping into the pack. I read on Ortlieb's website that the roll closure even makes the pack buoyant.
Here are the dimensions:
Height: 20 cm (7 inches)
Depth: 20 cm (7 inches)
Width: 58 cm (22 inches)
Volume: 9 litres
Weight: 420g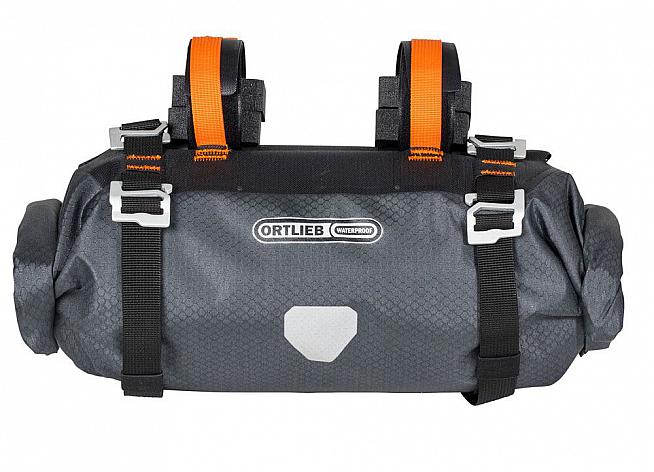 I loaded up the handlebar pack with spare gear and brake cables, a few bits I couldn't find homes for elsewhere and a sleeping bag.
There was plenty of packing space available. But, the tip for loading the handlebar pack is not to put anything too heavy in it. There's a definite risk of unbalancing the bike.
I found the external straps useful for cinching my raincoat down for easy access between the regular, intermittent showers Scotland is prone to. I also had the route map drawn out on a paper map (I don't have a navigation device) and tucked the map (in a ziplock bag) under the straps for easy access - which allowed me to navigate without stopping.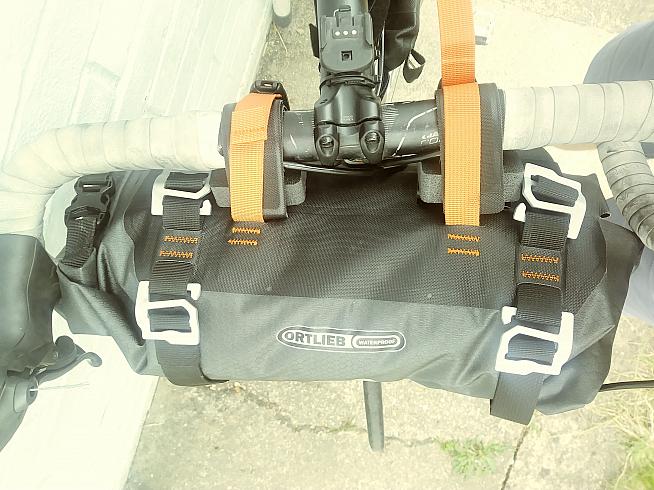 When it was in place, it fastened easily and didn't move very much across the day's ride. However, I found the handlebar pack a bit obstructive when using the drops, whether for general riding, changing gears and once even when braking!
Otherwise, I soon didn't notice the additional weight and was still able to use the handlebars with the same level of confidence.
Even in stormy Scottish weather conditions I didn't get the opportunity to test Ortlieb's claims that the roll closures on the pack allow it to float. So, being a thorough product tester, so I tested it in the bath. And, voila, it floats!
Ortlieb Cockpit-Pack - £44.99
www.ortlieb.com/uk/cockpit-pack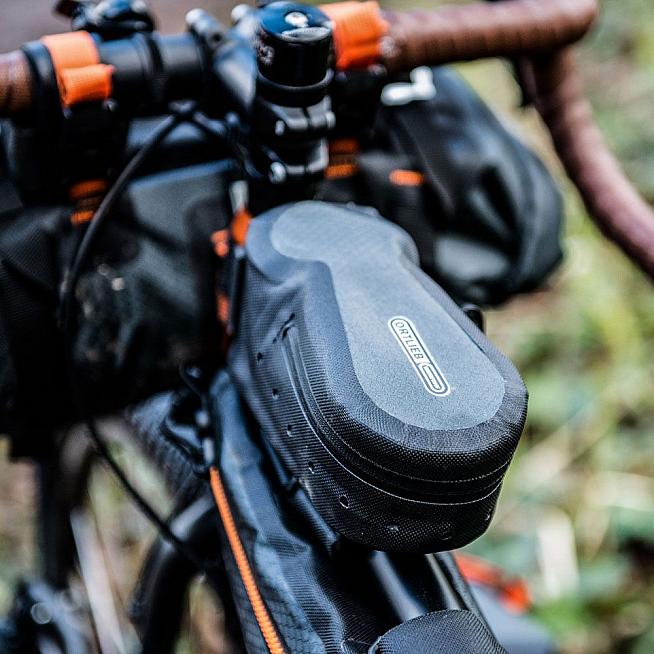 Ortlieb's cockpit-pack is designed for easy access to key essentials - food, phone, headphones, a small battery charger. Cockpit-packs, while generally small - Ortlieb's version has a 0.8L capacity - means there's less need to overload jersey pockets.
It's designed to mount easily on the topside of the top tube and to the head tube through Velcro straps. The pack is accessed through zipper. Uniquely, the zip is a zip-around-the-side approach while similar packs feature a zip-down-the-middle design.
Additionally, the pack has a reinforced structure helping it to maintain its shape.
As you can see, it's small and light but you can fit a surprising amount into it to free up space in your jersey pockets:
Height: 8 cm (3 inches)
Depth: 8 cm (3 inches)
Width: 18 cm (7 inches)
Volume: 0.8 litres
Weight: 82g (2.9 oz)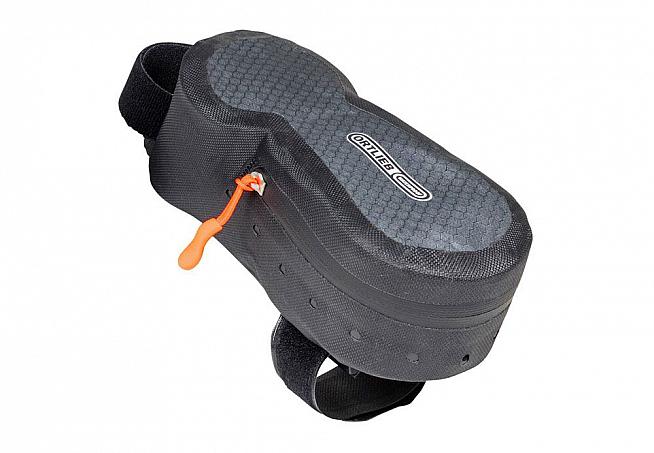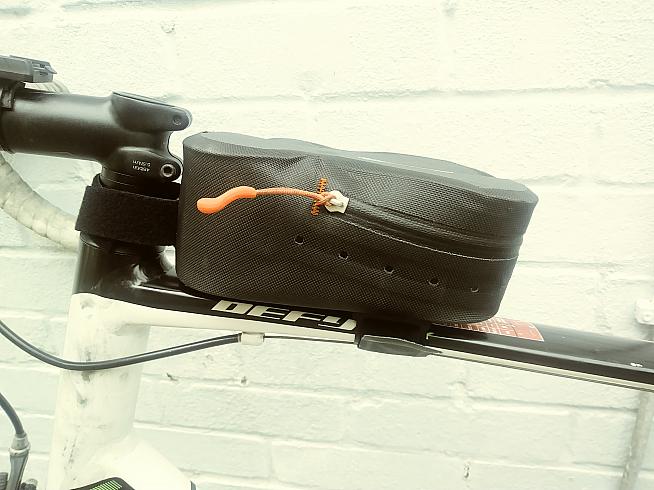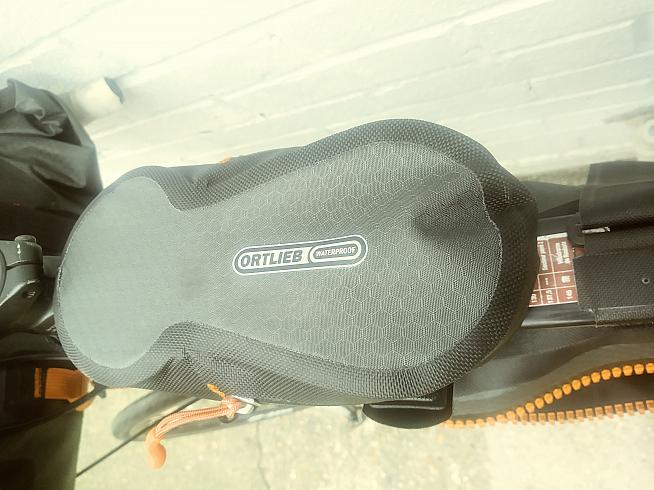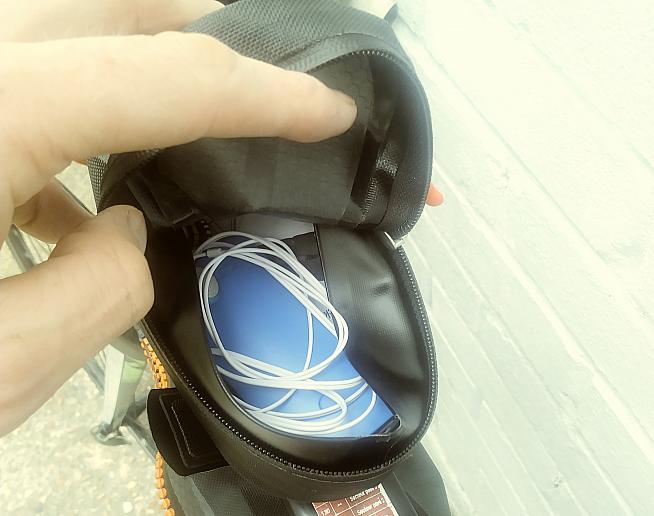 The cockpit bag was useful for storing and accessing stuff I wanted, but didn't need to access all the time.
Whether on club rides or out on multi-day rides, I packed it with the same general, useful bits - a spare phone battery, painkillers, headphones, keys, money and food. I was able to access everything as and when I needed any of it, without having to stop cycling.
Once in place, the cockpit pack didn't move and I quickly forgot it was there - which is a compliment in this case!
Ortlieb Frame-Pack Toptube 4L - £79.99
www.ortlieb.com/uk/frame-pack-toptube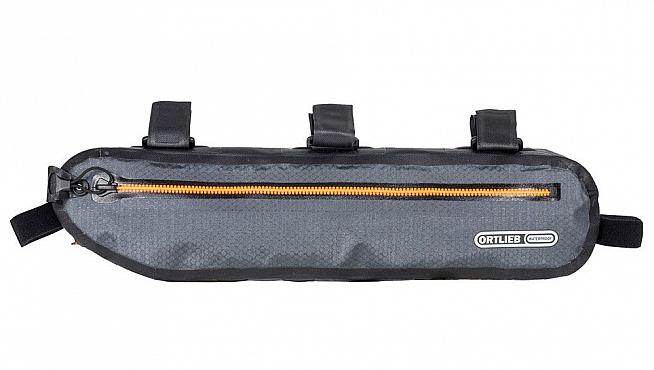 The Ortlieb Frame-Pack Toptube is a great solution. Velcro straps securely the pack quickly and easily to the top tube, the head tube and the seat tube. The pack is designed to fit a range of frame styles and doesn't interfere with bottle access.
The Toptube Frame-Pack has ample space for heavier items and helps to secure a low centre for improved riding performance.
Unlike the handlebar pack, the frame pack is accessed through a zipper. But, fear not: Ortlieb have designed a zipping mechanism that is impregnable when fastened. The company seems to be obsessed with pushing the boundaries of water-proofing, and claim the pack's inside will remain dry when submerged under one metre of water for a period of 30 minutes.
While some brands split their frame bags into two compartments, Ortlieb's pack comprises a single compartment accessible from one side only. However, Velcro tabs on the inside surfaces can be connected to reduce movement of contents and stop any puffiness that may occur with a heavily loaded pack.
The vital stats:
Height: 13 cm (5 inches)
Depth: 6 cm (2 inches)
Width: 50 cm (19 inches)
Volume: 4 litres
Weight: 170g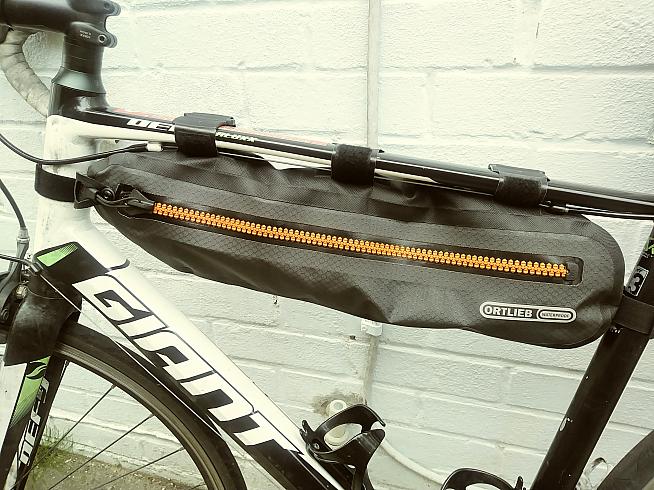 Of all the packs tested, the frame pack was my favourite. It is the dogsbody of the litter, and I loved its convenience and versatility.
Mounting it was initially a matter of some trepidation. My bike has external cables, and I was wary of using too much force to lock the pack into place on the top tube in case of interfering with the rear brake cable. But once mounted, it was secure and didn't affect braking.
I crammed the pack with all manner of useful accessories: tubes, canisters, a hand pump, a multi-tool, chamois cream, sun cream, puncture repair kit, food, twine, tent pegs, sporks, a battery pack, charging plugs and cables and toothpaste and brush. Opening the pack and seeing its contents really did seem like the 12 days of Christmas!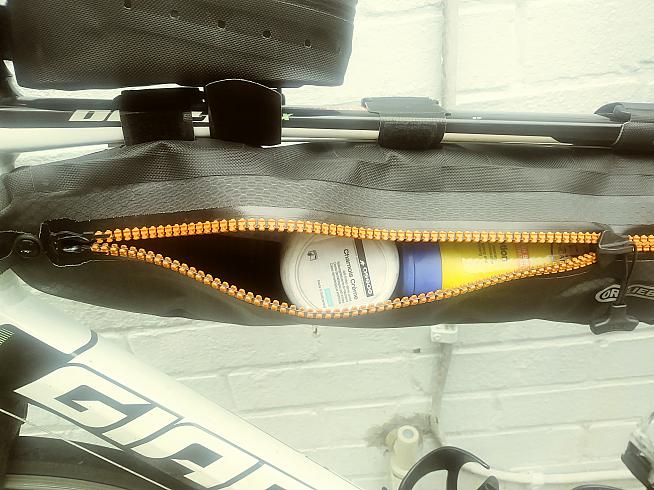 The heavy-duty zip, protecting contents from water and dust leads to a slightly greater degree of friction when opening and closing the pack. But, given I felt secure enough in storing electronics in the pack, I'd easily trade having to pull a little harder on the zipper for that kind of reliability.
I liked the zip's little housing unit as well, so it didn't bounce around when cycling.
Even as loaded as it was, I didn't find the pack got in the way when cycling or spoiled the cycling experience. I have heard of other packs hanging too low, or where frame clearance is less, that they interfere with bottle access. I can happily say that I experienced no such issues.
Ortlieb Seat-Pack 11L - £97.99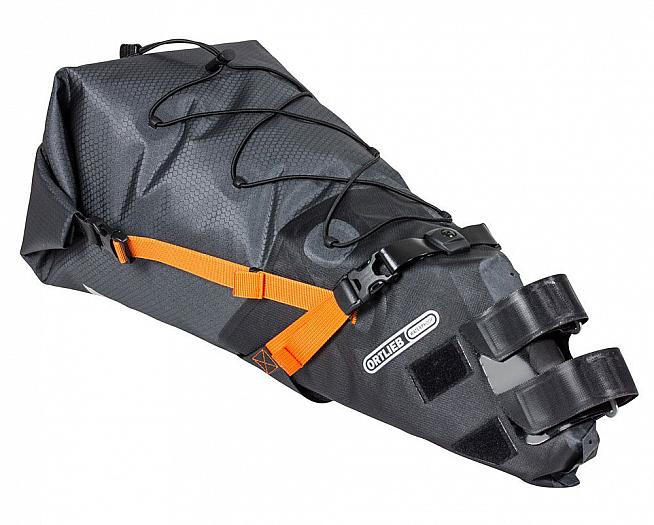 The seat pack is a very versatile storage pack. It sits very conveniently under the saddle and comes in two sizes - 11 litres and 16.5 litres. I tested the smaller, 11L version.
The pack can be mounted to a range of frame types - hybrids, mountain bikes or road bikes. Ortlieb have designed the pack to have reinforced fabric everywhere the pack comes into contact with your bike. It securely mounts to the underside of the saddle via two buckles and to the seat post with two sturdy Velcro straps.
A valve on the pack allows for any excess air trapped by the roll closures to be released for a more compact fit.
Safety considerations have been incorporated into the design. A vertical daisy chain enables rear light mounting, while four reflective Scotchlite panels on the rear boost visibility in the lights of approaching cars.
The seat pack is by far the largest of the four bags I tested, and this is reflected in a higher weight - but with a bit of strategy put into loading, this isn't noticeable:
Height: 26 cm (10 inches)
Depth: 15 cm (5 inches)
Width: 40 cm (15 inches)
Volume: 11 litres
Weight: 325g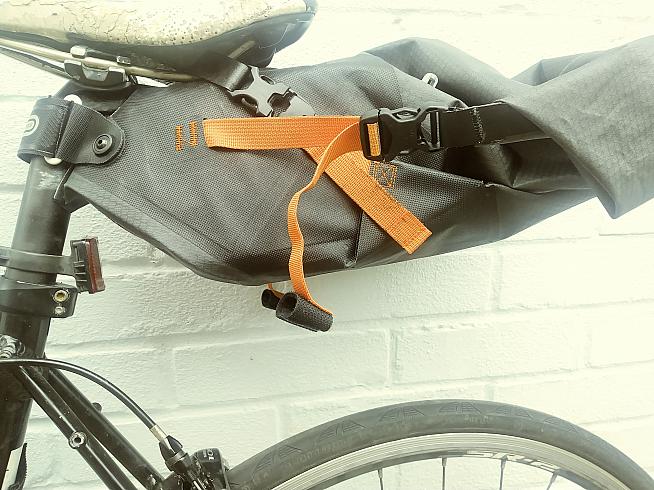 The seat pack is very versatile. It was a great piece of kit for everyday commuting to and from the office, and came into its own on bikepacking excursions.
For work commuting, I packed my lunch and a change of clothes eliminating the need for a backpack. Not having a heat-trapping backpack on while cycling in the summertime is refreshing. The only improvement I could suggest would be the addition of a small pocket or compartment for small, essential loose items - like keys.
On the Trans Alba, the seat pack is the bag I experimented most with in terms of contents and how it was packed. In the end, I had three layers to packing. Layer one and closest to the seat post was food. Particularly for cycling remote and faraway regions of Scotland I carried emergency rations - tins of beans and tuna.
If these were the last things I put into the pack, their weight caused a bit of unsteadiness while riding and droopiness in the pack, whereas packing heavier foodstuffs first made no impact on the manoeuvrability or stability of the bike.
Next came clothes - extra shorts, jerseys and socks. Finally came sleeping gear. The sleeping gear I accessed most and just wanted that quick to hand at the end of a long day's riding.
Once I found the packing formula that effectively balanced the weight, I didn't even notice the pack while riding. Except when it was raining - an added bonus to the seat pack is that it deflects spray from wet roads, effectively acting as a mudguard.
The seat pack has a daisy chain for mounting rear lights but I didn't use these, preferring to mount my lights to the seat stays.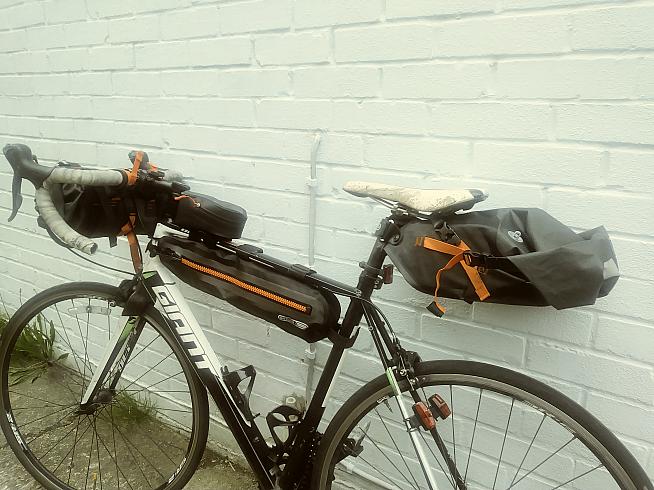 Frame bags vs panniers - which is better?
On previous bike-touring trips I've used a rear-mounted rack and panniers. Ortlieb are already probably the best known brand when it comes to traditional pannier bags, but this bikepacking range marks their move into the current trend of rack-free luggage - and, for me, too, the packs were my first foray into more evenly distributing the weight around the bike.
As described above, I experimented with the pack contents to try and figure out what was easiest for me to access and what impacted the rideability of the bike the least. I would say that spreading the load around the bike is preferable to loading everything into rear panniers, with a less noticeable impact on the balance and handling of the bike.
As for looks, the packs' grey aesthetic works in possibly the same way that pinstripes do - by making things look smaller. The grey blends right in. I like the small touches of colour added through the orange straps and patches of reflective material.
Of course, the orange straps also serve a practical purpose. They stand out against the rest of the grey material to help identify the strap in whatever conditions. So whether straps need tightening or buckles need unclipping, they're easy to identify in orange.
Fortunately, at least for the sake of assessing robustness (if not for my comfort or safety), there was one particular day on the Trans Alba with horrible, horrible conditions - driving rain being pushed by 40mph winds. The waterproofing qualities of the packs were really put to the test.
And they passed. I'd say without a sweat, but it was hard to differentiate between what could have been sweat and what was rain. But, suffice it to say, my electronics, sleeping gear and clothing all stayed dry.
After a week of having the heavy packs hanging from my frame and regularly being accessed I'm happy to say that there's no evidence of wear to the frame.
Another triumph in the bag for Ortlieb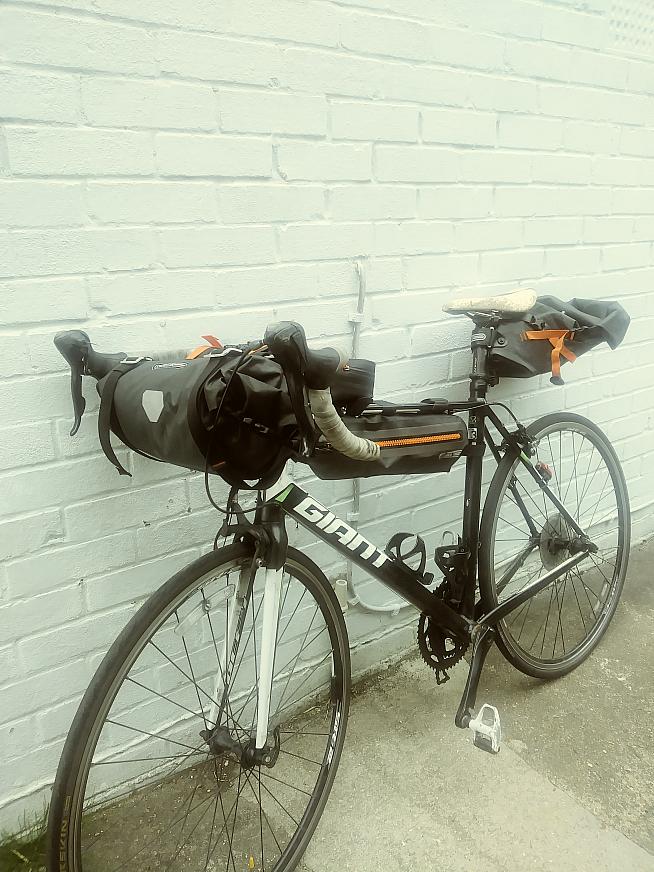 Ortlieb's website proudly notes that every month, on average, an Ortlieb product is awarded with a "Best Buy" or "Recommendation". I can see why, and I'd have little hesitation in adding my endorsement to the pile of gongs cluttering up Ortlieb HQ.
The packs are well-designed, well-made and very versatile. When you're travelling in remote places under harsh conditions you need kit you can rely on, and Ortlieb's bikepacking range certainly fits the bill.
Whether you're setting off on a bikepacking adventure or simply need a trusty set of luggage for your daily commute, Ortlieb have you covered.
For full details of the Ortlieb range, visit www.ortlieb.com/uk/products/bikepacking.
0 Comments