Ribble's Adventure line of bikes is a serious leap into the increasingly popular gravel/touring/bike-packing sector.
Where the Lancashire marque's phenomenally popular CGR range can handle a broad spectrum of surfaces from road to singletrack (and every flavour of gravel between), the Adventure has its sights set firmly on the wild horizon beyond the tarmac.
As is the way with Ribble, the Adventure frame is available in a choice of materials: the Reynolds 725 steel version, or the titanium model tested here. (Unlike the CGR, there's no plan for a carbon or alloy version yet.)
Slung with a SRAM Rival 1x11 groupset, hydraulic disc brakes and 650B wheels, the Adventure Ti comes "oven-ready" and ready to cook up some adventure. And just as well, because adventure is what it got when I hauled it over to Morocco for the Atlas Mountain Race back in March.
But before we get to that, let's take a look at the bike.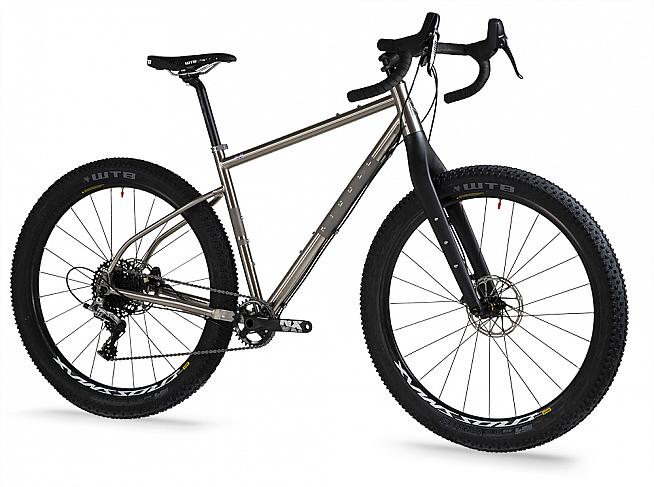 Metal heart
At the heart of the Adventure Ti is a 3AL/2.5V triple butted titanium frame. The raw metal tubing and seamless welds are beautifully finished, as with the CGR Ti we reviewed last year.
> Ribble CGR Ti Review: Titanium flavoured go-anywhere adventure bike >
Like the CGR Ti, it takes a 27.2mm seatpost and the bottom bracket is BSA threaded - none of that pressfit nonsense here! As you'd expect the frame is appointed with mounts for mudguards, racks, additional bottle or tool cages - whatever you want.
Up front, a chunky carbon fork is similarly specced with mudguard fittings and what Ribble call their Carry-All mounts, with three mount points running down the outside of the fork leg.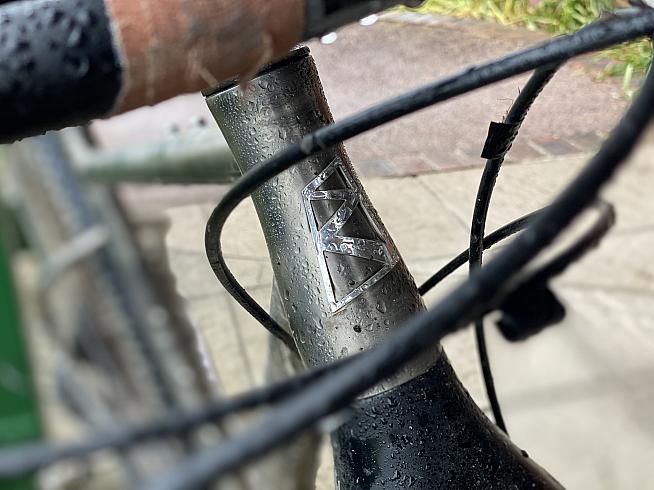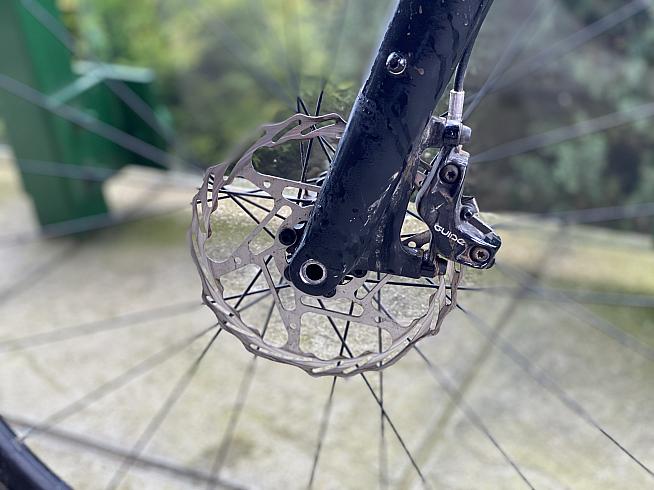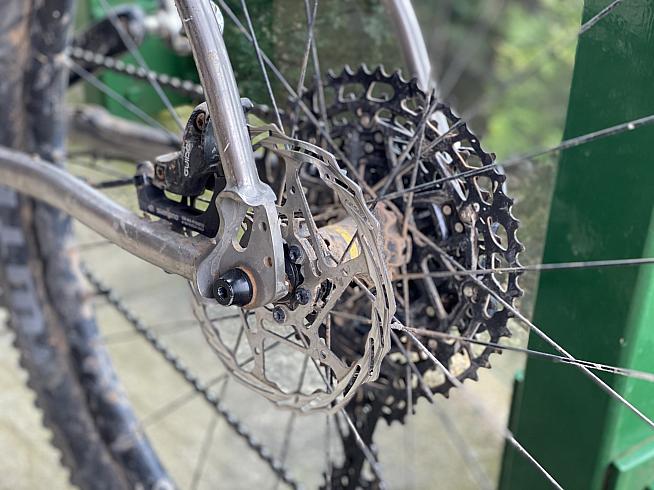 Both frame and fork can accept either 650B (27.5") or 29er (700c) wheels. Using the smaller wheels allows for a wider tyre. Ribble say it'll take up to 3" rubber on a 650B wheel, but even on 29er wheels the 2.3" tyre clearance is generous.
Frame and forks both take thru-axles, 12x100mm up front and 12x148mm rear.
The geometry of the Adventure Ti promotes a noticeably upright riding position; stack on a size M for example is 35mm higher than on the same size CGR Ti. This isn't a bike designed to get low and aero on, instead the vision here is for a bike that will offer control and comfort throughout long, loaded rides over rough terrain.
Which brings us nicely to the Adventure Ti's debut...
Custom-built for Adventure
Ribble were kind enough to lend me an Adventure Ti Rival to ride the Atlas Mountain Race - a multi-day off-road race in Morocco. At 700 miles in length, it's a real endurance test for both riders and equipment - think big, pulverising rocks and lots of dust.
I visited Ribble headquarters in February along with Oisin and Andy to collect the bike.
I'd sent a course profile of the Atlas Mountain Race to the Ribble team ahead of our visit, and when we arrived there were a few raised eyebrows; after a quick discussion, it was agreed a few changes to the stock spec might be helpful!
> Ribble reborn: Sportive.com visits Lancashire's grand old bike brand >
As the name suggests, the Rival edition is specced with SRAM's 1x11 Rival groupset. The stock model sees a 32T SRAM NX crankset paired with 11-42T cassette out back, offering a wide range of gearing for loaded touring. Hydraulic disc brakes and 160mm rotors take care of business on the stopping front.
The wheelset is the Mavic Crossmax 27.5", shod with WTB Byway Road Plus TCS 650B x 47 tyres.
Bars, stem, seatpost and bar tape are all from Ribble's house brand Level. The stock version has Level flared drop bars and a WTB Koda saddle.
Now if you've visited the Ribble website and played with their Bike Builder tool, you'll know that a huge selling point for Ribble over competitors is their easy customisation. Ribble sells direct from their warehouse to customers; each bike is built to order, so they are a lot more flexible when it comes to a bike's spec.
And with Ribble's new digital team, it's very simple to have a live call with a team member and walk-through what they have and the benefits different component options will bring when specc'ing a bike
The friendliness and knowledge of the team came into play here, as they tuned the Adventure Ti for an event that was at the more extreme end of its design scope.
First they replaced the flared drop handlebars for a Level D-Loop handlebar. This shortened the reach and made for a more upright ride position and easier access to brakes and gears when bumping over rock gardens.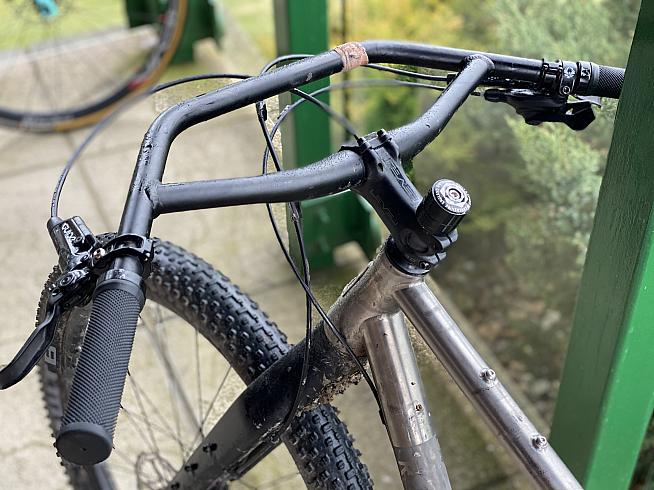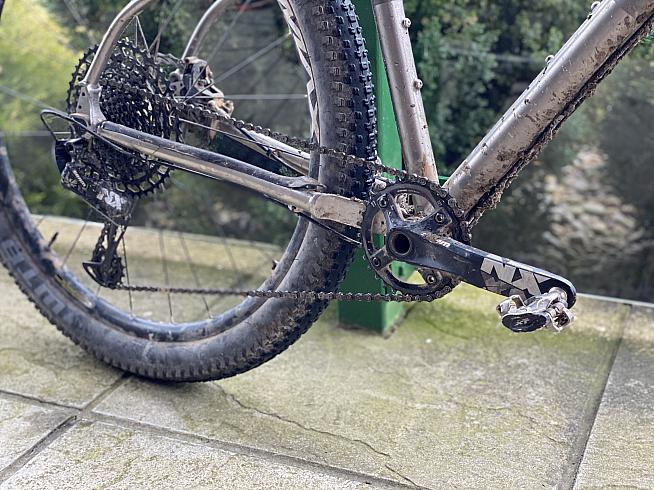 The SRAM Rival HRD brakes were swapped out for SRAM guide brakes. Guide brakes are usually fitted to mountain bikes, so were a natural match to the flatter bars while offering ample braking power for a fully-loaded bike.
The drivetrain was changed too, from SRAM Rival 11-speed to the SRAM NX 12-speed. The dinner plate on the back was an 11-50 cassette!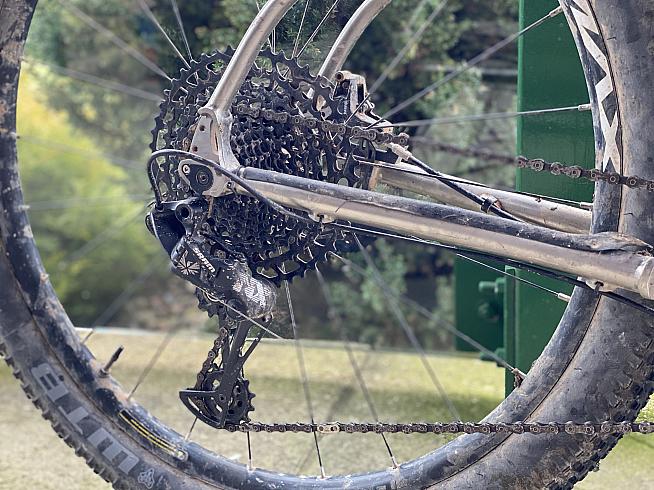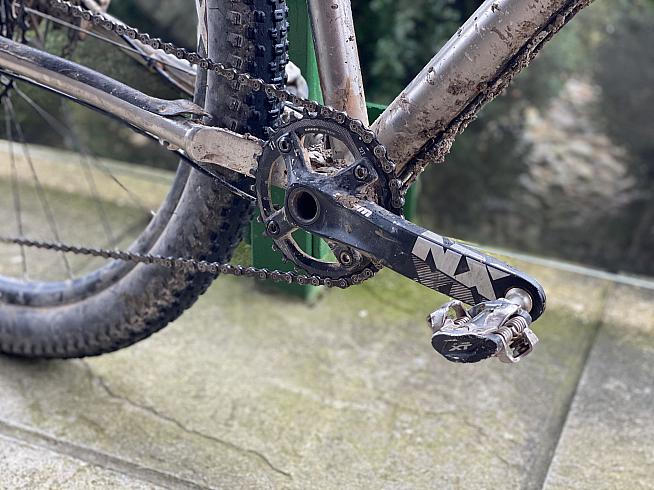 The final change made was to convert across to tubeless tyres. The team's reasoning was two-fold: first, to save weight, and more importantly, tubeless allows the tyres to be run at really low pressure without the risk of pinch punctures.
And so, after a quick spin around the Ribble car park, the freshly tuned bike was loaded onto the back of the Sportive team bus and heading south for adventure!
The Atlas Mountain Race - and beyond
Before sharing my thoughts on the Adventure Ti Rival, it's gotta be said - this fun-mobile is available on the cycle-to-work scheme! Make sure to bring a change of clothes because the work commute is about to get off-road!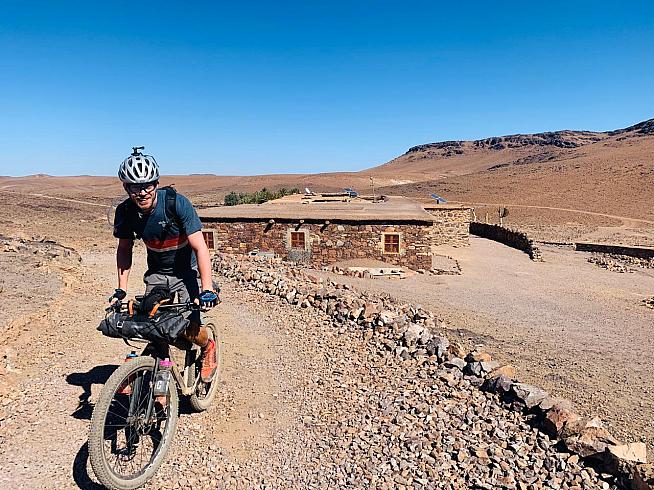 Suffice it to say, this bike was tested.
Initially, I rode the bike during the Atlas Mountain Race, but UK-side I continued riding the bike. I live close to the South Downs. I had fun riding hundreds of miles. Not quite as bouldery or dusty, but equally as capable of breaking a bike.
As mentioned, three of us were on hand when I collected the Adventure Ti Rival from Ribble's headquarters.
Of course, we stood back. We gazed. We poked and we prodded and ran through a battery of 'what's this' and 'what's it got' questions.
The raw titanium frame and black components are eye-catching when seen at first-hand. The bike just stands so proud and confident; there's something both classical and contemporary about its appearance. It has real allure.
The first lesson learned about the Ti Rival is that its looks are deceiving. Despite its bulky appearance, this is a very light bike!
I put it down in part to the 650B wheels, but unloaded the Adventure Ti feels surprisingly nimble, almost flickable, with light steering and a spring in its step.
Even during a few cursory spins to nail the fitting and get used to the bike, everything quickly fell into place. Although I was moving from a road bike with a more aero-position to the wide D-Loop bars and upright geometry, it was a piece of cake to adjust to. Riding the Adventure Ti Rival felt really natural.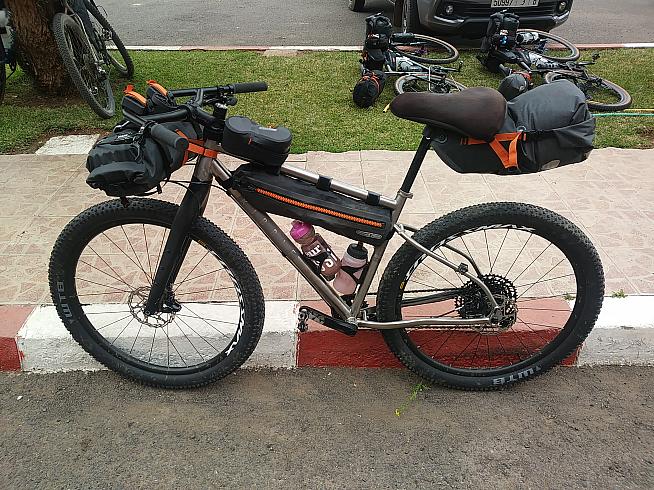 It only took a few miles on the Atlas Mountain Race to appreciate that the D-Loop handlebars were definitely the right choice for this bike. I really liked being more upright for the long hours spent in the saddle.
I also appreciated not having to go down on the drops to access the brakes on descents. I can get neck pain, but with the upright geometry of the Adventure Ti, I did not suffer - even after one 23-hour ride with an 8-litre fully-loaded bag on my back!
The swept-back double bars offer lots of hand positions. I loved leaning over the top of the bars and getting low for flat sections - not that there were many!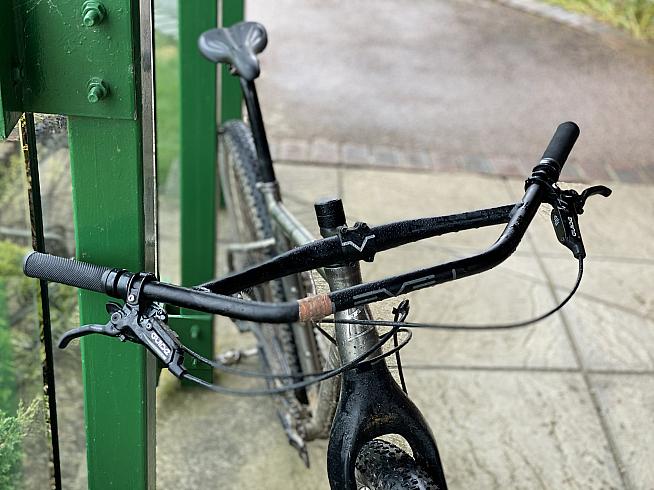 As you'd expect, the Atlas Mountain Race course involved a lot of climbing and descents. Large sections tracked old colonial pistes through the mountains, and if you think your local council have been negligent in road upkeep, well this was next level.
More than once a gravel trail, formerly a road, would simply end abruptly, obliterated by a landslide and now littered with boulders. WIth refuelling points few and far between in the remote wilds, it was harsh terrain and I was glad of the Adventure's robust disposition.
Unfortunately, after several days hiking and biking under the sun and stars, mechanical issues put paid to my race. One knock too many to the rear derailleur saw me reduced to ghetto single-speed, and with spares non-existent I had little option but to scratch.
You can read more about that adventure here:
> Moroccan adventure: Eoghan rides the Atlas Mountain Race >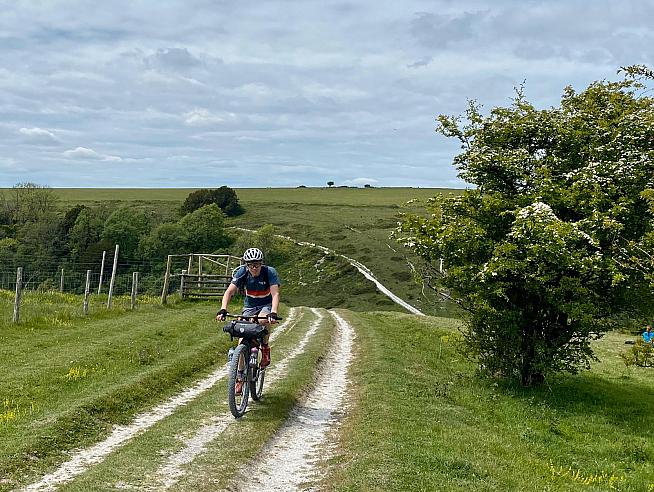 Back in the UK, I put my mind to another challenge: the South Downs Way.
This classic MTB ride takes in 100 miles of South Downs trails running east to west (or vice versa) between Winchester and Eastbourne. I completed the full distance in a day on the Adventure Ti, and got to thinking... what about attempting the double?
200 miles of off-road, with over 8000m of climbing, in 24 hours. A tall order... I gave it a couple of attempts, and came pretty close. I will be back to try again, no doubt.
That's the Adventure Ti for you though. It's the kind of bike that inspires you to go beyond, and really explore the limits - both physically and mentally, and on the map.
> Ribble & South Downs Way Double >
Levelling up
So, after many hundreds of off-road miles, it's time to reflect on my time with the Adventure Ti.
We've been through a lot together and I'll be sorry to see this bike go.
My favourite bits? Well, the whole package is just so hard to beat, and that titanium frameset is undoubtedly a star.
I'd have to add that, having ridden a few Ribble bikes now, I love their in-house Level components. The design, materials and colours really resonate with me. So, this is a personal appeal to Ribble, through this review, to please make Level components available to buy separately!
Back to the bike, and the Adventure Ti is a perfectly executed touring machine. The frame has plenty of places to attach luggage. Bags can be attached to the front forks and the frame is pannier compatible. That said, I found that having a frame bag on made grabbing a water bottle tricky. So, I moved the two bottle cages on either side of the front forks.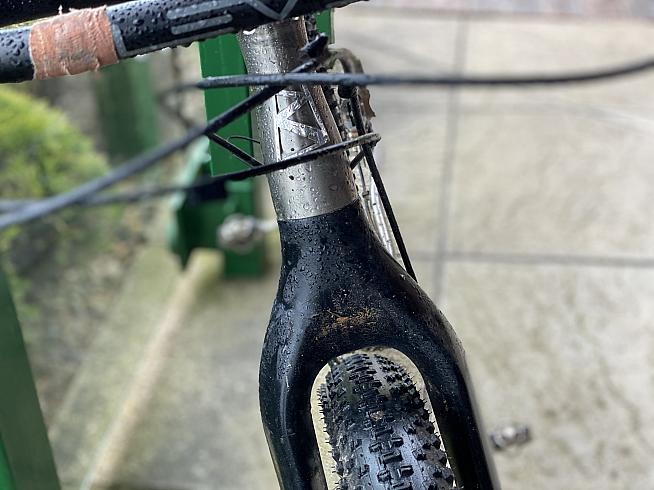 With the amount of options on this bike for where to attach luggage and its capacity to carry luggage, the Adventure Ti Rival is the ideal bike for any type of off-road bike-packing trip - whether it's a weekend or several weeks away.
I ran the bike with attachable luggage - a saddle bag, frame bag and handlebar bag. While I wasn't running with too much weight (I was in a race, after all!), I didn't even notice the extra weight making a difference to the bike's handling.
The wide handlebars along with the fat tyres and responsive disc brakes will encourage confidence levels to go up. I'm not an off-roading biker. Prior to the Atlas Mountain Race, I had minimal off-roading experience, meaning I definitely lacked experience and technical skills required for a ride like this. So, I was quietly chuffed as I passed through intimidating ride conditions unscathed.
There was one hair-raising 14km descent. It was a singletrack loose gravel path. It had no guard rail to protect against a rather long fall off a precipitous cliff. The Adventure Ti's handling gave me the confidence to let loose and really enjoy it all. It was a blast!
One rider I spoke to right after the descent said it was quite scary for them. Shoulda ridden a Ribble, was my response!
These are transferable skills, too; the extra confidence and fun had on the Ti made an impact when I went back to the road bike. From one ride to the next, I could feel my technical skills and fitness improving.
This was especially useful across lockdown. No amount of money would have moved me to do more than an hour or two on the roadie. But, I was more than happy to throw on some music and head for the hills and trails for hours (at all hours of the day and night).
Being in the hills came with ascents and descents. The Rival groupset worked like a charm. Changing gears was smooth and fast for all the immediate changes that come with off-roading.
Swapping out to the 12-speed gave me a little more choice. But, I'll be honest, out in Morocco there were hills I still walked. (C'mon! We all did!) Either they were just too steep or sandy, or the day ahead was just too long that it was better to conserve energy by walking.
Anything to improve?
Well, not much to be honest. Being super picky, it would be nice to see cable routing and a mount for a dynamo hub and light in the fork leg and crown. But there's nothing stopping you using a dynamo hub and piggy-backing the cable onto the front brake hose. And with those bars, there's no shortage of mounting points for a headlight.
If you're building up a frameset yourself, it's worth noting that while the frame takes a flat-mount brake, the fork takes post-mount. A little incongruous, but no biggie - you can run a pair of post-mount brakes using an adapter on the rear.
Conclusion
There's a lot of hype around "adventure" and gravel bikes at the moment, but the Ribble Adventure Ti is more than a token nod to the latest trends: it lives up to expectations.
Robust, beautiful and with every detail thought through - who else is producing bikes of this caliber with these materials for this price?
Performance wise, the bike covers all the bases required to give the sense of security to go chase adventure. You can throw everything at the Adventure Ti, it responds joyfully calling for more.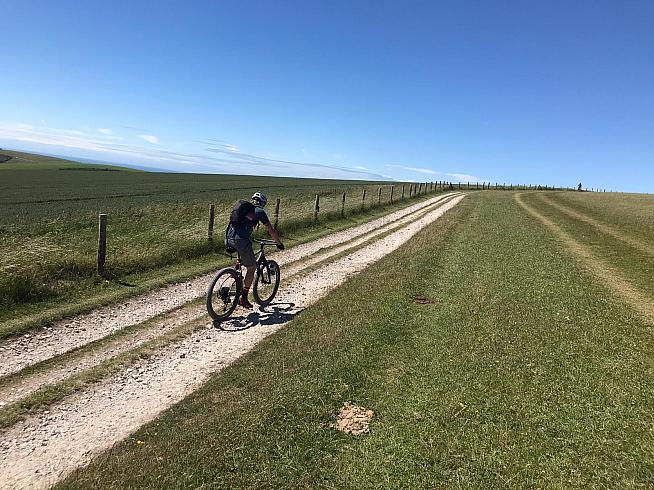 If you're setting your sights off the beaten track and want a sturdy, no-nonsense accomplice, the Ribble Adventure Ti deserves a serious look.
Just don't forget to let your family and friends know where you are when you don't show up for dinner... three days after leaving for a 'short' bike ride!
Ribble Adventure Ti, from £1,999 at Ribble.co.uk.
0 Comments