The Tour de France may be on hold this year due to the Covid pandemic, but thanks to Giles Belbin's new book fans have a chance to refresh their knowledge of recent victors and learn about some of the lesser-known yellow jersey winners.
As the title suggests, Tour de France Champions: An A-Z is a potted history of each of the 62 men who have won the Tour since it was first held in 1903.
From Lucien Aimer, the French winner in 1966, to Joop Zoetemelk's 1980 win for the Netherlands, every letter of the alphabet boasts at least one winner's name, with the exception of 'Q', 'X' and 'Y'. One can only imagine how much the author would like Nairo Quintana and one of the Yates' brothers to win the Tour in future years, to make an updated edition of the book even more complete.
Meticulously researched, the author has carefully woven together contemporary reports from newspapers, magazines and websites with a vast array of stories from biographies and other cycling books.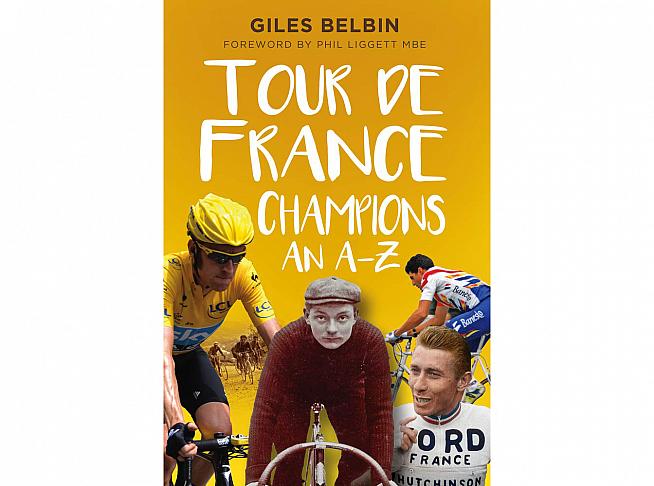 Although many of the stories are familiar, Belbin's wide research has unearthed enough little gems to keep even the most knowledgeable readers entertained. We're told, for example, how Carlos Sastre kept his baby daughter's dummy in his jersey pocket for a decade. Whenever he reached back for food he describes how he would brush against it, be reminded of his children and how this would motivate him when racing. The dummy only saw the light of day when Sastre popped it in his mouth when he celebrated his first Tour stage win in the Pyrenees in 2003.
We discover how Pedro Delgado almost quit as an amateur after suffering so badly in the crosswind on one stage of the Baby Giro: a familiar feeling of relentless exhaustion that every rider - pro or amateur - will have felt many, many times before.
Or the story of how when Geraint Thomas won the Tour in 2018 he ignored team orders in a hot hotel to make sure that his room was air-conditioned - a luxury that Team Sky was only offering to their number one rider, Chris Froome.
First-hand witness to epic victories
Belbin is not just an armchair fan with a talent for telling tales though. His work as a cycling journalist has given him access to many of the riders and teams over the years and their first-hand accounts of famous victories.
In an interview with Jose De Cauwer, Greg Lemond's Sports Director at Team ADR, we learn how the bolt-on aerobars Lemond used to dominate the time trials were approved in haste by a disgruntled tour official who was still half-asleep and dressed in a fluffy hotel bathrobe with white slippers on.
If De Cauwer had raised the issue at a more sociable hour, and the innovative bars hadn't been approved, it could easily have been Laurent Fignon with his conventional drop bars who would have won the 1989 Tour.
From an email exchange with Alberto Contador, the author reveals that despite numerous victories in his long and distinguished career, including a remarkable win on the feared Angiliru climb in the 2017 Tour of Spain just three days before retiring, it was a stage win in the 2005 Tour Down Under that ranks as his most important. Having suffered a cerebral stroke the previous year, Contandor tells Belbin in the email that:
"Some months before, I did not know if I would be a cyclist or even if I was going to be able to live a normal life. That's why that victory will always mean a lot to me."
D is for Doping
No history of the Tour would be complete without referencing the impact of doping. The seven yellow jerseys 'won' by the Texan elephant in the room, as well as three other disqualified wins by the riders Maurice Garin, Floyd Landis and Alberto Contador, are all omitted from the roll-call of podium places found in the Appendix.
A cursory recount of their cancelled 'victories' are lumped together under a single heading in the 'D' section of the book: 'Disqualified (Various)'.
Star-struck cycling journalists have previously paid the price for having close access to the riders by glancing over or even ignoring some of the trickier aspects of their careers. Phil Liggett, who writes the foreword to this book, and has commentated on the Tour on TV for many years is one such figure, who was seemingly blinded by his proximity to Lance Armstrong.
The author, however, does not fall into this trap. Instead, he seems keen to make sure this book stands as an historically accurate record, even if that can make some more partisan readers uncomfortable. Fans of Bradley Wiggins, for example, will probably enjoy reading about the details of his Tour winning season in 2012, but may want to skip over the discussion of the 2016 'Fancy Bears' hack and the findings of the Parliamentary Select Committee Report into British Cycling.
Team Sky may no longer exist, but the author seems to know that it is too early to write a definitive history of all that they have achieved in the Tour.
Legends of the Tour
The Tour may be the grandest, most famous race in the world, but some of the winners from history lived lives that were even bigger than the race.
Fausto Coppi, Jacques Anquetil and Eddy Merckx, were all multiple winners of the Tour who seem to transcend the sport. The stories of their victories as well as the way they were regarded by the general public in their own countries and beyond can only be touched upon in this book.
Their incredible feats are always going to have to be finely retold and highly edited in a book such as this. Even so, if I do have a criticism of this book, it is that on occasions some riders' stories feel overly compressed in the four or five pages that are given over to each of them. I can't help but feel that more space could have been made for the larger-than-life riders at the expense of others whose wins pale in comparison.
Does Oscar Pereiro deserve two pages to describe his lone, somewhat fortuitous victory, when Bernard Hinault gets less than four pages? Perhaps though, I'm being harsh, and the author is just trying to be democratic and giving every winner his fair share of the limelight.
Some colour photographs to accompany the 16 pages of black and white images would also have been welcome, but this is a small quibble; the writer is more than able to bring to life some of the fascinating and forgotten characters that have won the Tour over the years, and add colour of his own.
Whether you are a new fan of the sport, or someone with shelves full of cycling books, there is plenty here to keep you coming back for more. Giles Belbin has seemingly read every word that has ever been written about the Tour winners, so that you don't have to, and has expertly retold their fascinating tales in this wonderful book.
Tour de France Champions: An A-Z by Giles Belbin - £16.99 from www.thehistorypress.co.uk
0 Comments