In a recent review our editor, Oisin, reviewed a pair of rather nice-looking sunglasses that he had tried. Having forgotten to take his sunglasses with him for a particular sportive he had to ride without any - an error which he's determined to avoid repeating with the Scicon Aerotech glasses that he reviewed.
>>> Review: Scicon Aerotech cycling sunglasses >>>
Sacre bleu! For me sunglasses are an essential part of a ride and I have never, yet, ridden without wearing any, same as my helmet, although I understand the freedom of choice with both bits of kit. Each to their own.
Having recently had a pair of different glasses collapse on me I was desperate to get another pair before my next ride.
One specification I wanted to achieve was interchangeable lenses. The weather conditions here in the UK can be quite 'iffy' so watching the weather forecast and having lenses to suit the forecasted weather seems sensible; and, as the nights start drawing in, full-blown black out lenses tend not to work.
Like all cyclists and Yorkshiremen I like a bargain and, if I'm going to be a little more honest, something that suits my budget, so the search was on.
Having hit my usual online cycling haunts I headed over to Amazon where I found something that met all of my criteria. After reading through reviews, the ones I eventually purchased were the 'Essence Polarised Sports Sunglasses'.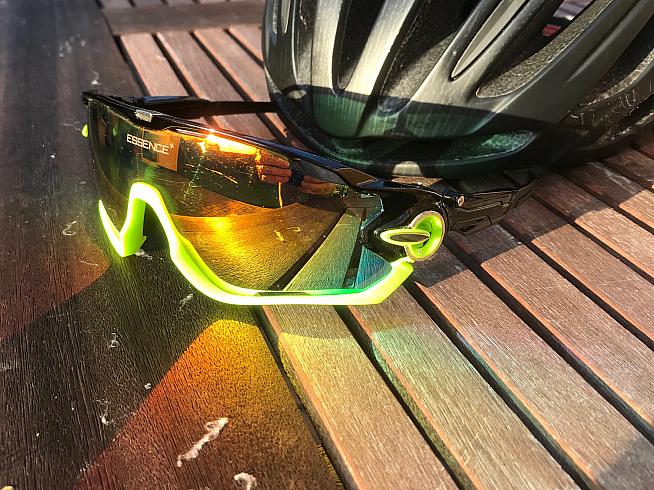 As can be seen from the illustration the glasses come complete with five interchangeable lenses, one of which is polarised (the dark grey one). Also included is a cleaning cloth, carrying pouch, screwdriver, hard carrying case and even a natty little picture card that can be used to ensure that the polarised lens actually works (the picture is incomplete until viewed through the lens).
I've been told that the glasses are very similar in appearance to Oakley sunglasses, but due to my desire for budget bargains I've never really taken much notice of that brand - outside my price range I'm afraid. (They look to be a direct copy of Oakley Jawbreakers! - Ed)
The actual frames are available in three different colours. Snowy White with a hint of Cherry Red, as shown above, Luminous Green (the luminous green being in place of the red features on the frame), and Black Midnight.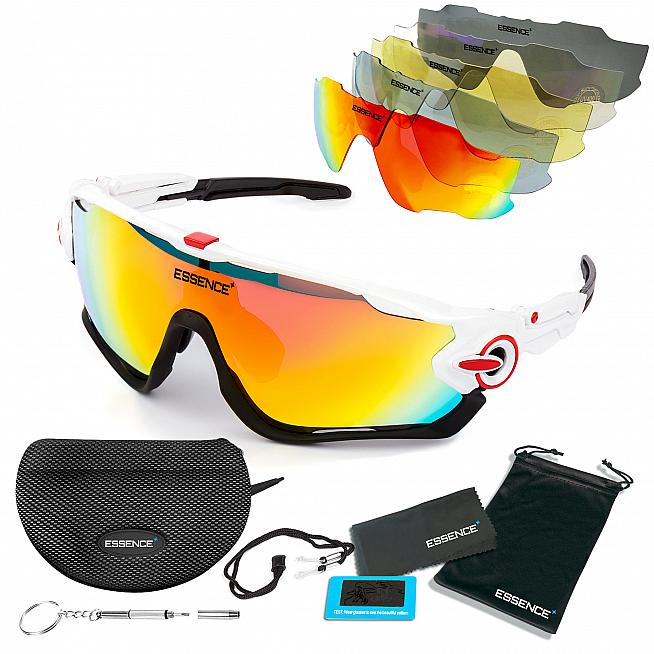 The glasses come with comprehensive instructions on how to change the lenses, but I haven't had need to do so because the ones fitted on delivery have been suitable for the conditions I've been riding in. With the evenings drawing in, it won't be long before I'll need to make a change.
Whatever the conditions there's bound to be a lens to suit. If riding at night doesn't bother you there's the clear lens, for poorer levels of light there's the blue and yellow lenses, and if the sun is reaching furnace type brightness levels the darkest lenses will block out the harshest of levels.
Out on the road the glasses do exactly what I want them to do and work as claimed.
There's no hint of misting up and the multiple layer polycarbonate construction claims to offer 99.9% protection from UVA and UVB rays, although there's no real way of proving that to be true or not, but they are good. (We have contacted Essence to ask whether their lenses are CE-tested and approved; this review will be updated with their response - Ed)
I've no desire to test the strength of the lenses against flying road chippings but I've seen, and heard, bugs bouncing off them as I've been scooting along the road, so my eyes are safe in those conditions.
The nose bridge and arms are comfortable enough to cause no issues or concerns and I've not experienced any problems with the glasses slipping at all.
So what more can I say?
A great pair of versatile sunglasses that do the job. Price wise I'm sure you'll be as pleased as I was that they cost just £17.95 from Amazon, and should you buy a pair and find you are not happy with them Essence offer a 45-day money back guarantee.
I haven't needed to use that option as I really am totally happy with the glasses; and should I lose them, have them stolen or damaged in any way, I know exactly where I can get another pair at a price that won't break the bank.
For more information on Essence visit www.essenceoutdoors.com.
Essence Polarised Sports Sunglasses, £17.95 at amazon.co.uk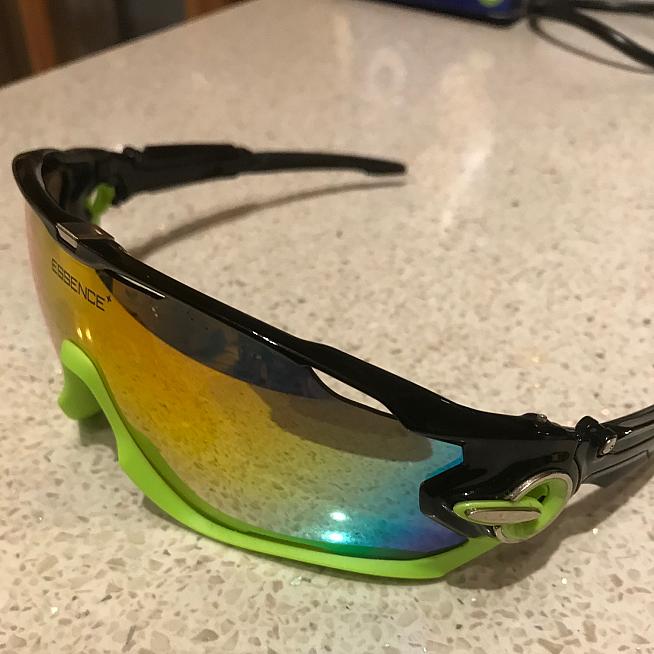 0 Comments