A good pair of shades are part of the basic kit of any self-respecting cyclist. I still squint at the memory of the 2017 Etape du Tour, when I was left literally blind - temporarily, at least - by a stinging combination of salty sweat and sun glare on the Col d'Izoard. I hadn't taken sunglasses, one lesson I learned that day (lip balm being another).
Even here in the coastlands of the UK, where cloud cover ensures direct sunlight is a rarer commodity, a pair of shades are essential to protect your eyes from debris and kamikaze insects. They're good for your game face too, masking whatever pain or fatigue you may be feeling from ride mates or race rivals.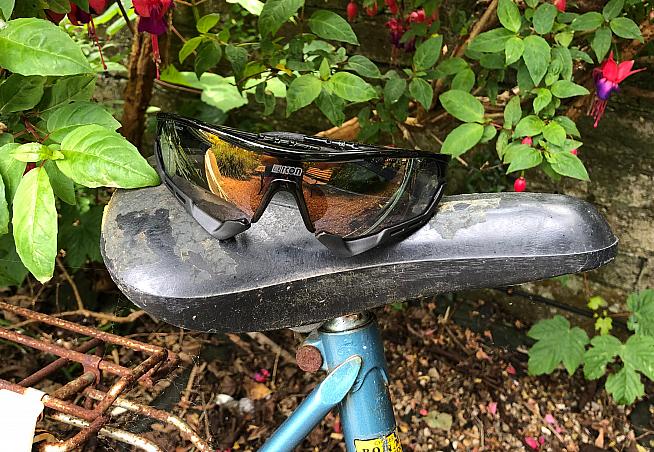 Recently I've been riding with the new Aerotech shades from Italian brand SCICON. SCICON (pronounced "She-con" by the way) will be a familiar name to most cyclists; their line of bike bags and cases is well known and respected, and chances are you'll have seen their bags rolling around the airports of Europe on your cycling adventures.
But the Aerotech is the brand's first venture into eyewear. I've been toting these shades around for the past couple of months, on the Mallorca 312 (where they were invaluable) and more recently on the Trans Alba Race, where Scottish summer conditions meant they were relegated to a rain-drenched saddle bag for large parts of the 1100-mile tour.
It's been plenty of time to assess the Aerotech though, and SCICON have set the bar high with their first effort.
Visually, the most striking feature of the Aerotech glasses are the two chunky "fenders" that sit below each eye. These are intended to protect your face in the event of an accident, and two sets are provided: the slightly chunkier "sprint" set pictured, and a less aggressive looking regular pair in white.
The fenders are easily removeable - they simply clip on and off - so whether you prefer the frameless look or the full-frame effect, you can set them to your preference.
The glasses also come with a choice of three nose pad sizes, allowing you to customise the fit to fit your face. And finally, you can remove the little tabs on the arms to increase the flexibility if required.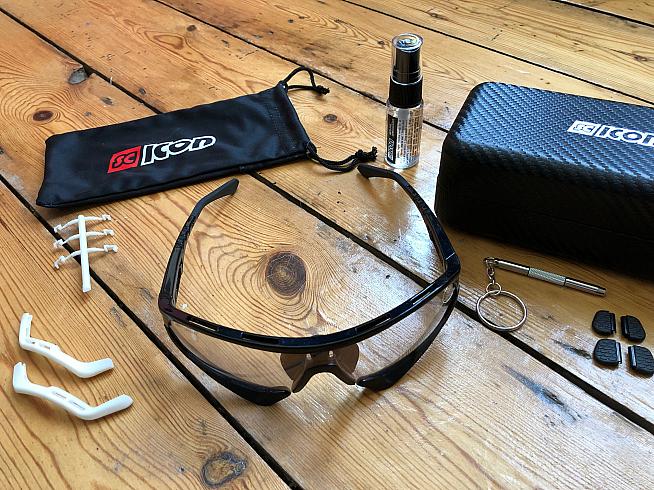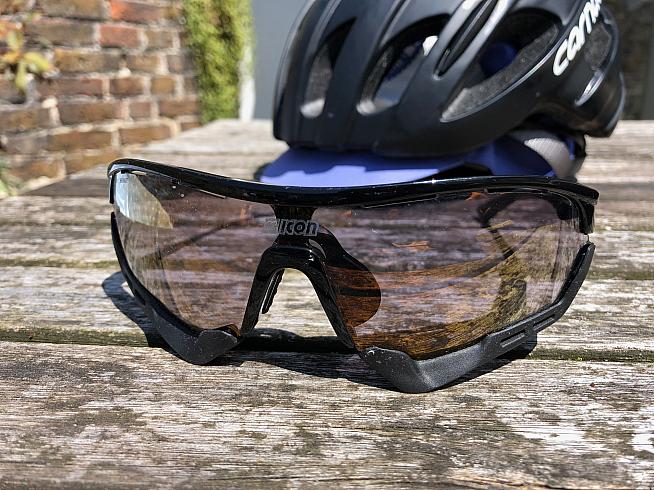 I found the fit spot-on out of the box, and have been riding with the fenders fitted. I might have swapped the sprint set out for the more streamlined regular pair, only for the fact they are supplied in white, rather than black - but if that really bothers you, it's nothing a set of Posca pens and bit of creativity can't fix.
The frames are made of a material called Grilamid TR90, and are lightweight and flexible.
SCICON have partnered with Essilor, a leading Italian brand in the  sector, to produce the lenses for the Aerotech. The SCN-XT photochromic lenses offer a claimed 100% UV protection.
While most sports eyewear features polycarbonate lenses, the Aerotech shades use NXT - a special polymer developed in the 1990s for use in the windshields of attack helicopters, apparently. I don't usually aim to dress like military hardware, but at least I know the occasional insect strike is unlikely to make a dent if machine gun strafe can't.
Four lense colours are available; I tested the bronze, which is a light tint and affords excellent visibility even in low light conditions. They are also perform very well in sunshine, thanks to a reactive, photochromatic lens that adjusts the tint depending on the amount of ambient UV light.
This means that in low light the lens is essentially see-through, rapidly darkening to a mirror-like bronze as light levels increase. It's a really smart and effective feature, and means you don't need to carry around two or three sets of lenses to cope with changing conditions on long rides.
The photochromatic lens in the Aerotech is rated from Category 1 (80% visible light transmission or VLT) to Category 3 (18% VLT). I would say the bronze lens is suitable for the vast majority of conditions you'll typically encounter in the UK. It's only in extremely bright conditions that you might feel the need to swap up to something with a darker tint.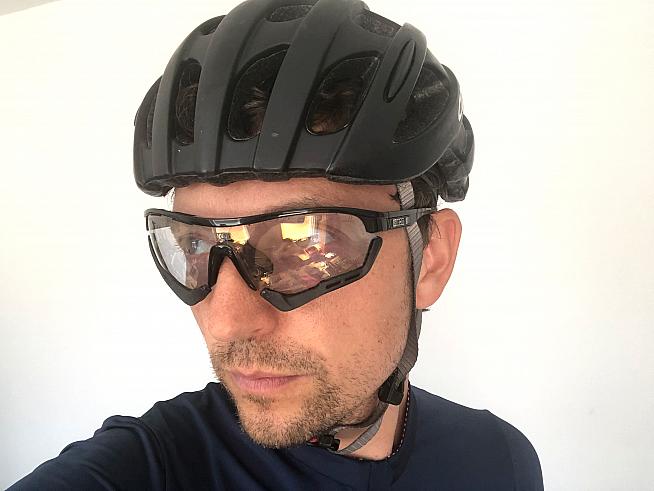 Out on the road, the Aerotech glasses are comfortable to wear and remain securely positioned, no matter whether it's a speedy descent or a creeping climb into a roaring headwind.
They are lightweight enough to be barely noticeable, and vented to help prevent misting up. If you don't usually wear shades, the improvement in ride experience is significant - no more slowing down to wipe stray dust/flies out of the corner of your eye can only be a good thing.
The only minor criticism that might be levelled is that the fenders do somewhat impede peripheral vision; when glancing over my shoulder to check for traffic, I found there was a blind spot caused by the edge of the fenders.
That's a minor point though, and of course the fenders can simply be unclipped if you find it a problem.
I didn't find it to be a significant issue, and am optimistically toting the Aerotechs on every ride from now on. Even if they do spend a considerable amount of time tucked safely into a jersey collar or helmet vent during Scottish monsoon season...
Ultimately, if you're looking for a premium pair of cycling sunglasses that will protect your eyes and are versatile enough to cope with most UK conditions, the SCICON Aerotech fit the bill - and in some style, too.
SCICON Aerotech sunglasses - £224 at shop.sciconsports.com
0 Comments