I've owned a Thule rack before - full disclosure here - and I'd still have it today if I wasn't such a tree hugger. Few years back we traded in our diesel (foresight, eh?) and went full electric. We had a trailer and a bike rack and now, because our shiny new e-car wasn't rated for towing, no way of hanging them on the back.
The rack was superb for transporting our bikes securely, having been purchased for our first continental cycling holiday. There were a few annoyances, in that the straps weren't fixed, the bikes were lashed to a padded pole in the centre and the tow-ball attachment was a faff, involving spanners and swearing.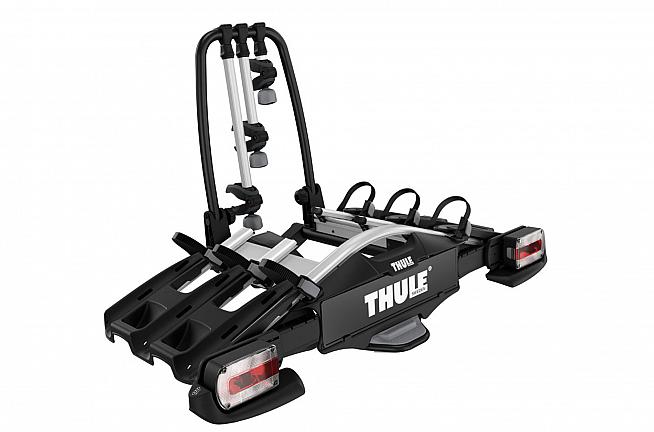 Roll on ten years and a new edition to the family in the shape of a vintage VW T4 with an annoying rear ladder which meant that the traditional hang on racks weren't viable and a towbar needed to be fitted. Me and the missus were going on a road trip to Inverness, via Windermere in the Lakes, to do the Etape Loch Ness, so the bikes needed somewhere steady to hang.
Here's where we turned to Thule again, and to the VeloCompact 927. What a difference a decade makes. The VeloCompact has space for three bikes of varying size and function, held rock solid to rack with ratchet straps and movable, lockable arms that can tightly grip the bike's frame at many angles with zero risk to the paintwork. Although they do remind me somewhat of the Scutters in Red Dwarf, so I was half expecting one of the bikes to have been converted into a soup vending machine during the journey.
Fastening the rack to our newly installed tow bar was an absolute cinch, with a small initial adjustment in the locking tension and a squeeze of the locking lever. The locking lever, like the scutters, can be secured using a single key for added reassurance for those emergency trips to check out the anti-flatulence underwear adverts in motorway service station toilets. Or coffee breaks.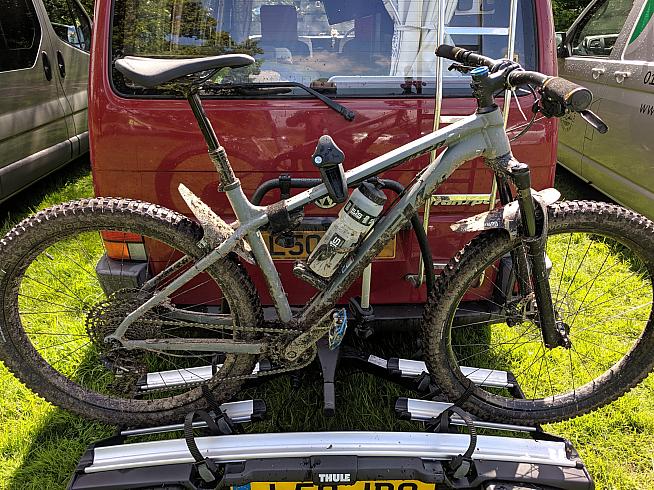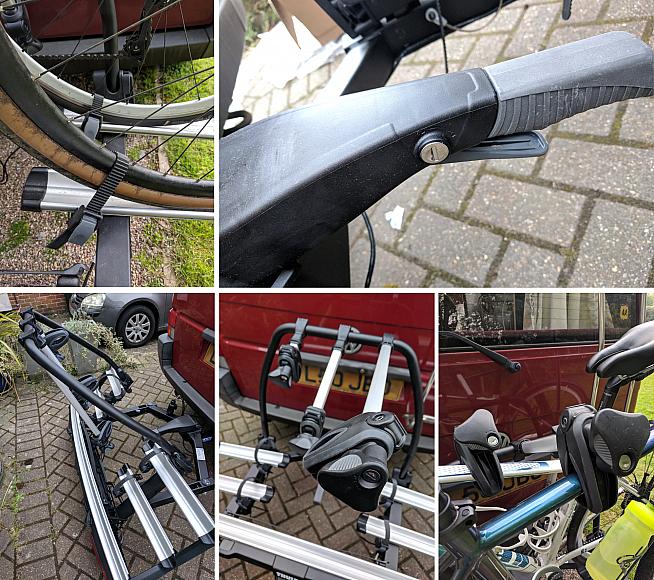 Like the original rack, this one has a tilt function, allowing access to the rear of the vehicle without removing bikes. I never successfully used the one on my first rack as it involved, as with the tow-ball attachment, much fettling and swearing - by which time my wife would have unpacked and repacked the car to get whatever it was from the boot.
Not so with the VeloCompact - the foot-operated lever delivers all your velo-based ironmongery towards you at a 45 degree angle with one effortless press, although it is not advised to try to use it as a step to reach over the bikes unless you like the feeling of gravel in your hair and crowds of people pointing at you and laughing. The tilted rack goes back into place quicker than it takes for any bruising to come up.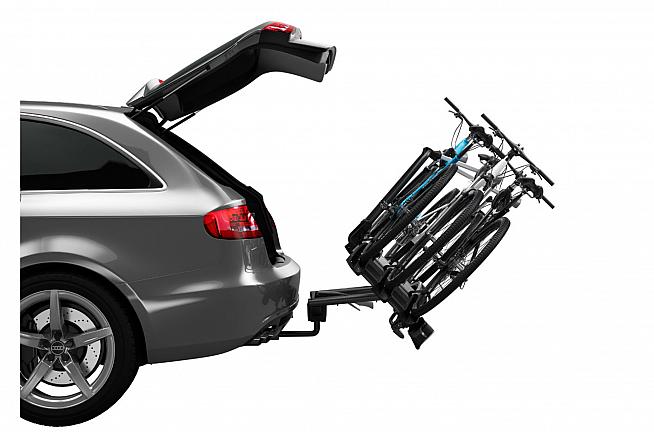 The VeloCompact isn't as tiny as its name suggests - you will still need a lot of shed space to store it when it's not being used. It made a pretty good bike stand in our camper awning, though.
It copes with nearly all sizes of bikes, wheel diameters and widths, crossbar configurations and frame geometries and the carrying capacity is rated to 60kg. That's ample for three not-so-lightweight steeds - ideal for mountain bikers and tarmac-riding whippets alike.
It can easily carry two electric bikes, and if you cannot lift such a hefty beast onto the rack, there is an optional ramp that slots into the end so you can wheel it on with the e-bike's walk assist.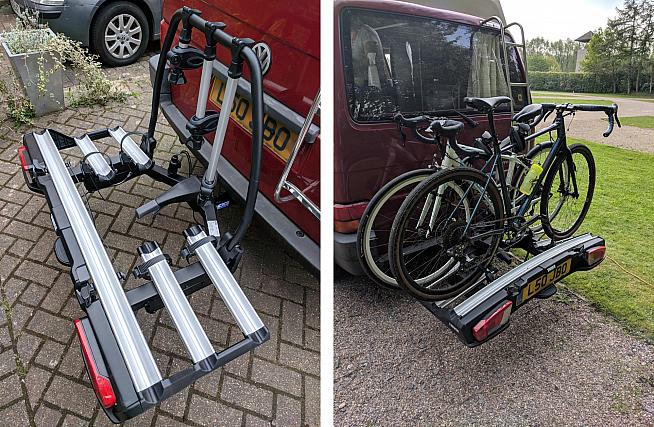 Over 1000 miles travelled and no hint or worry of shedding our load. To misquote Ordell Robbie in Jackie Brown, this Thule tow bar rack is the very best there is. If you absolutely, positively got to carry bikes from one end of the mo' fo' country to the other, accept no substitute.
RRP is £480 but you can find the VeloCompact for £399 from retailers like Halfords, or from £335 on eBay.
Thule VeloCompact 927, RRP £480 - www.thule.com.
0 Comments