Be careful what you wish for, a wise man probably once said. As I looked out of the window at the late April rain bouncing a good 50cm off our wooden deck, I began to think that wishing for some suitable weather to test the 7mesh Corsa softshell jersey (rather than the deeply unseasonal sunshine and high temperatures that we'd been suffering' from for the first part of the month) was somewhat foolish. Particularly as I was due out of the door only 5 minutes later to go and join my club mates for our traditional Tuesday night ride.
Normally heading out on my bike into heavy rain, gusty winds and a promised air temperature of 6 degrees would be quite low down my list of priorities and I would have been very tempted to sack it off and sit on the sofa and eat my own bodyweight in crisps instead. But seeing as I had failed (miraculously) to find weather poor enough to really put the Corsa jersey through its paces, I just had to HTFU and get out and ride.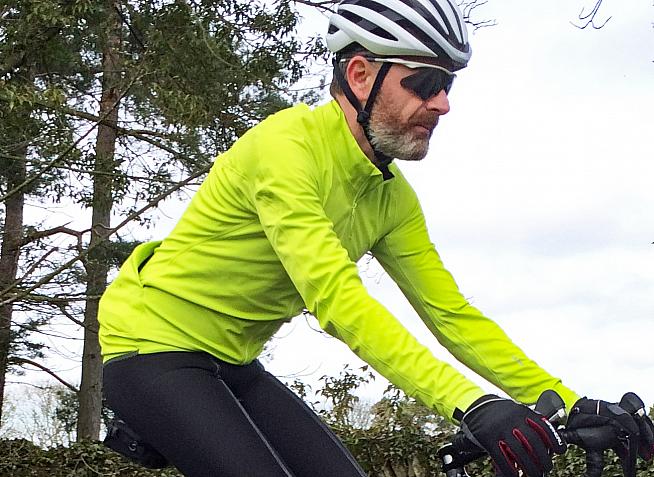 Having checked a variety of forecasts all afternoon I realised that no matter how I looked at it, it was going to be cold and wet, so with an air of resignation I clambered on a chair and removed my bag of winter cycling kit that I'd only packed into summer͟ storage the week before. Winter tights, long sleeved base layer, merino skull cap, buff, winter gloves, merino socks, über-insulated winter boots. Check. Immaculate, super bright, 7mesh jersey, double check.
One of the deep joys of British weather, especially if you're careless enough to live in the north-east, is that you really never know from week to week what it will throw at you. This April had apparently on average been the hottest on record, which temperatures into the mid-20s, yet at Easter, only a few weeks before, we had snow sitting outside our house on two days during that long weekend. Bonkers. From a cyclists' perspective, this dramatic variation in weather from one day to the next is somewhat of a nightmare. Most of us aren't lucky enough to have a team car driving behind us, ready to hand out (or take back) extra/unwanted clothing as we add/shed it. This means we either have to ride with a full panier set of spare clothing just in case, or perhaps more typically for your average sartorially-challenged British cyclist, ride with pockets so stuffed full of extra clothes that the rear of your jersey practically drags on your back wheel.
In the days before Castelli launched their genre-busting Gabba jersey, riders had to choose between a hardshell or a lighter windproof jacket. The hardshell kept you dry in heavy rain, but often lacked good breathability, so you tended to cook if riding at anything above a gentle potter, while the windproof typically breathed much better, but leaked like a sieve so you needed to keep moving in order to avoid freezing to death. Then the Gabba was launched, and almost overnight a combined waterproof/windproof/waterproof/breathable/soft touch/lightweight cycling jersey was almost de rigueur for manufacturers to produce and riders to have in their clothing arsenal.
The 7mesh Corsa softshell jersey that I'd been asked to test was a perfect example of this flexible/adaptable/multi-purpose clothing idea. When you unpack it you notice a couple of things straight away:
Wow, it's bright
It's got a lovely soft, high-quality feel to it; and
Blimey, it's light!
7mesh claim the Corsa weighs only 264g (30% lighter than the Stolen Goat Orkaan jersey that I tested back in January) and that puts it in the realm of normal winter riding jerseys (which are neither wind nor waterproof). So, having ogled the jersey, I dug out some complementary cycling kit, put the jersey on and ponced around in front of the mirror (in a highly skilled, journalistic manner of course, and definitely not to check whether the jersey made me look fat...).
The upshot of this rigorous testing was that the fit is quite snug. Based on my slightly weedy 36" chest, I should have been wearing a size XS according to 7mesh's sizing chart. In actual fact, the size S (aimed at riders with a slightly beefier 38" chest) was spot on. Even having sized up, the fit was definitely more racing-snake than well-padded club rider - another good excuse to get out on the bike rather than sitting on the sofa inhaling calories - although I'd recommend you try-before-you-buy to avoid accidentally looking like an overly stuffed sausage!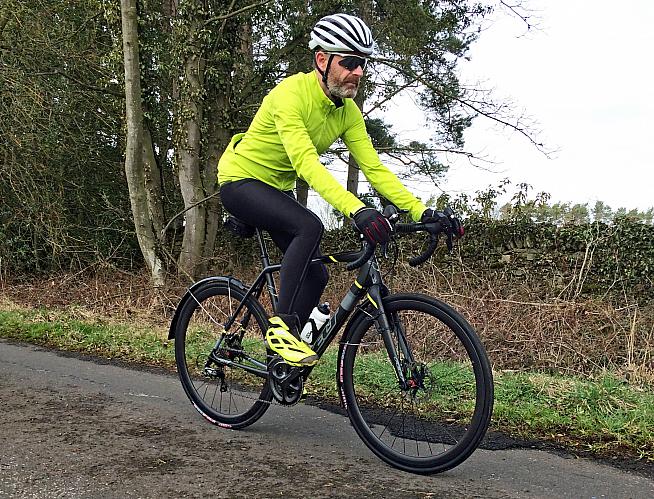 The jersey has lots of subtle/unusual details, some of which you don't notice until you're riding. In terms of fit, the sleeves are the perfect Goldilocks length - long enough to cover the cuffs of your gloves, but not so long as to go wrinkly/baggy.
The 3vision front zip has the quasi-obligatory zip garage at the top, so that when done up it's out of the way and manages to avoid getting tangled in your beard.
At the back of the jacket are two generous pockets. This is somewhat different from normal jerseys, which tend to have two larger pockets on either side and a slightly narrower one in the centre (useful for your pump/phone etc). The pockets are designed so that when off the bike and standing upright they sit flat to the jersey and are essentially closed. When you're in the riding position though, the design is such that the top of the pockets sits further away from the main body of the jersey (check the photos to see this in action). This is both good and bad. Good in that it facilitates slightly easier access to whatever you've got stored in there, but bad in that they're open to water ingress from rain.
To counteract the water ingress issue, both pockets have laser-cut drain holes at the bottom. 7mesh's logic seems to be that easy access to pockets is a higher priority than keeping your stuff dry, and that any water that does get in should drain away easily anyway. The pockets are certainly easy to access when riding; my only gripe is that things tended to migrate towards the centre of the jersey, which meant you had to put your hand in, then rotate it slightly to get to whatever you were searching for. Not a deal-breaker perhaps, but I think I prefer the more normal three-pocket design (sorry 7mesh).
Internally all the seams are taped with flexible waterproof tape. This allows the jersey to remain essentially waterproof no matter what strange contortions you are pulling at the time. 7mesh don't claim the jersey is 100% waterproof (merely weather resistant), but in practice, even when riding in truly hideous conditions, the jersey stayed mainly dry.
As with a lot of cyclists, I don't only ride on the road - I ride cyclocross and mountain bike too, and so need most of my kit to be able to multitask. When mountain biking, I tend to wear a pack (you need somewhere to stash the mid-ride cake after all) and this obviously impacts on the breathability/waterproofness of the jersey. 7mesh don't make any claims that the jersey will maintain its weatherproof credentials when wearing a pack, but to its credit, on getting home from a four-hour ride in pretty dire conditions and with plenty of climbing to test the breathability claims, the jacket was bone dry on the inside from the top of the collar down to about kidney height. The lower central part of the jersey was definitely wet on the inside, but this is likely to be caused by a combination of wearing a pack and the sheer volume of muddy water being thrown up by the back wheel as much as any inherent lack of weatherproofness.
Talking of muck from the back wheel, the jersey has a nicely shaped dropped tail, complete with silicon enhanced hem so that it sits flat against the junction with your shorts/tights and does a decent job of keeping some of the crud away from your skin. Obviously, in truly biblical weather, a dropped tail won't keep you completely dry, but I guess every little helps.
For the first 30 minutes of my super wet ride the jersey beaded the water off nicely, but somewhere after that point the water repellency of the outer layer started to suffer and from then on the rain was absorbed rather than shaken off. This didn't appear in the main to soak through to the inside, but it did definitely add to the weight of the jersey and meant it felt colder when standing around chatting, rather than actually pedalling.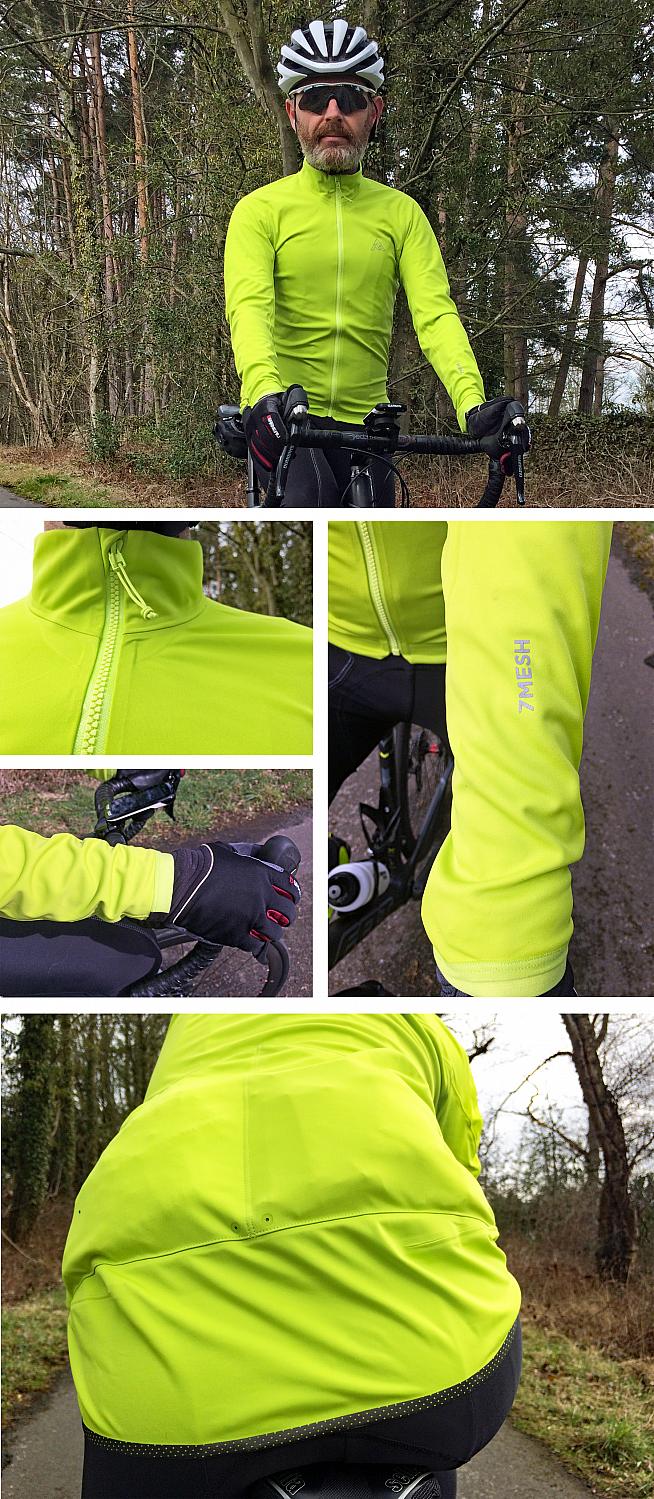 The 7mesh jersey isn't cheap - £190 at retail in the UK - so I was somewhat worried about wearing such an expensive piece of kit in an off-road environment (where it is subject to more abrasion than on the road and is liberally coated in all sorts of muck). Luckily, the durability claims of the manufacturer have (so far) stood up, and after a cool wash the jersey looked as good as new. Time will tell whether eventually the good looks fade from its current couture feel to a more common man-at-C&A styling.
So, to sum up: the Corsa is a fantastic looking and performing jersey. The quality of the materials and fit are spot on - backed up with a lifetime warranty on materials/workmanship based problems (although you do have to send it to Switzerland to get it fixed).
It worked remarkably well in a wide mix of weather conditions (cold and dry, torrential rain, cool and damp) and in both on and off-road environments. It's not easy to try kit on in these days of online shopping, but I'd recommend you try on the Corsa before buying if at all possible - or simply size up, unless you really want a skin-tight fit.
But all said, if you find the requisite funds hiding down the back of the sofa, then definitely buy the Corsa and head out into the rain, rather than sitting indoors and going up a size or three with all those crisps.
7mesh Corsa Softshell Jersey, £190 - www.7meshinc.com
0 Comments