Sometimes when I'm testing a new piece of clothing, I know within a few seconds of putting it on what its raison d'être is. Those initial gut feelings are normally confirmed pretty rapidly when you head out on the road and from then on, it's just a process of trying to identify the subtle facets of whatever it is that you're testing (and then translating those thoughts into some kind of elegant and insightful prose of course).
Occasionally though, I get to test something where either my initial gut feeling doesn't play out correctly on the road, or where it takes a significant amount of time before I actually understand what the garment manufacturers are trying to achieve.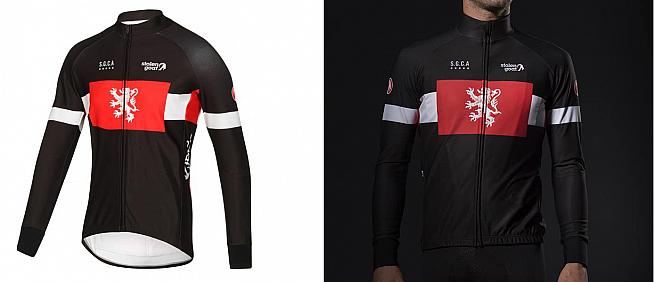 When the Stolen Goat Orkaan Everyday Long Sleeve Jersey arrived for testing, my initial reaction was positive. The black, red and white Flandrien Fighter design - one of multiple options - looks extremely smart. The material has a soft, flexible feel to it, with none of the rustling sensation you get from a typical waterproof jacket (which is essentially what the Orkaan jersey can be considered).
The fit is quite a lot more generous than the short sleeved Bodyline jersey that I reviewed a little while ago. The arms are the perfect length, with generous cuffs that stretch over the top of your gloves to block out any wind gaps. The fit around the chest is slightly baggier than I would normally choose - it's not exactly flappy, but it certainly isn't race-fit either. To be fair to Stolen Goat, this is exactly what they promise in the information for the jersey, so if you want race fit go for one size slimmer.
But aside from all that, the one characteristic of note was that the jersey felt surprisingly heavy. My digital kitchen scales have it as 391g, which compares with 214g for the Rapha long sleeved CX jersey that I tested a while ago. Once it's on you don't notice the weight, but it certainly feels pretty chunky in the hand.
Stolen Goat's description of the Orkaan jersey is pretty detailed and includes a bunch of relevant advice about what kind of weather conditions it is appropriate for:
"With built in weatherproofing that won't fade with washing, a soft, breathable roubaix lining, a covered YKK zipper, neck protector, and an extra, zipped rear pocket - this could well be the ultimate 3 season jersey.
The fabric, despite its weatherproof qualities, is still very breathable. That means the temperature range is very flexible - from 6-16°c."
Sadly for my testing, the weather gods in the north-east obviously didn't receive the memo from Stolen Goat about ideal climatic conditions and produced a sprinkling of snow, a fairly stiff breeze and temperatures definitely below the ideals noted in the marketing blurb for the day of the inaugural test ride.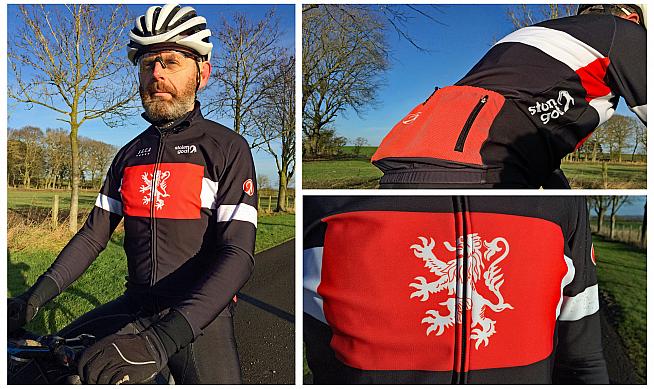 Now you could say that a sensible and experienced kit tester would have realised that this jersey, despite the heft of the material, wasn't actually designed for winter conditions and they would have gone out on the test ride with a jacket over the top.
And, with hindsight I should have followed that advice. Instead I went out wearing a merino base layer, the Orkaan jersey and a lightweight windproof gilet, and to be honest I was chuffing cold.
The ride I was on that initial test day was an 80km loop, gently rolling, with a head wind for the first half. The sun shone (which was a bonus), but the wind was impressively cold and disappointingly, seemed to cut through the jersey more than I was expecting. The roads we were using were pretty rural and there were some quite decent patches of snow in places, which started to melt and turn to slush as the ride progressed. The one good thing about this was that I was able to test the efficiency of the weatherproofness of the Orkaan's construction, as even with mudguards on, there was plenty of road spray in evidence.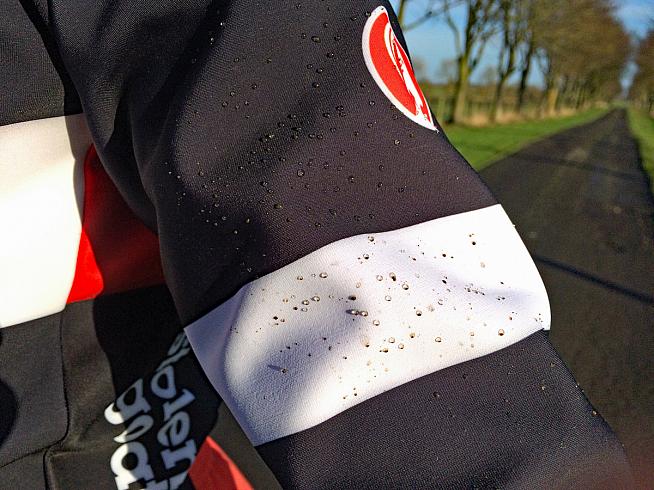 The gentleness of the route, the coldness of the wind and the relatively low speed that we were riding meant that I never really warmed up. Again, I should point out that Stolen Goat specifically said the jersey is designed for 6-16 degrees C and I was wearing it much closer to freezing point, so I can't blame them for the fact I nearly got hypothermia.
As I rode along, I tried to figure out exactly what the point was of the Orkaan jersey. It has a relaxed fit, the material is quite thick and it has some impressive waterproof credentials. Surely that would make it an ideal winter jersey? The problem for me is that it offers significantly less thermal insulation than other (non-weatherproofed) long sleeved jerseys that I own.
After the first ride, I was a little confused, somewhat disappointed and completely frozen. It would have been very simple to write the jersey off and say that it didn't really do the job for me. That would be unduly harsh (particularly as I was using it outside its remit) but also lacking in journalistic rigour.
I tried it again. And again. I rode it with a long-sleeved base layer underneath. I tried a thin windproof jacket over the top. I tried it in the rain with a thicker waterproof jacket over the top. And on each occasion, I felt the jersey wasn't quite right. It was too cold for me and the slightly bulky fit, meant it didn't play nicely with my existing range of winter clothing. I spent more than 20 hours riding in admittedly chilly conditions and was basically ready to admit that it wasn't for me.
And then I tried wearing it to go on a fast CX ride, rather than the slightly more leisurely-paced road rides that I'd used it for up to you that point. And within five minutes of leaving the house I was sold. The jersey was absolutely perfect.
The weather conditions were again pretty cold (in fact there were some pretty extensive patches of ice in places), but this time the speed was high and stayed high for nearly three hours. I had a long-sleeved base layer underneath, a buff around my neck to keep the drafts out and a merino skull cap and my body temperature was perfect.
Where previously the cold wind seemed to cut through the jersey and rob me of heat, now that I was working hard and had got my core temperature significantly up, the slight cooling effect was much welcomed. Not once during the ride did I ever get too hot or too cold. The zip worked smoothly with one hand (not something that all jerseys manage to achieve), the weatherproofing kept the worst of the slushy water from getting to my skin and the slightly baggier fit worked perfectly to allow freedom of movement on the CX bike, even when I was throwing the bike around on some fairly treacherous terrain.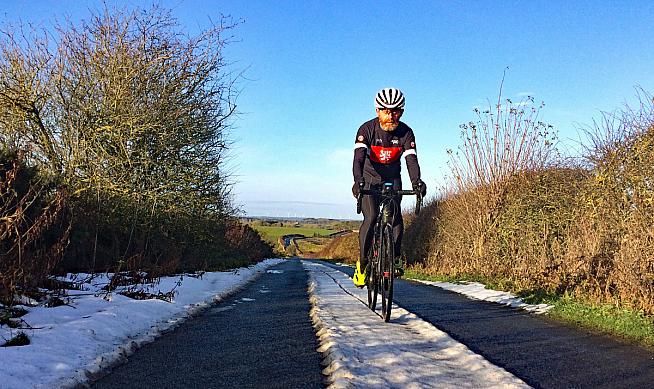 I came back from the ride completely hooked. The Orkaan jersey, it turns out, needs to be ridden hard for it to work. Potter around at low temperatures where you're not generating much body heat and you'll be potentially disappointed (not to mention mildly hypothermic). Give it some beans though and the jersey suddenly comes into its own - never too hot or too cold, sheds water with aplomb and super comfy. What more can you ask of a jersey in sub-optimal weather conditions!
Since that first eye-opening CX ride I've worn the jersey regularly and I still love it. Once I realised what its perfect operating conditions were, I haven't had a single cold ride in it. I've used it on fast road rides, bombed through the trees on my CX bike and even taken it night riding with my local MTB club.
The only negative thing I can say about it is that it doesn't shrug off brambles in the same way as some of my other kit does. One brushed fairly innocuously down my left arm mid-ride and it's left some pretty extensive bobbling on the surface of the fabric. It doesn't seem to affected the waterproofness, but it looks a little scruffy. Again, to be fair to Stolen Goat, they don't advertise the jersey ad being suitable for off-road use, but it's something to think about if your road routes get a little adventurous now and again.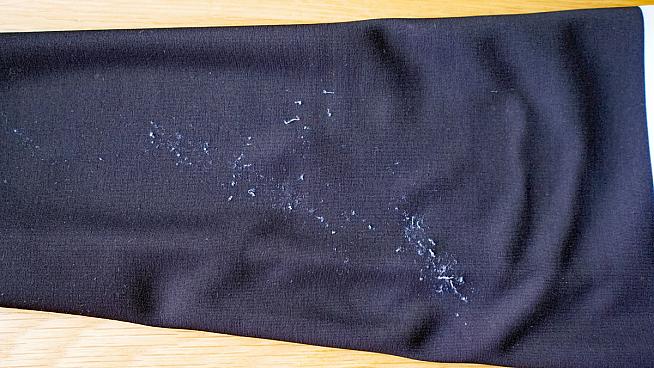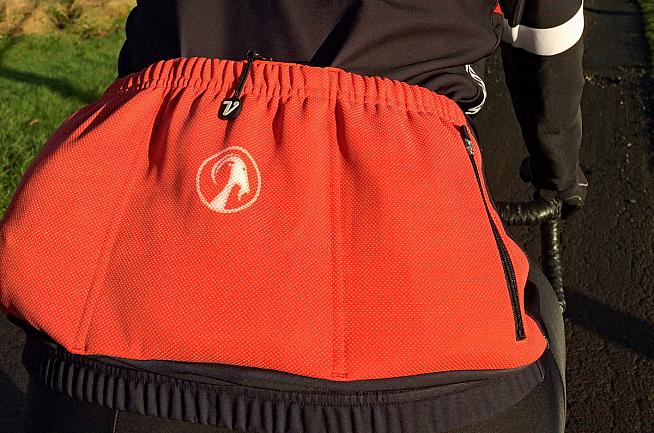 If you like to push the pace on your autumn/winter/spring rides, or if you naturally run hot (not something I can ever claim to do), then the Stolen Goat Orkaan jersey could be just the job. The jersey's impressive water-shrugging nature, combined with a stylish design and a relaxed rather than racy fit mean it scores well both on the usability front and in the mid-ride café fashion parade.
Just remember, though, that it's definitely happier when its internal thermometer is heading for red rather than blue.
Stolen Goat Everyday LS Jersey, £125 from stolengoat.com
0 Comments