I consider myself very lucky to live in the north-east. There's great riding right on my doorstep, Newcastle is a really brilliant city, the locals are lovely and house prices are reasonable. Sadly though, the weather isn't one of the selling points for moving here. It's now early July, but it seems that no one has told the British weather that it's officially summertime and that it should be sunny.
We've had cold, grey, wet, windy, thundery, hailstony and just generally grim. And not a lot of sunny. This makes testing a short sleeved cycling jersey somewhat of a struggle. Particularly as I'm a lightweight southerner at heart, and spend most of my time on my bike looking like the Michelin man, rather than stripped down to shorts and a lightweight jersey. So it would be disingenuous for me to claim to have tested the Stolen Goat Bodyline jersey in perhaps its ideal environment, i.e. one where it's actually hot enough to warrant getting your arms out without risking frostbite.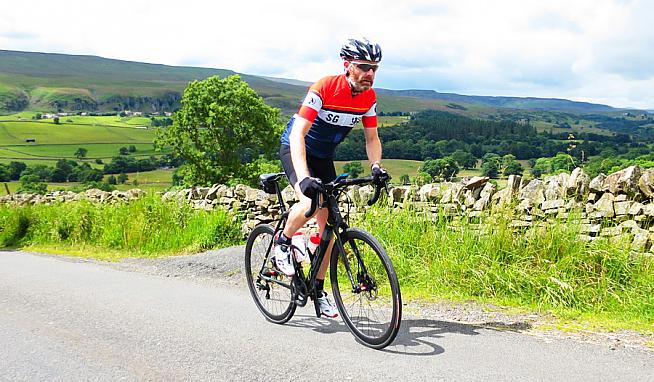 The good news though is that I've worn the jersey with different thicknesses of base layers, with arm warmers, under different weights of gillets and under two different jackets - and it's passed the test with aplomb! I have actually found a few minutes of sunshine too (even if just for the photos) and the Stolen Goat jersey shone then too.
Thinking about it, the fact that Stolen Goat are based in Belgium means they probably understand the fickle north-east weather perfectly - after all, they're not exactly well known for their hot and arid climate are they!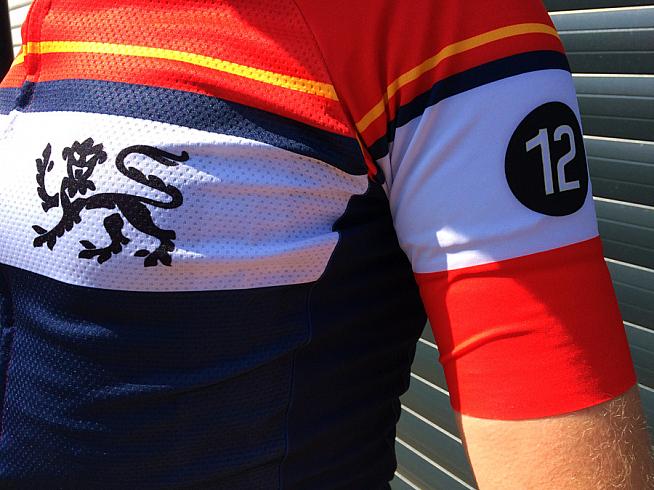 When the jersey arrived, my first impressions were all positive - great looking, classy feel to the material, good detailing (such as a fourth zipped, waterproof pocket for putting your phone in) and a significantly higher quality level than the £60 price tag might suggest.
The only downside was that when I tried the jersey on, I realised that Stolen Goat's sizing charts were a little Italian in their outlook. I'm a 36" chest and pretty much always take a size small in cycling kit. Whilst I could fit into the size small Bodyline jersey, it really wasn't a good look - certainly not one that I would want to rock outside, where people might see me. So after a quick swap and an upgrade to size M, I was off.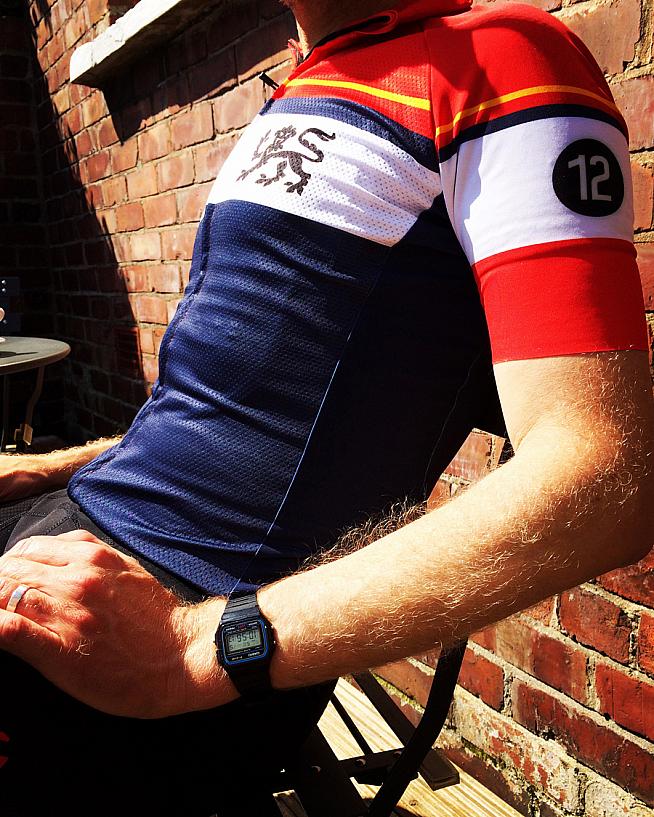 This time the fit was perfect: close, but without the "overstuffed sausage" look. The length of the jersey was spot on, the "longer aero sleeves with raw, laser cut end" were absolutely perfect (just the right length, just the right snugness), and even the bright design, which normally I would avoid, looked good.
Sometimes where you're testing kit circumstances do their best to thwart you - this time a combination of poor weather and illness meant the testing didn't go quite as planned. I had what I thought was a perfect test day lined up for the jersey - 100km of riding through the French Pyrenees, including climbing the Col du Tourmalet and the Col d'Aspin, with hot sunshine and cloudless skies.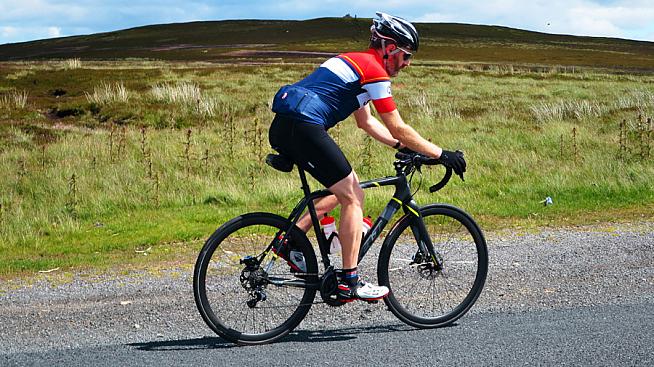 Sadly though, a nasty chest infection picked up a few days before meant that although the Bodyline jersey managed to reach both summits, it did so whilst packed into my duffel bag as I was chauffeur-driven up the iconic HC climbs rather than putting the jersey through its paces. Still, I got some useful test data even then: the Bodyline jersey rolls up nice and small and, when finally unpacked, it looked as good as new - no unsightly creases or tell-tale signs of travelling.
The good news is that for British riders, not blessed with daily hot sunshine and azure skies, the Bodyline jersey works brilliantly. I always wear a baselayer, no matter the time of year or the outside temperature; my personal view is that this helps maintain an even core temperature by aiding the wicking process, so you stay dry even when working hard on a climb.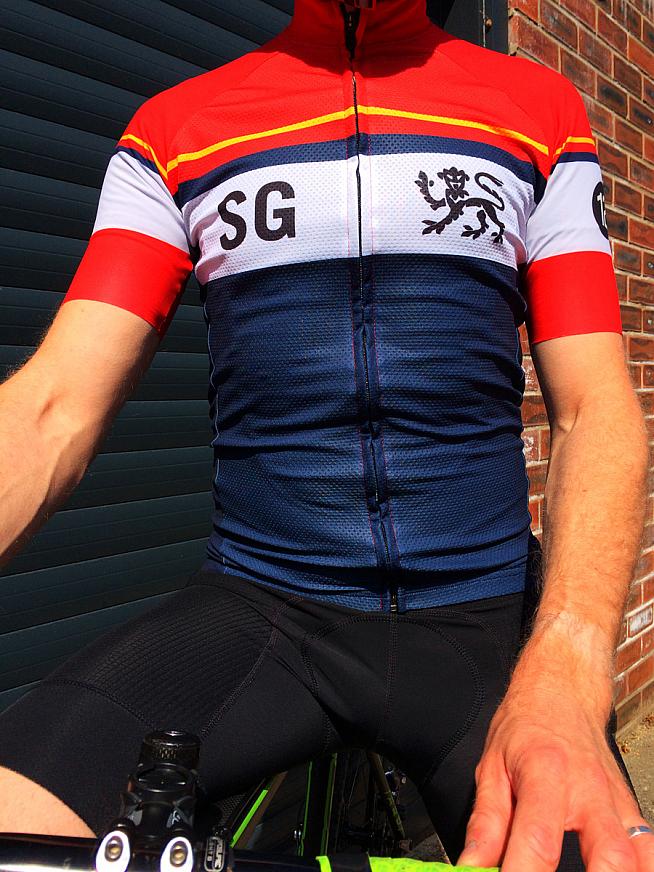 During the test period, the Bodyline jersey worked perfectly in this respect. Even when worn under a lightweight windproof jacket it wicked well, never felt too hot or clammy, and the high quality YKK zipper meant it was easy to adjust the temperature one-handed. For the beard owners amongst us, the zip is 100% compatible with facial fuzz - even at my most Robinson Crusoe-esque, I haven't once snagged the zip.
The core of the jersey is made from "UV-protected 4-way stretch material, designed for optimum ventilation and super fast quick drying" according to Stolen Goat's website. Whilst I can't claim to have pushed the UV protection or the optimum ventilation, I can certainly confirm the quality of the 4-way stretch fit and the quick drying properties of the jersey - it came out of the washing machine barely damp.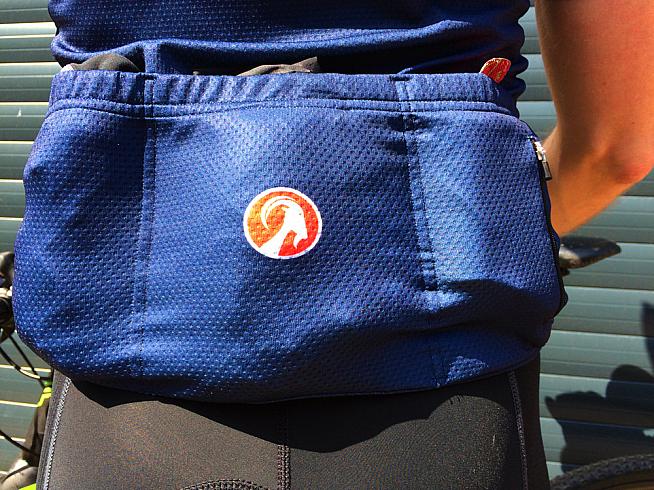 The quick drying nature and vented material means that whatever weather conditions you're using the jersey in, it will breath and wick well, allowing you to regulate your temperature easily.
So the fit, function and price of the jersey are spot on. Are there any downsides? The colour and style may not be to everyone's taste - Stolen Goat's designs definitely tend more towards the loud and bright end of the spectrum, rather than the blend-into-the-background look that a lot of their competitors go for. Whether the design is your particular cup of tea is an entirely personal thing - and they have plenty of other designs to choose from if you don't like the Domestique one that I got to test.
In summary, the Stolen Goat Bodyline jersey is brilliant. It's incredibly good value for a top-quality jersey, and once you find the right size for you the fit is great. It's got just the right amount of functionality without being over the top, and it works well in typically British weather conditions.
The colour and design may polarise opinion a little, and I can't swear on its hot weather performance characteristics, but I'm willing to give it the benefit of the doubt! Definitely worthy of adding to your shopping list if you're in the market for a new short sleeved jersey.
Stolen Goat Bodyline Jersey, £60 from www.stolengoat.com 
0 Comments