It has been a strange year of cycling for me. Barring one day-long slog around the Isle of Wight my 2023 palmares has been very lacking in any rides of note.
I've often kicked off with an early-season sportive - for many years I did the infamous Hell of the Ashdown - but the first one I'd entered this year, Glorious Gravel's Sherwood Forest ride, was canceled due to snow and basic common sense.
Having been spared the genuine possibility of frostbite I rescheduled to September and got to combine a trip away in Derbyshire with the Peak Epic, running out of Buxton.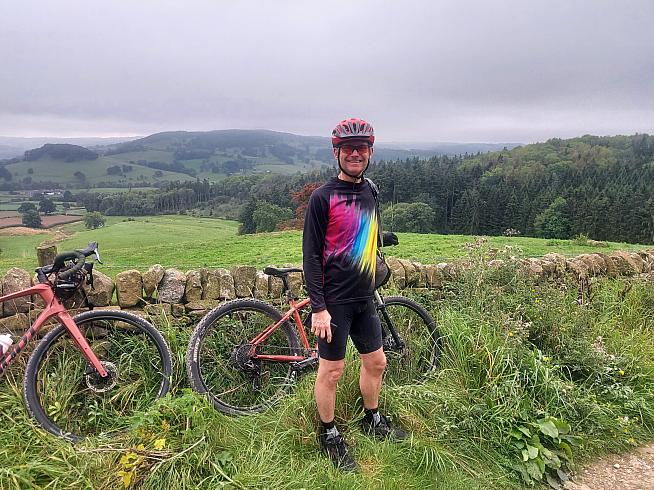 I've stayed near Ashbourne before so I knew that Derbyshire was not flat, but the route boasted large sections on the Tissington and Monsal Trails, both of which run along the route of old, decommissioned regional railways. This seemed like the ideal way to wind down for a winter's hibernation and put my disjointed year to bed.
As always, the pre-ride information from Glorious Gravel was excellent and even looking at the proposed routes didn't ring any alarm bells for me. I was, true to (poor) form, sensibly going to tackle the short route: 40-odd miles of undulating terrain with the lovely flat and wide former railways on which to recover.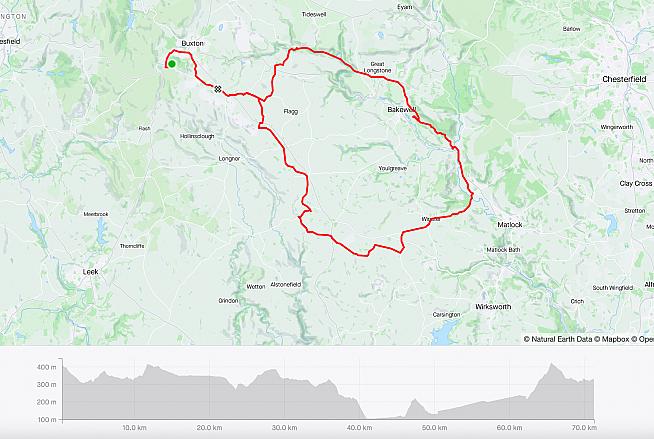 I'd picked a campsite nearby in which to park up, but got a little perturbed by the amount of up-and-down I would have to do just to get to the start. I later realised that we were now in the High Peaks and not the Dales, but for now, I dismissed the lack of flat roads as a local anomaly.
I was soon to be proven wrong.
The ride started earnestly enough at Buxton Rugby Club, a variety of different cyclists and their machines being registered and kettled into the start pen. I wasn't at all bothered by the appearance of more electric bikes than I'd normally see, or that quite a few of the gravel bikes had tiny, 30-tooth chainrings on.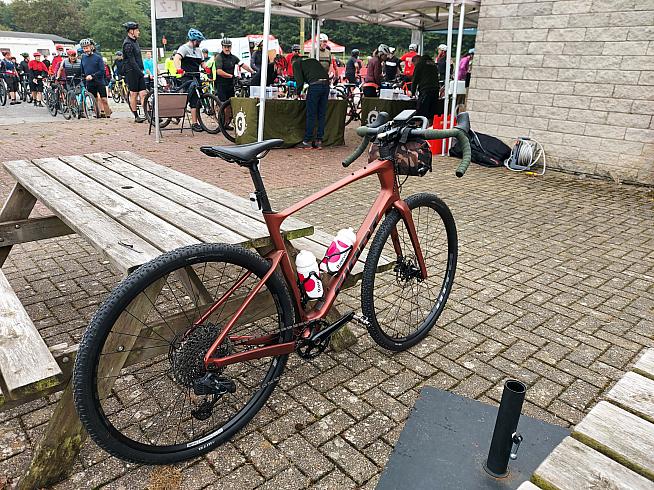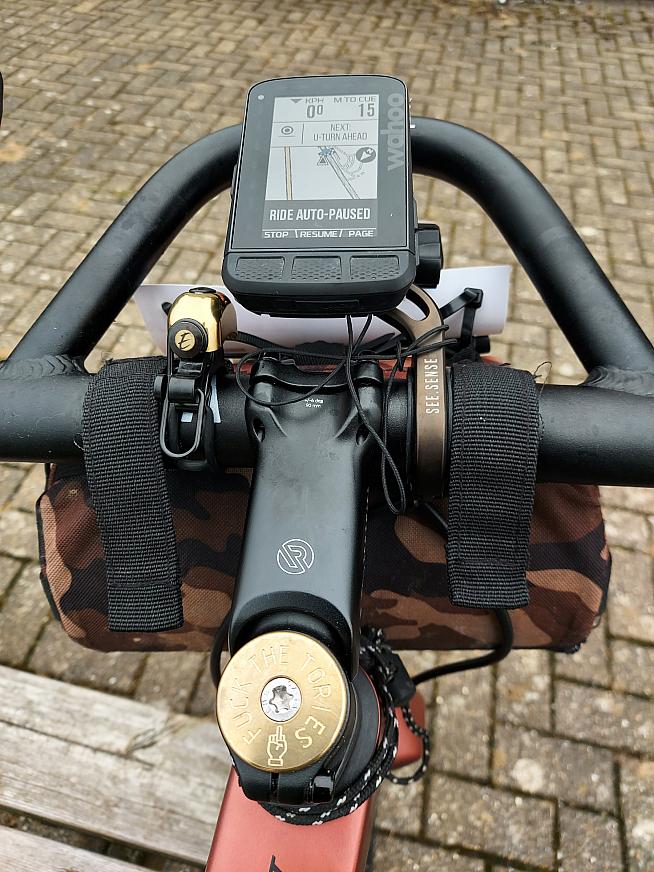 Away we went but were soon trundling up local narrow roads that dipped into the red gradient category on my GPS head unit but thankfully leveled out to our first section of Trail, starting with Tissington.
A main feature of these trails was that, although they were mostly flat or gradient-friendly, they were built up and over some very challenging landscapes, and the sections between them more than made up for their steepness. Stopping briefly at the first feed station I couldn't help but notice it was in the car park of a pub called The Waterloo and wondered, with a sense of foreboding, whether this was a sign.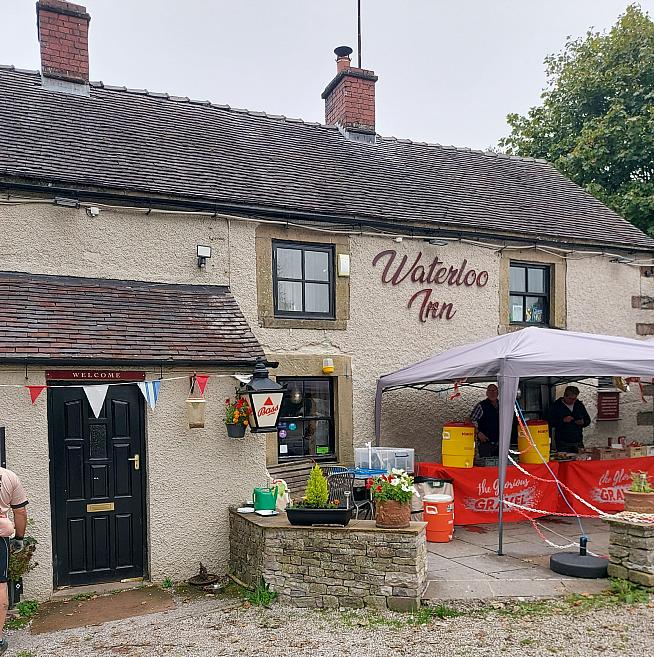 Well of course, the pub had a sign. That's how I knew the name.
After the welcome break, we ventured down B-roads, bridleways, and farm tracks, eventually hitting the lowest part of the ride as we crossed the River Derwent in Darley Dale and headed upstream, northwest back towards the High Peaks. We had dropped down a few hundred metres since leaving Buxton and now there was a steady climb back up, punctuated with a rather nasty section off-road before the welcome sight of the second feed station southeast of Bakewell.
From there it was constant climbing, first of all along the beautiful Monsal Trail with its tunnels and viaducts, finishing (me) off with a brutal slog up a rocky farm track ending at the ironically named Flat Lane.
From here we retraced the road back from the first hump of the day, and finally it was back to the sanctuary of the event village, where we all received an eco-friendly wooden medal and access to some complimentary zero-alcohol beers.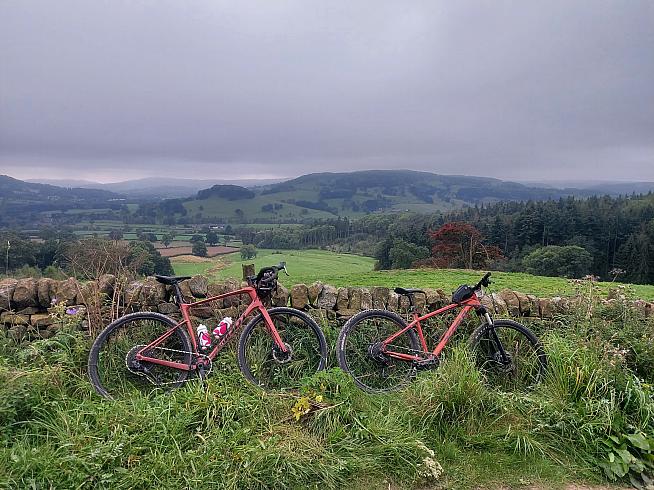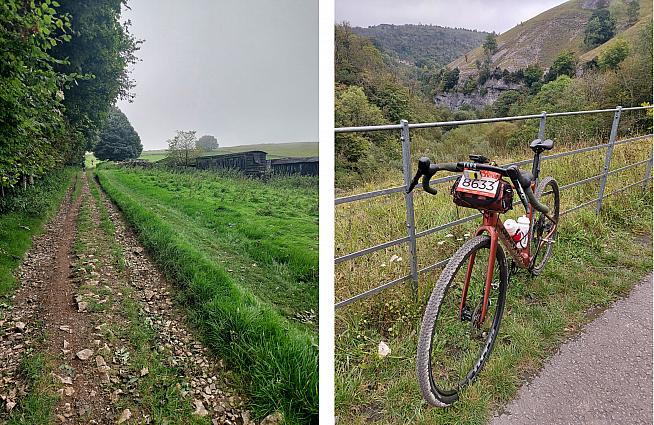 I felt shattered and defeated by the ride - I'd never walked as many hills before, but it wasn't until I saw the profile of the ride I could see why. There was never really any prolonged section of downhill to Darley Dale, and many of the descents were technical and challenging, especially to those with thinner tyres and more momentum due to the Earth's gravitational pull.
Much like the far South West of the UK, there are very few flat roads in the Peaks, leaving you in no doubt as to how they got their name. Once again, the splendid people at Glorious Gravel got me to grovel but their routes are always a perverse pleasure to ride.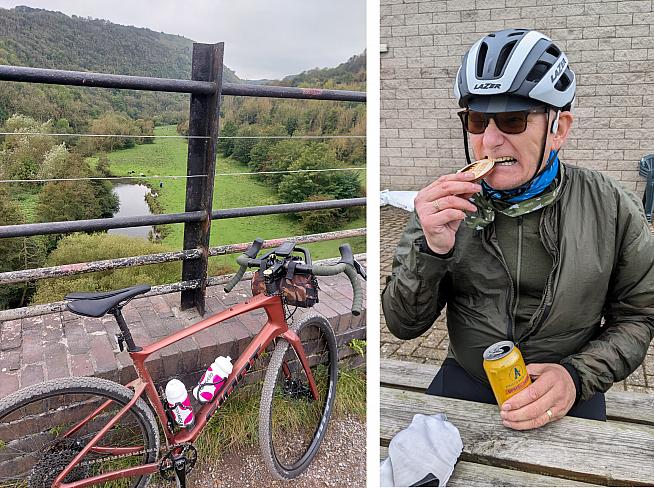 I really want to go back there and retry the route some other time, treating the area with the respect it deserves. My poor form on the day has encouraged me to make cycling a part of my daily routine again, and I'm backing that up by committing to over-winter on the turbo trainer.
I may still flounder as the gradient increases, but if I've got a little further up the hill, or walked less then I'll have earned something from the suffering.
Discover the Glorious Gravel series at gloriousgravel.com.
0 Comments