Early in June I headed back to cyclists' climbing heaven for the annual gathering of incredibly strong riders at the Granfondo Stelvio Santini.
I joined 3,110 other cyclists for the epic mountain challenge, whose long route covers 151km with over 4000 metres of climbing. Of the 3,110 riders, only 180 of of us were women. And out of 180 women, only 28 of us chose the long route. This makes us either really brave or really crazy: I'll let you decide!
I won't cover all the details of the granfondo as you can read them in my report from last year, but I what I will focus on today are the extra challenges and diversities that I noticed between the long route and the medium route that I tackled last year.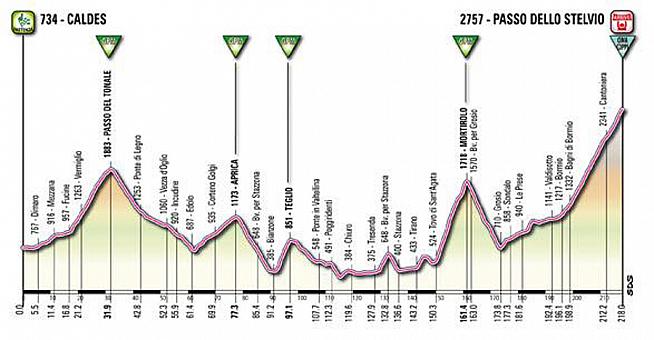 A granfondo like no other
Let me quickly remind you of the perks that make the Stelvio Santini an incomparable sportive:
The granfondo is inspired by the queen stage of the 2012 Giro d'Italia, featuring climbs of the Stelvio and Mortirolo Pass. It's among the toughest amateur events, that will bring you as close as possible to feeling like a pro
 
The best race bag you'll ever get at €50 (£40): Santini cycling jersey, Bontrager bar tape and water bottle, spare inner tube, OTE gel, a wristband for the post-race pasta party and discounts for massage & entry at Bormio thermal baths
 
Amazing feed stations with top quality food, strictly real food: pizzas, paninis, cakes, fruit, etc, including gluten free options, veggie options. Anything you can think of, it's there!
 
Last but not least: this sportive is very different from every UK sportive I've participated in: if you do tackle the Granfondo Stelvio Santini, be ready to race against skinny fast riders. Turns out that in Italy, average-speed, above-4%-bodyfat riders are really hard to spot!!
We travelled to Bormio on Friday evening, and stayed in a lovely chalet (incredibly bike-friendly by the way) for the weekend.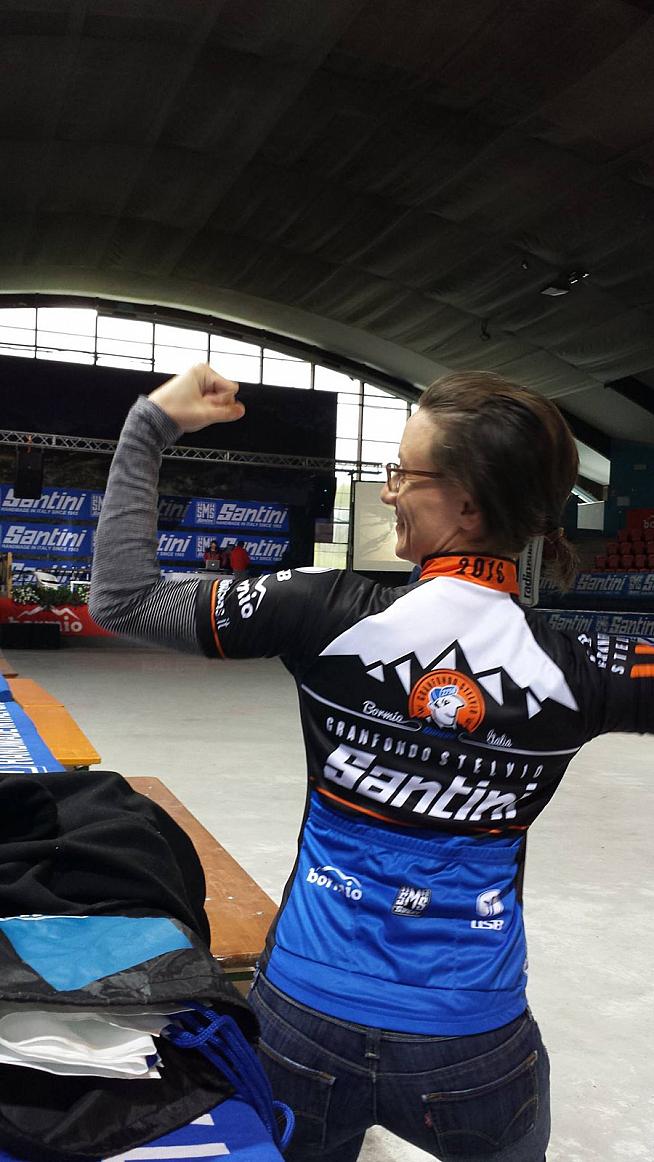 Saturday was preparation day. We collected the rental bikes from the local shop (Trek carbon bikes at €80 for 2 days: bargain!), and headed to the Palaghiaccio to collect the race bags... While there, we met the Santini sisters and we even spotted former sprint canoer and Olympic champion Antonio Rossi.
We went for a short ride (interrupted by rain) to test the bikes, sampled some pizza, obviously, in the city centre, and a did a bit of last-minute shopping to top up for rainy gear as the weather forecasts were not too positive.
Start line in Bormio
We set out in cool, dry conditions on Sunday morning. Our accommodation was located just a few pedal strokes away from the centre and the bag drop-off area.
This year the granfondo started in waves, one of the most notable differences from last year. The Stelvio Santini is getting popular, and the organisers are adapting to the growing number of participants accordingly. However, possibly due to a last-minute rush, the waves were organised by "date of registration" which means that those who entered earlier started earlier on the day.
There was a bit of (unfair) turmoil about this choice from participants - last year they were complaining there was no grid, this year they were complaining that there was: hard to please everyone, eh?! - but I hear that next year the waves will be based on the past two years' results for each of us.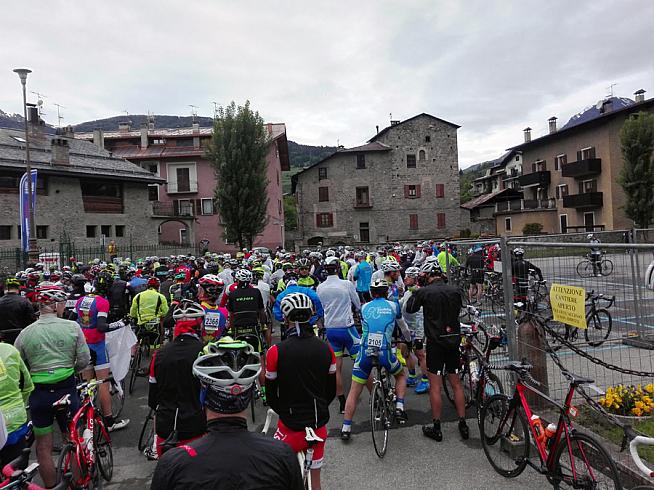 All the way to Teglio
The secret (or not so secret) of this gran fondo is to conserve energy as much as you can, up until the start of the big climbs. From Bormio to Teglio the route is predominantly downhill. At about 45km the Teglio climb starts, and it is relentless: shorter obviously than the two passes that we are about to climb, but my heart rate didn't quite get along with the "short climb" (short for Europeans, not for UK riders).
Busy and narrow, the 7km+ of the Teglio are just an appetiser for what is coming up! I was once again obliged to get off the bike due to people walking on its only steep bit (a bit disappointing, but hey! what can you do). Once re-settled into a nice rhythm and with a relatively high cadence, I got to the top.
The Teglio feed station unfortunately was a bit dangerous for my liking. The village is small, so the station is placed in the only small car park in front of the church. The trouble being that it's on the bend where the descent starts, and the chaos of dozens of riders stopping by was tangible.

Mortirolo
From Teglio there is the most enjoyable descent back into the valley: easy hairpins, not too technical to tackle, and 10km of speed and freedom! There's not too much rest, as at the bottom of the descent we are on our way to Motta: a very manageable 6% ride on the way to Mortirolo. The second feed station is just before the pass... and this is big, spacious, well-stocked, with dozens of volunteers running around, endeavouring to quickly please as many riders as possible. I'm not sure if it was the fear of Mortirolo lurking ahead, or just the good atmosphere at the feed station, but I spent way too much time sitting around and stuffing myself. I would pay for this later!
On a very positive note, here at the feed station I met with my two companions again. This year, I made this trip a club trip (with Islington CC) and somehow convinced two of my friends to take on the challenge too, and I'm so glad: it's much better to face the monster in good company!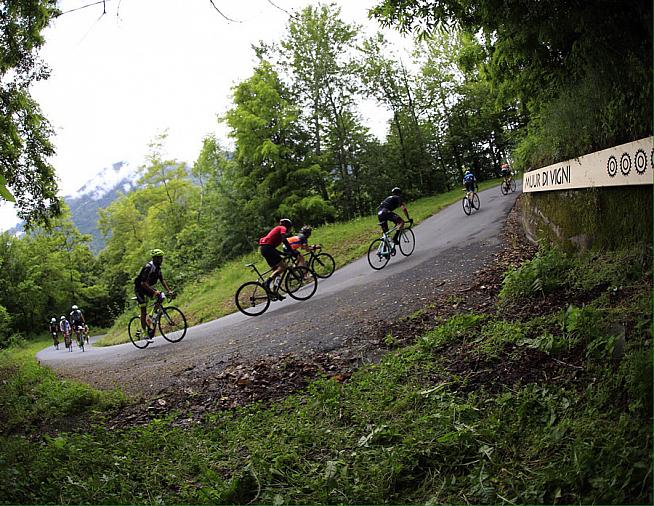 The second feed station is also where the medium route departs from the long route. The former would carry on straight towards Bormio, whilst us lot would just take a sharp turn on the right to start our Mortirolo climb.
The three of us started Mortirolo together but soon separated to proceed at our own pace. The climb is relentless: 11% average gradient for 11km. I (probably wisely) upgraded my groupset ahead of the trip so I had a 32 to help me on the steep way up. The pass is just tough: you think you are grinding it already, but the next hairpin comes, you look ahead, and there is the road going even more steeply up. Don't be a fool, and don't think that the grovelling is going to be over any time soon, as the hardest kilometres are the two final ones!
After 8km of pain, the forest opens up and for a few hundred metres there is a ... flat! It's FLAT! The mountains open up and for a few seconds you can be proud of yourself while starting at the valley down below. This is when you will realise what you've just accomplished!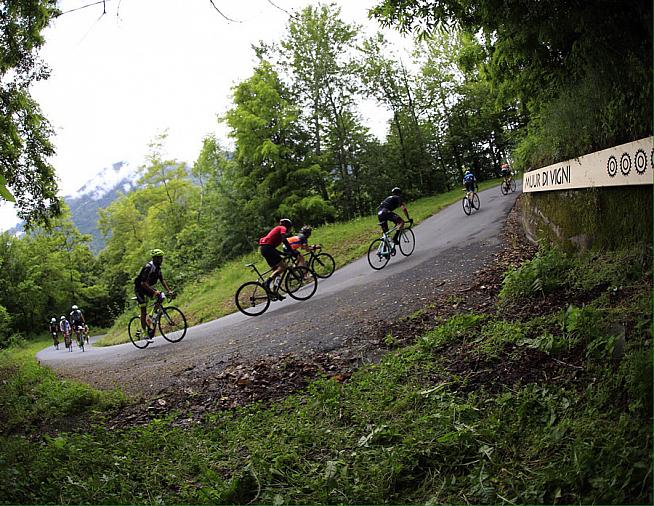 And then, the actual monster! The last 2km of Mortirolo Pass. I'm going to say it straight away: I got off the bike and walked! The road goes even steeper, like a wall opening up in front of your eyes (like Inception... the movie with Leo Di Caprio, if you happen to have seen it) and the tarmac gets incredibly rough. Some of the guys did try to stay on their bike: you could hear their efforts from metres before and their sounds of pain and exertion would have made you cringe.
At the top of Mortirolo, after the gruelling 2km, there he was: a friendly and smiley photographer capturing forever our anguished expressions... classy! I pretended to smile (now obviously back on my bike) and quickly headed to the feed station. Quite busy I have to say, and well stocked. Volunteers were running up and down to greet cyclists, bring us food and drinks and re-fill our bottles. A 360º service I would say.
So to summarise my memory of the Mortirolo climb:
8km of pain
1km of flat dreamland
2km of grovelling near-death experience.
Back to Bormio
Retrospectively, my biggest mistake was to waste too much time at the bottom of Mortirolo. The ascent of Mortirolo took me 1.5 hours to complete, which means by the time I started the descent it was already 12:30PM. Also the descent is quite difficult as the road surface is not great. The organisers made a fantastic job at signposting and spraying around all the biggest obstacles/holes along the descent, but caution is never enough!
Whilst 12:30PM seems a reasonable time to ride 100 mountainous kilometres, you have to remember that the cut off time was set at 2PM in Bormio. The combination of tired legs and lack of time, meant that I panicked all my way back to Bormio. I'm not a great descender either - unlike many Italians, I have to say, who were whizzing past by me at incredible speeds!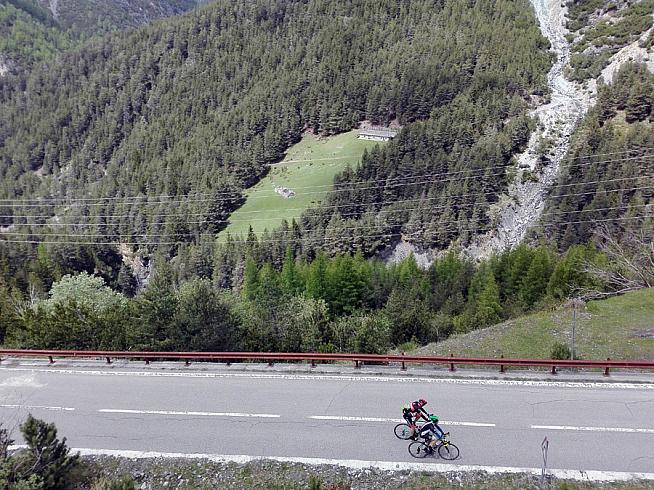 The road at the bottom of Mortirolo joins back on to the medium route - even if at this time, all the medium route riders are basically on Stelvio already! Tirano is always a surprise. A long, slightly uphill (3%) stretch all the way to Bormio. I struggled, I did struggle a lot. I believe the fear of not making the cut off time didn't help either.
By this time I also lost again my two companions, who I had briefly met at the top of Mortirolo for a cheerful and proud moment of "We've made it! We climbed Mortirolo!" Tom was slowed by cramps, and Orestis by fatigue.
Your majesty: the Stelvio Pass!
Like the previous climbs, we all took Stelvio at our own pace, with our own mental and physical challenges to battle with. My advantage was 100% on the mental side: all of my family had spent the day stuck on the top of Stelvio, so there was no way that I could not try hard enough or give up; a no-show wasn't simply an option!
Stelvio is long, bloody long, but not too hard. So if you have endurance and pace yourself you will certainly make it to the top. I won't overkill you with detail of Stelvio as I've done already so last year (you can read about it here).
One thing that I want to mention though is that after a few steady kilometres, and after the infamous hairpins, Stelvio also has a few hundred metres of relative flat where the final feed station is. Here it was crowded by young volunteers playing metal music. Don't ask me why but this fact alone cheered me up! Imagine yourself, alone, on your bike, surrounded by unspoilt nature and fantastic mountains. And there it appears, the sound of heavy bass and drums mixed with the sound of happy and cheerful greetings.
On the flat stretch I met another rider who had run out of gels; I still had a couple on me so I gave him one. We chatted for a bit and then off we went towards the last 4km of Stelvio. In the typical style of this gran fondo, of course the hardest gradient awaits for you at the end: the last 2km are hell. At this point you are so slow, that basically a 2-year old baby could actually stroll along faster than you on your bike!
Emotional me
Me, being the usual emotional Italian woman! Just like last year, my dad positioned himself at about 400m from the end of the sportive. The moment I saw him, my heart rate started to go up crazy, my lungs stopped processing oxygen, and my eyes filled with tears. I can't say if it was pain, relief, or just joy!
So yeah, the last 400m pretty much sucked the life out of me. At the very end, my mum and sister were waiting for me. I threw myself in my mum's arms: awesome! And my sis and boyfriend gave me the best smiles and high-five I have ever received. Proud, proud, super proud!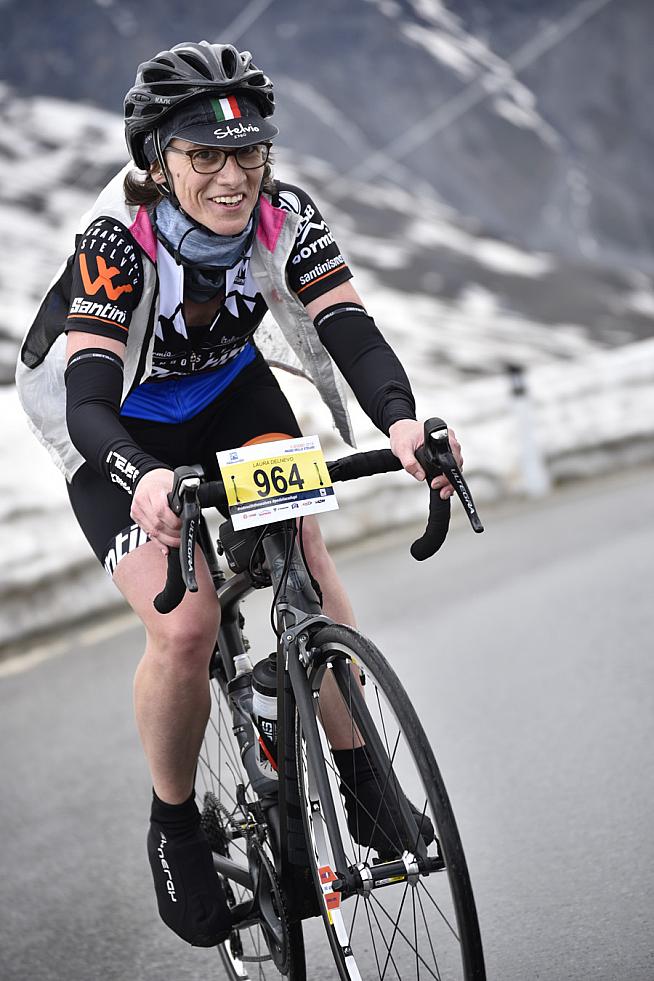 Let's sign up for 2017!
Pain! Good pain is great! And this is the first reason why I love this sportive. There are many more reasons to ride the Granfondo Stelvio Santini. I will use here Tom's words to descrIbe it: "The event organisation was great. Everything else was terrific - great, and well-stocked food stops at timely locations, a good atmosphere in otherwise sleepy towns en route, a nice atmosphere among the riders and organisers - a true Gran Fondo experience, and one I'd thoroughly recommend to anyone."
For information on the 2017 edition of the Granfondo Stelvio Santini, visit www.granfondostelviosantini.com.
0 Comments