Yes, I made it! This is the event I've been waiting for, and trained for, all year long. The Granfondo Stelvio Santini is the biggest event in my cycling calendar this year and... I did it: I conquered the majestic Stelvio Pass! One of the most recognisable climbing destinations for all pros and amateurs cyclists in Italy - and Europe?!) Well, let's say that if you follow Il Giro d'Italia, know a bit of cycling history, and have heard of the 'Campionissimo' Fausto Coppi, you certainly know Stelvio too!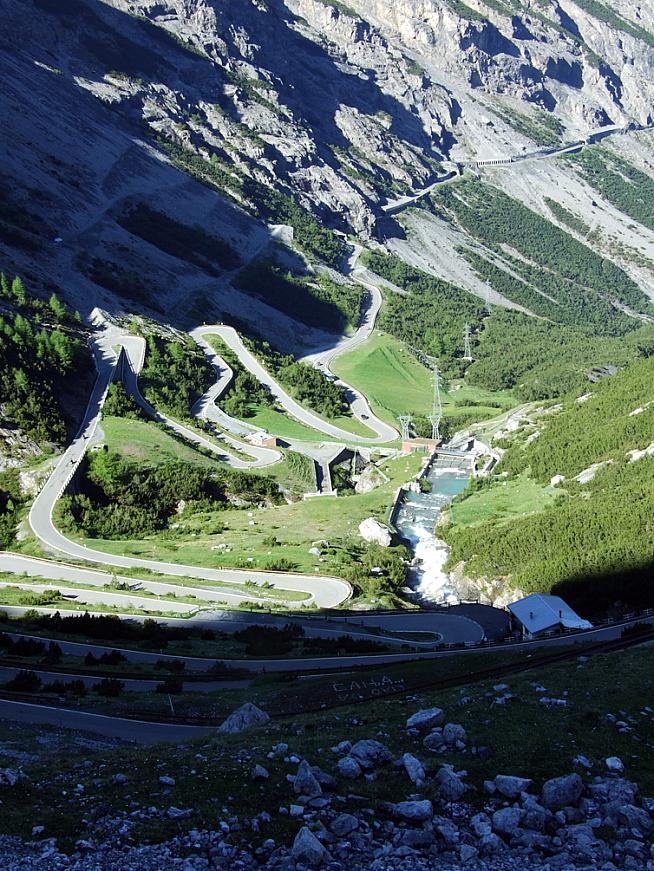 A very special edition of the Granfondo
This year, the 4th edition of the Granfondo Stelvio Santini, marked the 50th anniversary of Santini Magnifico Sportivo (SMS): THE 'Made in Italy' cycle clothing, synonymous with passion, tradition and history. Personally, this granfondo means a lot to me, for many different reasons:
I come from the same town as the Santini family
I grew up hearing tales of the magnificent Coppi (Stelvio Pass = Cima Coppi)
The Granfondo Stelvio Santini traces the steps of the incredible Pantani, whose PB on Mortirolo is still unbeaten
The GF Stelvio is my first ever Italian sportive
I crossed the finishing line of the highest peak I've ever climbed with a very special person. 
The medium route
Let's put it out there straight away! The Stelvio Pass was my first experience on real mountains. As such, when enrolling, I did not have the guts to go for the long course (almost 160km and 4,000m climb), which would have included the fearsome Mortirolo. Therefore, I went for the medium route: just less than 140km for 3,000m climb.
All you need to know for now about this profile is that those bumps, are not really bumps: they are cat 4, 3, 2 and HC climbs on the climbing stairway to heaven!
Saturday's preparation & a fantastic race bag 
Unlikely many participants that I was chatting to on Strava and the GF Facebook group, I recklessly arrived in Bormio the afternoon before the sportive! Reading threads, it seemed like most of the people were on location already 2-3 days ahead of the race, and they made the most of the nearby other famous climbs, like Gavia and Mortirolo, and got used to climbing at such altitude (Bormio is at about 1,200m and Stelvio Pass at 2,700m).
I flew to Milan Orio Al Serio Airport with Ryanair and a first, very smooth, experience travelling with a bike box. I reunited with my family under a blue sky and temperature exceeding 30 degrees. From there off we drove to Bormio, a pleasant 2.5 hour journey through lakes and mountains. We stayed at a great B&B  (Il Castagneto) at the bottom of Mortirolo: very cycling-friendly and stunning local food cooked for us every evening.
The Palazzetto del Ghiaccio (Ice Palace) in Bormio was the heart of the sportive, functioning as a registration point, information centre, race bag collection, pasta party, shower facilities, and entertainment throughout the two days. On Saturday I headed over there to complete the registration and take the race bag. What am I saying? I mean: to collect the BEST race bag I have ever received in a sportive: a Santini cycling jersey, Cinelli bar tape, spare tube, water bottle, gel, discount for a post-race massage, discount for the local thermal bath and the voucher for Sunday's pasta party.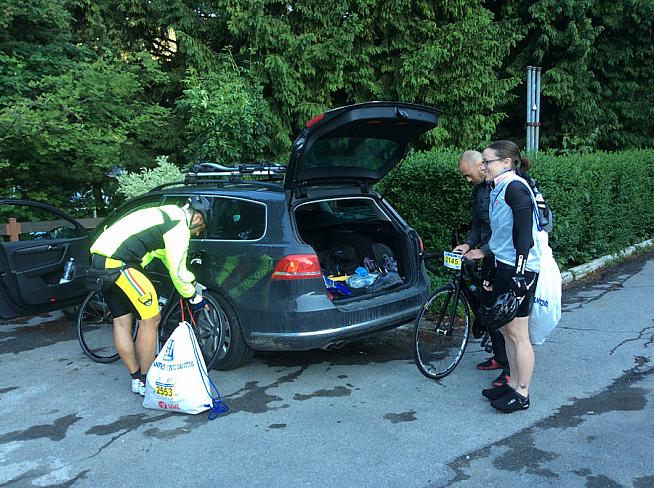 Sunday start. Rolling down the valley
The GF Stelvio Santini starts in the centre of the town of Bormio. A picturesque mountain town with cobbled streets whose rooftops blend with the icy peaks of the surrounding Alps. Cyclists were in line by 7:30 and we dropped off our bags, that would be returned to us at top of Stelvio, whilst rolling towards the start line.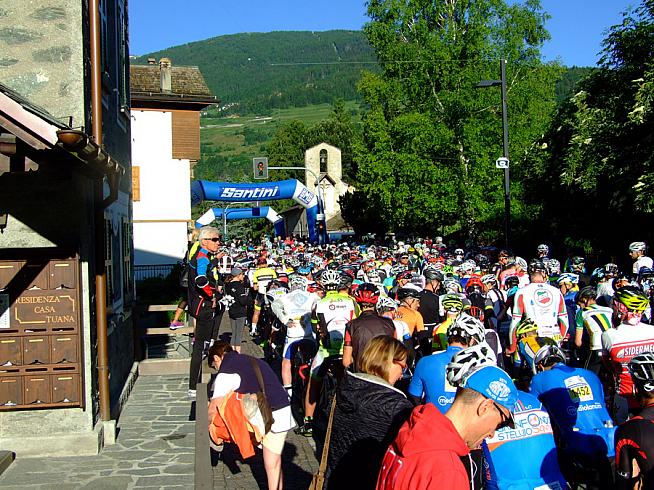 Despite the early hour, there was already a bit of a crowd all through town to wave 'good luck' to the cyclists; a pattern that we would see all along the route and whilst passing by smaller villages.
All the three groups (short, medium and long) roll out of Bormio in a descent down the valley. Despite me getting a bit uncomfortable riding concurrently with another 3,000 cyclists downhill, I also think that this is a great way to start the day and to warm up. A bit of rolling up and down, but you mainly go down and down and down for about 40km!
The race car controls the speed out of town so that riders don't take unnecessary risks at the start, and gently the parade goes through the  vineyards and the Valtellina countryside in this beautiful and sunny Sunday. Here, you can easily keep an average speed of 35/40 kph (22/25 mph) without any effort.
And then comes Teglio (cat 2)
Whilst I ride I can hear many different languages as cyclists are chatting through the first easy part of the route. Italian, Spanish, French, English, and many many more. Apparently there were participants from about 40 nations taking part in the event.
Anyhow, Teglio is a small village and your first taste of what an Alpine climb is. Just a really tiny bite of what's waiting for you in the final kilometers of the race and, most importantly, a reminder of why you need to take it easy whilst you are on relatively flat ground.
The cat 2 climb is 3.5 km for an average grade of 9%, with ramps of 12-14%. The real challenge though, I found wasn't the gradient per se, but the terrain. The previous day had rained so under the forest the ground was still wet and the narrow climb meant that a few cyclists just couldn't stay in the saddle.
The chain reaction had a horrific effect on the rest of us who still were in the middle of the mass. I had to get off the saddle twice due to cyclists who gave up on the climb, but didn't promptly move over to the right hand side to leave space to riders still cycling. As soon as the mass dispersed and the road became a little wider, I jumped back on the bike and managed to ride the final kms into Teglio village victoriously on the saddle.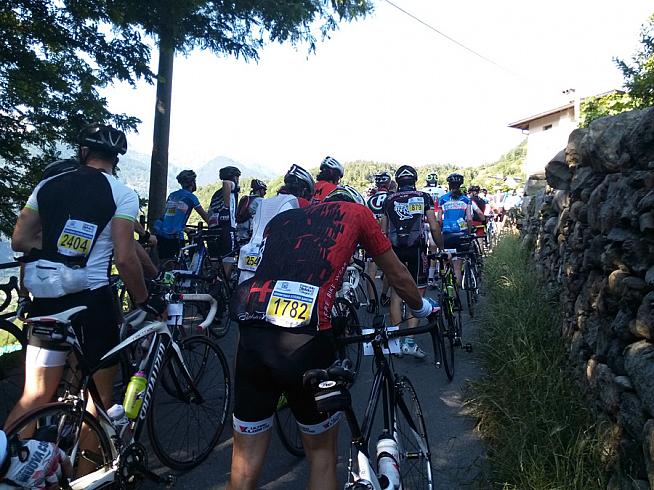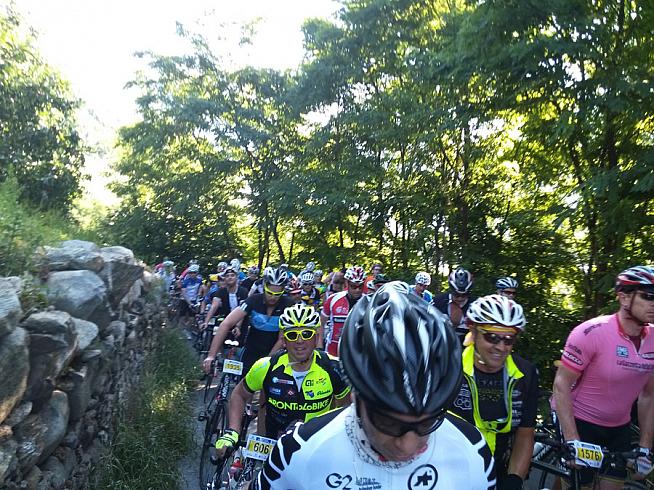 Fantastic descent from Teglio and up to Motta climb (cat 4)
Isn't this why we suffer? If we go up, we almost certainly, soon enough, go down too. Right? It's incredible how I have enjoyed the way down from Teglio. After the first food stop (where we were served with panini, cakes, water refill, electrolyte, etc. by incredibly friendly volunteers) we shot down a very bendy road that brought us back to the bed of the valley. My max speed here was 80 kph (50 mph).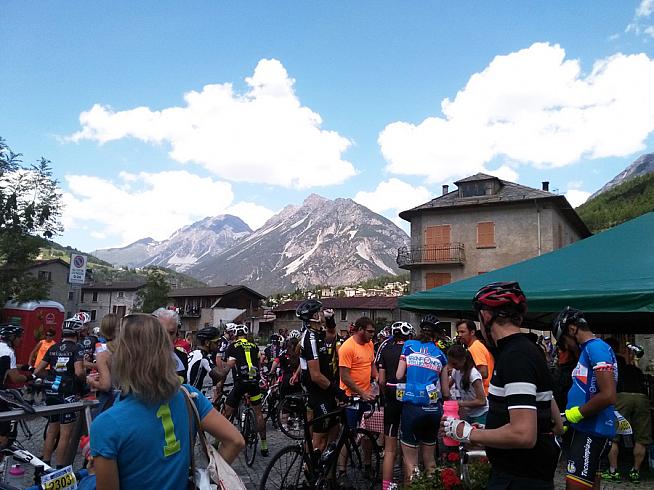 One of the highlights for me was that, nowhere along the route, had I to worry about cars nor incoming traffic at intersections. Some credit surely goes to the well-designed route, but even more to the hips of volunteers who stand by all (I mean, ALL) of the intersections and stop incoming traffic for all riders: fast, slow, pros, amateurs. And this happened all along the way, till Stelvio - where you obviously only have one way up; so no need for much traffic control there, really!
So here we go then. Down from Teglio, a bit of a flatland, turning right and onto a 'fake flat' line towards the Motta climb. We are now about 60km into the ride, but this climb still doesn't feel like a challenge. It's a 6% stretch of 2.5 km.
For some weird reason, I saw too many cyclists just fighting on big gears and I couldn't quite understand why. So, with my unashamed lower gears and higher cadence, I found myself wheezing past a few groups with not such a big effort; and still saving my legs to the majestic Stelvio pass.
Tirano. What I have ever done to you?
This one, I really didn't expect. The day before the sportive as we drove up to Bormio to our accommodation I had noticed that the way out from Tirano is a really long stretch of a hill, slowly but surely going up and up and up. I didn't make much out of it at the moment. But, dear me, I was wrong!
The only way back to Bormio is by going back onto the same road (statale) that so recklessly we threw ourselves down in the early hours of the morning. Doing it from the other side, it's not quite as easy. I swear that this was one of the biggest challenges; possibly because I didn't expect it to be so difficult - but hey, it was one of those too slow, never-ending pains that just didn't make too much sense to go through. My brain kept telling me 'Why so slow', 'Why so much struggle', 'What the heck are you doing, this is not Stelvio'.
The 10+ kilometres of pain have an average of (only) 3%, but they hit peaks of 15% that I so stupidly missed when checking the profile of the route. That may explain all the 'whys' that were rumbling in my head along this segment!!
Back to Bormio
So we are now about 80km into the ride, with one other food stop before Bormio. We will hit the town back again in about 20km, after an effortless way back through scenery reminiscent of The Sound of Music posters. I promise you, it's just marvellous to ride past these beautiful, uncontaminated fields with the mighty Alps to adorn their backgrounds; anywhere you love: ahead, left, right. Everywhere!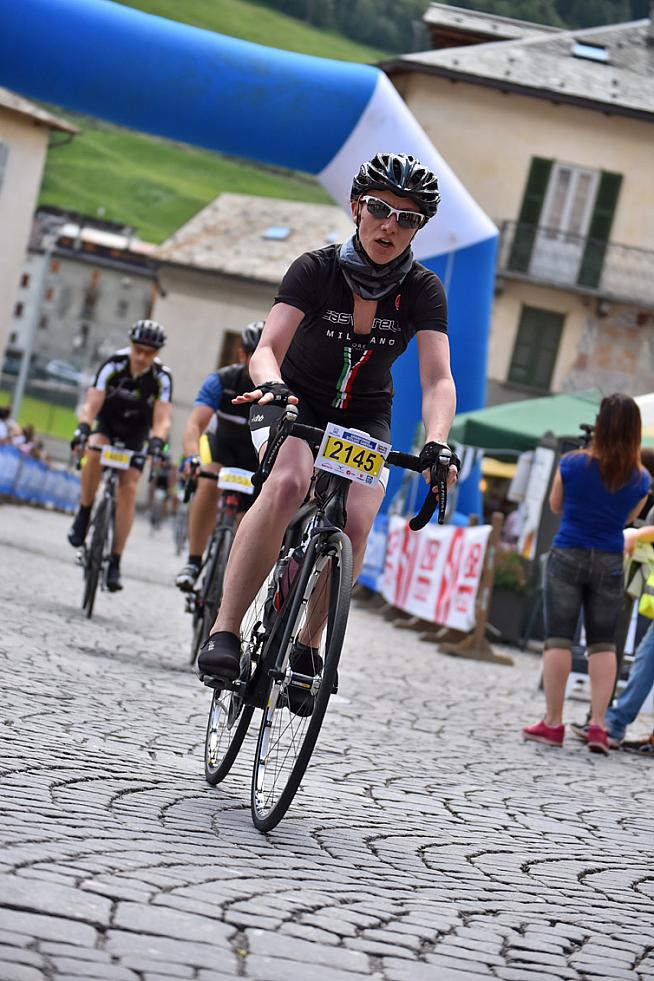 Coming back into Bormio is a mind-blasting party! Here, we stopped at the biggest food station we found so far. Plus: music, stages, entertainers, speakers, cheering cycling supporters, cheering non-cycling supporters, kids with cowbells that were bigger than their own little bodies, old people sitting on stools outside their front doors, etc.
After grabbing the most tasteful local food, off we went on our bikes again and through the centre of the villages; the party was even bigger. The official photographers were strategically positioned to take some snapshots of cyclists on the cobbles of the historical part of town, and ahead of the gruelling expression that we would soon enough put on in the long-awaited Stelvio climb!
Stelvio! From Bormio to the thermal baths 
I had an awesome tip via the Stelvio GF Facebook group who advised to take it easy until when you are back to Bormio, and via Italian cycling friends who warned, "don't blow yourself out until the Bormio Thermal Baths."
It's hard not to feel excited when you are facing the first road sign that, truly, in your head is only the countdown to your dream! 38 hairpins to Your Majesty, The Stelvio Pass. The thermal baths are no way in sight, but the countdown has begun.
To go from hairpin 38 to hairpin 35 it's a lifetime  passing by. Not having done anything like this before, I was expecting  loads of quick hairpins to bring me to the top. Ergh... no! Again, due to the unknown, I think that the first few km of climbs were the most surprising for me. I finally got to the thermal baths, where the gentle ascent (4-6%) starts to pick up.
From now on you will juggle mostly between a continuous climb of 7%, 8%, 9% to the top.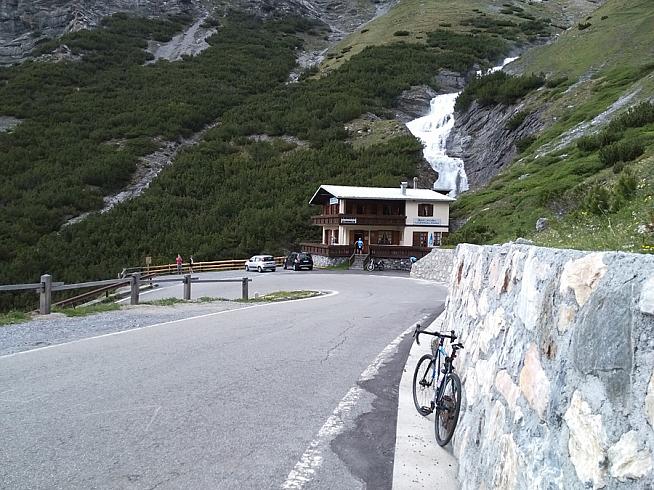 The real stuff. 20 km to the top (HC climb)
What the hell!!! My first HC climb! I'm still totally proud of myself! I did it! I did it!
You know when you are on Stelvio when you:
pass through the famous anti-avalanche tunnels
climb at 10 kph towards the fantastical looking 14 hairpins made so famous by this kind of images (see below)
ride past a magnificent waterfall that sparkles you and your bike with immensely refreshing water drops (I also seem to remember that the gradient here goes up to 14% for a small segment)
go from a 30 degrees toasting temperature to riding side-by-side with skiers at 2,700m high
complete your ride in stunningly snowy peaks and peaceful blue sky.
The climb should be taken with considerate speed; mine was not exceeding 10 kph. I know, bloody slow - I hear you whispering. But believe me that's the best strategy you  can take when you already have 110+ km in your legs and 22km of climb to face.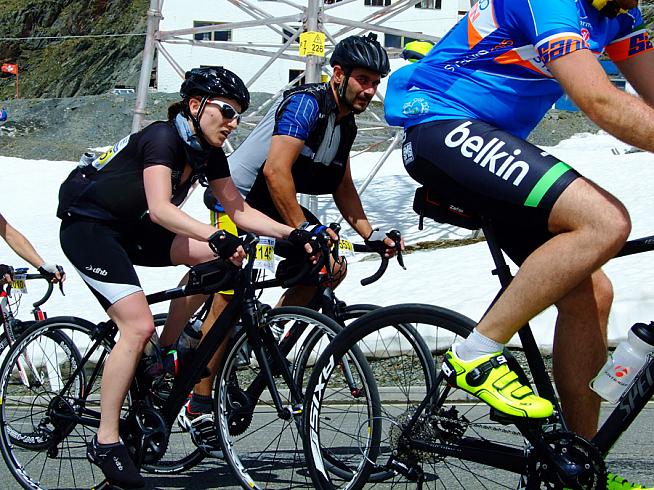 I have seen all along scenes of machismo; where the masculine pride was then suffocated by the inevitable consequence of the inability to conclude the Granfondo in the saddle. Too many people were just pushing their bikes up the final metres; that is absolutely soul-destroying. I think!
My best tip is extremely simple: just take this at your own pace. Let your friends go, if you have to. But think about how you want to show up at the finishing line!
The beauty of the hairpin, never experienced before, for me was that they are a kind of relief actually. In my head I would have thought that they were the hard bit of the climb, instead they are quite the opposite. You can pedal away quite nicely whilst turning, and pick up the effort once on the straight line again.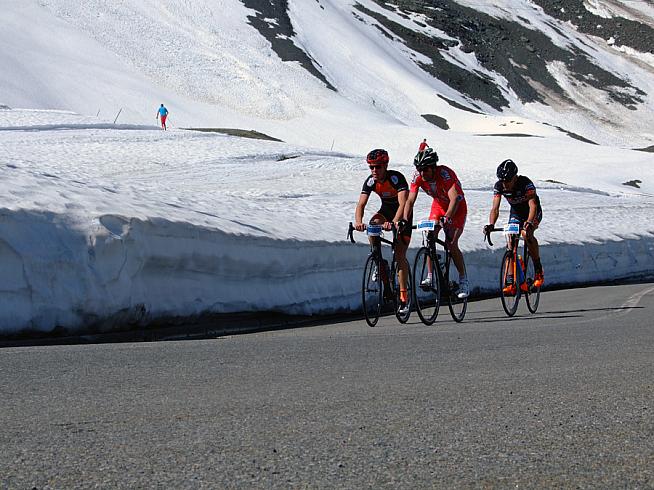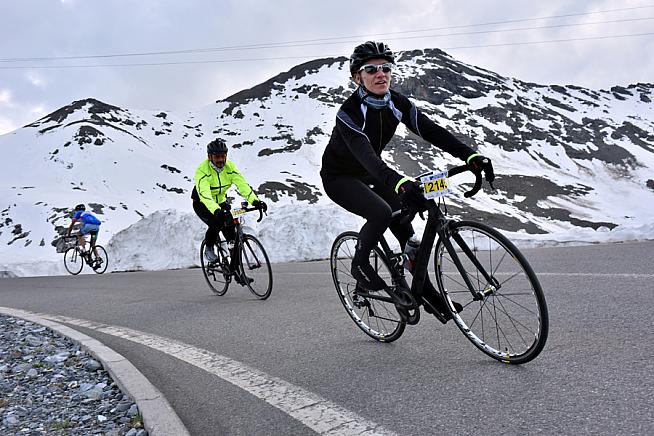 On the top. The last few km
This was certainly another highlight of the Granfondo. I think that we were at about 8km from the end of the race when we bumped into the last 'drink station'. Here the volunteers were mainly really young boys and girls who would refill your water bottles without you needing to get off your bike. Basically, they would grab your bottle, fill it, run to you, give back your bottle. How flipping amazing is that?
If you wanted to stop at this stage, they were offering also Coke for energising you during the last few km and a friendly chat and words of encouragement. The water was also taken from a nearby wellspring naturally coming down from Stelvio itself. Super loved it!
Anyway, after this stop, the road goes a little bit on the flat side. It's kind of a relief after so many km of going up and up and up. The view is a gorgeous green field, yellow and purple flowers decorating it, and the stunning snowy Stelvio peak in the background.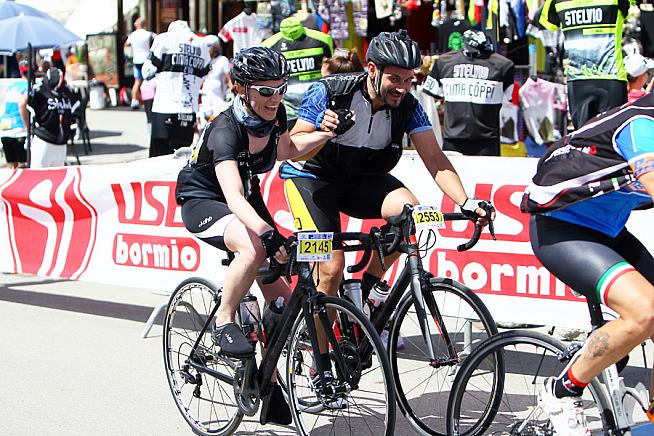 During the last 2km, I was completely emotional. Maybe it was my reaction to altitude? Or seeing my boyfriend and parents cheering at 800m to the end? Or knowing that the climb was over? Or was that just the pure feeling of satisfaction to ride through the snowy road? When you know that victory is actually in your hands.
Yes, because it's right here and right now that you have no more reasons to doubt yourself! You are there! You made it! You can hear the speakers welcoming cyclists a few hundred metres ahead of you; you can see the excitement of your loved ones when welcoming you (sweaty self) just behind the finishing line, you can hold the hands of your friend whilst crossing that finishing line with a smile that is bigger than whatever strain you've just put your legs through in the past 6 hours!
And then, there is this picture... just in case I need to prove that I really made it, ahah!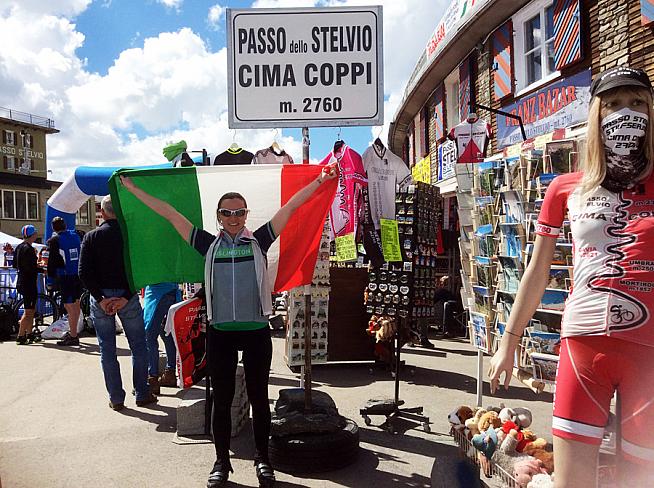 My boyfriend Ray was there to support me and kept himself busy by shooting a film of the Granfondo - you can see it here: 
0 Comments