Although I've spent many years as a full-time cyclist, sportives are an area of the sport that I have had quite limited experience of. But I do enjoy any excuse to get out for a ride, so was happy to accept when the chance came up to join the New Forest Spring Sportive on Sunday 10 April.
One of my few past sportive rides had been a Wiggle New Forest event, albeit a few years ago, and it wasn't the most positive experience I'd ever had on a bike. It was hugely over-crowded, resulting in moody marshals, even moodier locals in cars, and a big bunch of cyclists behaving atrociously - something I was particularly conscious of as they were my usual training roads.
All this meant I was a little apprehensive about riding the New Forest Spring Sportive - but, as it turned out, my concerns were without cause. To be honest, it couldn't have been less like the past one if they'd tried. The marshals were great, and remarkably cheery given that they were stood for hours at the side of the road in howling winds. They were very informative and people seemed to take notice of them - I think the friendly approach helped no end.
The ride started at Somerley House, a beautiful old estate just a few miles down the road from me, and headed quickly into the New Forest. The first few miles were on slightly busier roads but being early on a Sunday morning there wasn't much traffic to speak of. It was a pretty brisk pace from the off and so none of the "all across the road" antics I'd witnessed before.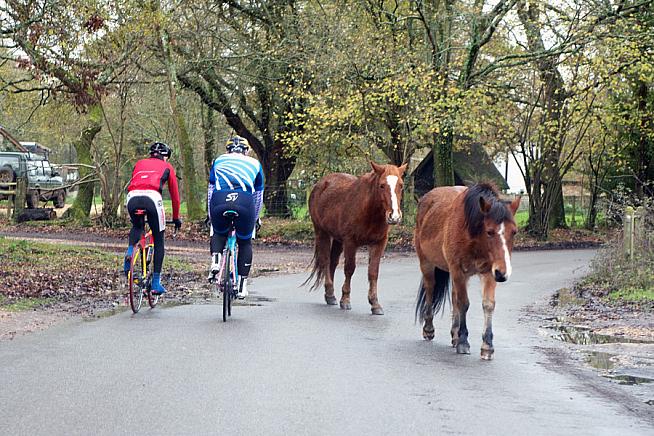 Once onto the quieter roads and heading out toward the beautiful village of Burley (famed for the loose horses) I started seeing a number of local riders who, mostly, had chosen to ride in the opposite direction, not wanting to be associated with the ride that had caused such heated debate these last few years. I gave them all the usual wave, and even shouted out their names occasionally, but their eyes stayed focused straight ahead - maybe a hint of cycling snobbery creeping in? It was a shame that more local riders hadn't ridden this sportive, as it really did change my views. It was easy to see how much effort the organisers and riders were putting in to keep things positive. I'll leave that subject now though, and get back to the ride itself.
Once we hit the open, exposed roads to and from Burley the wind started to make itself known. Strangely for a forest there's remarkably few trees in places, and you can find yourself with a battle on your hands to find any shelter from its effects. I've ridden these roads hundreds of times but never tire of the views, and even though the wind was howling around I was still loving it, as they say.
The route was well thought out. I was doing the standard version, taking us on an anti-clockwise loop of the four Bs (Burley, Brockenhurst, Beaulieu and then Back), keeping us on the quiet roads without making it too complicated. Any potentially dangerous/busy junctions were well marshalled with plenty of notice given too.
I don't mind slowing down for the odd horse here and there, I think it's part of what makes the New Forest such a beautiful place to visit, and speaking to a few other cyclists who'd travelled down to ride made me realise how lucky I am to have all this on my doorstep.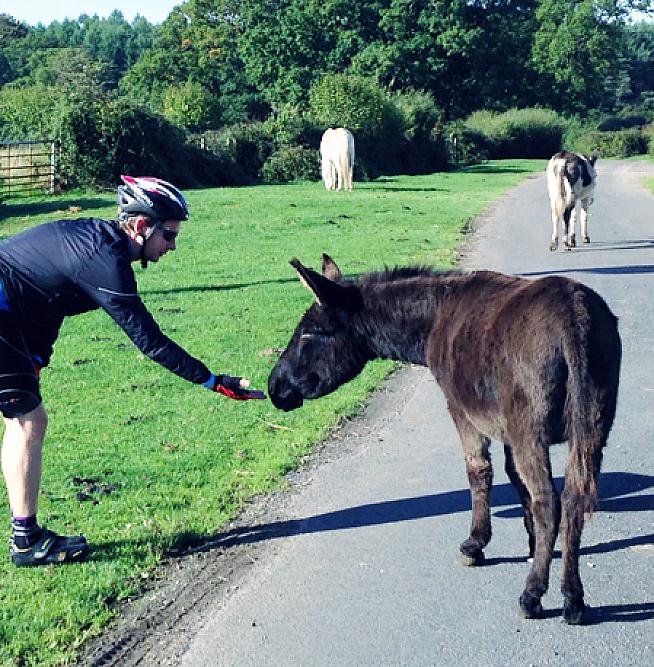 There's not really any major challenge on the course, apart from the wind. It's just a lovely place to ride your bike and enjoy a bit of nature and you can do that as quickly or slowly as you like. Sunday was definitely the better choice of day though, Saturday started so nicely but soon turned pretty sour and I imagine those riding then will have finished soaking wet and just a tad cold.
I know some people are concerned with doing a good time, and if that's you then these New Forest routes are just what the doctor ordered. Despite the wind and a few small lumps they're a fairly rapid affair; there's always someone ahead to chase, and if you blow a gasket then it's still lovely to ride your bike in a beautiful place.
Having launched my own fabulous road bike brand last year (Estrella bikes, as reviewed by Sportive.com) I was going to mention how well my Camino Liso performed - but then I remembered that if you want to see them, you can just go to www.estrella-bikes.com.
A big thank you to Sportive.com for asking me to ride, and also a massive thanks to the whole UK Cycling Events team for doing a fantastic job of putting on such a well-run day out, and for the whole host of goodies I received on finishing. Highly recommended.
0 Comments