I demand a podium presentation. Probably flowers. Definitely a bottle of bubbly to spray over the accumulated throng of admirers and tifosi. After all, a win is a win.
It clearly says in the results, first in category.
I've never won a bike race in my life. I came third once, about a million years ago, but sadly no photographic proof exists as I was so shocked at having made the podium that I didn't have a camera with me.
But to win, and to win the first round of the Rapha Super Cross 2015 series last weekend, was by far the highlight of my cyclocross racing career.
Now, the naysayers may be churlish enough to point out that you can't really win if there was only actually you in your category, but I think that would be unduly harsh, so I'm going to claim all the credit anyway.
Being the cyclocross correspondent for Sportive.com comes with some pretty heavy responsibilities, the main one of which is that I occasionally actually have to race my 'cross bike. Sometimes as often as once a year. I hadn't got any plans for the 2015 season, as I knew that fate/destiny/luck/Sportive.com would provide something suitable, and the latter triumphed on this front.
"Would you like to test one of the new Rapha 'cross jerseys to test?" said the email; "And if you're around, they're holding the first two rounds of their Super Cross series in Halifax in a few weeks time, so you could try out the jersey for real then..."
It didn't take much diary consultation to realise that was far too good an offer to turn down, so I did some speedy last minute training, a bit of bike fettling, broke out the Bic to make sure my legs were über-smooth (I had to look the part after all) and headed south to hilly Halifax with my ever-patient wife in tow as team manager/organiser/navigator and PA.
There's something about a race venue that (to me at least) is completely intoxicating. I can't quite put my finger on it, but the sight of a neatly marked out course snaking off through the trees, the waft of warm-up balm on the air and the patter of the race commentator make all my hairs stand on end. The funny thing is though, that even though I absolutely love racing, I don't do it that much any more. Sadly a couple of weekends a year would be about the norm over the past few years I guess.
So as Saturday afternoon came around, I was decidedly nervous and feeling somewhat concerned about what I was about to ask my body to do.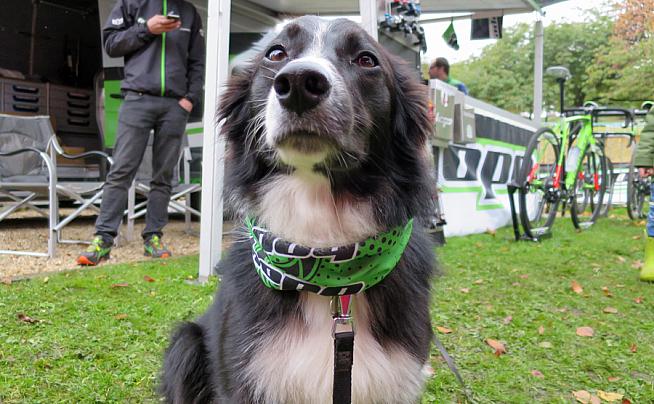 I'd gone through the usual pre-race faffage (signed on, picked up timing chip, instantly forgot where on our jerseys they'd said we needed to pin our race number, dithered about tyre pressure choices, found the warm-up balm buried deep in the bottom of my bag, adjusted shoe strap tension for the umpteenth time and had been for the mandatory pre-race pee) and then found myself on the start line.
I was racing in Vet40 (for the over 40s) category, but in the specialist "media" division. It was specialist enough to be just me in fact!
At the start though, it was soon apparent that I was going to be racing mixed in with a big group of fellow racers - Juniors, Seniors and the other Vet40s - a group of just over 100 racers in total, including Nick Craig (former multiple national CX and MTB champion and 3 Peaks winner).
Luckily I'd managed to get a decent place on the grid, only 3 or 4 lines back from the front, which gave me a big advantage at the start with some super speedy riders in-front to sit behind and less slower riders to have to weave around. As the seconds ticked away to the start hooter going off, I did a bit of positive mental visualisation to help get myself ready to race.
I'd done a few reccie laps of the course in the morning and it was fab - plenty of climbing to test my legs, not too much necessity to run (my nemesis as I have a virulent and seemingly life-threatening allergy to having to run any more than about 10 feet), plenty of tricky off-camber corners to use my mountain biking skills on, one "crux" muddy section with a perfect "Sven line" and no rocks (which meant I could run super-low pressures to get extra grip, without worrying about puncturing).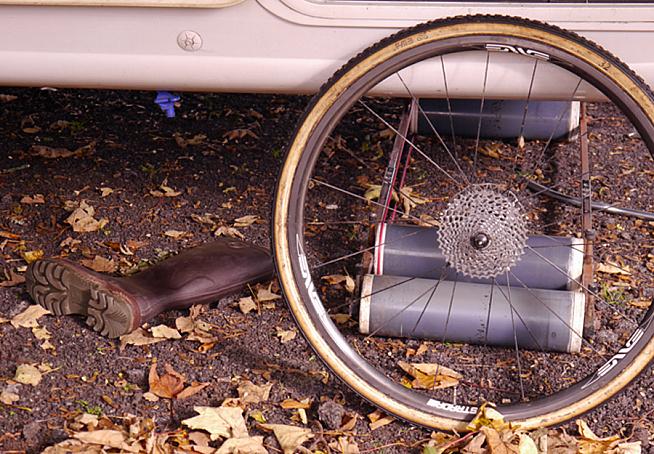 During my reccie laps, I'd tried everything from about 30 psi down to 15 psi to try and find the right pressure and ended up running low 20s. Although for road riders used to running triple-digit pressures this might sound insane, for CX riders this isn't actually that soft. I was running clincher tyres set up to run tubeless. This allows for decent grip and minimal puncture risk, but below about 20psi there's a much higher risk of rolling the tyre off the rim. The top level racers would be even better off though, as they would most likely be running tubular tyres, which they can run at crazy low pressures (10-15 psi is common) with no (or low) risk of anything untoward happening.
I'd got my kit right. Brand new Rapha Cyclocross jersey (review coming soon) and matching socks, skinny merino base-layer, favourite shorts and lightweight long finger gloves. The tension on my race shoes was just right (tight enough to just pinch).
I knew my bike was up for the challenge too. It had a good pedigree, having been formerly owned by a pro CX racer, the bar tape carefully coordinated with the logos on the frame (I can't claim credit for this though, as my defective colour vision doesn't really "do" precise tonal matching) and I'd taken off any unnecessary bits - bottle cage, seat-pack mount and light mount were all duly removed and carefully stored on the workshop bench until the bike was back off race duty.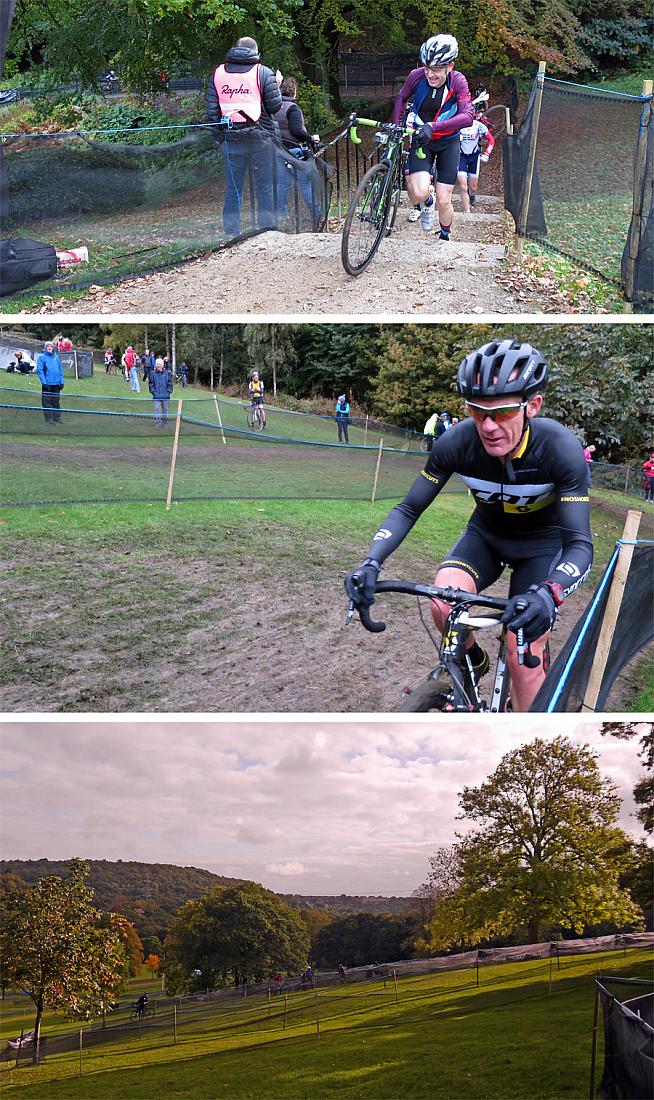 So, my kit was right, the bike was spot on, the course suited me, the weather was good (not too hot/cold, dry, slightly overcast) and most importantly I was the only racer in my category - I really had no excuses not to perform well.
Obviously there's always an excuse out there somewhere if you go looking - hotel bed slightly too lumpy, pre-race lunch eaten 4 minutes too late, tyre logos not lined up 100% perfectly with the valve etc etc.
There's a loud squawk as the start hooter goes off and with that, we're off. Straight away uphill and right into the back of the pain cave, where I seemed to stay for the next 1 hour 5 minutes and 1 second.
Not that I'm counting of course.
Now, about that bubbly...
Olly was a guest of Rapha at the first two rounds of the 2015 Rapha Super Cross series.
Round 3 of the 2015 series will take place on the 14th November close to King Cross station in London. Event details can be found here.
Check out Olly's short films from rounds 1 and 2 the 2015 Super Cross series, here and here.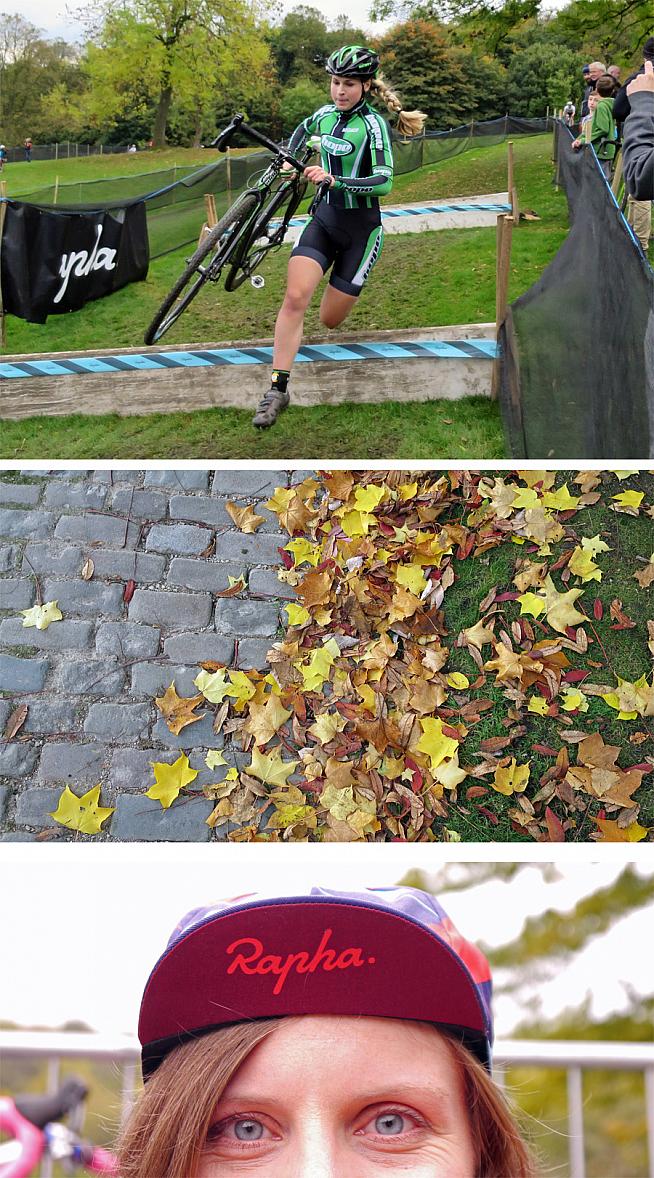 0 Comments