"I reckon that would be the Sven line" said my significant other, looking at a faintly discernable line between the trees, which appeared to run roughly parallel to (but was significantly different from) the most obvious route choice through a root-infested mudbath of a trail that lay in front of us.

This impressed me immensely for a number of reasons - a) She had spotted a fantastic line through the trees which was definitely not the obvious follow-the-herd route choice b) She had clearly grasped the fact that "Sven" was someone whose line spotting skills were to be admired (and where possible replicated), and c) My drip feeding of "isn't cyclocross the best sport ever" related propaganda was obviously paying off and she was not only starting to get it but was maybe even starting to think like a cyclocrossist.

So who the hell is Sven, you may well be asking, and why should you care what his view on line choices through a mud bog would be?
His Svenness of Svenland, to give him his official title (or just plain old Sven Nys, pronounced Nace, to his friends and fellow CX competitors) is the winningest and arguably most famous/revered/loved male CX racer of all time. He is the closest Belgium has to a cycling deity and his skill, finesse, wiliness and above all unique ability to spot a different (but crucially faster/smoother/cleverer) line to his fellow pro-racers has made him world famous. At least amongst CX cognoscenti, anyway.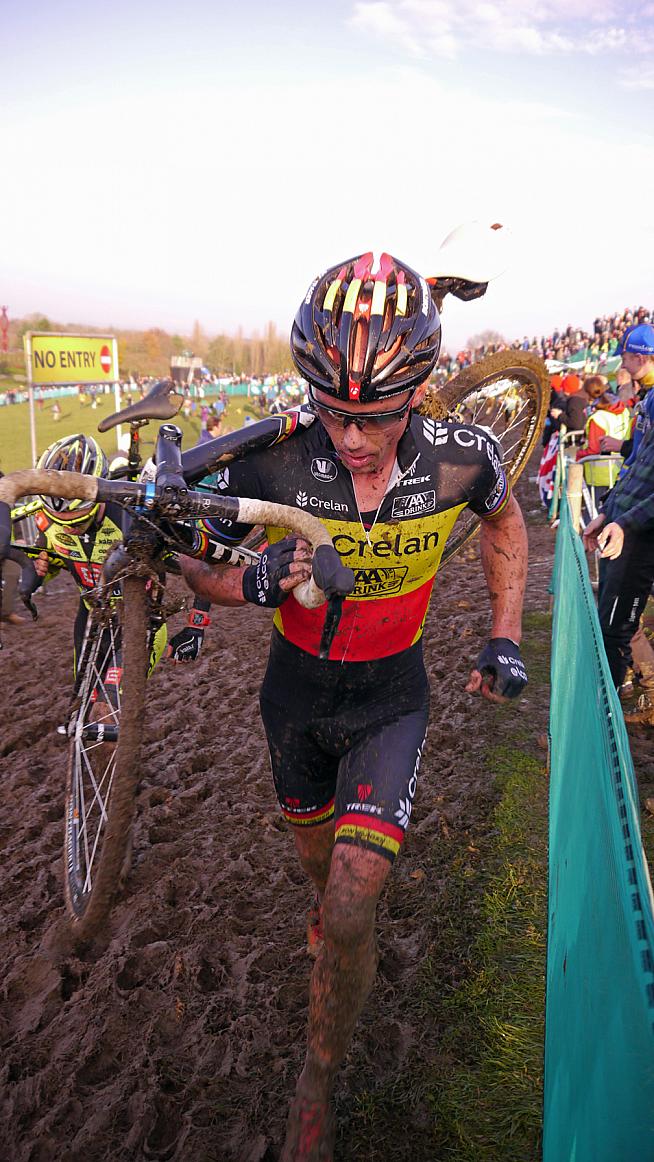 Sven's popularity is such that if you ever have the pleasure of attending a CX race in Belgium, you will see literally coach-loads of Sven Fan Club members at the race. You can hardly miss them: they will be cheering with impressive gusto, whilst consuming life-threatening amounts of Belgian beer and waving "Go Sven" flags large enough to be seen on the moon.
So, Sven is a living legend and to anyone who loves CX, reason enough to drive half the length of the country to go and see him race in the flesh.




Which was exactly why we had joined nearly 10,000 of our closest CX-loving friends at the UK's first ever staging of the 'cross World Cup, held in Milton Keynes at the weekend, and were standing in mid-shin depth mud, leaning precariously over a nylon barrier and cheering our lungs out at a fairly diminutive Belgian in black and yellow kit.
The wall of sound, a combination of shouting, enthusiastic cowbell ringing, cheering, whistle blowing and football rattle twirling, was deafening and seemed to precede Sven by a few seconds around the course.
As we strained our necks to catch a glimpse of him we realised though that something was wrong. Sven wasn't in the lead group. In fact he was a long way back from the front-runners, perhaps a minute or 90 seconds down. And it was only the first lap.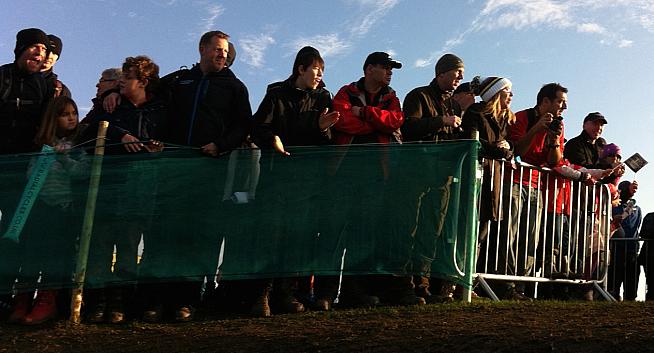 CX racing at world cup level is brutally fast. It's absolutely flat out, no quarter given, don't back off ever, full-gas, "just go" from the minute the starting gun goes off. So if you're 90 seconds down on the first lap (instead of your normal position in the top 4 or 5 places) then something must have gone drastically wrong and you're going to have the mother of all battles to make up the lost ground.
However if Sven could be willed back up to the front group by sheer crowd enthusiasm alone, then we were going to do our damndest to help him. When we watched the TV replay in the evening we realised that he'd had a mechanical about halfway round the circuit where his chain had bounced off and jammed on the outside of his chainset. Even Sir Sven needs to pedal to get round the course, so he had been forced to jump off and by a combination of brute force and will power coax the chain back to where he wanted it to be.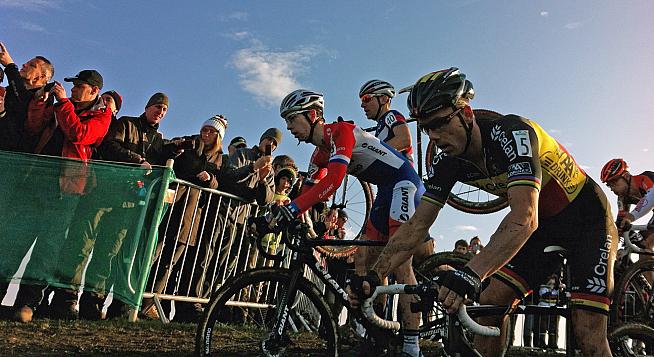 Sven chased like a demon for the remainder of the race and made a meteoric bid to catch back up with the lead group, but sadly it was in vain. Although he pulled back nearly a minute on the best riders in the world, in the end it came to nothing and he trailed home only just inside the top 10. We suspected his mechanic might have received some re-training opportunities afterwards...
Even though he didn't have the chance to fight for a podium place, in the course of 64 minutes of sheer entertainment he won the heart of the crowd - he was smoother, more stylish, more skilled and downright faster through the nasty sections (of which there were plenty) than anyone else.
He talked afterwards about how much he had loved the course (the first time the UK had ever had the opportunity to host a round of the CX World Cup) and how the crowd had inspired him to ride harder than he'd possibly ever had to before.
Although the fans were bitterly disappointed that he hadn't been able to win, his incredible effort to come back from so far down potentially won him more respect, admiration and probable marriage proposals than if he had just waltzed away with a win straight from the gun.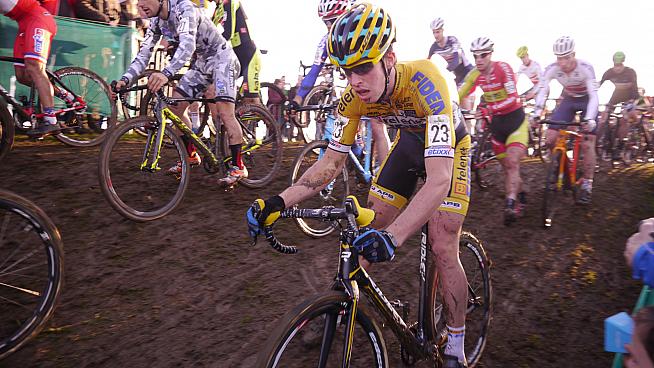 Sven and the art of Cyclocross mastery
So having watched Nys battle with mechanical gremlins and an über-challenging course, what lessons can we apply to our own more modest challenges? We may not all have Sven's magic skills, but here are some tips from the weekend's racing:
1) The big thing is not to panic or get too stressed when things don't go your way. Wasting unnecessary energy by being angry is pointless. Instead try and channel your inner-Sven into making up lost ground smoothly and in a controlled manner (a good learning point for life in general, now that I come to think of it...).
2) You don't have to follow the herd or take the obvious line. Often there's a Sven line - you just have to search for it.
3) Be Italian with your attitude to style. Even when you're running through nearly a foot of Bedfordshire's finest clay-slop with a bike over one shoulder, make sure you look bloody good doing it. All your kit needs to neatly co-ordinate (or at least complement) everything else. Remember, style is everything when you're the king.
4) You can win races through sheer willpower. On the start line Sven looked so focussed and driven that his fellow competitors must have been quaking in their Lilliputian disco slippers just at the thought of trying to beat him.
5) But winning isn't everything. Your fans will still love you no matter what.
6) OK, that's a lie. Winning is everything, but if you're not going to actually win, then you need to give the crowd a hell of show to make up for it.
And there endeth the lesson.
If you'd like to find out more about the mythical Sven, there's a Vimeo channel dedicated solely to Svenness. And with any luck, this time next year he will be back in the UK in person, to do battle again in the mud and take back his crown of King of 'Cross.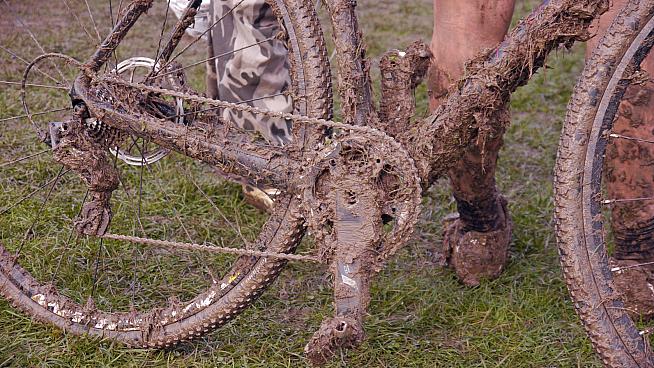 0 Comments